Above: Jewels of the night bedeck the sky above the Florida Mountains, in southwestern New Mexico. Photographs by Wayne Suggs.
A QUILT OF STARS REFLECTS on the steaming water of one of three hot pools in the clothing-optional section of Faywood Hot Springs. Coyotes howl in the distance. Two bathers stir the pool. One of them looks up.
"There's a satellite," he whispers to his partner as a white gem floats across the sky. A few seconds later, a shooting star plummets into the atmosphere, then fades into nothing. I take a deep breath. The hot water gurgles. My camera clicks atop a tripod, keeping it steady for 30-second exposures that reveal even more stars than I can see with my eyes.
On this, the third of three weekend trips to Deming, I've started to get the hang of night-sky photography—and fallen hard for the skies I've found here.
I first came to Deming this past summer, to report on a migrant crisis that, for a few months, saw 200 to 300 Central American asylum seekers dropped off in the small city by the U.S. Border Patrol each day. I drove 100 miles from my home in El Paso, Texas, and filed a quick story for the Associated Press about how this resilient borderland community pulled together to shelter migrants with minimal disruption to local residents.
Driving back, I kept thinking about the majesty of the Florida Mountains, south of Deming. I had just started exploring night-sky photography as a way to reconnect with nature and de-stress from an increasingly hectic news cycle. Zooming in on a light-pollution map at darksitefinder.com, I saw that Deming was the closest place to me where I could photograph the stars with minimal light pollution, plus a compelling foreground, namely those mountains. Zooming out, I realized how rare darkness has become, and how hard it is to access the pure night sky.
Fortunately, New Mexico is especially attractive to stargazers, for reasons I learned on my first weekend trip, which included a stop at New Mexico State University's monthly stargazing open house in Las Cruces.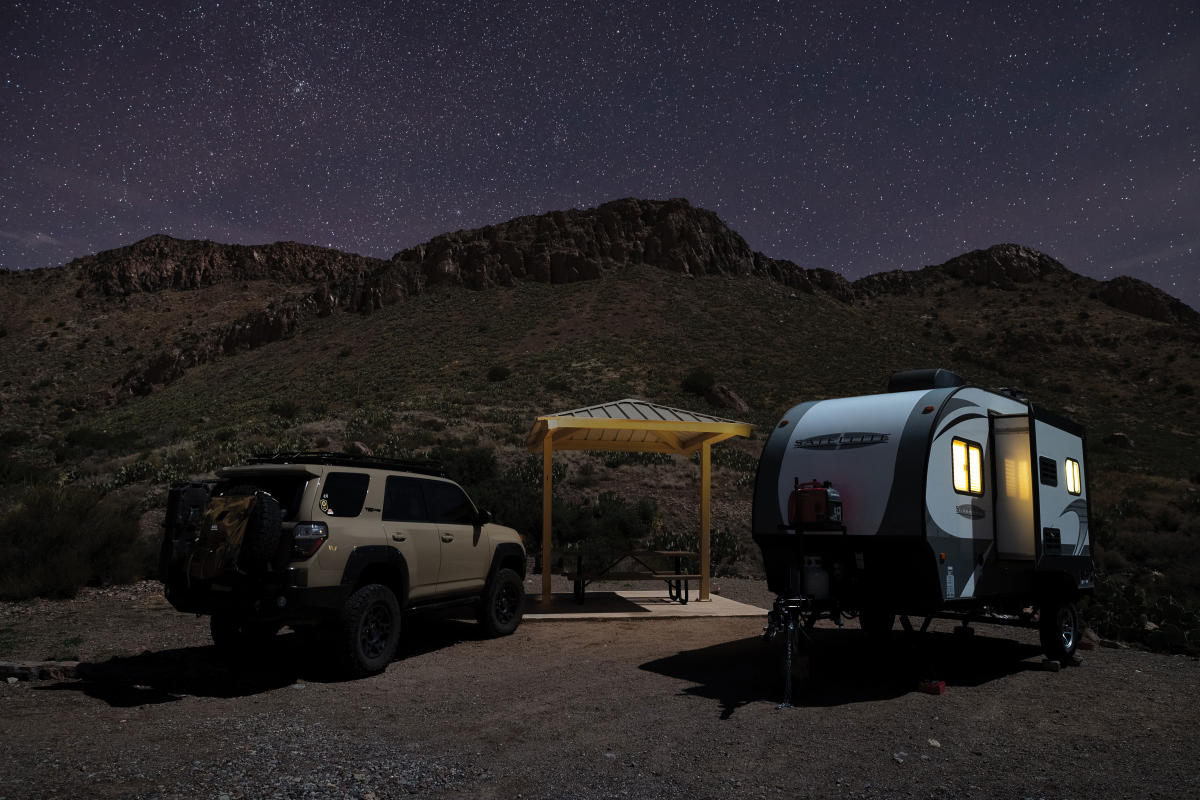 Above: Campsites at Rockhound State Park come with round-the-clock views.
"Elevation determines how much air is between you and the vacuum of space where light can travel freely," said Alexander Stone Martinez, an astronomy PhD candidate who on this evening was helping to wrangle telescopes for children lined up sipping hot chocolate outside the university's three observatories. "The more air there is, the more stuff light has to go through, and that stuff wobbles all over the place."
Martinez grew up in Ohio, close enough to Cincinnati to suffer from that metropolis's light pollution. Then he moved to Florida, which was even worse because of the humidity. "Stargazing was a lot harder in Florida, but you could still do it," he said. "Here in New Mexico it's a thousand times better."
Read more: All year long and all across the state, New Mexicans help their communities rise above difficult circumstances. Meet a few of our favorite hometown heroes.
While there are even darker skies than Deming's in New Mexico—north in the Gila Wilderness, south in New Mexico's Bootheel, and in many of our state and national parks all over the map—Deming's sky can be explored on a weekend getaway, with easy proximity to lodgings and restaurants. Even better, those mountains provide a terrestrial foreground, to give star photos greater depth and context.
After the NMSU stop, I drove to Rockhound State Park, five miles south of Deming on NM 11. Following a climb up a small hill, I took in a commanding view of the Florida Mountains a few hours before sunset. A small rainstorm swept a dark broom along the mountain's edge and the desert plateau, then the orange glow of the sun gave way to the stars behind a silhouette of the Floridas. On the walk back down to my tent, it seemed as if the hillside, too, was alight with stars as dozens of spiders' eyes reflected the glow of my flashlight.
My pictures looked great on the LCD screen of my camera. Only when I got home and loaded them into my computer would I realize that the stars were blurry, and the sky alternately under- and overexposed. Nothing to write home about or, in modern parlance, post on Instagram. Clearly, I needed to reassess the lenses, settings, and techniques for focusing.
In the meantime, I got an introduction to the daylight activities at Rockhound State Park, which is also a haven for amateur geologists. Park rangers show visitors how to identify the different types of volcanic rocks and crystals found in the surrounding hills. You can even collect small amounts of jasper, geodes, and thunder eggs—agate-filled rocks the size of baseballs. There are easy hiking loops from the campsite, with great views of the mountains, which jut 3,000 feet from the 4,000-foot-high desert plateau like the back of a giant sleeping stegosaurus.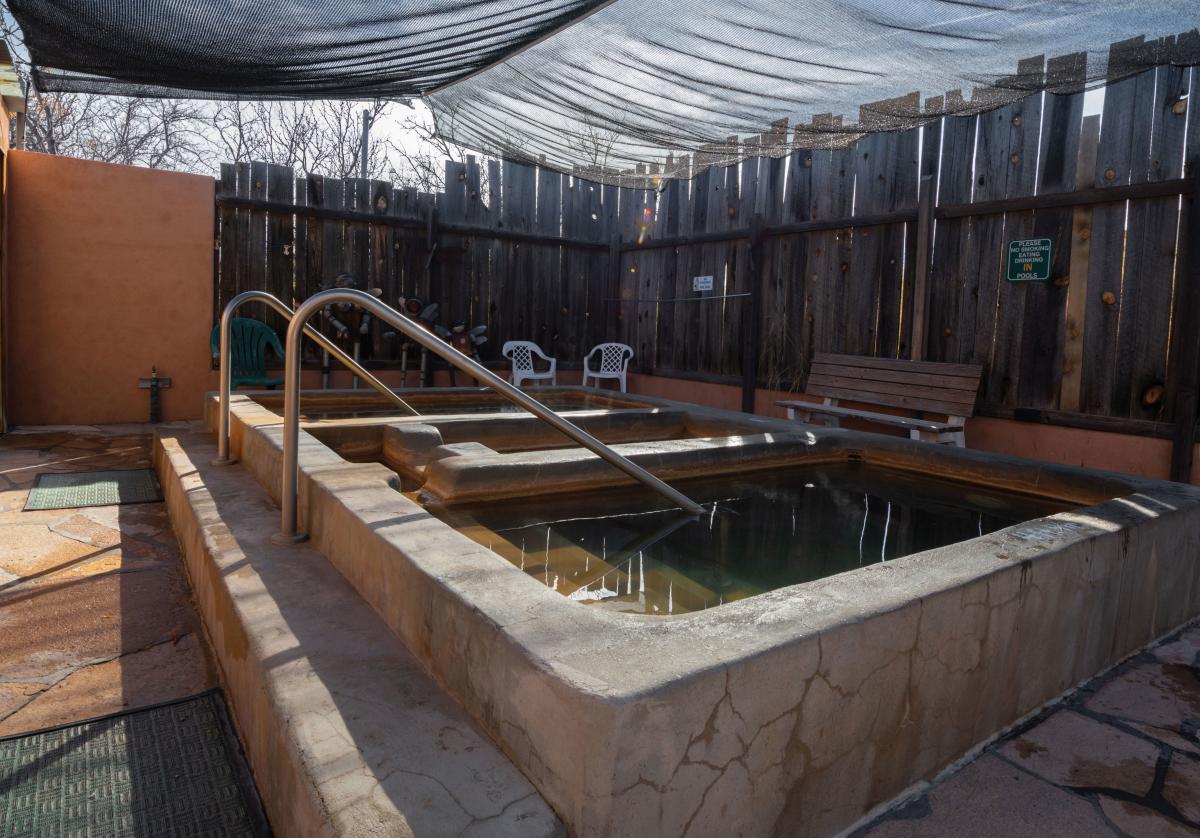 Above: Faywood Hot Springs.
More ambitious hikers can head straight into the peaks, but it's not for the faint of heart. It's steep, there are no developed trails, and the area is used mainly by hunters pursuing Persian ibex, Capra aegagrus, a mountain goat that was introduced into the area in 1970.
For hikers and star photographers alike, one of the greatest conquests at Rockhound is the Needle's Eye, a natural rock arch that can frame the perfect star-trail photo or self-portrait. On my second trip, I drive out on dirt roads approaching the Needle's Eye, filled with high expectations, but I don't even make it to a trailhead, let alone the summit. 
Read more: Small towns along the state's international border surround artful and tasty delights with sublime vistas—and a hint of revolutionary spirit.
My first mistake? Not getting a printed map, which you can pick up at the Bureau of Land Management office in Las Cruces. Only later do I properly research the hike, which turns out to be a wild one: undeveloped trails, rattlesnakes, and steep shale slopes. A few times each year, local Border Patrol agents are called to save people who've gotten injured out there. I still plan to hike it. To find someone crazy enough to go with me, I've handed out my phone number at local hunting shops, volunteering to accompany any hunter who wins an ibex tag.
By my third visit to Deming, I've binged YouTube videos on star photography, customized a lens, and even found a model for a photo I want to make on a barren bluff outside Faywood Hot Springs, a down-to-basics "resort" 40 minutes north of Deming on NM 61 that offers camping and a few simple cabins. (Drive farther up the road for even more camping at City of Rocks State Park, where a stunning formation of rock columns make an excellent foil for star photography—and where the park on the whole entertains hikers and bird watchers before the sun sets.) Around midnight, my mother, Jean, hikes with me about a quarter mile east of the springs to pose in the "star chair." The chair sits upright, as still as a statue, until she sits in it. Then it rotates back 90 degrees, so that she's staring straight up at the stars.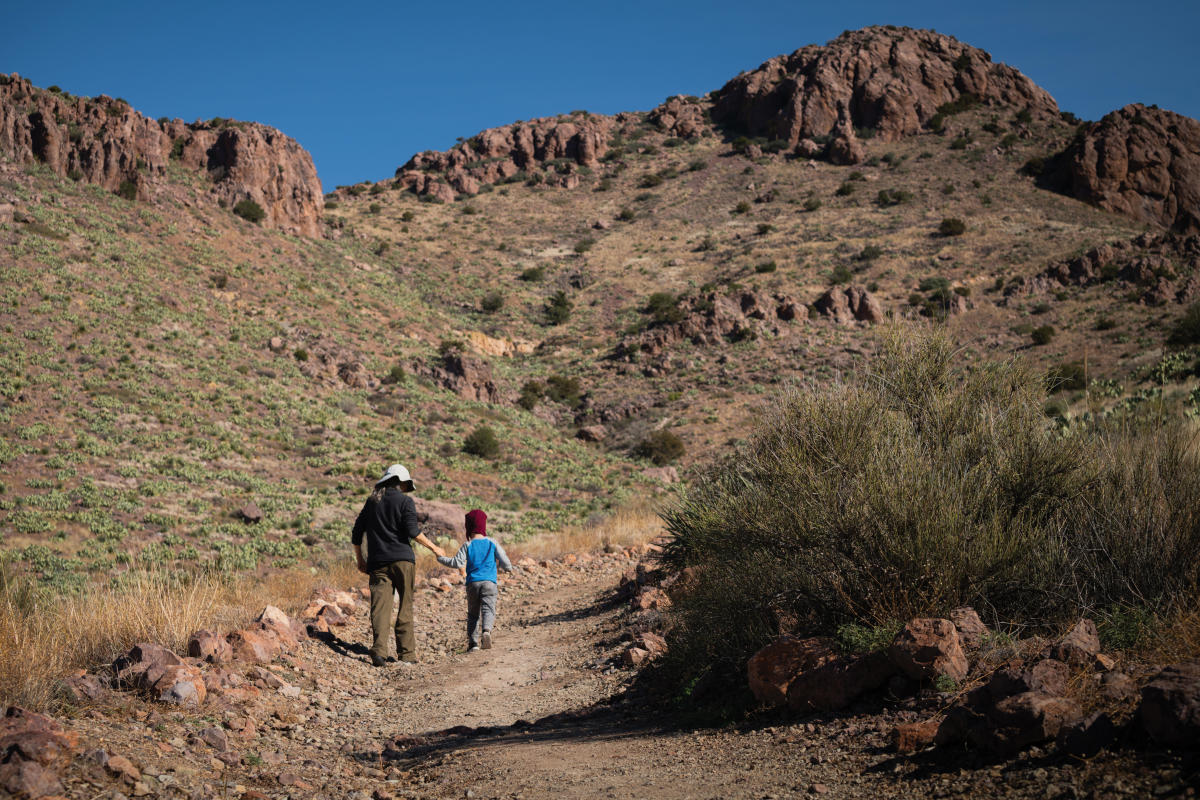 Above: Hikers at Rockhound State Park.
It helps that I've prepared the shoot ahead of time. I napped during the day and charged batteries in the Faywood common room. I set the focus to infinity using a faraway object. (You can't set focus on the stars themselves because they are too small.) I use manual lenses—cheaper models without autofocus—because that way I don't have to worry about the autofocus accidentally activating. I made one of them by opening up a lens I scored at a thrift store, ripping out the autofocus motor, and cutting a hole in the side so that I can poke my finger through and focus with my hand.
When I look at the images later, the stars are in focus and bright. The red light of a headlamp placed strategically near my mom adds some depth and color. The only mistake is a streak of green light with white dots, charting 30 seconds of an airplane's flight. It's easy enough to crop out.
I'm packing up my gear when it occurs to me that, as a gateway to the stars, the Deming area deserves more than my occasional visits. Whether shooting the stars at night or the landscape during the day, it's a playground of poignant light, form, and shadow, and a glittering passageway to areas of the cosmos none of us will get to explore except though a lens.

ROAD TRIP
Deming sits on I-10, 60 miles west of Las Cruces and 53 miles southeast of Silver City. Catch a late-night meal at Tacos Mirasol, which serves excellent sopes until 10 p.m. Earlier eaters can explore the Adobe Deli, a sprawling compound that's one part steakhouse, one part cabinet of curiosity. Recover from a sunrise shoot with a righteous coffee or espresso at the Copper Kettle, across from Leyendecker Plaza, with six-foot-tall pottery jars inspired by Mimbres designs. Fill up on Tex-Mex at El Camino Real, a spot where locals dig into a $15 combo plate that can feed three people.
If camping isn't your thing, Deming has a variety of chain hotels and a few holdovers from the 1950s, including the Butterfield Stage Motel, whose name alludes to the city's place on the old mail route.
Learn all about New Mexico's Dark Skies Trail at newmexico.org/darkskies, which includes maps, events, and links to local astronomy groups.
All across the state, you can catch a star party, where astronomers serve as your guides to the heavens and share tips on photographing them. In the southwestern region, star parties are tentatively scheduled throughout the latter half of the month, depending on weather, at Rockhound State Park (February 15), City of Rocks State Park (February 22), and the Tombaugh Observatory, on the NMSU campus (February 28). The new moon, when stars are the brightest, is February 23. Events generally start an hour after sunset.
---