Above: Cowgirl Red in Madrid.
On a warm day in 1988, Riana Peaker-Newman, then 16, and her father, Waylan Peaker, drove the 20 miles south from Santa Fe to Madrid, a once booming coal town nestled in the foothills of the Ortiz Mountains. Waylan, a self-taught jeweler and miner, had come in search of turquoise located in the nearby hills. When the pair came upon Madrid, they found a beautiful, sleepy town full of abandoned miners' cabins. There was a bar, a few shops, a few more tourists, and, according to Peaker-Newman, an abundance of possibility.
"We had been beating the concrete selling jewelry from Santa Fe and Taos," says Peaker-Newman, who's now a second-generation miner, artist, and owner of three galleries in town. "When we discovered Madrid we said, 'Wow! We could open our own store here.' Ninety percent of people that were attracted to the place were artists in some way. That creative energy is why Madrid has become an art destination. It is what brings people here."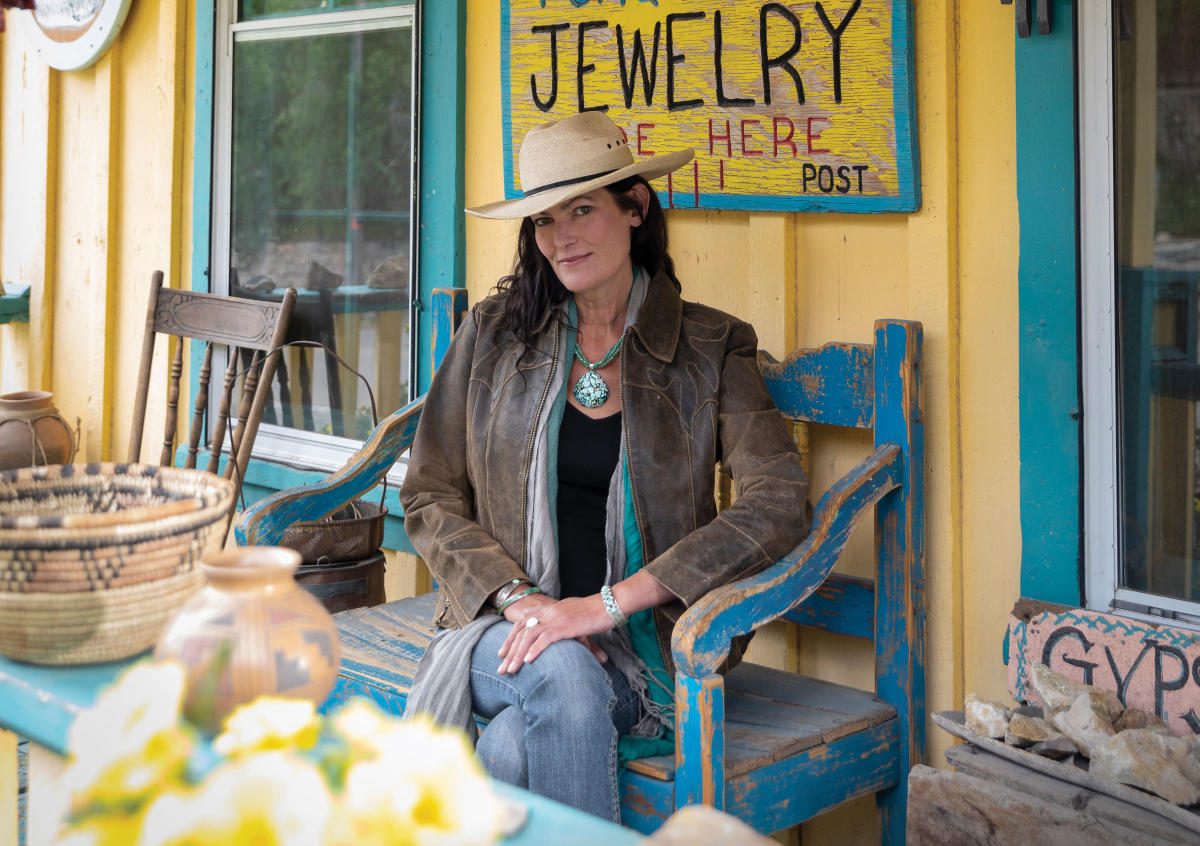 Above: Gallery owner Riana Peaker-Newman.
Rent was cheap, the community tight, and a steady stream of tourists consistently made their way along the Turquoise Trail (NM 14), a national scenic byway that stretches from the town of Tijeras, east of Albuquerque, to San Marcos, a few miles south of Santa Fe. Waylan Peaker rented out a store space that very day, and a few months later he bought the building and opened up a gallery.
Read more: Christmas in Madrid always involves a yak.
Some 30 years on, Madrid has established itself as an eccentric art scene. The once mostly abandoned Main Street is now lined with 40 galleries, owned by local artists and artisans who have transformed the former ghost town into one of the don't-miss art experiences of New Mexico. In early March, Madrid's draw was on full display as hundreds of visitors strolled past pottery galleries, vintage stores, and handcrafted jewelry shops, all located within walking distance of one another. Madrid has an aesthetic unique to northern New Mexico. Instead of the traditional adobe architecture of Taos, Santa Fe, and nearby Cerrillos, it's composed of colorful old wooden row houses, a vestige of mining times. The town has a foreign, vintage, quirky feel—what Texas Monthly described as a "sort of New Mexico version of Marfa."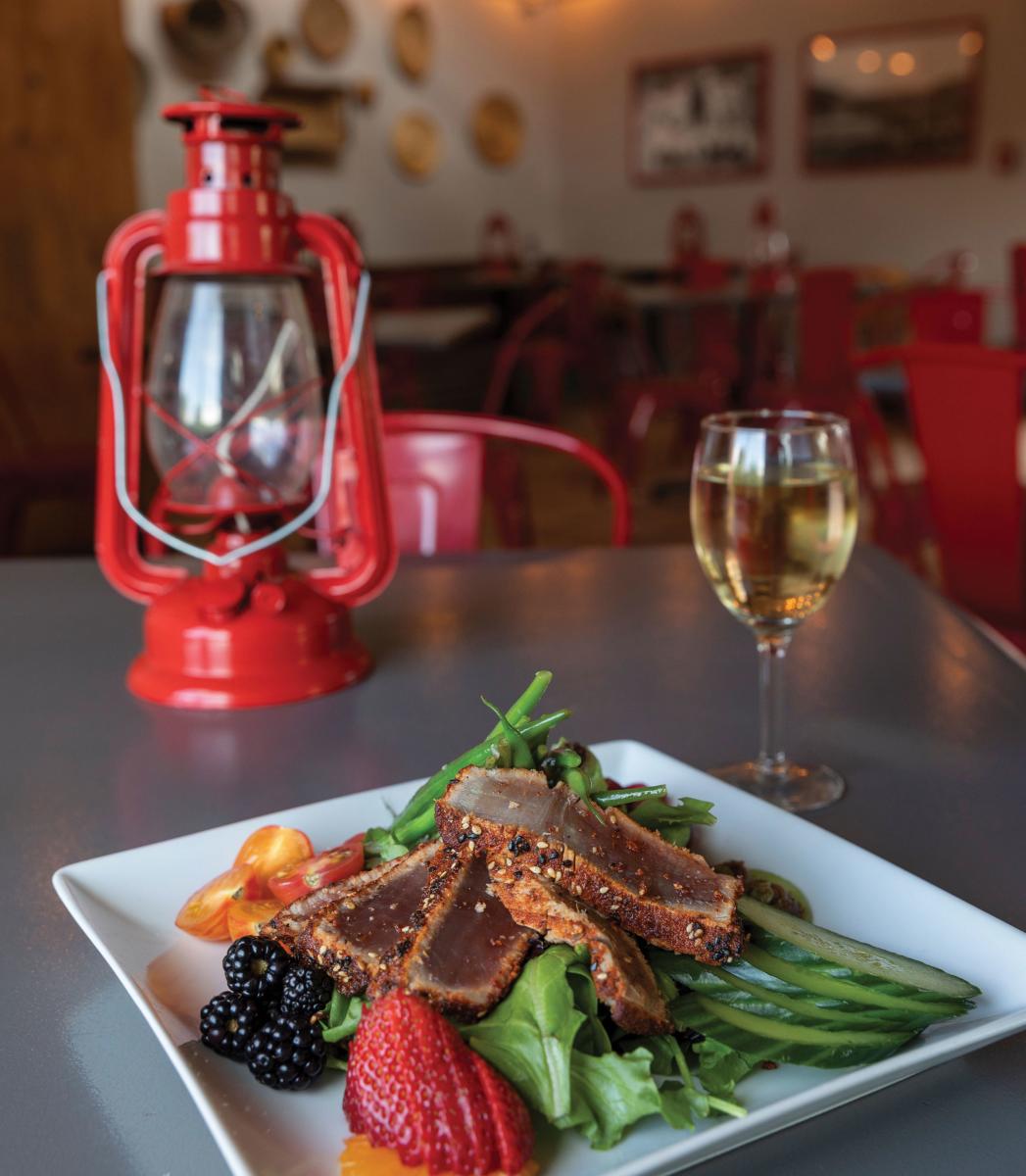 Above: The Niçoise salad at the Hollar.
One origin story credits its name to Roque Madrid, a 17th-century Spanish conquistador who was interested in the region's lead mines. Nothing, though, explains how the Spanish muh-DRID got turned into MAD-rid, a pronunciation locals have solidified. "On a good weekend, we serve thousands of customers," says Lori Lindsey, who, along with her partner, owns the Mine Shaft Tavern, a historic restaurant and bar with a live music stage, event space, and theater. "It was not always like this."
Indeed, Madrid, which boasted a population of nearly 3,000 during its boom times in the 1920s, was abandoned in the 1950s when the last coal mines closed. In the 1970s, a handful of ambitious settlers, many of them artists and quite a few of them hippies, began renting—or squatting in—the old cabins.
"From the early days, the allure of Madrid has been about creativity and freedom," says Lindsey, who also owns Cowgirl Red, a gallery and vintage store, with her partner, Melinda Bon'ewell. "Every artistic discipline is happening here. What that does is it feeds off each other." As more and more people settled in Madrid, things began to slowly change.
Read more: Check out these Top NM Destinations!
"We first came to Madrid in the early nineties," says Amy Jones, a visitor from Houston. "In those days, there was the bar and a few places selling art. Now there is this diverse art scene of mom-and-pop shops. The town has been transformed."
Most of the art is locally made. For her handmade jewelry, Peaker-Newman sources turquoise exclusively from her own mine, located just outside of town, and she sells her pieces at her gallery, Gypsy Gem. "I think people come here because there is a lot of variety and quality in all these locally owned shops," she says.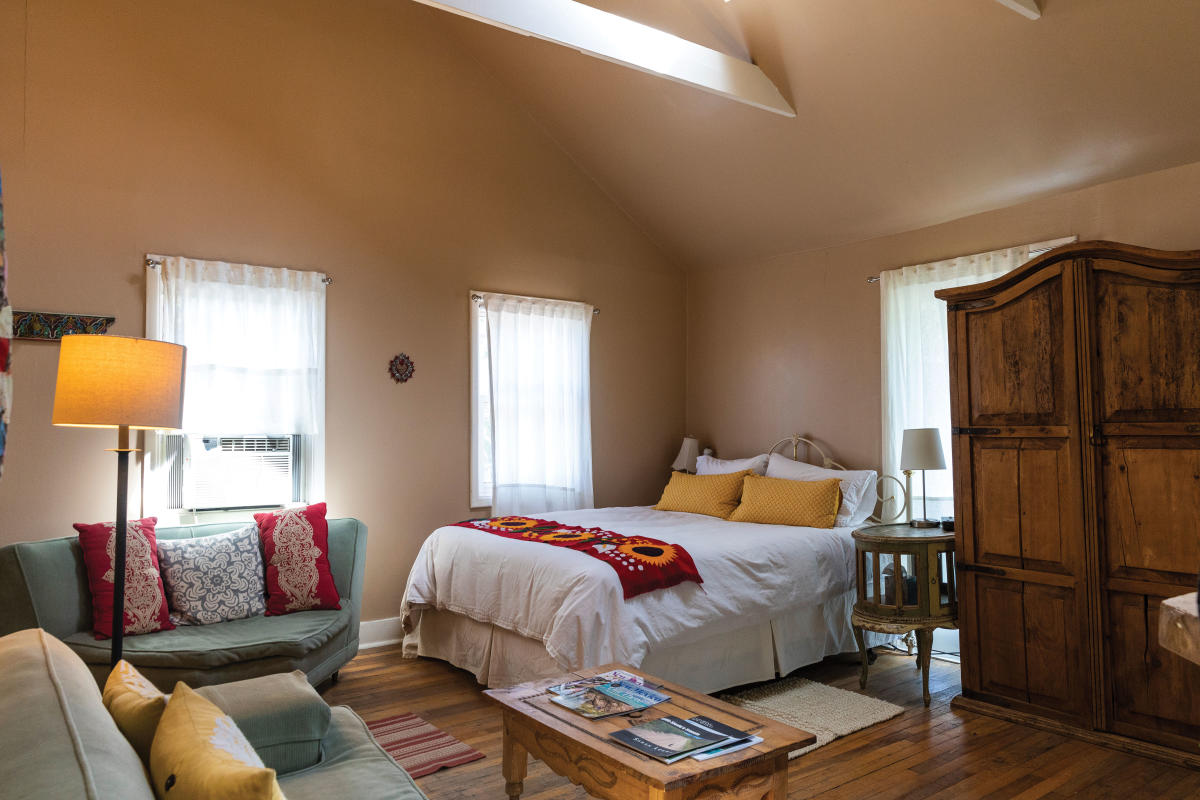 Above: The Java Junction Bed and breakfast sits above a coffee shop.
While Madrid has seen its population rebound to about 300 people—a near complete saturation of the viable housing market—its residents have worked to maintain the communal and inimitable sensibilities of the town. "We are very much a community here," Lindsey says. "If you walk the town and visit the shops, it's an experience like you used to get in downtown Santa Fe. That's the kind of freedom that I was looking for. To be able to wake up in the morning, go and open up my shop, make a bit of money, and not have to commute."
Part of Madrid's unique appeal owes to the landowners' association bylaws that prohibit corporations from setting up shop. In Madrid, you will not see Starbucks, McDonald's, or gas stations—just local entrepreneurs with especially individual visions.
"That's something that keeps us protected from the outside world," Peaker-Newman says. "It gives this town a distinct feel."

WHERE TO EAT AND STAY
HUNGER 
The Hollar
Elevated Southern comfort food with a great outdoor space that has recently started serving brunch, in addition to lunch and dinner. Try a side of the fried green tomatoes to go along with the crispy chicken and grits. There is also a Howler Menu with cheap canine treats. (Your animal is most welcome in Madrid.)
Java Junction
A small-town coffee shop with an outdoor patio and locally baked goods. Grab one of their bad coffee sucks shirts or any of the other playful merchandise found at the shop.
Mineshaft Tavern
A historic roadhouse that boasts live music, a full bar and restaurant, and seating for more than 150 people. Try the Mad Chile Burger, a former winner of Santa Fe's Green Chile Cheeseburger Smackdown competition, topped with both fresh and fried Hatch green chiles, aged cheddar cheese, and chipotle Dijonnaise.
LINGER
Java Junction Bed and Breakfast
A restored turn-of-the-century mining cabin with a coffee shop on the ground floor and a second-floor suite with a claw-foot tub, free Wi-Fi, fully stocked kitchen, and private entrance and deck, for $129 a night.
Madrid also has numerous Airbnbs, nearly all with glowing five-star reviews, that range in price from $30 to $150 a night. You can stay in an old miner's shack, an art studio, an off-the-grid straw-bale-and-earth house, or even a renovated bus.
THE STORY OF ONE LEGENDARY PARADE
For many locals, the success of Madrid is rooted not only in the town's present but also in its rich past. In the early days, this creative streak was expressed most famously in the annual Christmas celebrations put on at the behest of Oscar Huber, who owned the town and the Albuquerque and Cerrillos Coal Company. By the early 1920s, Madrid was lit up by some 150,000 Christmas lights, coupled with an elaborate holiday display.
"They built a whole city of Bethlehem on the hill," business owner Lori Lindsey says. "There were Egyptian pyramids, a live manger, and a sound system everywhere blasting carols."
TWA airlines went so far as to reroute flights in order to pass over the glowing town. And local lore claims that Walt Disney drew inspiration for his theme park after visiting "Toy Land," a miniature town of cartoon cutouts, 3-D displays, and rides at Madrid's baseball field (now Oscar Huber Memorial Ballpark). It was the first ballpark in New Mexico to have stadium lights, installed in 1920 for the town's AA minor league team, the Madrid Miners.
As Madrid declined, the Christmas celebration ceased, but when the town began reestablishing itself, the lights of Madrid flickered back to life. Now the first Saturday in December features a parade of charming misfits that just might include cranky bagpipers, a hippie Santa, and a yak who thinks he's a reindeer. Throughout the season, the shops and houses are alight, beckoning visitors once again to this festive enclave. 
Love New Mexico? So do we. Subscribe today for just $3 an issue and we'll deliver our award-winning monthly magazine right to your door.
---