Above: The Harwood Museum of Art. Photographs by Tira Howard.
SOME PLACES IN THE WORLD are full of energy. Places where history speaks of rebellion. Where creatives gather to change the world. Where some people have deep roots and others are invited to replant theirs, to live another way and get away from it all.
Taos is one of those places.
High in the desert of northern New Mexico, surrounded by the Sangre de Cristo Mountains, Taos enjoys a perfect view of 13,159-foot Wheeler Peak, the highest point in the state. It is a nest of counterculture that welcomes originals and visionaries. Here, one of the oldest continuously occupied communities in the world sits near an alternative cluster of "Earthship" buildings made of recycled materials. Artists, poets, actors, and musicians have long made their homes here, and new ones arrive daily.
Read more: A couple and their innovative house nestle into a glorious landscape.
I've been visiting since I was a baby, and I still can't name the exact thing that pulls people to it. It's intriguing and mystifying at the same time. I'm on my way again, to find out what's new. And what has always been.
IT'S NAME COMES FROM the Tiwa moniker Tau-Tah, meaning "Place of the Red Willows." Taos begins on Native land: the land of the Tiwa people. In 1615, Spanish families began settling in the area, receiving land grants from Spain to establish enclaves like Don Fernando de Taos, which bordered the Pueblo of Taos. Conflicts grew between the groups, but so did common interests, starting with a shared acequia system.
As an ancestral homeland, Taos also became the center for organizing one of the most successful rebellions in the Americas. In 1675, Popé, a visionary Tiwa shaman, escaped captivity in Santa Fe and fled to his home at Taos Pueblo, where he began hatching a plan. He told his people he was guided by kachinas, his ancestral spirits. Eventually Popé led the Tiwa, in consort with nearly every other pueblo, in a coordinated strike. The 1680 Pueblo Revolt converged on Santa Fe and overthrew the Spanish government.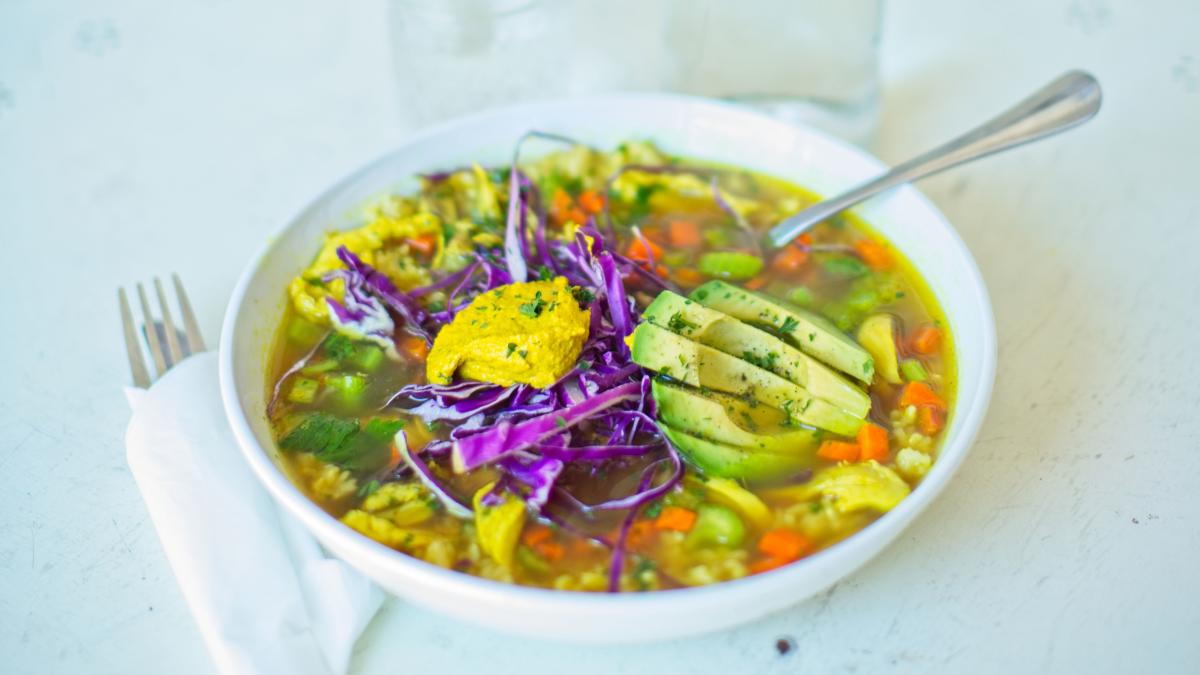 Above: Manzanita Market's hearty bowlful.
As an ancestral homeland, Taos also became the center for organizing one of the most successful rebellions in the Americas. In 1675, Popé, a visionary Tiwa shaman, escaped captivity in Santa Fe and fled to his home at Taos Pueblo, where he began hatching a plan. He told his people he was guided by kachinas, his ancestral spirits. Eventually Popé led the Tiwa, in consort with nearly every other pueblo, in a coordinated strike. The 1680 Pueblo Revolt converged on Santa Fe and overthrew the Spanish government.
Even after the revolt, Taos remained the northernmost point of a massive trade system and a meeting point for the Spanish settlers who returned, and eventually American traders, as well as the Comanche and other Plains groups. It saw notorious outlaws and mountain men in the 1800s, when the infamous fur trapper and "Indian fighter" Kit Carson also made it his home.
In the early 20th century, a group of artists fell in love with the pure light and rich culture, forming the Taos Society of Artists in 1915. The group included Joseph Henry Sharp, Ernest Blumenschein, Bert Phillips, Eanger Irving Couse, and W. Herbert Dunton, all of whom painted romanticized portraits of indigenous and Hispanic peoples, landscapes, and scenes from Taos Pueblo.
The social circle in Taos expanded again when Mabel Dodge Luhan moved to town in 1918. The wealthy patron of the arts and salon hostess wanted to form a new American society, centered in the Southwest. A larger-than-life figure who knew that creativity begets more creativity, Luhan curated a significant entourage. Soon renowned artists like Georgia O'Keeffe, Marsden Hartley, and Ansel Adams visited her, as well as writers like Willa Cather, D.H. Lawrence, and Aldous Huxley.
With Taos as their muse, Luhan and her crew helped turn the mountain town into the artist center it remains to this day. One can even follow in their footsteps and stay at the historic Mabel Dodge Luhan House, which offers workshops where guests can deepen their creative habits.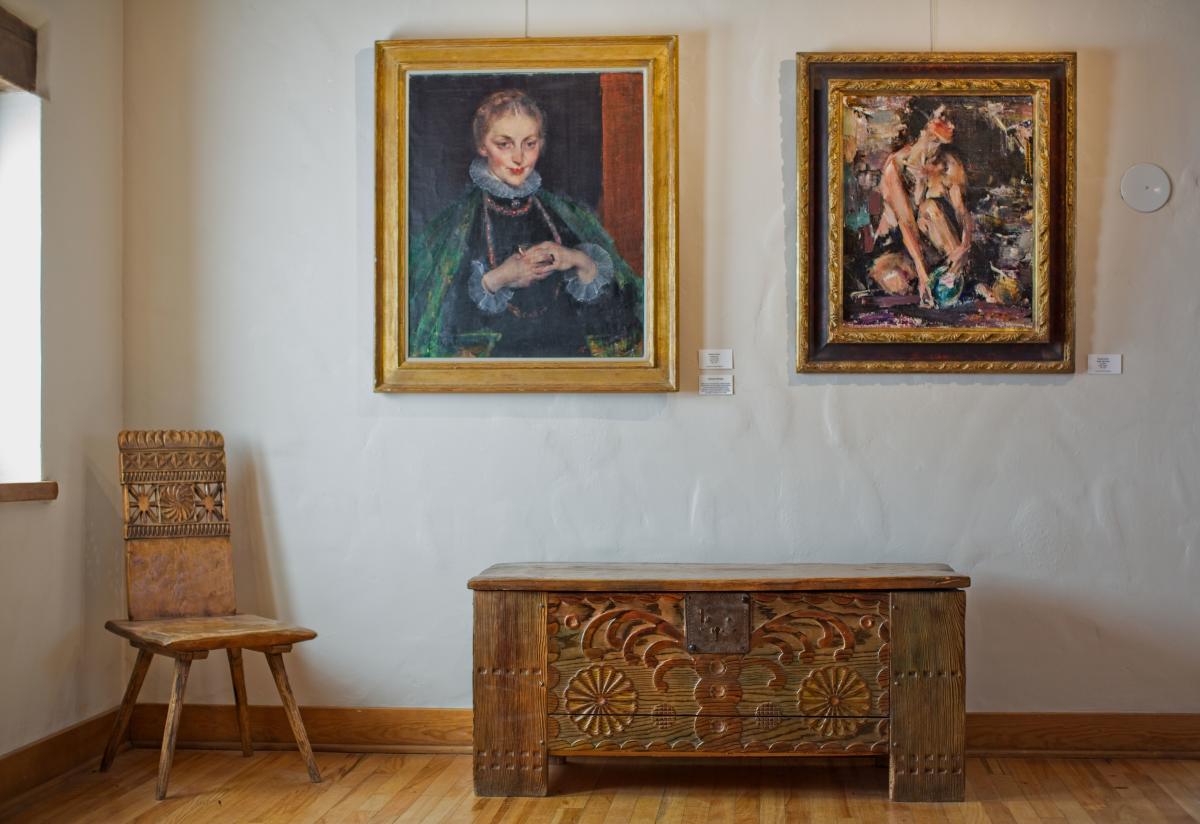 Above: The Taos Art Museum blends great art with Nicolai Fechin's hand-carved furniture.
With a population of fewer than 6,000, the town now boasts a plethora of cultural drawing cards, like the Millicent Rogers Museum, which honors the late, fashionable oil heiress who relocated to Taos from New York in 1947. (She was mending a broken heart after her breakup with Clark Gable. There's also the Harwood Museum of Art, a hidden treasure of modernist art, the Taos Art Museum at Fechin House, the Kit Carson Home and Museum, the Blumenschein Home and Museum, and the Couse-Sharp Historic Site.
Taos is still a rogues' paradise, welcoming new generations of artists enthralled by the area's big skies and creative energy, while remaining home to cultures who've rooted themselves here for generations. It has undergone an evolution through arty upstarts, then hippie communes, and is today a place where you can sip on spirits distilled by Rolling Still, a local operation with a swanky downtown tasting room, or have an upscale dinner at Lambert's, where the TreeHouse Bar & Lounge welcomes a more casual crowd.
Read more: A child of New Mexico's once tiny ski industry remembers the bootstraps efforts of the families who helped it grow.
Every August, Meow Wolf's Taos Vortex Festival takes over Kit Carson Park with national-caliber performers like Alabama Shakes and the Flaming Lips, plus art installations and dance parties. In the sagebrush-dotted plains off NM 64, Hotel Luna Mystica hosts guests on the mesa in revamped vintage trailers with pop-culture names like Thelma and Louise, and Frida. Each trailer has its own wooden deck facing the mountains, and seeing a full moon rise from one of them should be on everyone's bucket list. The hotel is just feet from the Taos Mesa Brewery's Mothership, which has a renowned stage of its own where you can catch touring bands while drinking a local brew.
The 21st century has touched Taos, but it still feels like an escape.
WHEN I MAKE MY LATEST sojourn there in last December, holiday excitement is buzzing. It's cold when a girlfriend and I happily find free parking near downtown. (Tip: Wear good walking shoes.) We stroll across the plaza and hit Manzanita Market, a community café that sources all of its ingredients from organic and biodynamic farms. Owner Jennifer Hart (who is also the woman behind the locally cherished Love Apple restaurant) says her relationship with the community runs deep. "We work with every organic farm and local rancher we can find. Working with our local people and understanding the level of effort and love that goes into growing organic food connects us on a deeper level to our community and to our food."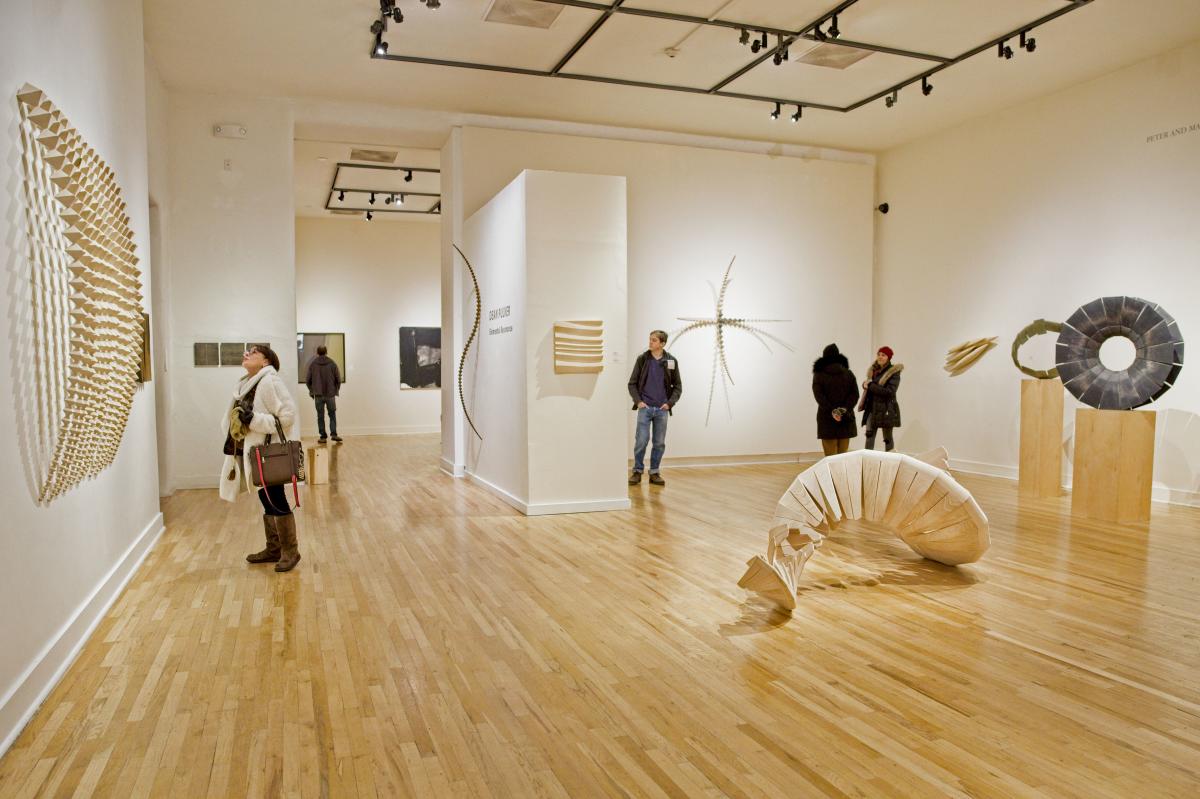 Above: Streamlined galleries show off modern art the Harwood Museum.
The whitewashed interior at Manzanita Market is full of rustic charm, accentuated by a baby-pink Smeg fridge. We share a bacon biscuit with jalapeño honey butter and chorizo migas. The migas are good, but the biscuit is dynamite, perfectly flaky and topped with butter that hits the perfect note between savory and sweet.
Next we peruse the John Dunn Shops, housed in the former home of a New Mexico legend who spent his days riding broncos and running saloons in the area. We are happy to see Las Comadres gallery, a women's co-op that sells art and jewelry made by local gals. I get a tiny ceramic-pot Christmas ornament for my mom.
We circle back to Chokolá Bean to Bar to warm up with a cup of hot cocoa. The in-house chocolatier makes truffles, bonbons, chocolate bars, and hot cocoa blends. Owners Vincent and Javier Abad met in Venezuela, where they studied the art of chocolate making before relocating to Taos with their young family and opening Chokolá in 2015. The French-blend hot chocolate has a hint of vanilla and is better than cups I've savored in Paris.
Read more: All year long and all across the state, New Mexicans help their communities rise above difficult circumstances. Meet a few of our favorite hometown heroes.
Using our chocolate rush to propel us up Paseo del Pueblo Sur, we visit the Taos Art Museum at Fechin House, where we wander the stunning home built by famed artist Nicolai Fechin in 1927. Coming from a woodworking background in Russia, where his father taught him the craft from a young age, Fechin filled the home with 51 carved wooden doors and nicho covers.
We bask in the ethereal sunlight that pours into the master bedroom through huge round windows made of tiny panes. Executive Director Christy Coleman tells us that the artist designed every detail. "Being able to see the craftsmanship, it's so beautiful. He put a lot of detail in the house, creating homages to both his homeland and Taos. You see a mix of different cultures."
Next we head off to Taos Pueblo, a UNESCO World Heritage site and stunning testament to the genius of puebloan architecture and the indigenous people who've lived there without interruption for 1,000 years. During one of the daily walking tours, we keep in mind that the historical heart of the pueblo comprises centuries-old adobe homes where people still live. It is quiet and serene, the adobe sparkling with a dusting of fresh snow.
We make the short drive to the San Francisco de Asís Mission Church, on the plaza at Ranchos de Taos. Built in the early 1800s by Spanish Catholics who lived in the newly established settlement, the billowing adobe sanctuary is treasured by community members who gather every June to replaster and maintain its historic buttresses. A big white door and triad of crosses make the building insanely photogenic. We follow in the footsteps of Ansel Adams and snap a photograph of our own.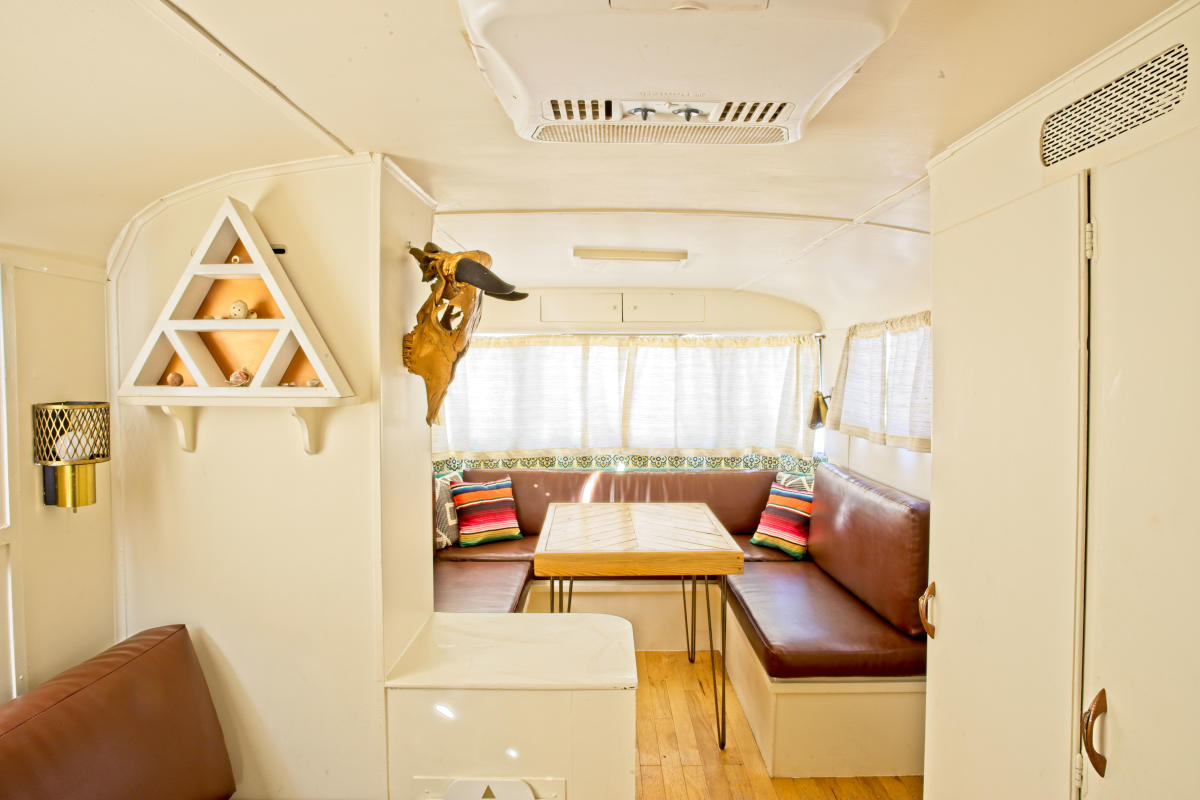 Above: Funky digs in an Airstream trailer at Hotel Luna Mystica.
It's approaching late afternoon as we head back to the downtown area, just in time for happy hour, where choices abound. We contemplate the Lounge by Rolling Still Distillery. Their mixologists make pretty craft cocktails highlighting the vodka they distill with water from a spring in the Sangre de Cristos. The bar also features other spirits made in Santa Fe, like Blanco Rum, from Tumbleroot Distillery, and Dire Wolf Whiskey.
In the end, we order a classic margarita at the historic Taos Inn, whose lobby is littered with ski jackets and families lounging after a day on the mountain at Taos Ski Valley, the children red-nosed and full of winter awe. The Adobe Bar serves a heap of chips and guacamole as we sip our drinks.
Read more: You can take this lawyer out of Taos, but somehow he always finds a way home.
I can't help but think about my own childhood, when my father—the late flamenco guitarist Ruben Romero—used to bring me to the Taos Inn to watch him play on weekends. I usually fell asleep on the red-velvet lining of his guitar case before the end of the set, when he would carry me and his instrument to one of the rooms for the night.
I remember the drive from Santa Fe in the front seat of his small white truck, and me always asking why he liked playing in Taos so much. The trip seemed so long then, like we were going to the middle of nowhere, and, as a kid, I remember feeling like the air was colder. He smiled and never answered. Now I know—he was one of those creative rogues, pulled there by the unnameable, that certain something I think must exist in the substrata, the power of this mountain town.  
---