Above: Director and curator Roger Joe Sanchez at the Ratón Museum. Photograph by Minesh Bacrania.
WHEN ROBERT LINDSAY CAMPBELL—"Skinny" to his friends—looked through his camera's lens at the city of Ratón in the early 1900s, he saw a thriving downtown with handsome two-story Victorian brick buildings and a busy railroad station chugging people in and out. Miners quenched their thirst at a variety of saloons. Ranchers rode into town to take care of business at the Wells Fargo Express Company, in its newly built Spanish Mission Revival–style building. Ladies kept the town's merchants busy as they stocked up on ribbons and bows before heading to a touring show at the local theater. Over the decades, Campbell faithfully recorded the life of this lively community in the state's northeast corner, watching the frontier West head into the Jazz Age and beyond.
A commercial photographer, Campbell carried his kit from studio portraits to annual fairs, Christmas celebrations, the railway platform, mining camps, parades, rodeos, and races with both horses and motorcycles. He amassed boxes filled with delicate glass-plate negatives, a potential treasure trove of the place's past.
When it served as a stop on the Santa Fe Trail, his town was called Willow Springs, but it transformed into Ratón in the 1880s—an Atchison, Topeka, and Santa Fe Railway hot spot blended with coal camps and cattle pastures. It attracted immigrants from all over the world and peaked in the 1980s at 8,200 residents. The good years, though, didn't last. In the 1990s, the coal mines closed and residents began to leave. Campbell's boxes of memories were all but forgotten.
Above and below: Images from Ratón's digitized collection, which can be seen at the Palace of the Governors Photo Archive website and in the exhibits at the Ratón Museum. Photographs Courtesy Palace of the Governors.
But in 2007, Jean Hulette, a woman from Los Alamos, walked into the Ratón Museum and said something tantalizing to its one employee, director and curator Roger Joe Sanchez. She was the granddaughter of a former Ratón photographer, the same Robert L. Campbell, and had a stash of negatives that needed to be in a museum—one where they could be cared for and seen. Sanchez's museum was set to move into a larger building, a onetime hardware store across the street. He walked Hulette over to scope it out. "It had plenty of space for the photographs, and she thought that was just wonderful," he says. Hulette promised to get in touch with him later, after she finished dealing with a medical situation.
Then the story went cold.
"I waited six months and then called her but got no answer," Sanchez says. "I called four or five other times. No answer. Then I called again and the phone was disconnected."
He figured that was that. But in 2011, Hulette's daughter, Cynthia Pallas, called him. She had sad news, along with an urgent request. Her mother had passed away, and an estate sale would be held the very next day. Within it were some boxes of negatives that her mother had promised him. Did he still want them? Absolutely, Sanchez said.  Pallas quickly pulled the negatives from the sale. "We came that close to losing them," Sanchez says.
Little did he know that this gift of aging and disorganized negatives would kick off a multi-year adventure. Along the way, it united archivists and photo historians in different cities and turned his hometown into an amateur detective force, scouring the details in antique images to tell the tales of the town's past.
THE RATÓN MUSEUM DIDN'T have the equipment necessary to care for and restore the images, so the boxes languished yet again. One day, a local amateur historian mentioned them to Daniel Kosharek, the photo curator at the New Mexico History Museum/Palace of the Governors, in Santa Fe. The Palace of the Governors Photo Archives houses what may be the largest collection of historical and contemporary images in the Southwest, but it didn't have much from Ratón. Tempted, Kosharek drove up.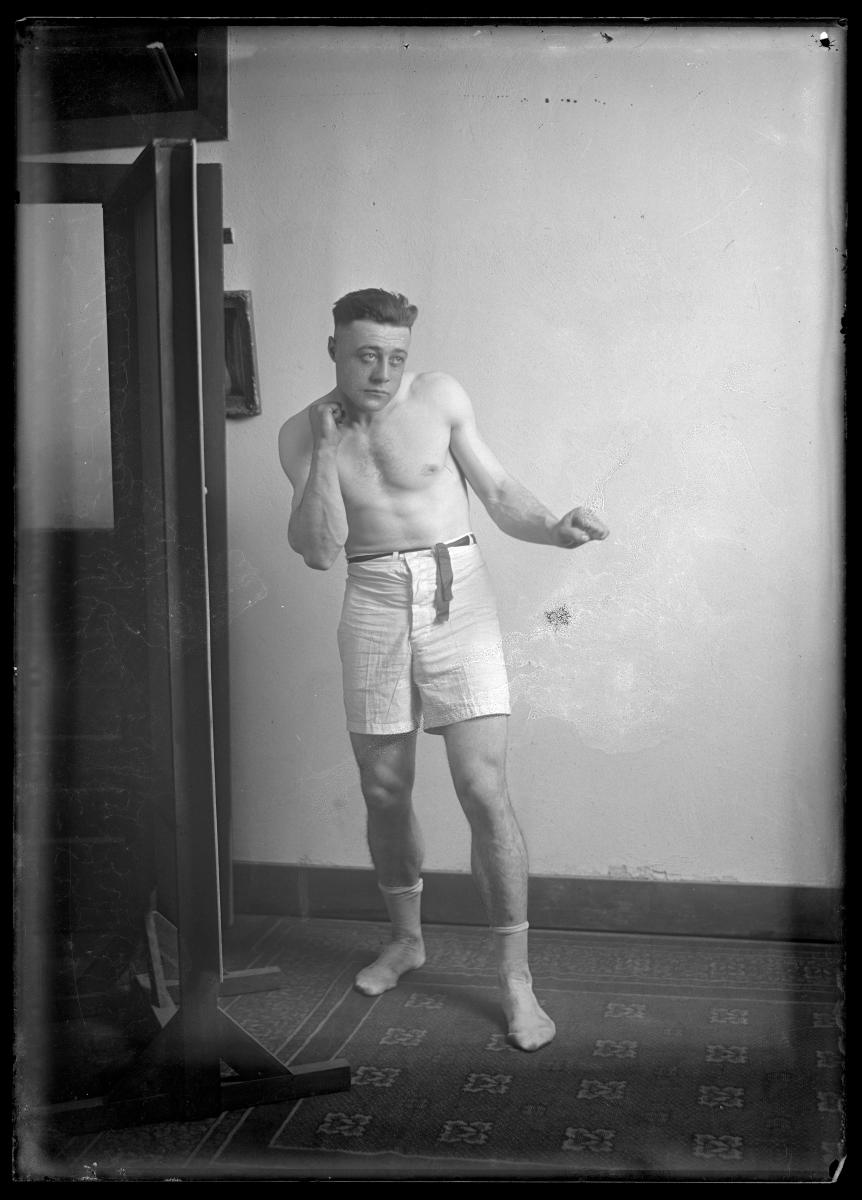 "They began pulling all these dusty boxes from under the cabinets, and oh my goodness," he says. "It really was a moment of discovery. It gave us about 3,000 spectacular images from about the turn of the century to about 1925, and some through the 1930s."
Even then, glimpsed in negative relief through the grime of neglect, the images brought to life Ratón in its prime. "They capture a moment in time," Kosharek says. "Ratón was a pretty lively place. There would have been 20 saloons and four brothels. You drive through town today and you have no idea of how it was."
Glass-plate negatives don't last forever, especially ones that have spent decades outside of climate-controlled archives. Kosharek estimated that, without archival-caliber intervention, these images had 20 years of life left. As a picture of the past hung in the balance, Sanchez and Kosharek struck a deal. The Photo Archives would clean them, scan the most important ones to digital, and make prints of those. In return, the museum would let it use the images in exhibitions and for research.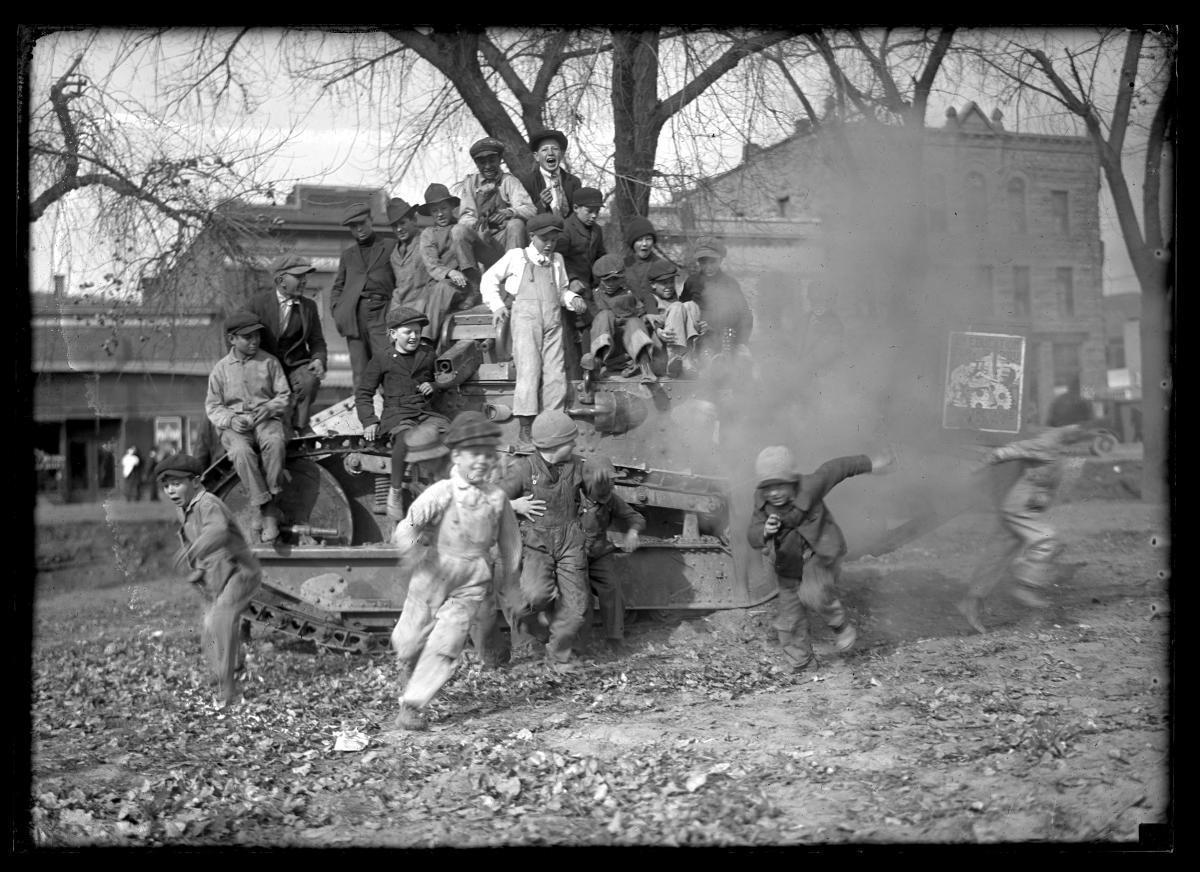 Hannah Abelbeck, the Photo Archives' digital imaging specialist, marshaled the help of volunteers to slog through the negatives. From 2015 to 2017, they air-dusted and cleaned each five-by-seven-inch glass-plate negative with a soft cloth and distilled water. They also discovered a cache of film-nitrate negatives, which are among archivists' worst nightmares. Left to degrade, they can combust without warning. Working carefully, the team scanned each one, then froze the lot and sent them back to Ratón with instructions to isolate them in a fireproof cabinet. Each flatbed scan took four to ten minutes. Team members watched patiently while image after image materialized in black-and-white on their computer screens. Some left Abelbeck puzzled. "We were scratching our heads about a photo of a cow that didn't have front legs—people back then did alter negatives and try to make optical illusions," she says. "I mentioned it when we were up in Ratón and was told, 'Oh, yes, there was a two-legged cow!'"
Photos of local businesses, such as old-fashioned butcher shops with racks of hanging carcasses, intrigued her, as did changes in technology. "There's something compelling about occupational photographs," she says. "People don't own butcher shops like that anymore. This was also a period when people were getting their first automobiles, so there are lots of pictures of new cars and building roads. You just see that sense of excitement and transformation that the automobile brought and all the changes that came after it."
One day she saw a beautiful photograph of a biplane flying over the rodeo grandstand. Then came an image of someone driving a tank through town, probably at the end of World War I, another of someone operating a motion picture camera, and one of the projection room of El Ratón Theatre.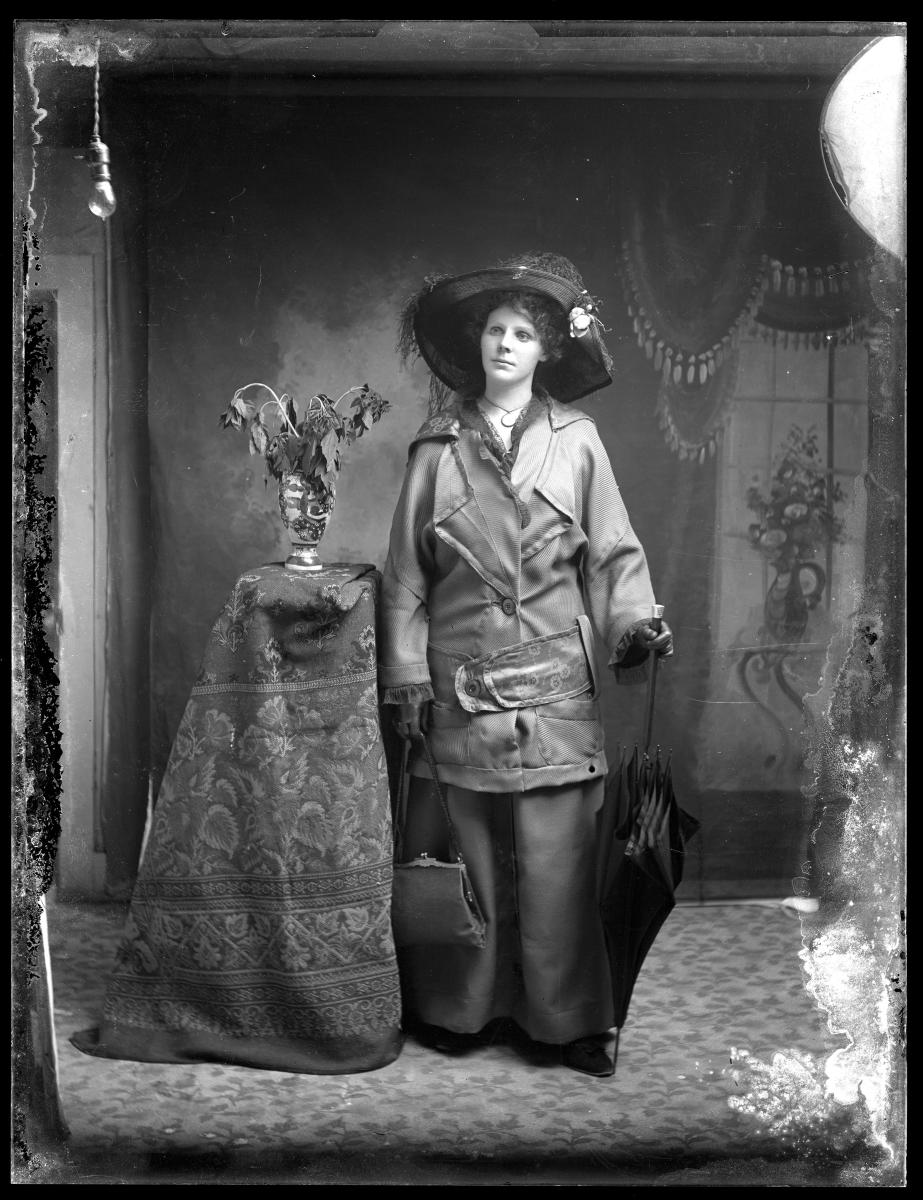 "The collection gives you a really good picture of the community and its interests at a particular point in time," Abelbeck says. "Through what the photographer is looking at, you can tell which celebrations and events were a big deal, what people were excited about, and what was worthy of documenting."
But you also had to make some leaps in judgment. Old print photos often have details jotted on the back, but negatives carry no extra info. For the most part, the 1,000 images that the archives rescued were 1,000 mysteries waiting to be solved. If the nameless faces and unknown events were to earn their place in history, they needed even more help.
SANCHEZ WAS BORN IN RATÓN in 1949 and never left. When he finally had images to thumb through, he says, memories poured forth. What really struck him, though, were the photographs of celebrations and parades from before his time. "I couldn't believe the people in the street—thousands of people," he says. "When we have a parade today, we're lucky to get three or four hundred people out to watch. But in those days, there was no TV, so the whole county came out, plus all the people from the coal camps. I just wonder what some of these celebrations were—what the heck was going on in those days?"
Finding the answer, he says, is part of his job. Besides using the images in a series of exhibits, the museum began organizing "identification parties." They called on the town's oldest residents to visit the museum, take a look, and offer their thoughts. So far, they've nailed down the Days of '49 mining celebration, Elks Club events, and Christmas and Halloween gatherings.
Already, information held within the photos is paying off. The historic downtown area around First Street has seen a welcome period of renewal in recent years, with a craft brewery, new restaurants, and a coffee shop opening. The old images of downtown have become a valuable resource to people who are renovating and restoring buildings to their original facades and bringing back the feel of those pioneer days.
As they prepared to open the Colfax Ale Cellar, brewer Jim Stearns and his wife, Karen, restored a 1906–1908 building that once was the Dwyer Department Store. Campbell's photos of the building revealed how it used to look, with mannequins in the windows and horses and carriages outside. By the 1920s, a theater occupied the first floor, with a Masonic lodge upstairs. In its honor, the Stearns let patrons enjoy their sips in an old theater chair. "Our goal is to get people off 1-25 to visit," Stearns says.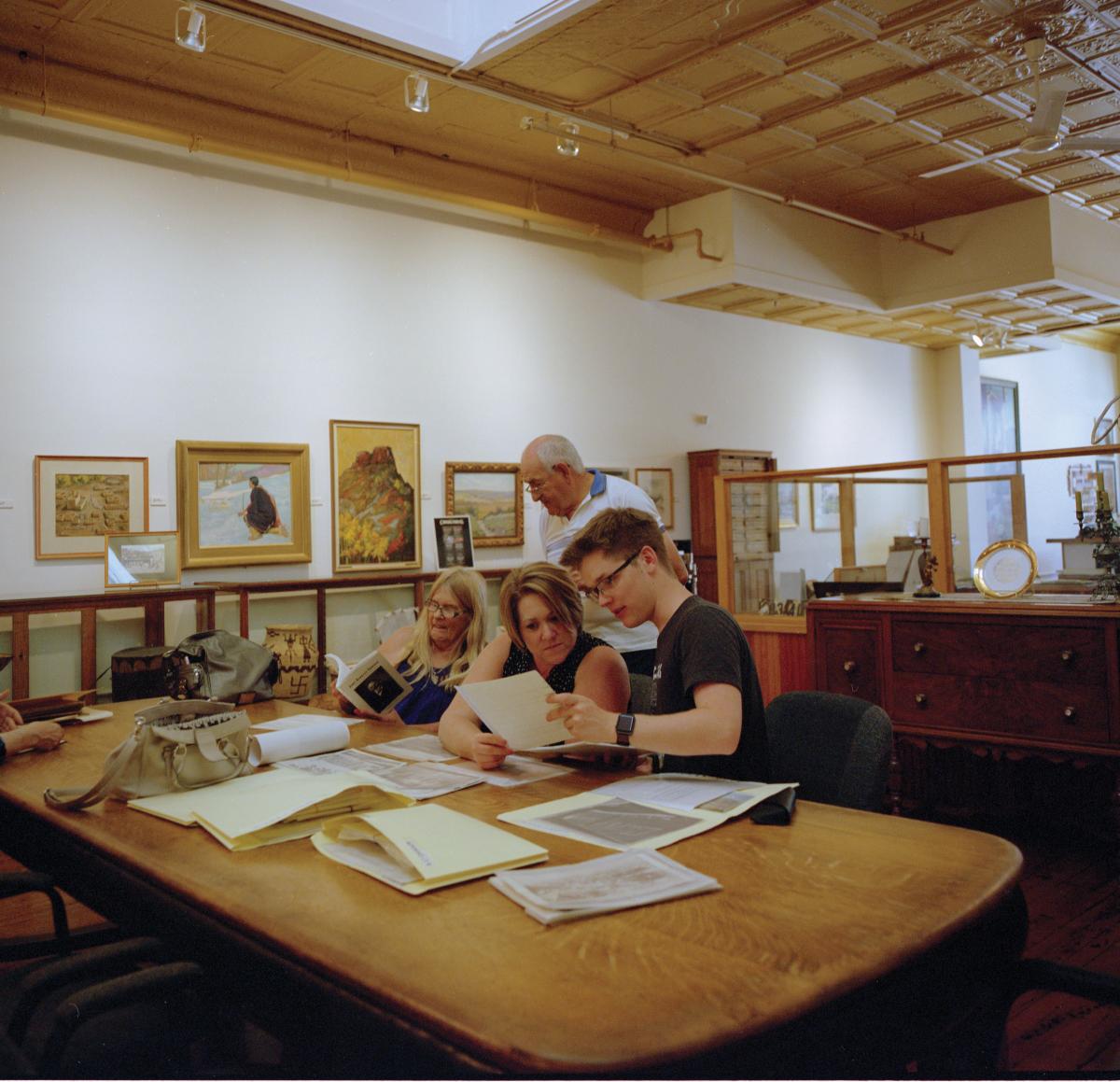 Above: Sanchez gives tours and works in the museum of his hometown. Photograph by Minesh Bacrania.
Kathy McQueary, president of the museum's board of trustees, says she's struck by how the photos show the ways the town has morphed over the past century—and how it hasn't. Some of the oldest buildings appear then as they are today, including the grand Shuler Theater, which staged its first show, a musical comedy, in 1915.
Asked for any surprises among Campbell's photos, Sanchez points  to the ones of Franklin D. Roosevelt. "He was on a train going across the country to all these little towns during election time, and he's giving a speech to the people in Ratón," he says.
Residents flock to see the exhibits regardless of the subject, says McQueary, who calls the collection "a wonderful gift," even though the identification project has a long way to go. "It's still a work in progress," she says. "There's such a large amount of them that, for our limited staff of one, plus volunteers, to be able to go through and get them all identified and keep up to date with that process has been trying, to say the least. But we're working on it." More info might come on Labor Day weekend, when the museum honors an annual reunion of people who hold ties to the old Dawson mining camp by opening an exhibit that includes Campbell's rare images from it.
The first exhibit of the images, in June 2016, drew some of Campbell's relatives, including Cynthia Pallas, who lives in Florida. She remembers her great-grandfather, who died in 1967, as "always smiling, a great personality." Her mother, she says, had the negatives stacked on metal shelves in the garage for a long time.
"I didn't know what kind of condition they were in," she says. "When I got the call that they were able to start digitizing them, I just cried my eyes out, because it was wonderful to see that they were saved."  

THE NEW GLORY DAYS
Ratón's historic downtown district grew up around the former Atchison, Topeka, and Santa Fe Railway depot, built in 1903 in Spanish Mission Revival style. Now an Amtrak station, it welcomes the Southwest Chief daily (201 S. 1st St.). The Shuler Theater (131 N. 2nd St., 575-445-4746, shulertheater.com) and El Ratón Theatre (115 N. 2nd St., 575-445-7008, elratontheatre.com) are still going strong and entertaining locals with live performances and movies.
The Colfax Ale Cellar brewpub (215 S. 2nd St, 575-445-9727, colfaxalecellar.com) opened a year ago with favorites like Chicorica strong golden ale, named for a local canyon in Sugarite Canyon State Park. Bruno's Pizza and Wings offers takeout and delivery from the former White House Saloon (133 Cook Ave., 575-445-9512, brunospizzaraton.com). The Enchanted Grounds Espresso Bar & Cafe features locally roasted beans, panini, salads, and homemade soups—a good place to revive in between forages at three nearby antique stores (111 Park Ave., 575-445-2219, enchantedgroundsraton.com). The Historic Ice House serves barbecue, fried pickles, and sopaipilla cheesecake (945 S. 2nd St., 575-445-0003, thehistoricicehouse.com).
For an overnight stay, the Ratón Pass Motor Inn has been restored to a 1950s retro cool with vintage decor (308 Canyon Dr., 575-445-3641, ratonpassmotorin.com). The Gate City Music Festival, over Labor Day weekend, celebrates cowboy culture, with country music, street performers, beer and wine garden, street dance, and vendors (gatecitymusicfestival.com).
Learn more about the town and nearby attractions at ratonmainstreet.org.
---