It's 4:15 on a spring Thursday afternoon at Taos Mesa Brewing. I'm admiring an ample view of looming, snowcapped mountains in the distance, framed by the Quonset hut's wall of windows. Just outside, a couple of scruffy dudes who're just passing through town play Americana ditties that woo the crowd with their earnest simplicity.
Rat-a-tat-tat! Behind me, a beat clacks out. I whip around.
A captivating, sloe-eyed flamenco dancer in full traditional costume, dark hair drawn back in a tight bun, tests the resonance of the wooden floor as her compañera slips on castanets.
I'm sandwiched between the La Peña Flamenca de Taos group and the duo of sweetly strumming musicians outside. Nearby, a gaggle of grade school boys teach themselves to play pool as their parents decompress. Other tables are held down by older gents with long gray beards, and twentysomething students from UNM-Taos. It's a classic Taos moment, composed of contemporary hipster culture, deeply traditional Hispanic performance, unreconstructed hippies, young families, and undergrads just starting to decide what they want to be when they grow up—all sharing a glorious, uncrowded setting.
I don't take moments like this for granted. And here's why.
For years, I said, "I don't get Taos. What do you do there? Where do you go?" Every now and then, I'd press a Taos-lover to explain. He or she would wax all sappy and vague, and I'd have to change the subject.
But over the course of several visits in the past year, I learned how to be in Taos. First: how not to be. Do not drive straight into town, park near the plaza, walk around, have lunch, go into a few randomly selected galleries and shops, and call it a visit. It's a pleasant enough way to spend the day, but it just barely scratches the surface.
When I took the time to dig deeper, I was guided to a winding mountain drive up to visit the surprisingly dollhouse-like D. H. Lawrence Ranch, a bumpy ride to a trailhead that ushered me to the craggy cave below Lucero Peak in El Salto, overshot by a vertiginous, iridescent waterfall straight out of a Maxfield Parrish painting. I savored a Farmhouse Café lunch made entirely of ingredients from Taos County, and picked through a box of raw, unset turquoise pieces from a local mine at Two Graces Plaza Gallery, deciding on the spot to take a jewelry class so I could set them myself. That was all before my happy-hour visit to Taos Mesa Brewing.
I now think I get Taos—and I know there's more to get. In the course of my visits I discovered a handful of new and noteworthy experiences that planted my feet firmly on aficionada ground. Whether you're a long-standing member of the cognoscenti or looking for a way in, I hope these give you a new road into Taos.
Sacred Harvests
This month, Taos Pueblo's 30th annual Pow Wow (July 10–12) will draw Native tribes from around the country for dancing, drumming, and community.
Visitors are welcome to observe, shop at arts and crafts markets, enjoy festival foods, and camp out under the stars. taospueblopowwow.com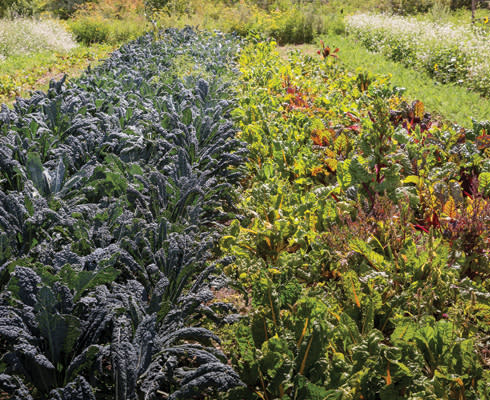 One of Red Willow Farm's lush fields at Taos Pueblo.
An entirely different experience awaits visitors and locals at the Pueblo each Wednesday, when Red Willow Farm sells produce grown from heirloom seeds via organic growing practices. Farming methods involve both the elemental and the high-tech, and plants thrive year-round in gardens and greenhouses thanks to a solar-powered drip irrigation system. Chards, radishes, cucumbers, tomatoes, and more are available, even in deep winter.
If you're not in cooking mode, prepared-food options abound. Enjoy lunch or a snack on the run—tamales, clay-baked oven corn, home-baked bread—before taking an expertly narrated Taos Pueblo tour. Wednesdays, 10-5; redwillowcooperative.com. Taos Pueblo: (575) 758-1028; taospueblo.com
Eat Up the Scenery
Close to the plaza, splurge at Martyrs Steakhouse, which opened in the spring of 2013 in a restored adobe home. Farmhouse chairs on a hardwood floor contrast pleasingly with white tablecloths, and lace curtains and crystal chandeliers hark back to Wild West glamour.
Start off with a rosemary gin fizz and luscious steak tartare. The beef and seafood are classically prepared, with a choice of sauces, including béarnaise, peppercorn bordelaise, and shiitake mushroom cream sauce. (575) 751-3020; martyrssteakhouse.com
Foodies go north of town to El Prado to worship at the temple of lovingly prepared organic and local foods known as the Love Apple. The restaurant, in the candlelit former Placitas Chapel, is so tiny that guests walk through the kitchen to get to the dining room—which fits only 13 tables.
What's new at the Love Apple? All of the food. It's scrupulously fresh, free-range, local, and organic. Thus, the menu is also always new, based on what's available and appealing. Here's a sample meal: local rainbow trout with chipotle crème alongside a quinoa-piñon fritter. You might expect a place with such devout attention to eating sustainably—in a former church, no less—to have a pious vibe, but the knowledgeable staff are unfailingly warm and, well, almost giddy as they describe the specials. (575) 751-0050; theloveapple.net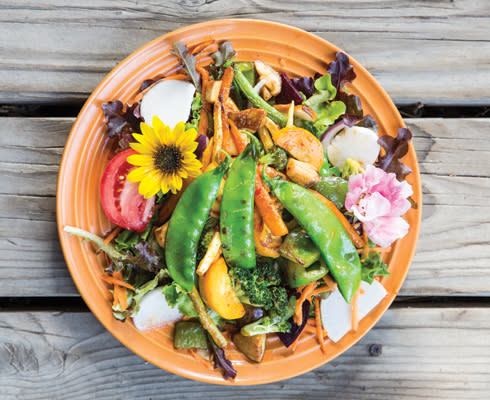 A rainbow of fresh flavors is on the menu at the Farmhouse Café and Bakery.
Also in El Prado, and of the same ethos, farmer and community builder Micah Roseberry's comfy-casual Farmhouse Café and Bakery offers tasty locavore offerings for breakfast, lunch, and early dinner, including gluten-free peach pancakes, hearty sandwiches, and burgers. Its bucolic, pond-and-flower-patch-dotted, rural-chic setting at Overland Ranch encourages you to grab a table outside, smile at the resident sprawling collie, and order a raspberry-almond square for dessert. (575) 758-5683; farmhousecafeandbakery.com
Hang Your Hat Here
What do silver-leaf bureaus, ivory-leather wing chairs, stark metal bed frames, chevron-patterned marble tile, and glossy stacked ball lamps have to do with Taos décor? At Palacio de Marquesa, they are an homage to the elegance of the Remarkable Women of Taos, including Georgia O'Keeffe, Agnes Martin, and Millicent Rogers. White plaster surfaces unify the traditional (kivas, vigas) and fashion-forward. Formerly Casa de las Chimeneas B&B, the latest incarnation, which launched last year, offers a hearty breakfast, served in the main building's stately dining room. If it weren't for the hour and the egg-centric fare, the scene could pass for a dinner party. (855) 846-8267; marquesataos.com.
If you want your B&B to feel more classic New Mexico, book a room at Taos' first bed-and-breakfast, La Posada de Taos, under new management as of last year: the sister team of Karen Hamilton (innkeeper) and Sharon Hamilton (chef). Thick adobe walls, hand-hewn headboards, talavera-trimmed kiva fireplaces, and Navajo rugs contribute to a distinct sense of place. In the warmer months, extensive brick patios with vine-entwined pergolas encourage guests to make themselves at home out of doors, too. (800) 645-4803; laposadadetaos.com
Unconventional Beauty
Missy's Organic Skincare and Spa is very Taos: both homey and chic. Missy Jennings' down-to-earth personality and gift of gab make appointments feel like catch-up sessions with an old friend. A former model from New Jersey, she swears by a cleanser that you would never pick out of a cleanser lineup. It's a waxy, pale golden salve that turns to liquid when combined with the heat of her hands. She created the (secret) formula herself; it appears to contain beeswax and essential oils.
"Regular soap is drying," she says, especially in this arid climate. The cleanser always has a waiting list when she's anticipating a new delivery.
Missy also offers custom brow shaping. She takes a half hour or longer to painstakingly sculpt a client's brows according to their bone structure and face shape. She moved to Taos from the East Coast three years ago after yearning to live here since she was a little girl. For her and her cleanser devotees, good things come to those who wait.
121 Camino de la Placita; (845) 548-1681; on Facebook
Shop Outside the Box
Ranchos de Taos' Two Graces Plaza Gallery is a pebble's toss from the stolid rear buttresses of San Francisco de Assisi Mission Church. Along with lovely paintings, it's also a haven for kachinas, which co-owner Robert Cafazzo expertly repairs ("Cats tend to get 'em"), plus vintage turquoise jewelry, books, curios, and other affordable keepsakes. (575) 758-4101; twograces.com.
Weekend mornings, stop at the convivial and jaw-droppingly affordable Taos Trade Days to browse turquoise and silver jewelry made by nearby Northern Pueblo Native artisans and eyeball yard-sale jumbles for gems (corner of Herdner and Paseo del Pueblo Sur). Near the plaza, Two Birds Jewelers offers nature-inspired handmade jewelry from rough-hewn to gossamer-fine. (575-758-4795; twobirdsjewelry. com). In El Prado's Overland Ranch complex, products by local artisans and artists are temptingly arrayed in Magpie—including handmade soap, candles, pottery, and paintings (781-248-0166; magpietaos.com). Arroyo Seco's ClaireWorks offers a wide range of silver jewelry; the delicate handmade chains and gem-centered flower rings are especially enticing. (575) 776-5175; claireworks.com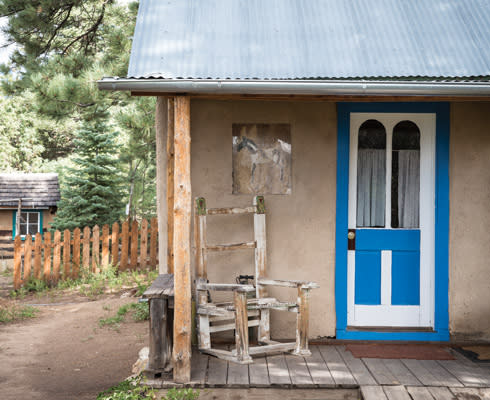 The front porch of D. H. Lawrence's cabin, on the ranch property.
Retreat Eternal
The 160-acre D. H. Lawrence Ranch, in San Cristobal, about 20 miles north of Taos, has only a few small buildings open to the public: Lady Dorothy Brett's dollhouse-like one-room cabin, D. H. and Frieda Lawrence's three-room cabin, and the small, gable-roofed memorial to Lawrence, 100 steep feet up from the cabins on a switchbacking path. Frieda left the ranch to UNM; last summer, it reopened on a lim- ited basis after a five-year closure, thanks in part to an enthusiastic team of docents.
The ranch was a gift from Mabel Dodge Luhan to the Lawrences in 1924, and was the only land Lawrence ever owned. The route, north of Taos, includes a nine-mile stretch of NM 522 and a wide, well- maintained dirt road that ascends and winds for another nine miles. Ignore the PRIVATE PROPERTY, ROAD CLOSED, and NO TRESPASSING signs. Proceed to dramatic views, the small wooden buildings overlook- ing a green alfalfa field, and miles of remove from everyday life. All that made Lawrence feel that it was an idyllic place to write is still intact. The poignant yet defiantly cheerful addition is the memorial.
Inside, buttercup-yellow walls enclose a phoenix-topped concrete altar beyond a set of hand-carved wooden swinging doors. The round window above the phoenix is hand-painted with a sunflower, a restoration of Dorothy Brett's original painting. (575) 770-4830; directions: mynm.us/dhldirections; hours: mynm.us/dhlhours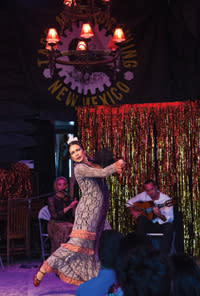 Local flamenco artists Joaquin Gallegos, Domino Martinez, and Kina Mendez recently took to the stage at Taos Mesa Brewing.
Good Times Brewing
You might be forgiven for forgetting to order a beer at Taos Mesa Brewing, three miles from the blinking light en route to the Río Grande Gorge Bridge. The perks provided by the microbrewery make for a distractingly full experience. Two outdoor stages and one acoustically fine-tuned interior stage welcome national performers like Devendra Banhart as well as the Taos Gospel Choir. Killer views of the Sangre de Cristos, a solid menu of rib-sticking nosh, and, oh yeah, a new radio station staffed by 67 irreverent volunteer DJs (KNCE 93.5; streaming on truetaosradio.com) broadcasting from a sweet Airstream on the property would make the fine array of craft beer an afterthought, if that were remotely possible. (575) 758-1900; taosmesabrewing.com
Managing editor Candace Walsh is the author of NM-AZ Book Award-winning Licking the Spoon: A Memoir of Food, Family, and Identity (Seal Press).