Above: Bultos by Margarito Mondragon.
The Renaissance ArtsFaire in Las Cruces will attract the usual assortment of dragons, knights, and wenches, but for the second year, it comes with a distinctly New Mexico twist. The craftspeople of Artistas del Camino Real show how Europe's Renaissance traditions changed the New World's 17th-century life. As traders, blacksmiths, wood-carvers, weavers, and more made their way up and down the Royal Road connecting Mexico City to Santa Fe, a melding of Spanish culture, Catholic religion, and Native ways grew into uniquely New Mexican fine art and daily wares. That centuries-old cultural stew survives today. Meet some of 2015's practitioners. Then head to this year's show, November 5–6, in Young Park. (575) 523-6403; daarts.org
In the late 1500s, Spanish craftsmen arrived in Mexico and established a legacy of gold and silver filigree jewelry that quickly spread. Juan Lopez of Corrales continues that tradition today, but it hasn't been easy. He struggled to find elders who remembered a dying skill, but found only the niece of one, who shared what she knew. He dug up books, visited museums, and finally resorted to recreating the delicate forms largely from scratch. Once his fingers learned the tricks, he began winning acclaim at art shows, moving from one to another, just as Camino Real traders once did. "These guys were travelers," he said. "They were moving, not sitting on their thumbs."
Sadness led Virginia Maria Romero to develop her own fusion of traditional Spanish and Native arts. In 1998, when her mother died, the Las Cruces artist began crafting retablos and bultos—classically New Mexican religious paintings and statues. "It led me to understand the grief I was feeling," she said. From there, she branched into acrylics, multimedia, and beading. While exploring her Catholic roots, she felt a resonance with New Mexico's Native American traditions. Today she blends its imagery into religious art that honors the old with a hip, contemporary vibe.
On a snowy day around 1990 near Las Vegas, New Mexico, Margarito Mondragon saw an image of Christ in the grain of the wood he was carrying to warm the home. The retired highway worker picked up a knife and screwdriver and carved his first bulto. Since then, Mondragon has earned international honors as a largely self-taught artist who employs traditional techniques, including natural pigments. Only after he discovered his second career did Mondragon also learn that the life of a santero was in his blood, reaching all the way back to his great-great-great-grandfather.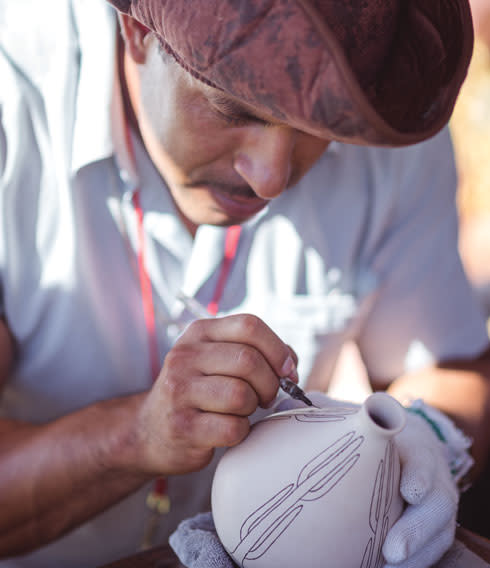 Above: Artist Hector Gallegos.
In the 1960s, a poor farmer in the Paquimé village in Mexico pocketed Casas Grandes pottery shards he stumbled upon while gathering firewood. The fragmented designs fired his imagination, and he began recreating them in pottery that other artists copied and soon grew into what are now the wildly popular Mata Ortiz ceramics. Chihuahua potters Hector Gallegos and his daughter, Paula Gallegos, prove that an artistic tradition and its global reach can be reborn.
When Blanca Martinez leads Tortugas Pueblo's Los Matachines Danza Guadalupana through the Renaissance fair's village, she demonstrates one of the strongest cultural blends along El Camino Real. The dancers incorporate Native American garb and Catholic iconography—it's one of the few ceremonial dances practiced by both Hispanic and Native cultures. Kathleen Albers of the Doña Ana Arts Council recommends that visitors look for an image of the Virgin of Guadalupe within the traditional Tortugas dress.
With Spanish colonists came sheep. Their meat and milk mattered, but not nearly so much as their wool. Weavers crafted the cloths of everyday wear, and soon blended their traditions and talents with Native weavers, creating new and lasting styles. Today, weavers like Dolores Dorado see the loom as a symbol of culture, cooperation, and survival. She works with Tres Manos Weaving of New Mexico, an artists' collaborative in Mesilla. The group shares handmade fiber art skills gleaned from both north and south of the border.