Above: What begins as a set of drawings pinned with fabric swatches ends up as a regal costume for tenor William Burden at the Santa Fe Opera. Photographs by Minesh Bacrania.
STAFFERS CALL THE SANTA FE OPERA "The House," and for many of them, the 2,100-seat arena is a seasonal home away from home. The main place most visitors see is the opera's open-sided amphitheater—its living room, if you will, set in piñon-studded foothills with movie-caliber sunset views. But it holds other areas off-limits to the casual guest. Rehearsal space, dressing rooms, and offices you might expect. But who would imagine a costume makers' workshop big and busy enough to rival the atelier of a haute couture house during fashion week?
"No one else has a costume shop like this," says Daniel Zillman, the opera's spokesman. "I've been to every house in the US, even the new ones—Toronto, Kansas City, Dallas. Once you get backstage, it's like they ran out of money."
Not here. Everyone in the wigs-and-wardrobe crew knows they've lucked into one of the top work spaces in the nation, thanks partly to an ongoing, multimillion-dollar expansion and a longtime commitment to training the backstage stars of opera everywhere. Still, newcomers might need some of Hänsel und Gretel's bread crumbs to find it. Let's take a stroll on an early spring day, months before opening night, a little over one year ago.
We trail behind Zillman as he treks around the back of the auditorium and a grove of apple trees just giving up their blossoms. Down stairs. Around a corner. Past the rattle and bang of the set builders. He opens a nondescript door, and there we meet the early arrivers of an annual family reunion. Though it has only a handful of year-round employees, the dress shop will soon swell with nearly 100 theatrical gypsies, from seasonal veterans to first-time apprentices and loyal volunteers, many of them decamping from homes in New York, London, and elsewhere. They share a mad love for the theater. Some have onstage dreams. All are ready to put the skills of their hands into the service of someone else's voice.
But right now, before the summer surge, the few who are here enjoy the extra elbow room while getting their first look at what is about to soar beyond conceptual drawings and quickly stitched dress samples.
"It's a weird thing we do," David Zimmerman, head of the wig shop, says while standing in front of shelves lined with detached heads—hand-formed models of the performers whose roles will require wigs, each hair of which needs to be sewn into place. Behind him, four staffers and four interns perch on stools. Earbuds in place, they zone into the perfectionist serenity of hand, needle, hair, knot. Hand, needle, hair, knot. "One ranking of careers," he says, "put this at the top of weirdest jobs."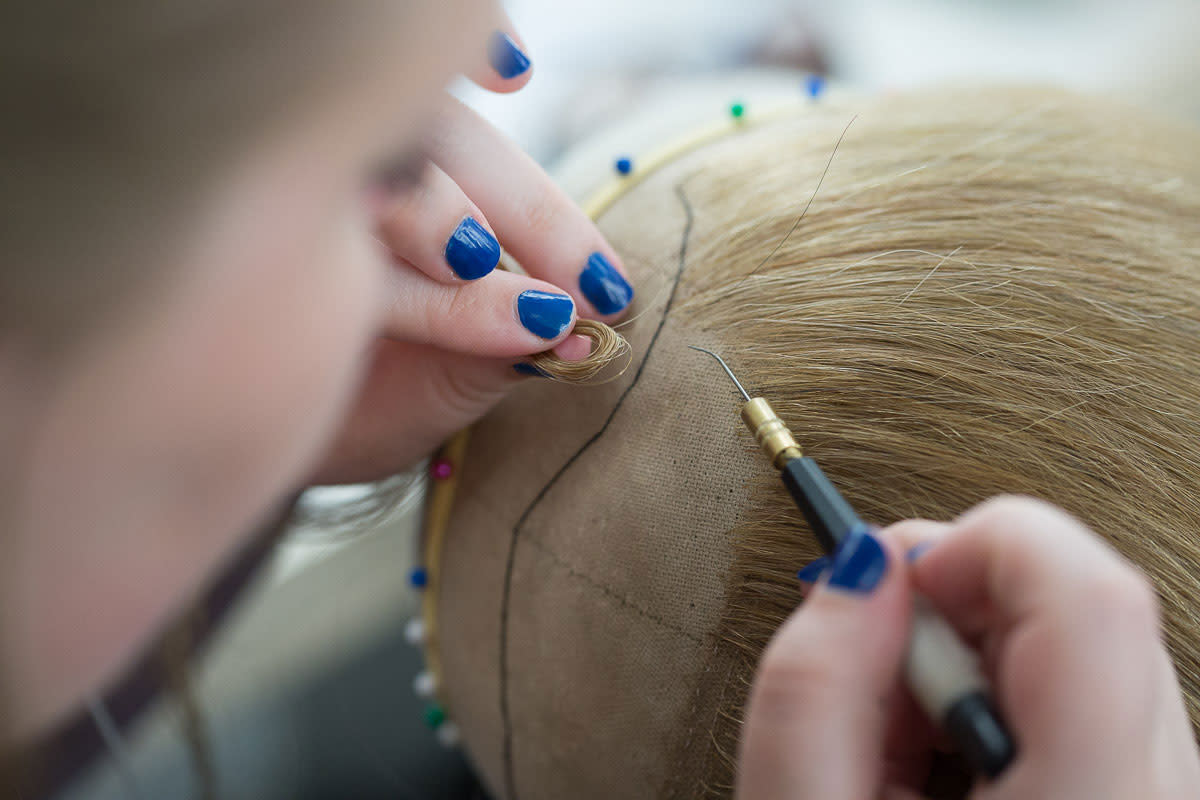 Above: Making wigs at Santa Fe Opera.
In a cavernous room next door, a straggle of fabric fanatics lays the groundwork for the crowd to come—costume designers, drapers, first hands, stitchers, dyers, dressing apprentices, nondressing apprentices, wardrobers, shoppers, and managers. For the 2015 season, they will build, buy, and alter 366 costumes, ball gowns, and Civil War uniforms, plus about 140 wigs—not counting fake facial hair. Every piece, every year is as authentic as possible to each opera's era, right down to bone-laced corsets that can strangle a high C.
"We're very much like sculptors or engineers," says Pam Knourek, the costume shop director. They take exacting measures of head shapes and body parts and craft a geometrically precise version of the designer's drawing. That's the science. Here's the art: "We're part of the storytelling," Knourek says. "We give the tools to performers to tell the story."
And it wouldn't be an opera if that story didn't take many months, many mouths, and many miles to tell.
BY LATE MAY, the shop has welcomed its full staff, and they're all so busy that snagging even a few minutes of chat time with a head designer requires a week of negotiations. Leslie Travers finally shoehorns in a break, taking over a quiet-for-now fitting room to describe how his Brit roots landed in New Mexico soil. 
In 2013, the Santa Fe Opera asked him to consider taking on both the set and costume designs for Salome, two years ahead of its opening. A veteran of opera houses and theaters in Sydney, Tokyo, Poland, Wales, and England, he had for years heard murmurs about a certain gem in Santa Fe. Upon receiving the summons, he says, "I jumped. I'd heard a lot about this place. It's a unique venue."
While here on his initial scouting mission, he and the director listened to the score, acted out the parts, and talked about the piece's feeling "with no expectation of the idea." Travers then went home and began exploring the opera's fin-de-siècle notions, its world of glamour colliding with the dark destruction of the human psyche—Richard Strauss and Oscar Wilde meet King Herod and his whacked-out stepdaughter.
After a week of research at the British Library, he invented a costume narrative that opens in gauzy gowns but ends in bloody austerity. He sketched ideas. He tore inspiring images from magazines. He filled a fat three-ring binder. And a full year before the conductor commanded the first downbeat, he ordered his fabric.
Read more: Descriptions of performances past from Santa Fe Opera.
"We're starting fitting right now," he says, peeking around the door to ensure he's not monopolizing another costume designer's space. "We're building a character in the fitting room. You start with an assemblage of fabric that doesn't really fit, then, at the end, it's who they're going to be."
David Woolard takes a similar break a few days later, amid the frenzy of last-minute details and high expectations that mark the world premiere of Cold Mountain. Woolard snagged the costume-design job two years earlier and promptly immersed himself in Civil War research. Original source material only, he insisted. Matthew Brady photos, yes. Nicole Kidman movie, no.
His team lucked out—Civil War reenactors fuel a market for ready-made uniforms. And they quickly learned to ignore those reenactors' tsk-tsks for mistaking North Carolina's butternut-tan uniform for Georgia's regimental gray. "By the point we're at in the opera," Woolard says, "at the war's end, color-coding is like all bets are off. You're pulling the jacket off this man who's dead because it's cold."
Lined up on a rack in the costume shop, the uniforms—56 Confederate and Union versions for the chorus alone—appear suitably beat-up, torn, and stained with Pigs Might Fly theatrical blood. Ada's costumes trace her character's development, from the hoop-skirted coming-out propriety of a Charleston maiden to farm-girl practicality as the war reduces her circumstances and she harnesses her inner resolve.
"She has a lot of costume changes," Woolard says. Nine changes in all, each of which helps the audience track time's passage, thus underscoring the parts that any one costume might play: a character trait, a time stamp, a plot device, a comedic element, an emotional arc.
"I've always loved design," Woolard says. "It's creating the world. As a kid in high school, I was always doing sets and lights. All the other kids said, 'Oh, I want to play this part.' But I wanted to make it happen. I like the psychology of it."
What delights him more than anything is when a shop of the Santa Fe Opera's caliber goes all out for a fine detail. "I told the milliner I wanted a straw bonnet for Ada that was fairly simple, not too distracting, but pretty," he says, jumping up to pluck a Styrofoam head wearing a modest hat. "So, look: She crochets flowers out of jute to decorate the brim. She could have just put straw flowers on it. The audience will never see it. But I do."
WEEKDAYS STRETCH INTO WEEK-EVENINGS as the shop hustles through June's tasks, including up to three fittings—with subsequent alterations—of every costume on stars and chorus members alike, plus three dress rehearsals. Attention to detail is everything, and it all starts with a needle and thread. "Everybody has to know how to sew," Knourek, the shop director, says. "Most of them know how to make a sewing machine sing."
Given the costume shop's credibility in the industry and the value of its three-year apprenticeships, competition for an open spot is fierce. "In this industry, it's not about who you know but how they know you," Knourek says. "If you've worked here, they know you have beautiful hands. This is one of the top three largest shops in the country. If you see someone is from the Santa Fe shop, you know that person gets it."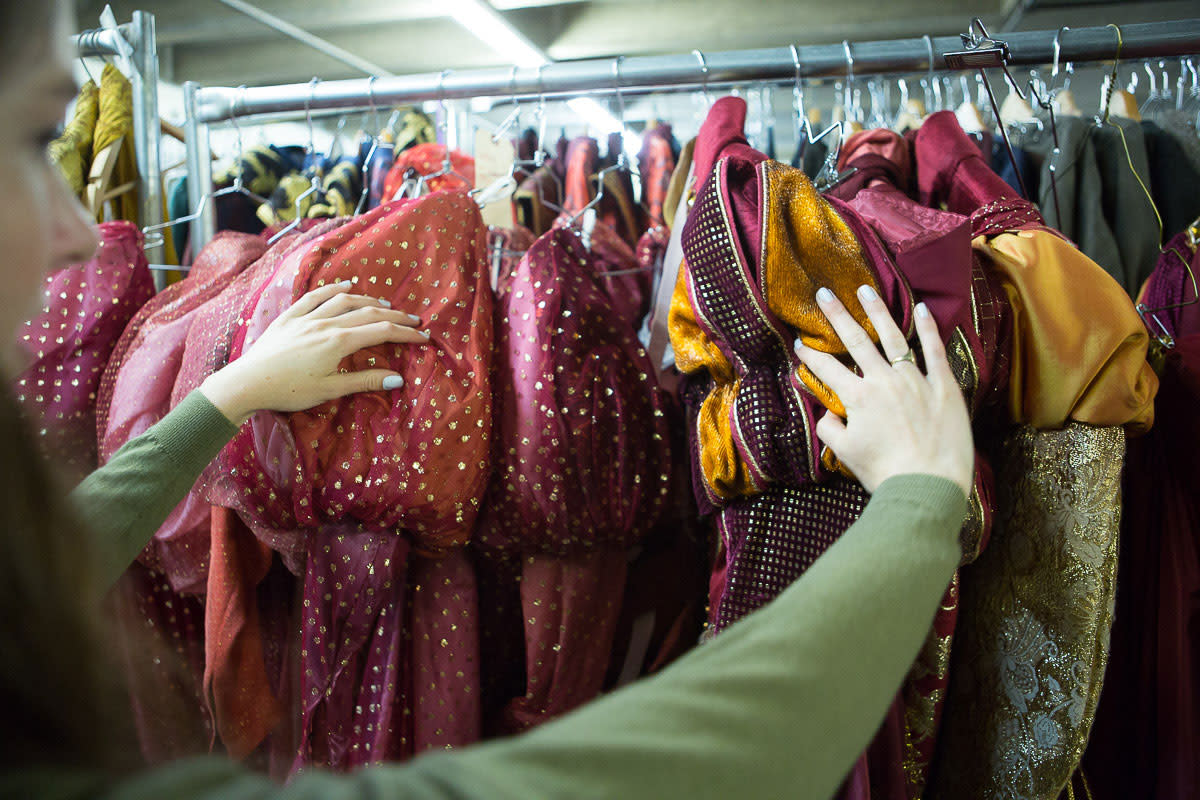 Above: ​Costumes being used the in the next performance at the Santa Fe Opera.
A few weeks before opening night, the costume and wig shops are thrumming. Zimmerman's crew is putting the final touches on John the Baptist's Salome wig and facial hair—times two. "One set to attach to the performer, one to the severed head," he says.
From a home base two hours east of Dallas, Zimmerman keeps tabs on his Santa Fe shows, along with ones in Philadelphia, Minneapolis, and Macao. By the end of each May, he's moved into a house provided by the opera and collected his crew to begin turning bags of hair into 'dos that range from lustrous to ridiculous. Holding up a particularly lovely master- piece, he says, "It's a shame she'll have to die and get blood all over this every night."
No matter. The crew will work throughout the performances, laundering wigs and costumes, repairing rips, and making fine adjustments. That beginning-to-end diligence pays off for the performers—especially the first time that the needles-pins-and-wigs clans carry the final products into the fitting room.
"You feel a little like Cinderella," says soprano Susanna Phillips, who played Arminda in 2015's La Finta Giardiniera, a role that involved a silky gown with buffoonishly wide hip panniers. "I was completely thrilled when they revealed it. It was over-the-top. It was somebody who's trying to be chic and stylish but has gone a little gauche. I can't go through a door straight, which is perfect for her character. She would wear something completely impractical. And I have these gorgeous shoes, pink, with a little flower clip."
During La Finta, Arminda's fortunes curdle, along with her clothes, leading to a second, sadder iteration of the dress. "I lose the panniers, and the dress goes floppy. My hair goes flat. At intermission, the clips on my shoes change to distressed flowers. It's something only a few people might notice. I chuckled when I first saw it, but onstage, when I look down and see them, it totally makes sense."
Read more: A world premiere, star divas, and The Marriage of Figaro at The Santa Fe Opera.
Even after hours of working with a voice coach and director, many performers say they don't truly understand the part until they wear the clothes. "Some feel like they're putting on their character's skin," Knourek says. "You see them snap into character. Some burst out singing. That's delightful to hear coming out of the fitting room." 
TWO WEEKS BEFORE THE July 3 opening, all the parts finally meet onstage—costumes, set design, props, lighting, orchestra, and singers. For the costume crew, it turns out that getting people into the perfect outfit isn't the only challenge. They also have to strip the clothes off of singers and clad them in new outfits, with enough time to run under the stage and emerge from the opposite wing, ready for the next aria.
"If we have changes we know are going to be difficult to achieve, a day or so before rehearsal, we all come together and time it out with the star," says Zimmerman, whose wig expertise extends to quick-change costume artistry. "We run it at least two or three times, sometimes more. They need to learn how to stand, when to move. Sometimes they want to help, but for us, helping sometimes hurts. Most times, it's like, 'Hold up your arms now,' and we pull the costume over them."
Sometimes a wardrobe member dons a costume and joins the cast onstage, solely to help a character discreetly change clothes. Tailoring tricks help. One of Ada's dresses requires a 30-second change, so Lara Berich, Cold Mountain's draper, designed a placket to cover the zipper running up the back. The zipper enables the quick change, while the placket hides the existence of something that wasn't used in clothing until the 1930s. Trust the rolling of Berich's eyes: If she doesn't cover the zipper, someone in the audience will not only notice it but complain. A strip of magnets ensures that the placket lies flat, but she's still fiddling with it on a sewing table days before Cold Mountain's debut.
"It's always something," Berich says of these last-minute ministrations. "Like, somebody discovers Frito pie and eats it all the time, or someone discovers running at high altitudes. Either way, their measurements change." The shop builds in seam allowances to enable the actors' life changes, but also to ensure the costumes can recover second lives in future shows. Even so, if the costume doesn't work with the set, the performer, the lights, and the action, it's gone. "Here in the shop, we could spend all summer making a costume, and it gets cut at dress rehearsal," Knourek says. "Our egos are really in check."
AS THE FINAL PERFORMANCES play out, next year's work is beginning. Inside the opera's gymnasium-sized rehearsal space, a few dozen people prepare to hear the director, set designer, and costume designer describe the promise of 2016's Vanessa.
Set in an undetermined Scandinavian country, the 1958 Samuel Barber opera inspires costume designer James Schuette to dream of Wallis Simpson's classic fitted suits, Cary Grant's lady-killer glamour, and Maggie Smith's dowager demeanor, all of which he aims to overlay with a smidgen of Ingmar Bergman's Swedish surrealism.
"It will have that patina of being a little weird," he says, flipping through the idea pages of his still-growing three-ring binder. "They all have fur coats. Lots of feathers and lots of furs." Yes, real furs in a real New Mexico summer—possibly on top of wool trousers, wool vests, and wool coats. Opera stars truly do suffer for their art.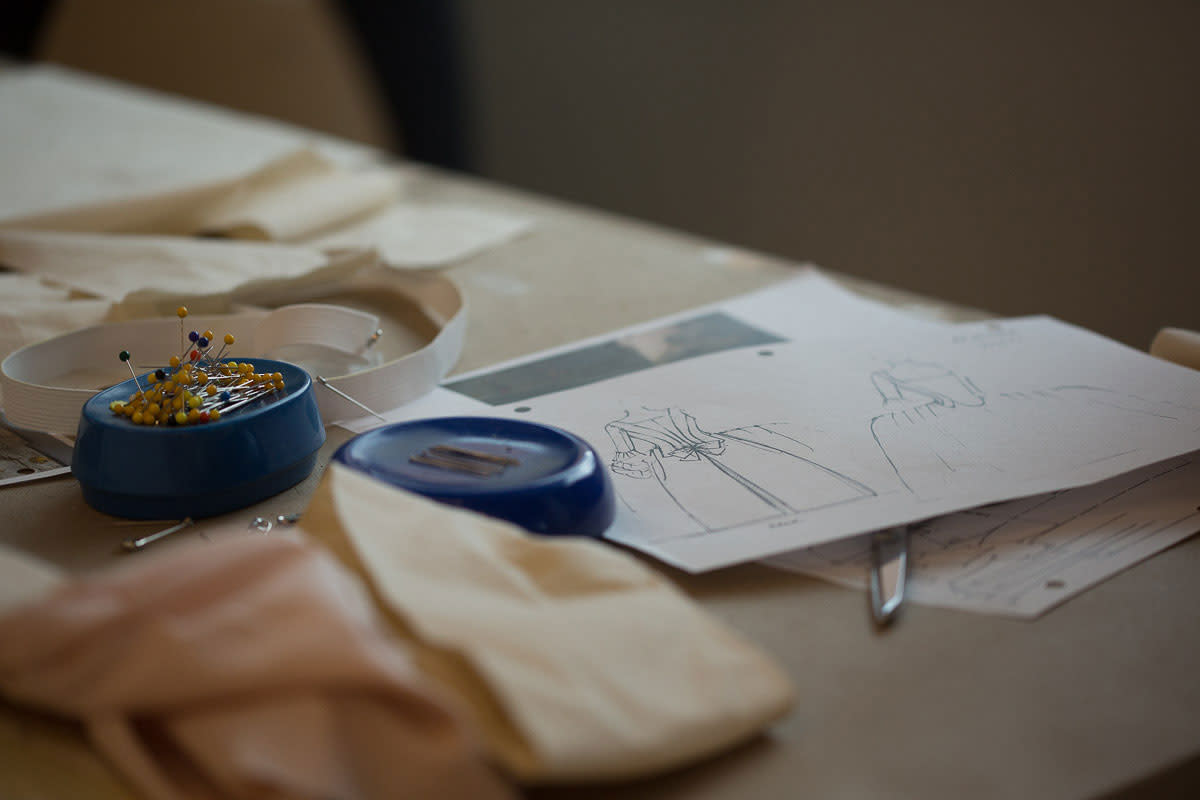 Above: More custom sketches from Santa Fe Opera.
A few nights later, I get to experience some of that hidden-from-the-audience angst when I score a backstage permission slip for the first act of Cold Mountain. Pre-curtain, it's a circus. The chorus runs through one of its numbers while the production stage manager arranges a circuit board with eight TV monitors, a cell phone, landline, headset, and two walkie-talkies. The child wrangler is out sick, so someone has to pull double duty. A trumpet player stands on a side patio, warming up by serenading the sunset. His warm tones draw a curious deer from the trees on a nearby hill.
In yet another room down another hallway, the wardrobe and prop crews arrange the next few hours of scene changes, including a daunting assortment of rifles. Actors get final flourishes on their torn uniforms, some of them earning "wounds" held with crude battlefield bandages.
Read more: One-upmanship, scheming, and sudden reversals—a story about the opera's first tailgate contest.
"All right," conductor Miguel Harth-Bedoya says after checking on the action. "I have to go to work."
The show begins—lyrically, thunderously, tragically. A different one unfolds backstage, with an unseen cast of characters, some dressed head to toe in black to blend like ninjas into the shadows. As actor-soldiers leave the stage in a boot-pounding mass, prop people grab their weapons. Someone hands out towels and water bottles. The makeup person dabs on fresh wounds or removes old ones. A dresser strips off Union coats and replaces them with Confederate ones. A costumer hauls off a laundry basket of discards. Their movements remind me of an assembly line, except the line leaps from stage right to stage left and back, the tasks keep changing, and all anyone wants me to do is stay the heck out of the way. I can barely hear the music.
For the second act, I choose to watch from the audience, and my ticket lands me in the very last row. From too-close to so-far-away, I struggle to spy Ada's tenderly crocheted hat flowers, but end up surrendering to the glory of costumes, set, music, libretto, and a packed house beneath a clear August sky. Together, they carry me into another world of desperate futures, twisted hearts, and fragile fates.
The curtain calls go on and on, but the stitchers, drapers, and wigmakers never appear for a well-earned bow. Within days, the season blinks off, and the backstage crowd scatters to other stages, other "houses," and other shows. Months later, when spring returns to New Mexico, I briefly ponder whether I should call James Schuette to check on how his designs for Vanessa's furs and feathers are coming along. In the end, my backstage curiosity pales next to my desire to live yet again in one of those otherworldly times and places. I don't call. I'll just wait for this season's operas to come out. 

NEED TO KNOW
Take a one-hour tour of the Santa Fe Opera's backstage scene at 9 a.m. weekdays, through August 26. $10 adults, $8 seniors, free to visitors 22 and under. santafeopera.com/communityactivities
THE 60TH ANNIVERSARY SEASON
Love, history, tragedy, and comedy fill the bill July 1 through August 27. Ticket prices vary by show. (505) 986-5900
LA FANCIULLA DEL WEST
Puccini's favorite of his operas, set amid the grit of the California Gold Rush.
DON GIOVANNI
A Mozart classic based on the legend of Don Juan.
ROMÉO ET JULIETTE
Charles Gounod's graceful music meets Shakespearean tragedy.
CAPRICCIO
Richard Strauss's tangled love story.
VANESSA
Samuel Barber and Gian Carlo Menotti's gothic tragedy. 
OPERA BY THE NUMBERS
From the Santa Fe Opera's 2015 season.
78,000: Average attendance for the 2011–2015 seasons
63 PERCENT: Out-of-state attendees
$202 MILLION: Estimated annual economic impact (including lodgings and restaurants)
2,008: Performances since 1957
$23 MILLION: Operating budget for 2016 70: Year-round staff 700: Seasonal staff
33: Principal singers
40: Apprentice singers
5: Stage directors
4: Dancers
3: Choreographers
5: Conductors
18: Teachers and coaches
6: Stage managers (plus 3 assistants)
1: Chorus master
58: Standard orchestra members
302: Volunteers
17: Bar staff on performance nights
45: Ushers
3,644: People who rode a shuttle instead of driving to the opera
2,520: Tailgate picnics purchased from the opera (unknown number brought from patrons' own kitchens)
7,099: Attendees at the nightly preview buffets
150: Gallons of glue for scenery and paint finishes
15,000: Gallons of water recycled daily through the on-site treatment plant
3: Hours it takes crews to replace one opera set
144: Bottles of Gruet Champagne for the opening-night toast
---