Above: Ebony Isis Booth performs at a Burque Noir event. Photograph courtesy of Ebony Isis Booth.
"Make a circle," Ebony Isis Booth says. Though she seems wholly absorbed in pulling up the day's lesson on the classroom laptop, she steals a few glances at her students. The handful of sophomores from her Diversity, Equity, and Inclusion workshop at Albuquerque's Bosque School drag their chairs into a circle. As Booth looks on, more students arrive, and the circle expands to make room for the newcomers. "One of my favorite ways to observe human behavior is to watch them make a circle," Booth says. How they approach the task tells Booth that something's going right here, as the students accept newcomers and expand their circle unquestioningly. Booth hopscotches among many spheres. She's director of diversity, equity, and inclusion at the private Bosque School for middle and high schoolers, a poet, activist, student, radio host, entrepreneur, and the founder of Burque Noir. The last role sees her hosting collaborative pop-up events that spotlight black artists and performers and black culture. After a year's hiatus, Burque Noir returns this October with a goal of being "exclusively inclusive." The event's motto also captures Booth herself, who, multiple passions and all, is ultimately in the business of making circles. She creates spaces where marginalized groups can be seen and honored, all while inviting people into an ever-widening circle.
Read more: Belén artist Paula Castillo fuses metallic cast-offs into fantastical sculptures that evoke her sense of family and place.
The New Jersey–born poet grew up in a community rich in writers and poets, but her introduction to Maya Angelou's words in I Know Why the Caged Bird Sings illuminated how she could use her particular voice. "It helped me understand myself and the way I was situated in the world," she says. She began writing poetry when she was nine and stepped up to her first open mic a decade later, during her freshman year at the University of Denver. "I thought, I can read my poetry into a mic and cuss? Sign me up," she says with a laugh.
She was a biting orator—angry, snarky, and witty as she claimed her space and spoke her truth. "I was a preacher and it was my pulpit," she says. Booth was also skilled. In 2006, she was part of the Denver team that won the National Poetry Slam Championship. Her poems explore black feminism, racism, and social justice. She's an "artivist," a term she didn't coin but claims. "I want to interrupt and agitate, but with beauty and joy," she says. "Joy in the face of oppression is revolutionary."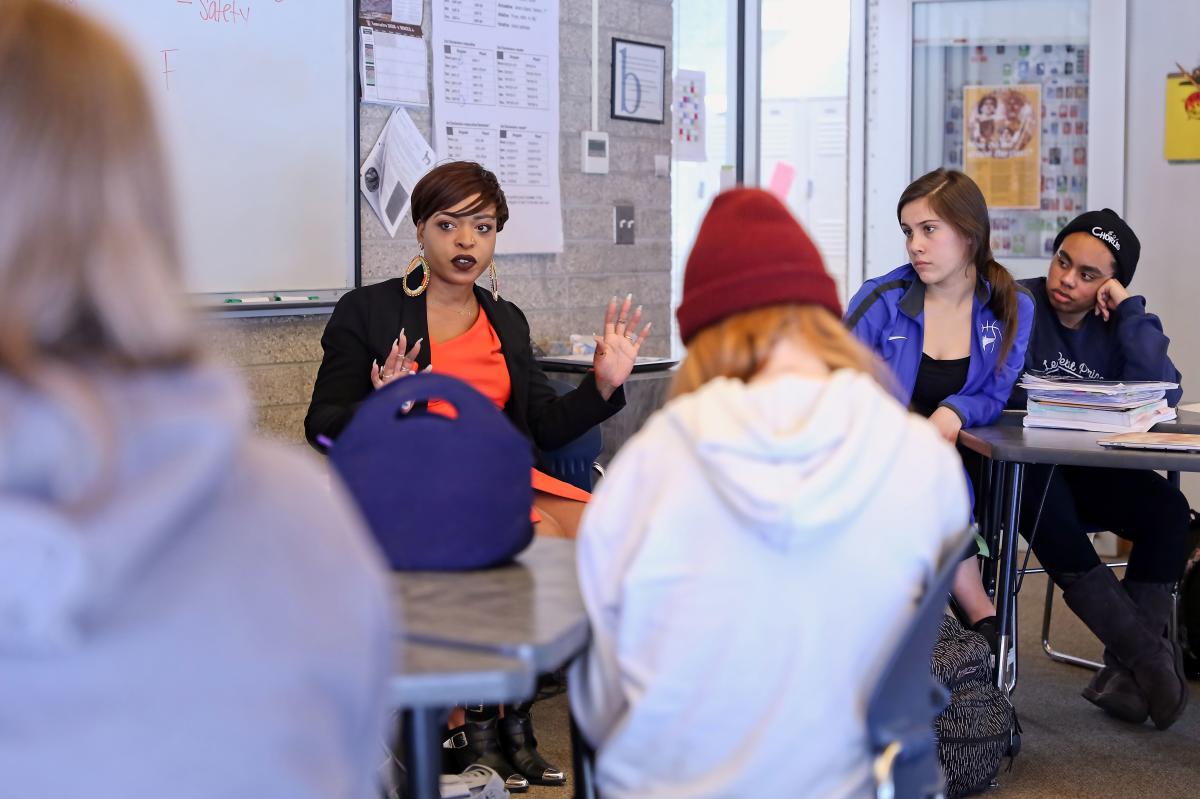 Above: Booth leads a diversity workshop at the Bosque School, in Albuquerque. Photograph by Tira Howard.
When she moved to New Mexico in 2015, she experienced a culture shock. "I was invisible," she says. African American culture seems to live on the state's fringes—of its more than two million residents, 2.6 percent claim African American race on the census. That amounts to around 55,000 people. On Sundays, Booth gathers with a sisterhood of black women. "We look each other in the face knowing we might not look another black woman in the face until the next time we see each other," she says. "When you're a part of dominant culture, you don't know that, because you don't experience that."
When Booth moved to Albuquerque to go into the public sector, she found herself constantly having to explain her perspective—because she was the only one in the room like herself. Burque Noir was born of this thought: "What if there were a space where I didn't feel like that?" Booth knew that in New Mexico, in order to get a space like that, she would have to make it. "You can do anything here," she says, "but you also have to do everything here."
Read more: An Albuquerque artist blends fantasy, camp, and the pop art of decades past in his original screen prints.
Burque Noir showcases black-identifying artists, whether they're performance artists, spoken-word poets, musicians, or dancers. At the events, they see themselves represented and reflected in others' faces, words, and creative practices. The artists also respond to the enchanted lands of New Mexico, where complex histories of black presence have often been obscured, or even erased, from the mainstream. In 1539, Estevánico, a Moroccan slave and scout known also as Esteban the Moor, was part of an early Spanish expedition of Europeans in search of the Seven Cities of Gold. In his travels, he encountered the indigenous people of what is now the American Southwest. In some Native peoples' historical retellings, it was Estevánico who guided the first white conquistadors to New Mexico. Almost four centuries later, in 1901, black homesteaders escaping the racism of the Jim Crow South established the first all-black freedom colony in the territory of New Mexico. Blackdom, 20 miles south of Roswell, thrived for some two decades before a drought hit, forcing the settlers to relocate, with some staying in New Mexico.
Booth organized the first Burque Noir in March 2016, along with Jennifer DePaolo, currently associate director of community outreach at Harwood Art Center, and Carlos Contreras, now director of innovation and marketing for the City of Albuquerque. The event sold out. "It showed me it was so precious, so necessary," Booth says. And African American faces weren't the only ones in the room. "We are centering blackness, but that doesn't mean there isn't space for everyone else. You love black folks? Come. You love black art? Come. You love black music? Come!" she says.
Read more: In Albuquerque, old storefronts, empty Route 66 signs, and park walls become canvases for displaying public art.
Burque Noir held a second event in October of that year, at the South Broadway Cultural Center, in a historically black neighborhood. For the next two years, partnering with Bernalillo County Parks and Recreation, Burque Noir organized High Tea on the Bosque as part of Black History Month. The event, which took a more multigenerational approach, got people outdoors. In 2018, she received a Creative Bravos award from the City of Albuquerque for her work on Burque Noir. By 2019, however, the emotionally taxing nature of social justice work and organizing events on a self-funded, shoestring budget weighed on Booth and she took a break.
This October, Burque Noir will be back as a full performance showcase at Las Puertas, a gathering space in the Wells Park neighborhood, where the first event was held. It will no doubt be bolstered by her work under a 2019 fellowship from the W.K. Kellogg Foundation Community Leadership Network, a prestigious national mentoring program.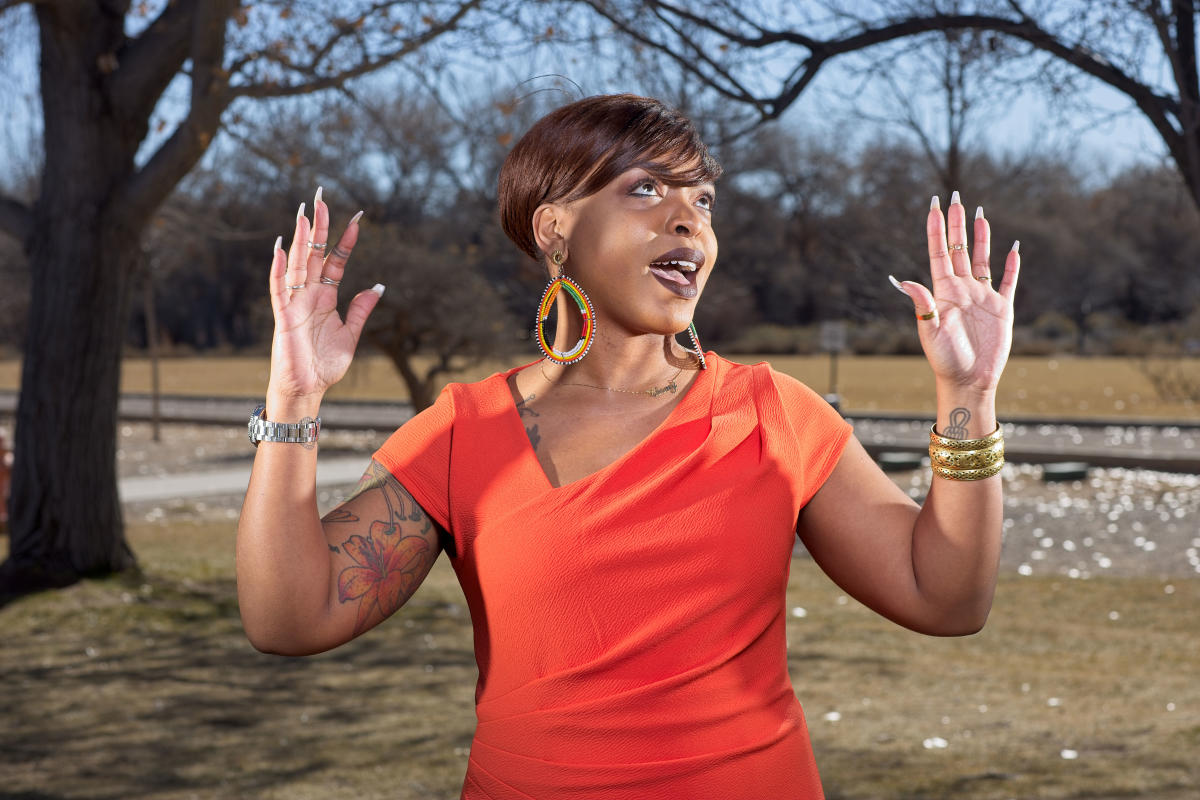 Above: Booth will restart Burque Noir events this October. Photograph by Tira Howard.
The impact of her event has rippled beyond itself. "One of the best things that came out of Burque Noir is that it created a lane for other black women, specifically, to start to do more work," she says. For proof, she points to installations at Somos ABQ, an annual festival, along with pop-up events from organizations such as the Syndicate ABQ.
Her own poetry took a back seat as she cultivated other artists. "Life started kicking my ass," she says. Six months after she moved to Albuquerque, she took over guardianship of her niece and nephew, and would care for them for the next three years. She looked up and saw that she had taken on qualities of the life she had hoped to avoid as a young black woman: She was suddenly a single parent who didn't earn enough to support two kids. "It altered my DNA in the way that becoming a parent had to," she says. She also had to get through it, and she turned to the written page to heal. The result was 2018's Grinning and Bare (UNM Press). "That was the collection that I didn't want to say out loud, but I needed so deeply to say … It was my contribution to the canon. I hope someday a black girl picks up that book and sees herself as enough and worthy, just how she is."
Despite roles that often place her voice at the mic and call upon her experience to represent others, she's quick to point out that the only truth she can speak is her own. When she hasn't found circles where she sees herself, she's created her own—and continued to invite others in. "I constantly walk into places that aren't for me," she says. "When you walk into a space that's been prepared for you, that's holy. That's how you make change."

TAP IN
Keep track of Ebony Isis Booth and upcoming events through the Burque Noir Facebook page.