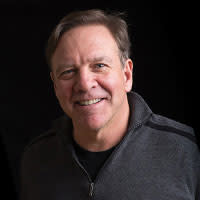 I MUST'VE WATCHED too many BBC documentaries, because while reading the archaeology Road Trip piece (Dig In), my mind's ear couldn't help hearing the erudite-sounding intonations of David Attenborough: "Nowhere is New Mexico's vaunted diversity more apparent than in the state's rich and very long archaeological record."
Those are actually the erudite words of the article's author, Peter BG Shoemaker, who goes on to describe a tour of sites that, in the space of a few days, traces the arc of civilization hereabouts—from the earliest Clovis settlements to Ancestral Puebloan cliff dwellings to Spanish Colonial ruins. We're moving fast and scratching the surface here, because it is, after all, a huge subject that we cover a chunk at a time. But in writing about Bandelier National Monument, Shoemaker makes a point about how the microcosm illuminates the big picture.
Cue Attenborough: "The 1.2-mile roundabout trail is an object lesson in how people adapted to their environment and took advantage of the natural world to make their lives better."
Adaptation is a keynote theme of this issue, from the Mesilla Valley down south to the Tusas Mountains in the north.
Pecan farming is an example of how generations of industrious folks have learned to put land to good use in southern New Mexico, where the climate and soil conditions are suitable for growing the nuts. Who knew that only Georgia produces more than we do? In her report on the surprising industry (Pecan Power), culinary editor Cheryl Alters Jamison reveals a family-owned-farm culture that's something for the state to be proud of. Any endeavor that results in a delicious pecan pie like the one on the cover deserves our full support, and a place at the Thanksgiving table (see recipe).
When Don Usner proposed writing about the Vallecitos Mountain Ranch, he said he wanted to "trace the way the various uses of the place—from a homestead patented in 1889 by an Irishman named Sibley to a private ranch owned by the Baxter family (head of the American Red Cross) to a private hunting lodge to a retreat center—reflect the changing attitudes of society toward wildlands."
I thought that all sounded rather lofty, but Usner nailed it (see Dropping Out, Tuning In), and delivered a fascinating slice of the NM story. It's about getting back to basics, embracing our assets, and moving forward from there.
Another case in point: Blacksmithing was essential technology in the Spanish Colonial era, and the craft has been revived in a big way in northern NM. Kate Nelson's report The New Iron Age illustrates the capacity of our local artisans to establish a connection to a valuable past, while using the ancient tools to forge (!) ahead with new creative applications.
Onwards,

Dave Herndon
editor@nmmagazine.com