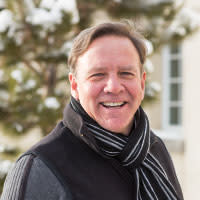 I'M PRETTY SURE that by now, my people back east have gotten the message that if they want to see us at Christmas-time, they're going to have to travel to New Mexico. Because we aren't going anywhere. Why would we? It'd be crazy. Misguided, in a word. When the snow drapes itself over adobe walls and piñon smoke fills the evening air in the neighborhood, there's nowhere I'd rather be than right here.
Oh, sure, I can imagine that there's a quaint New England village or two that can conjure up some Currier and Ives Christmas nostalgia and all the von Trappings that go with it. But do they have the farolitos that create such a distinctively luminous atmosphere throughout the month of December? We had to expand this month's What's Happening calendar of events to include all of the noteworthy lights extravaganzas, like Carlsbad's Christmas on the Pecos and the Bugg Lights at Belén's Harvey House Museum, to name but two of the most brilliantly New Mexican displays.
Here's another thing: Do Yankees bake biscochitos from old family recipes, like Selinis Padilla's? Even my wife likes to make them, and she's from France, where they think they know a thing or two about baking Christmas cookies.
John Muller is obviously another one who quickly gained an appreciation of the local Christmas traditions. The Fort Worth native moved here last year, landing in a very sweet situation as a writer in residence at an historic artists' abode on Canyon Road. He's embedded in the midst of old Santa Fe ambience, which reaches the level of mass popularity on Christmas Eve when thousands of carolers stroll the lane, pausing at bonfires to sing and sip spiced cider and hot chocolate. Muller's olfactory-oriented account of his first round of seasons here, The Sense of Place, demonstrates that this town has not lost its ability to charm newcomers with its warm authenticity. We also sent him down the road to Madrid to cover the Christmas parade. I'm not sure he knew what he was getting into, but he came back with a lively report—The Yak Who Stalled Christmas—that's evocative of the town's singular character and penchant for antic revelry. You're not going to find a holiday celebration like Madrid's in ye olde New England!
You're perhaps even less likely to find as passionate a connoisseur of the art of flamenco as 14th-generation New Mexican Nicolasa Chávez, who describes her lifelong response to The Call of the Castanets. Her great-uncle, the legendary figure Fray Angélico Chávez, wrote for this magazine for years—and in fact a book review he did for the November/December 1974 issue is excerpted in this month's Our Back Pages. Continuity like that is more of what sets New Mexico apart, and keeps us all grounded in worthy traditions.
Happy Holidays,

Dave Herndon
editor@nmmagazine.com