To sit and talk with the radiant Denise Chávez is both exhilarating and exhausting. She has the charisma to front a rock 'n' roll band and the adrenaline to power a football team. Best known as one of America's leading Latina novelists, Chávez begins most conversations by talking about books but often veers off into her other passions: art, music, and food. Her annual Border Book Festival, in Las Cruces—being held this year from April 24–27—is one way she blends her loves. The event has gotten international attention while remaining distinctly local.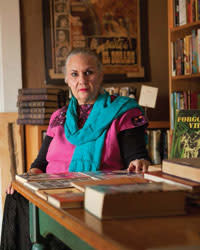 Chávez is on an audacious quest to preserve the legacy and history of southern New Mexico borderland culture—both for the Las Cruces community and for the wider public. "My goal is to elevate the art and culture of New Mexico," she says. "The Border Book Festival has never deviated from that. We want to transform the community through the arts."
Chávez, who was raised in Las Cruces, first gained recognition as the author of several acclaimed books of fiction. First came her short story collection The Last of the Menu Girls. Later she penned two novels, Face of an Angel and Loving Pedro Infante. Her memoir/cookbook A Taco Testimony: Meditations on Family, Food and Culture is both hilarious and utterly unique. She's the author of numerous plays and even the bilingual children's book The Woman Who Knew the Language of Animals. She's also a playwright, actor, organizer, teacher, and the acknowledged matriarch of the art scene in the southern part of the state.
Yet Chávez—like her Border Book Festival—is difficult to categorize. She calls herself "a true child of la frontera," and the border this refers to means something more vital than the lines that divide states or nations. For her, art, music, theater, food, family, and friends swirl into an original blend.
Before she began typing, she was an accomplished actress. "As a teenager," she recalls, "in my on-stage debut, I forgot my first line and I had to invent it on the spot."
"At age 22," she says, "I declared myself to the universe as a writer."
This year marks the twentieth Border Book Festival, and Chávez reinvents the theme annually so that no two festivals are alike. Past festival motifs have included To Read Is to Live, Stories of War and Peace, Our Bodies/Our Earth, The Dreams of Children, Ancestral Voices, The Healing Road, and The Divine Frontier.
Any visit to the Border Book Festival should begin at the Casa Camino Real, at 314 S. Tornillo Street (see "Historic Las Cruces," p. 32). That Chávez's headquarters is located in a vibrant adobe is no accident. You'll find children's books, theater scripts, films, Latino literature, and, of course, a homey kitchen where Chávez makes visitors welcome with strong Mexican coffee and local pan dulce. This neighborhood was built along the old Camino Real, the historic road Spanish explorers took from Mexico City to Santa Fe, and she has included this history in the festival.
"When I'm here," she says, motioning at the mountains of books that line the walls, "I'm transported back to my childhood, playing librarian with my father's books."
This year's theme is Maíz: Honoring the Corn Mother. "For centuries," Chávez says, "people in this area have felt that corn is the mother plant that gives life to everything." A corn festival—featuring a weekend of art, music, traditional dance, poetry, and, of course, food—will take place all weekend in lovely Klein Park, just two blocks from Chávez's headquarters.
Featured authors Susan Tweit and Gary Paul Nabhan will lead writing workshops. Tweit is an environmentalist and the author of Walking Nature Home. Nabhan is a celebrated nature writer and one of the pioneers of the local-food movement.
Activists Edwin Lemus (Guatemalan) and Alejandro López (Argentinean) are scheduled to lead workshops on the role of art in bolstering the community.
Award-winning visual artists Miguel Ángel Díaz Guerrero, from Mexico, and Catalina Delgado-Trunk, from Albuquerque (who specializes in cut-paper folk art and Day of the Dead art), will be hosting hands-on workshops for artists of all levels.
Chávez's long-awaited new novel, The King and Queen of Comezón, will be released in the fall. Two decades in the making, the book is set in Comezón, a fictional New Mexico town whose name translates as "itch," or "longing." But for now, the former NMSU writing professor is intensely focused on her April festival and honoring the "corn mother."
"We're here," Chávez says, "and we're waiting for you. This is an inspiring place."
21 NOTABLE BOOKS
BY LAS CRUCES WRITERS
Rus Bradburd described the Las Cruces literary community in the January issue (mynm.us/ LiteraryLasCruces). These are his recommendations, in no particular order, for compelling reads—fiction, nonfiction, and poetry—that have roots in Las Cruces. Two more titles that belong on the list are his own Paddy on the Hardwood, a memoir of coaching basketball in Ireland, and Make It, Take It, a novel about the travails of a college hoops coach.
1. All Things, All at Once, by Lee K. Abbott. Las Cruces native and NMSU grad Abbott has had a remarkable career as a short story writer— he's playful, funny, and wickedly insightful. Much of the fiction in this, his collected works, is set in Las Cruces and establishes Abbott as the John Cheever of the Southwest.
2. Funny Once, Antonya Nelson's new book of stories, many of them published in The New Yorker and elsewhere, will be released in May. Her stories are unflinching and ironic investigations of American family life, duty, and desire. (If Lee K. Abbott is the Cheever of the Southwest, surely Antonya Nelson is our Flannery O'Connor.)
3. The Complete History of New Mexico, Kevin McIlvoy's quirky and inventive linked-shortstory masterpiece masquerades as a research paper. Instead, it's a collection of emotionally rich and devastating stories.
4. Tumbledown is the new novel from Robert Boswell. Absorbing, rich, and funny, this is his follow-up to the acclaimed collection The Heyday of the Insensitive Bastards.
5. Loving Pedro Infante, by Denise Chávez is a heartbreaking and humorous novel of yearning, passion, and desperation centered around the New Mexico fan club of a long-gone Mexican movie star. This novel will hold you over until her The King and Queen of Comezón is released in September.
6. South of the Big Four, by longtime Las Crucen Don Kurtz, is an engrossing novel that examines the hardscrabble life of stubborn men and farming families in the Midwest.
7. Discount, by Casey Gray, will be released in November, and follows the tangled lives of employees and customers at a franchise department store. Gray played football at NMSU, but he quit to become a novelist.
8. Everything Begins and Ends at the Kentucky Club. Las Cruces native Benjamin Alire Sáenz's edgy short story collection won the prestigious PEN/Faulkner Award in 2013.
9. Matala, by Craig Holden. Two low-level grifters get more than they bargained for in this sexy, seductive, and seamlessly constructed novel.
10. In the Shadows of the Sun is Alexander Parsons' spare but lyrical novel about a 1940s New Mexico ranching family and their compelling fight to keep their homeland from an expanding U.S. government at White Sands Missile Range.
11. Unfinished is NMSU prof Lily Hoang's entertaining experiment: She asked top writers to submit unfinished manuscripts. Hoang completed their stories, paying homage to the writers' style yet shaping the stories into her own.
12. Mortimer of the Maghreb. British writer (and contributor to this magazine) Henry Shukman wrote this finely crafted collection while living in Las Cruces. These stories and novella, set in extreme locales, examine the rueful lives of obsessive men.
13. Bring Down the Little Birds is Carmen Giménez Smith's intimate memoir on mothering. It preceded her celebrated book of poems, Milk and Filth.
14. Murder City: Ciudad Juárez and the Global Economy's New Killing Fields is Charles Bowden's gritty take on "the war for drugs" south of the border—and a world away—in Mexico.
15. What Men Call Treasure, by Robert Boswell and David Schweidel, is an intriguing nonfiction tale of the bizarre but true decades-long search for gold at nearby Victorio Peak.
16. Daddy Needs a Drink, Rob Wilder's hysterical essays on parenting, took root when he was a graduate student living in Las Cruces.
17. The Answer to the Riddle Is Me, David MacLean's mesmerizing new memoir set in Las Cruces and India, tells the story of his terrifying brush with amnesia after taking antimalarial drugs.
18. Shaman of the Desert is the collected work of iconic and influential desert poet Keith Wilson.
19. Cityzen. Joe Somoza's poetry is beautifully meditative, warmly accessible.
20. A Carnage in the Lovetrees is Richard Greenfield's moving series of poems exploring the relationship between a son and his troubled father.
21. Love/Iraq is Sheila Black's haunting collection of poems about an American girl in love with an Iraqi soldier. ✜