The Cumbres & Toltec Scenic Railroad cuts through aspen groves. Photograph courtesy of Cumbres & Toltec Scenic Railroad. 
Gold hunters, rejoice! Autumn delivers the shimmering yellows of aspens and cottonwoods, and the reds and oranges of mountain shrubs. We picked a few ways for everyone to bask in the bounty.   
FROM AN IRON HORSE
The Cumbres & Toltec Scenic Railroad begins picture-perfect round-trip excursions between Chama and Osier Pass in September. Hop aboard for a slow chug through northern New Mexico and southern Colorado peaks and valleys. Railroad president John Bush estimates riders will see tens of thousands of aspens during the trip. "It's a stately ride through the fall splendor that they will never forget." 
While you're there: Tierra Wools recently moved its headquarters to the main drag in Chama. Shop for your next knitting project or sign up for a weaving class.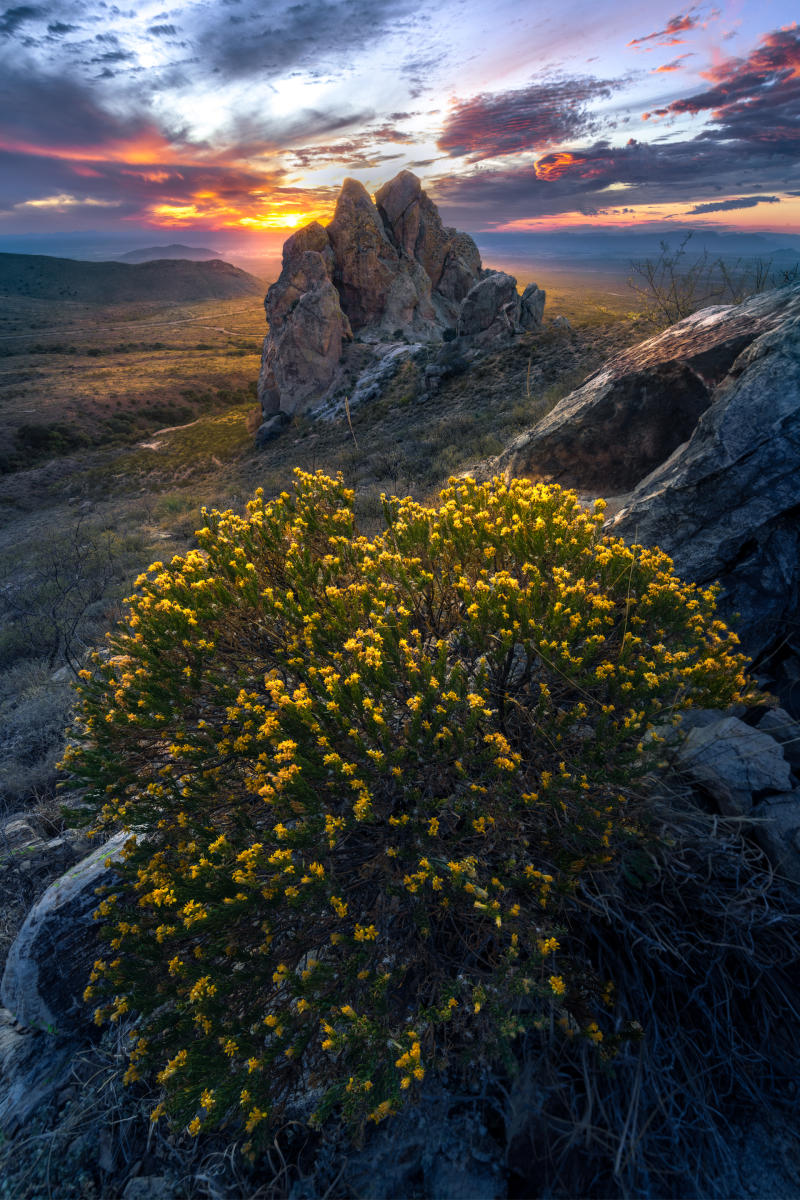 Turpentine bush pops in the Dripping Springs Natural Area. Photograph by Wayne Suggs.
FROM TWO FEET
Fall tamps down the summer heat in southern New Mexico and delivers spurts of color on the area's best trails. A top pick is Dripping Springs Natural Area, on the western edge of Las Cruces's spiky Organ Mountains. A mellow 1.5-mile trail carries hikers to the "weeping walls," where ranch ruins pose for pics and yellow leaves adorn turpentine bush and Mexican buckeye. "There is not a lot of color down here in the fall," says ace photographer Wayne Suggs, "but these you can count on." 
While you're there: Grab a gourmet picnic to go at the deli counter at FARMesilla. "Our chef makes amazing things from the region's freshest produce," says owner Shawna Runyan. Korean beef short rib chimichanga, anyone?
FROM A HOT SPRING
The drive from San Isidro to Los Alamos on NM 4 dazzles with cottonwoods along the Jemez River and aspens in the high country. Slow down and experience the thrill at Jemez Hot Springs, in the town of Jemez Springs. If the outdoor pools of therapeutic mineral water don't soothe every stressed-out muscle, the autumnal leaves below red cliffs might do it. "They're gorgeous," Manager Liz Shulman says of the cottonwoods on the property. 
While you're there: Grab some takeout or a patio seat at the historic Los Ojos Restaurant & Saloon, where the green chile cheeseburgers always draw a crowd. On Facebook (@losojosjemezspringsnm)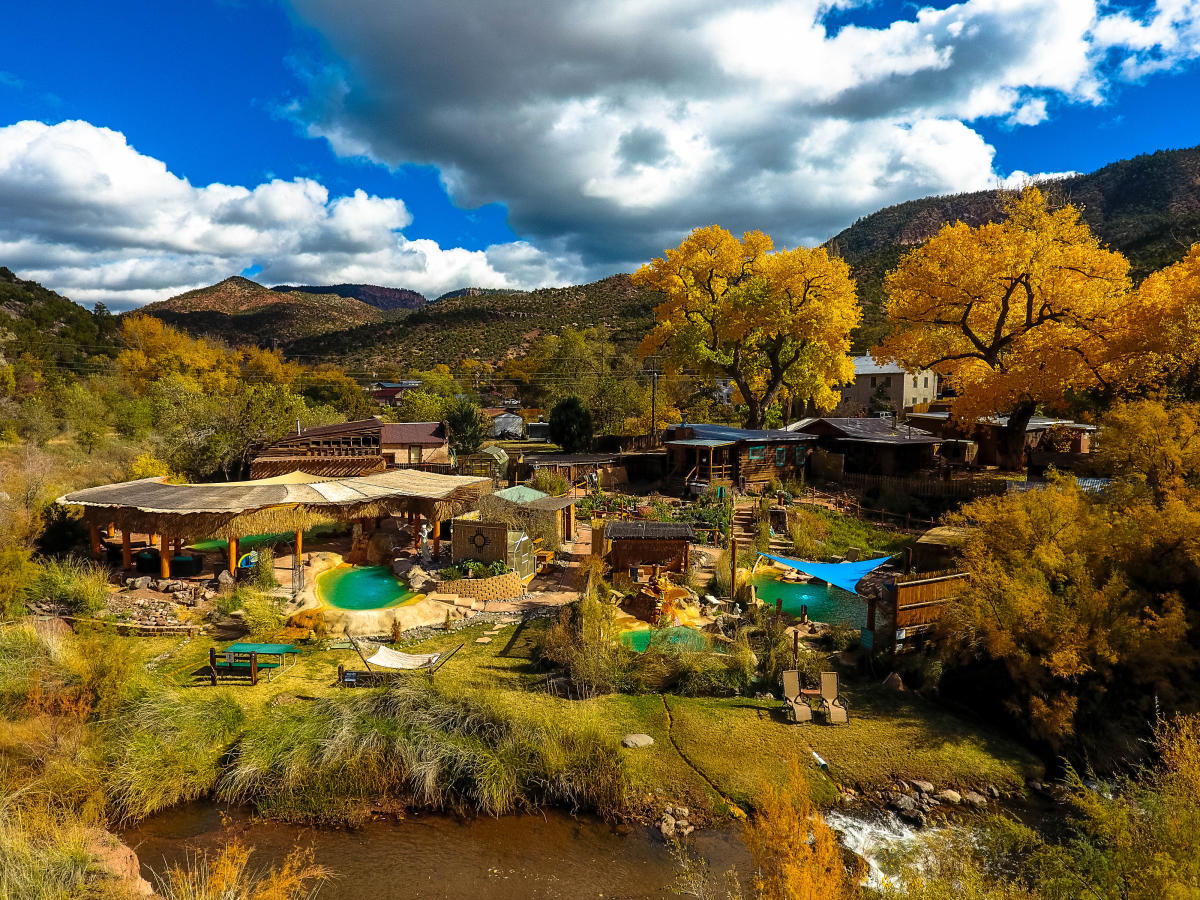 Jemez Hot Springs offers golden leaves against red cliffs. Photograph courtesy of Jemez Hot Springs. 
FROM AN OVERLOOK
From Española to Truchas, NM 76 delivers grand views of aspens, along with adobe-walled mission churches. As you near Truchas, look for safe places to pull off and snap the splendor. As for favorite viewing spots, gallery owner Rey Móntez says, "Oh, man. They're everywhere!"  
While you're there: Truchas boasts 15 galleries and artist studios within a town of 612 people. Call for appointments to see the works of santeros at Móntez Gallery and contemporary artists at Hand Artes Gallery.   
FROM TWO WHEELS
The Paseo del Bosque Trail, in Albuquerque, draws walkers, joggers, and bicyclists. Hit the paved path to see the cottonwood forest, along with sandhill cranes, bald eagles, porcupines, and beavers. "It's magic," says avid cyclist Joanie Griffin. "As you ride by, golden and auburn leaves fall on the ground. The sky is vibrant, you hear birds chirping, and for that moment, everything else ceases." 
While you're there: Roll into Old Town Farm & Bike In Coffee for live jazz, plus tacos, soups, and salads made from on-site organic produce. "There's lots of shade, and you can wander through the flower garden," says owner Linda Thorne. "It's grown into such a sweet place."