Squashes of all varieties—and there are many—became the darlings of the low-carb set when their adherents kicked potatoes and pasta out of the kitchen. Gone were crunchy french fries, now replaced by a crumbed and baked zucchini version. Lasagna traded in thick wheat noodles for thin slabs of squash. Out came recipes for yellow squash Bundt cakes, chocolate zucchini bread, curly squash carbonara, pattypan au gratin, squash nachos (squachos?), squash-crust pizzas, squash pierogi, zucchini tots, and curried squash vichyssoise.
Our long growing season allows us to try every recipe for this popular vegetable (which is, botanically, a fruit). Even better? Its subtle flavor pairs perfectly with our state's favorite ingredient: chile.
Squash growers often need many squash enthusiasts in their lives to help consume the bountiful harvest. One plant can yield between three and nine pounds. Oklahoma University says an acre of squash might produce eight tons. That's a lot of zucchini!
But don't stop there. Look for crookneck, pattypan, cousa, tatume, tromboncino, round zucchini, chayote, and zephyr at your local farmers' market—or plant them yourself next spring.
The plump elongated shape of the cousa (or kousa, the Arabic word for "zucchini") squash makes them perfect for hollowing out and stuffing. Lebanese cooks use an apple corer, then stuff them with a savory meat, rice, mint, and garlic mixture and slowly braise them in a rich tomato broth.
The large egg-shaped tatume squash can also be stuffed and baked or sautéed with serrano chiles, tarragon, and a squeeze of lemon. The slightly sweeter tromboncino, a gooseneck squash, can be treated much like a butternut squash (think a curried soup to warm you up this autumn).
The cucumberesque chayote has traces of apple and jicama flavors. Also known as vegetable pear and mirliton, it pops up in many New Orleans recipes. Cajun chef Paul Prudhomme loved to stuff the scooped-out squash with a rich and creamy mixture of shrimp, crab, and andouille sausage, with a pinch of cayenne, then bread and fry it.
The delicate two-toned zephyr is perfect for ribboning or spiral cutting and tossing with your favorite pasta sauce. Or add it to a vegan ratatouille with lots of basil, garlic, and roasted tomatoes.
Don't forget to stock up on fresh-from-the-field chile. New Mexicans can be very discriminating about their favorite chile source. Hatch is the epicenter of chile production, but sample varieties grown in other areas of the state—if it's puro New Mexican, it's great.
True chile-heads buy a bushel or two and roast, peel, and freeze them for year-round enjoyment. As a chef who uses the chopped version in my cooking and teaching throughout the year, I enjoy the frozen Bueno Foods Hatch Autumn Roast, once my stash is gone.
Needing a few to test the chutney recipe for this story, I was delighted to discover I could blister them in my air fryer by first rubbing them with vegetable oil, cutting an inch slit to prevent bursting, and cooking them at 400 degrees for 15 minutes. I allowed them to cool, covered, in a bowl for 10 minutes, and they peeled easily. (Wear gloves, of course.)
Celebrate these two popular crops and try these tasty recipes. And maybe invent one of your own. Squachos, anyone?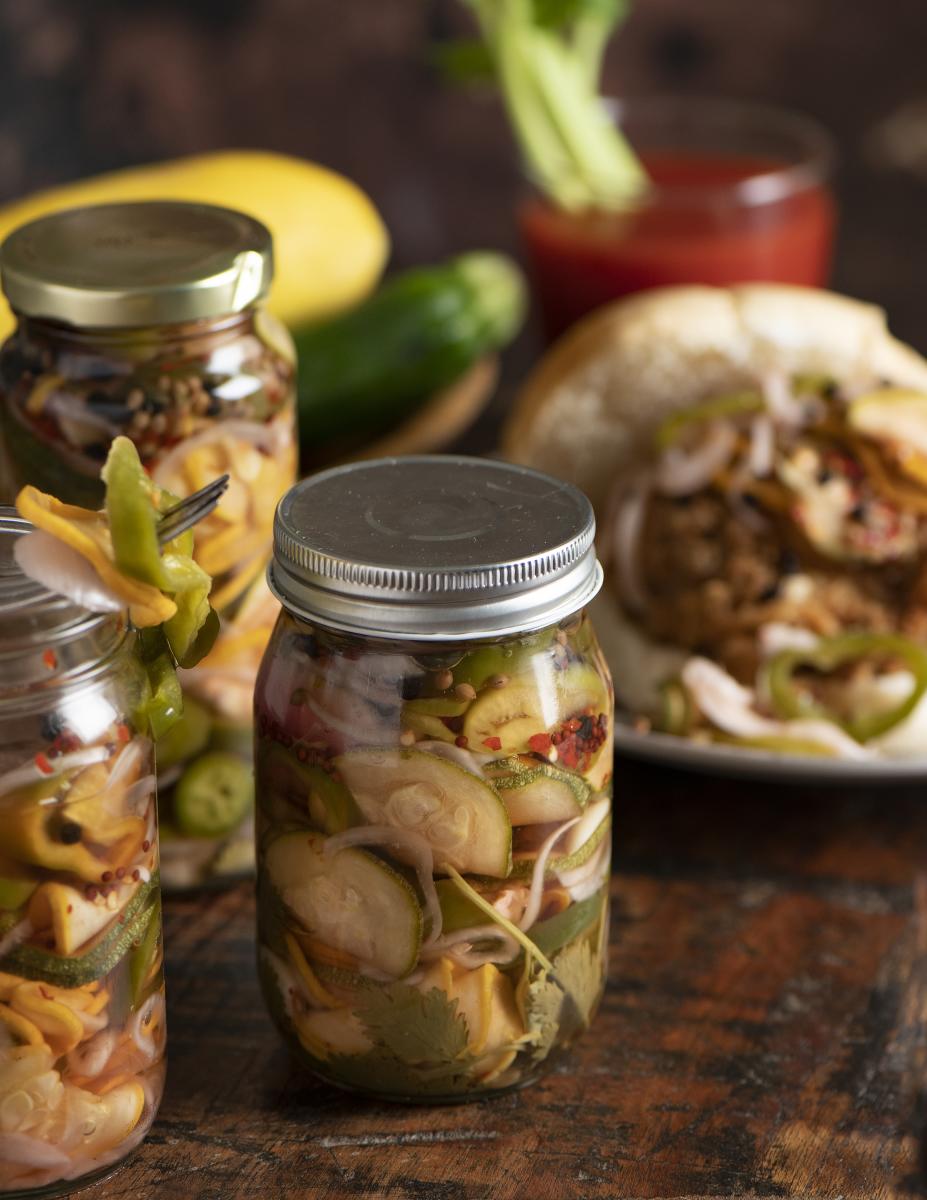 Green Chile, Zucchini, and Squash Pickles
Mild-flavored squashes get a welcome kick with freshly harvested green chiles and jalapeños. Try these pickles piled on a fried chicken sandwich or with some of the brine in a classic Bloody Mary. You can process the jarred pickles for storage (or Christmas presents!) using the tips from New Mexico State University.  
2 medium zucchini (about 12 ounces), sliced in ⅛-inch rounds
2 medium yellow summer squash (about 12 ounces), sliced in ⅛-inch rounds
1 small red onion (about 4 ounces), halved and cut into ⅛-inch-thick slices
1 large New Mexico green chile, sliced across in ¼-inch rings, then seeded
2 large jalapeños, stemmed, sliced across in ¼-inch rings, then seeded
2½ tablespoons kosher salt
1¼ cup apple cider vinegar
1¼ cup water ⅓ cup sugar
1 teaspoon celery seed
1 teaspoon mustard seeds
1 tablespoon black peppercorns
1½ teaspoons toasted coriander seeds
1 tablespoon red pepper flakes
6 cilantro stems with leaves 
Makes approximately 1 quart + 1 pint
INSTRUCTIONS
Place zucchini, yellow squash, onion, chile, and jalapeños in a large bowl and toss with salt. (Using gloves protects
your hands from the fiery capsaicin.) Let stand 1 hour. Transfer to a colander, rinse, and drain well.

Meanwhile bring vinegar, water, and sugar to a boil and stir until sugar is dissolved. Turn off the heat and stir in spices.

Tuck cilantro sprigs into prepared jars. Pack vegetables in jars and gently press to compact.

Ladle vinegar mix into jars, filling to ⅛ inch from top.

Cool 1 hour. Cover tightly and chill 2 days before serving. Refrigerate up to 2 months.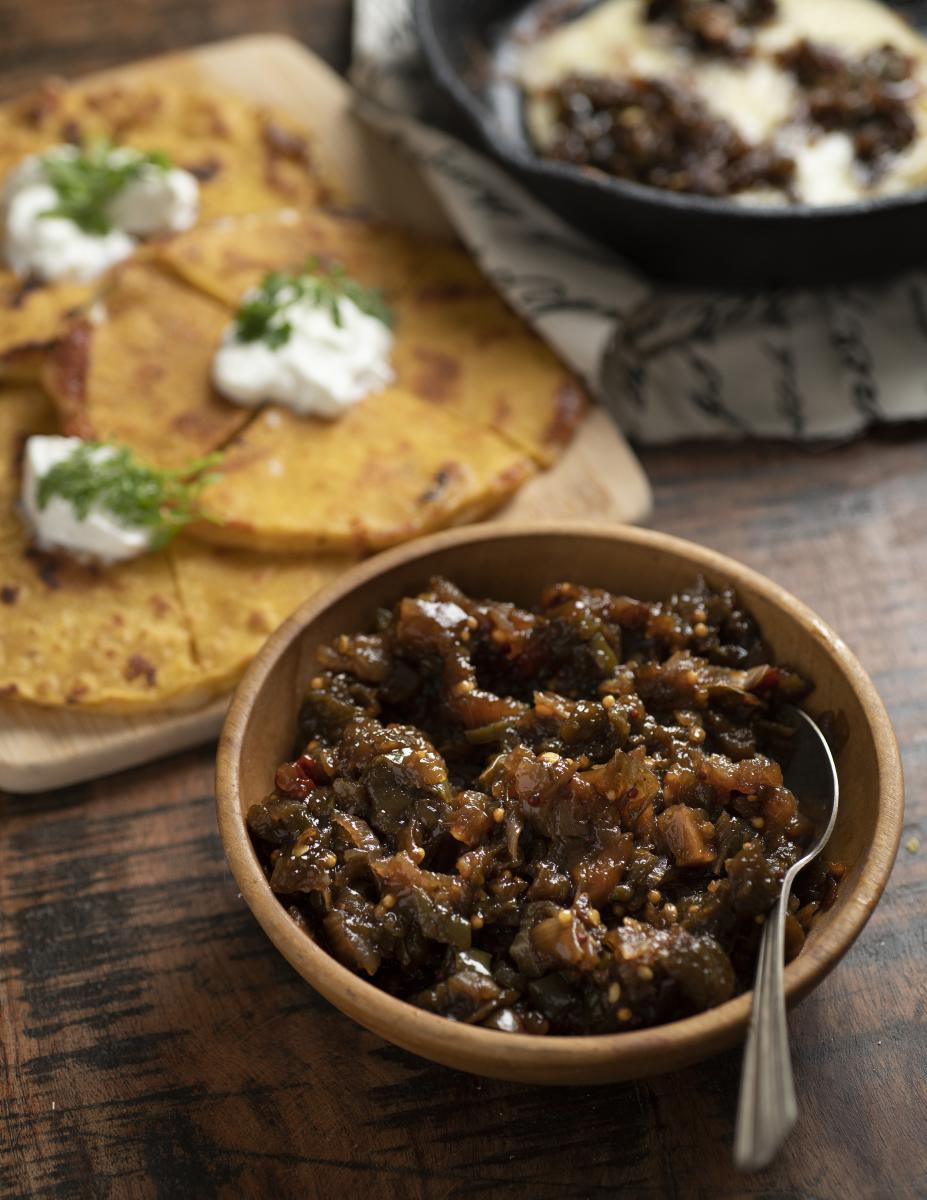 Sweet Green Chile Chutney
Sweet-and-sour always pairs well with spicy. Try this chutney on a turkey sandwich or cheese platter, as an accompaniment to your favorite Indian curry, or on quesadillas (recipe follows).
12 New Mexico green chiles, roasted, peeled, seeded, and chopped into ¼-inch squares, or 2 cups frozen chopped chile, drained
2 medium onions, finely chopped
1 cup brown sugar
¼ cup apple cider vinegar
4 jalapeños, seeded and minced, or to taste
1 teaspoon toasted coriander seeds
½ teaspoon ground nutmeg
2 teaspoons yellow mustard seeds
1 six-ounce envelope Certo liquid pectin
Makes approximately 3 cups
INSTRUCTIONS
Place chiles, onions, sugar, vinegar, and jalapeños in a heavy-bottomed saucepan. Bring mixture to a boil.

Stir in spices, turn heat to low, and allow mixture to simmer until it reduces by a third, about 25 minutes.

Stir in pectin and bring to a boil. Allow to boil 1 minute.

Remove from heat and cool. Store in the fridge for 1 week or process in jars for longer storage.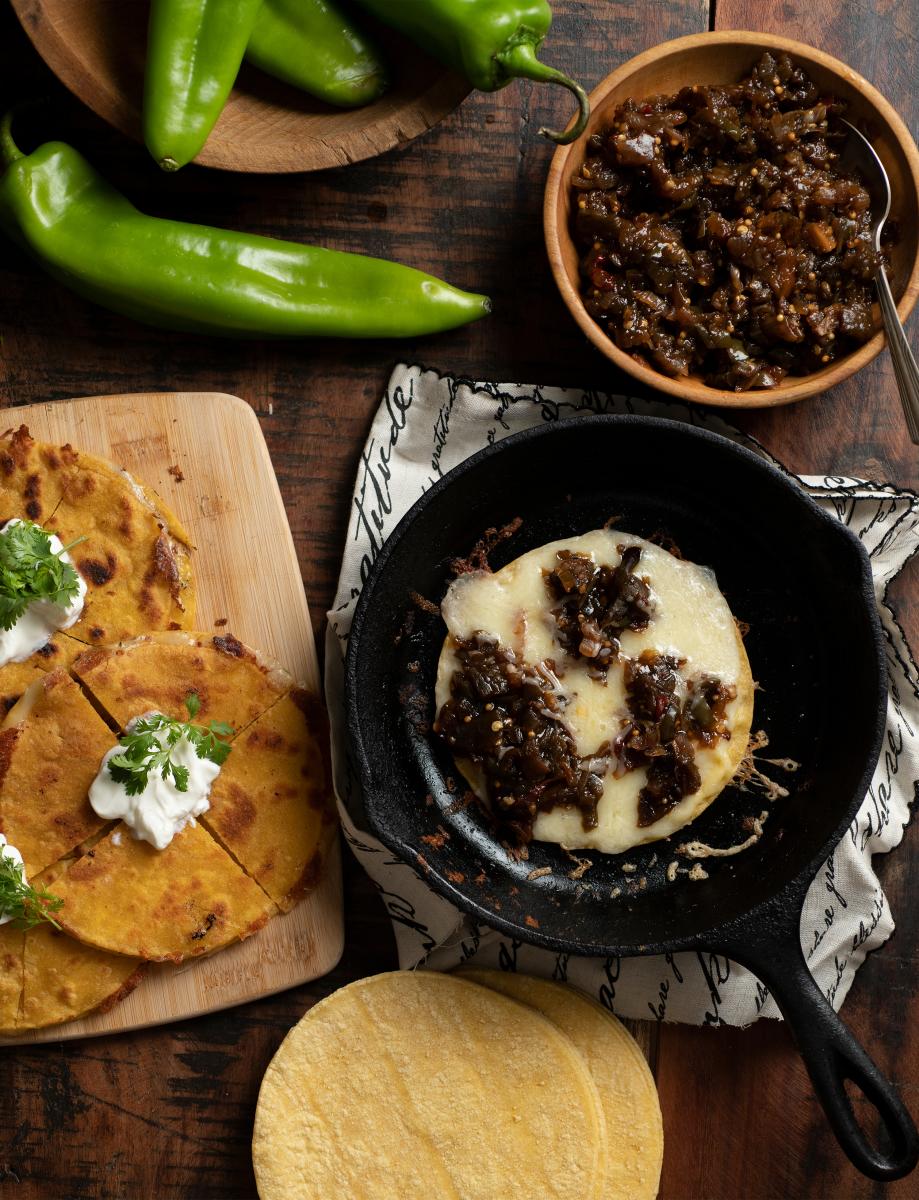 Chutney Quesadillas
1½ cups extra-sharp white cheddar cheese, grated
½ cup + 1 tablespoon Sweet Green Chile Chutney
12 five-inch corn tortillas
2 tablespoons melted butter
4 tablespoons sour cream
6 sprigs cilantro
Serves 6
INSTRUCTIONS
Take a tortilla and sprinkle 2 tablespoons cheese on it. Top with 1½ tablespoons chutney scattered in blobs. Sprinkle another 2 tablespoons of the cheese. Place second tortilla on top.

Lightly brush top of the assembled quesadilla with a small amount of melted butter.

In a pan over medium heat, place the quesadilla with the buttered side down, then brush the other side with melted butter. Sauté until each side is nicely browned, about 2 minutes per side.

Cut quesadilla into quarters and garnish with sour cream and cilantro. Serve with salsa and guacamole if desired.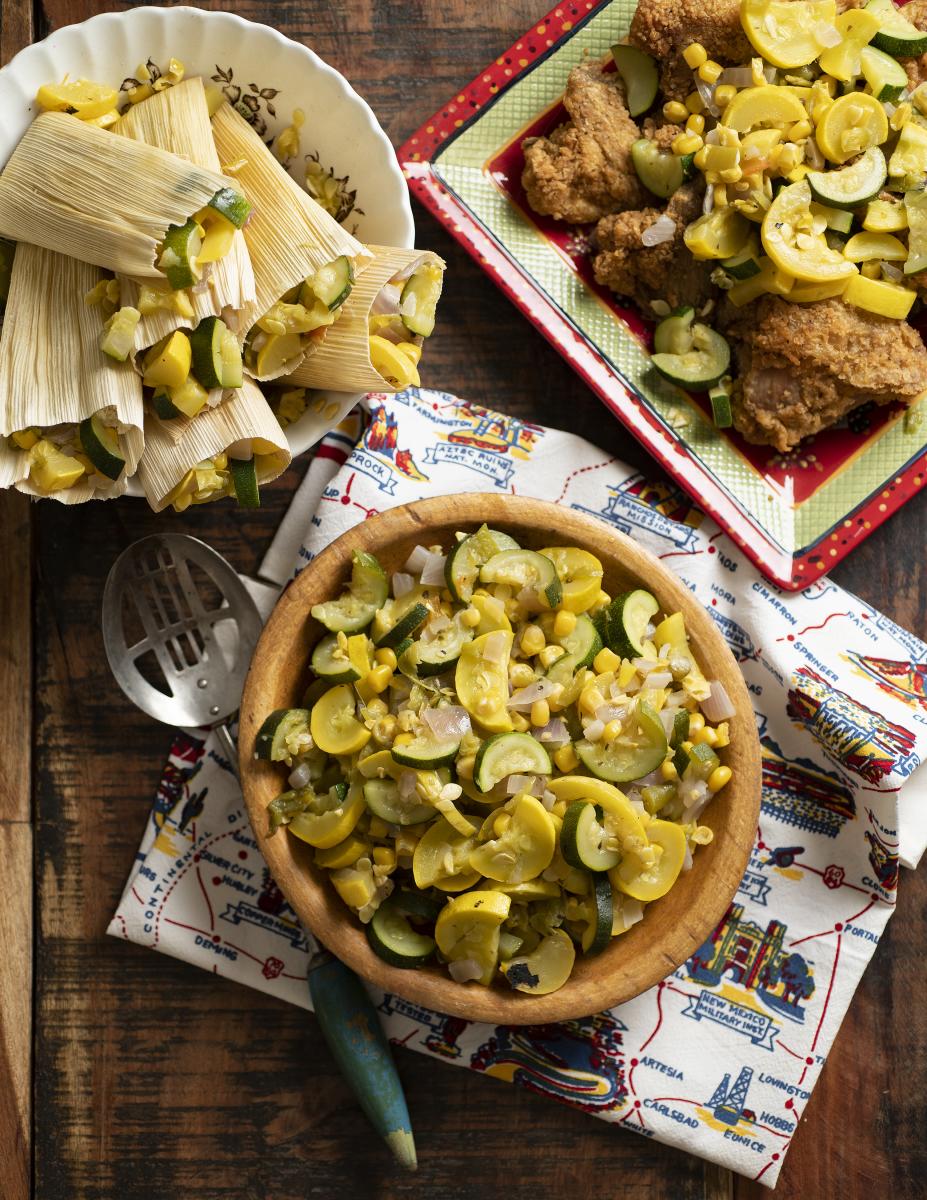 Calabacitas
Versions of this "little squashes" sauté have been made for centuries. Experiment with substituting other varieties of squash. To gild the lily, scatter 1/3 cup grated pepper Jack cheese over the dish just before serving. It can also be used to stuff tamales and chiles rellenos—just chop the squashes into smaller pieces.
2 tablespoons olive oil
1 medium red onion, chopped in ¼-inch dice
3 garlic cloves, minced
3 zucchini, halved lengthwise and cut crosswise in ½-inch slices
3 yellow squash, halved lengthwise and cut crosswise in ½-inch slices
3 New Mexico green chiles, roasted, peeled, seeded, and chopped
3 ears of corn, shucked and kernels sliced off
¼ teaspoon ground cumin, toasted
½ teaspoon Mexican oregano
½ cup vegetable stock
Salt and pepper to taste
Serves 8
INSTRUCTIONS
Heat olive oil in heavy Dutch oven and sauté onions over medium heat until translucent, about 5 minutes.

Add garlic and sauté until lightly browned.

Add zucchini, yellow squash, green chile, and corn. Stir and cook over low heat for 10 minutes or until squash softens.

Stir in cumin and oregano, add stock, and simmer 10 minutes.

Season with salt and pepper.