Campers of all ages can enjoy activities on Lake Maloya.
LAKE MALOYA COMES INTO VIEW as we descend switchbacks on the back side of Little Horse Mesa, near Ratón. The late-morning heat gives way to the cool microclimate of Segerstrom Creek, its gurgles growing louder as we reach the valley bottom. Flowering New Mexico locust trees drip shade over the trail. The muddy path slurps around our boots as we weave through a meadow brimming with wildflowers.  
My younger son has opted to join me for a morning hike while the rest of our gang headed to the lake to fish. We stop to examine a pile of black bear scat showing evidence of a raid on the wax currant bushes. I check that the bear spray is still attached to my backpack. Was this the same bear we saw cross the road to the campsite as we arrived the previous evening? I wonder.  
The trail cozies up to the lake. Butterflies in three colors sip from mud puddles. A raven screeches an alarm call from a tree branch overhead. I slow to listen as fishermen call excitedly from the shore. I look ahead on the trail, freeze mid-step, and push my son behind me. Five black toe pads on a large paw flash from a tan hind leg, followed by a long, fluffy mountain lion tail that disappears into the underbrush. We wait for the cougar to retreat and our adrenaline to calm, then thank the raven for the warning and finish our hike.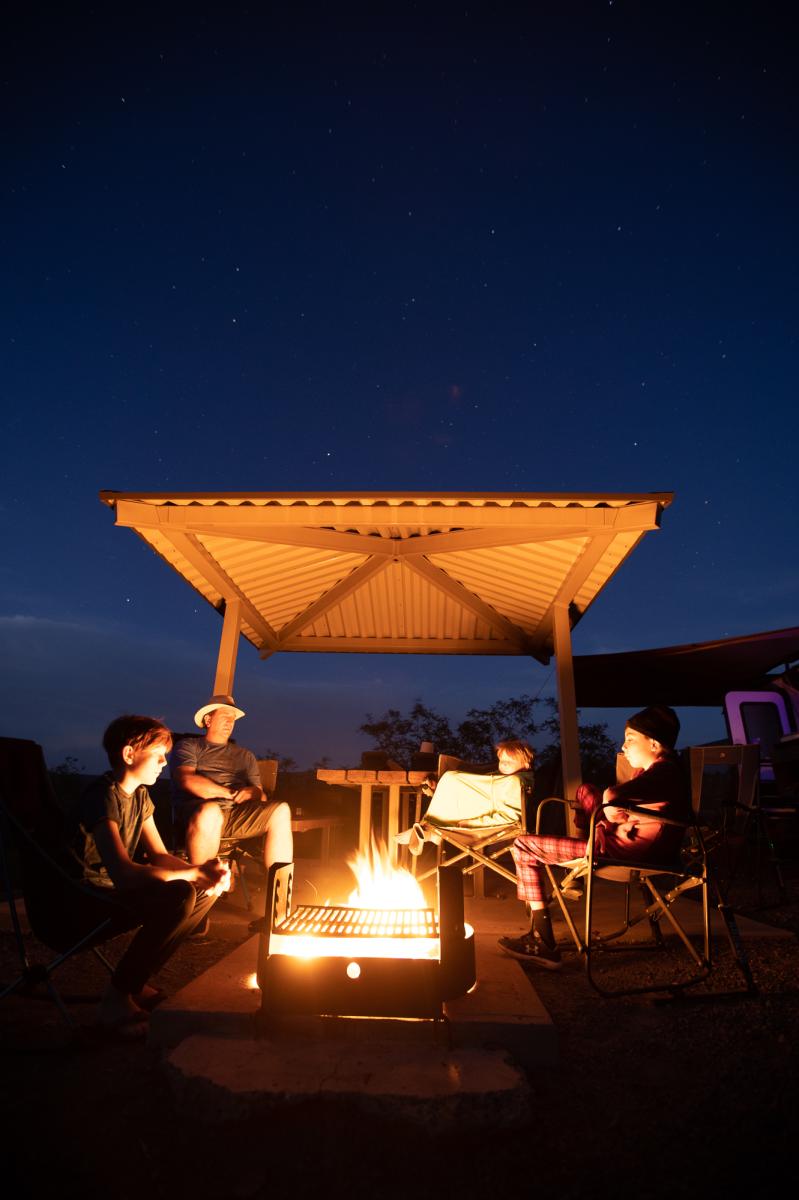 Gooey s'mores and stories are told by the fire at Sugarite Canyon State Park.  
Sugarite Canyon, with a 130-acre lake surrounded by oak and ponderosa forests and meadows, "has tons of wildlife because of all the food sources," says Patricia Walsh, interpretive ranger for New Mexico State Parks. The result is some of the best front-country wildlife viewing in New Mexico. "Cougars live here because there are so many deer," says Walsh. "They are very shy of people, and it's unusual to see them. If you do see a cougar on a trail, talk or sing. It'll help you stay calm, and you'll still be breathing!"  
Back at our temporary village of tents and RVs in the 21-site Soda Pocket Campground, we find the rest of our party dripping wet from head to toe. Apparently my oldest son caught a fish and then proceeded to tip the canoe and dump all the kids into the lake. They bobbed around in their life jackets until the dads paddled over and rescued them. In other words, they had a great time.  
Summer monsoon clouds roll up the valley, sending us into the RV for cover. After a couple games of I Spy and a pan of peanut butter chocolate chip cookies, any hint of rain burns away. We venture outside again, where the late-afternoon light illuminates a double rainbow under which the kids enact an epic stick-sword battle.  
As the day gives way to dusk, the kids disappear into a fort they constructed in the nearby oak forest while we parents sit around a fire sipping drinks. We watch several deer browse in an adjacent field of purple and yellow wildflowers. As we settle in to roast marshmallows over the fire, a few hummingbirds buzz by, attempting to sip nectar from our colored sunglasses. Owl hoots echo off the surrounding cliffs and a gray fox shimmies across the edge of our campsite. For nature lovers like us, the experience is exhilarating.
CAMP CONFIDENTIAL
Best sites: With 14 sites, Lake Alice has electric and water hookups. But if you can do without, the sites are roomier and the views superb from Soda Pocket Campground's 21 sites.
Nearby activities: Capulin Volcano National Monument and Maxwell National Wildlife Refuge.
Bathrooms: Find a shower building with flush toilets across from the visitor center and pit toilets throughout the park.
Water: For several years, the park has been under a "boil water advisory." Bring enough water for your stay. 
Dogs: Leashed pets allowed.
Fee: Day use, $5 per car; tent sites, $10 per night; RV sites, $30 per night.
---
Read More: Follow these tips for camping with the little ones.
Read More: Pitch your tent at these exceptional spots.
Read More: These iconic tables create a perfect place for an aliens-have-landed picnic at White Sands.