Photos by Celia Raney.
September is the peak of the harvest season in New Mexico, and fresh fruits and veggies can be found at farmers' markets throughout the fall. Some of the most colorful and aromatic goods can be found long after the days start getting short and cold. Here are some of the most popular markets in the state.
Aztec Farmers' Market
An evening seasonal open-air market pops up in Aztec every Wednesday starting in mid-July and runs through October 30. Enjoy the cool air and crisp autumn breeze as the months get colder, while perusing rows of winter squash, apples, berries coming in at the end of their season, and many greens. 
Farmington Growers' Market
Roasted green chile, melons, sweet corn, squash, onions, tomatoes, and some fruits are in peak season and ready to leap into your reusable bag. Head to Farmington any Saturday morning or Tuesday evening through October 27 to find everything you need for all your harvest recipes.
Taos Farmers' Market
Located in the Taos Historic Plaza, this lovely mountain town market welcomes the early to rise crowd on Saturday mornings. Head to New Mexico's rolling hills for some of the freshest morning grocery shopping every Saturday through October 17.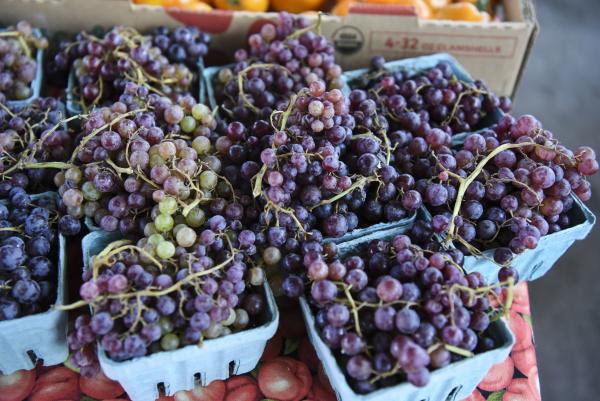 Bosque Farms Grower's Market
Words and pictures can't do this humble market justice. Everything sold here is grown or made by the vendors, and the only produce sold is local. Growers come to the Bosque from as far south as Socorro and as close by as downtown Bosque Farms every Saturday morning from May to October to sell a large variety of fruits and vegetables.
Dixon Farmers' Market
Spread some fresh raspberry jam on your hump-day blues at this Wednesday afternoon market in northern New Mexico. Fall sees the end of the raspberry and strawberry season, but keep your eye out for fresh blackberries, and of course apples. Through October 17 you can spend your mornings in the cool mountain air foraging for your next scrumptious meal.
Santa Fe Farmers' Market: Railyard
Golden honey, Indian fry bread, hot apple cider, and an indoor cafeteria welcome all at this combo indoor-outdoor market. Every Saturday and Wednesday through September and Tuesday through November, the Railyard pavilion is the place to be in Santa Fe.
Read more: Our favorite New Mexican foods and restaurants. 
Bernalillo Farmers' Market
Attendance always goes up in the fall at this Friday evening market. Most apple trees start to ripen between early September and late October, and since you can find them and more at this market every Friday through October, there is no shortage of them here. Tomatoes that have been swelling and ripening since August line farmers tables and squash takes off as the dominant harvest offering. Fall at the market is a great time to snag pumpkins, chile, bell peppers, sweet potatoes, and onions, which you can't find earlier in the season.
Albuquerque Rail Yards Market
Like the Santa Fe Farmers' Market, this indoor-outdoor event offers food and art. Local farmers line up next to designers and craftsman, bakers and food trucks, too. Every Sunday through October, you can peruse the rows of vendors in the old railroad complex.
Los Ranchos Growers' Market
Besides produce fresh from the Río Grande Valley, this Saturday morning market features works by local artists and craftspeople. Get there early for the best tomatoes.
Corrales Growers' Market
This village is an apple-and-chile hotbed. Stock up on fruit, vegetables, canned preserves, and baked goods, but also go for the scene—especially at the Sunday market, 9 a.m. to noon. Wednesdays 3–6 p.m. work, too.
Socorro Farmers' Market
Turnips, beets, tomatoes, herbs, and melons of all kinds show off at their fall colors Saturday mornings through October and Tuesday evenings from November through April. This is a year-round market. Moving indoors in November, the farmers here can share their crop no matter the weather, giving winter squash the perfect opportunity to shine.
Read more: Green Season is Here—For New Mexicans, the smell of green chile roasting marks the beginning of autumn. 
Mainstreet Roswell Farmers' and Growers' Market
The green chile comes out and the gloves come off, but southern farmers' markets always take the cake when it comes to this fiery favorite. Saturday's through September, this market offers chile, root vegetables, crafts, and baked goods. 
Farmers' & Crafts Market Of Las Cruces
This year-round market spans seven blocks along Main Street every Saturday and Wednesday morning, offering locally grown produce, coffee, pastries, bread, crafts, and farm raised meat. Because you're in the south, don't forget the chile.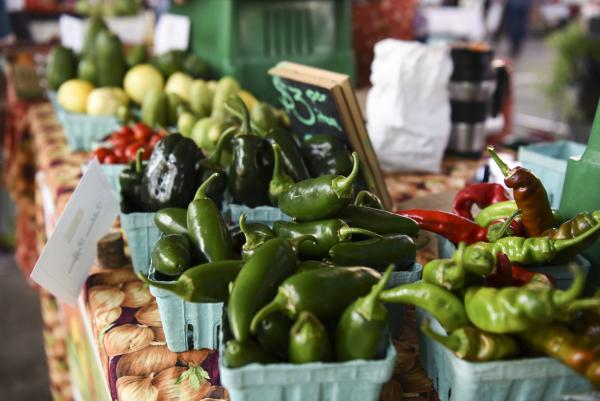 Popular Produce in Season Now
Apples, August through November
Arugula, September through June
Basil, year-round
Blackberrries, June through September
Broccoli, year-round but best in fall and winter
Brussels Sprouts, September through November
Cantaloupes, July through November
Carrots, June through November
Cauliflower, September through November
Celery, August through November
Chard, September through June  
Chiles, July through November
Corn, June through November
Cucumbers, June through November
Eggplant, June through November
Fennel, August through December
Green Beans, June through November
Green Onions, June through November
Kale, September through June
Lettuce, year-round
Melons, July through November
Mint, year-round    
Okra, June through October
Onions, June through November
Oregano, year-round
Parsnips, September through December
Pears, September through November    
Rosemary, year-round
Sage, year-round
Scallions, June through November
Shallots, June through November
Squash (winter), September through December
Sweet potatoes, July through December
Tomatoes, June through November
Turnips, July through December
Zucchini, May through October