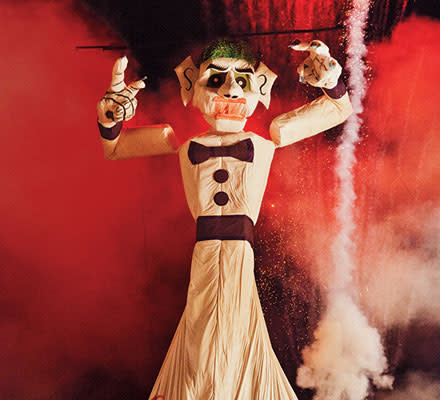 Photo by Charles Mann.
SEPTEMBER 4–13
CONTROLLED BURN
If it's been a while since you last attended the Burning of Zozobra, which artist Will Shuster initiated in the mid-1920s, you're in for an incendiary treat. Each year in Santa Fe's Fort Marcy Park, the 50-foot-tall "Old Man Gloom" effigy is torched spectacularly along with scraps of paper scrawled with attendees' woes and worries. Since taking over as the event's committee chair in 2013, Ray Sandoval—a lifelong Zozobra zealot—has introduced several welcome improvements, slashing ticket prices to $10, moving the ceremony from Thursday to Friday night (September 4 this year), and establishing the "Decades Project." Each year until the celebration's 100th anniversary in 2024, the giant puppet's appearance will correspond to a different decade of Zozobra's time line. This year, in a nod to the difficult Depression-era 1930s, the exemplar of gloom will look decidedly haggard, having lost his hair and gained some extra pounds. "Shuster used to joke that in the thirties, there was so much adversity that Zozobra became overweight from eating so much gloom," explains Sandoval, who adds that, for the first time, the puppet's color palette will be limited to shades of gray. But stay tuned. "There's going to be a big, colorful surprise halfway through the show."
Other new features this year are 10K, 5K, and children's 1K races on Friday morning. "The finish line for the race is Fort Marcy Park," says Sandoval, "and Zozobra will be fully constructed by late morning to greet the runners." Several local bars, restaurants, and hotels will stay open and throw parties after the burning—visit afterthegloom.com for a complete list of late-night celebrations. (855) 969-6272; burnzozobra.com
Photo by Amanda Kooser.
The next day, Saturday, September 5, Fiesta de Santa Fe gets formally underway with its long-running mariachi concert, held for the first time at Fort Marcy Park, and the juried Fine Arts & Crafts Market on the Plaza. The other key Fiesta events—the pet parade, the Historical/Hysterical Parade, the candlelight procession to the Cross of the Martyrs—take place the following weekend, September 11–13. (505) 913-1517; santafefiesta.org
Top-notch comfort nosh at Wagon Mound's Bean Day Celebration, with side dishes of mariachi and rodeo fun.
Photo by Sergio Salvador.
SEPTEMBER 4–7
FRIJOLE-FOR-ALL
Wagon Mound's population of about 350 explodes about tenfold during the annual Bean Day Celebration each Labor Day weekend. "It's like a big family reunion," says the festival's president, Luis Lopez. "We reconnect with some people who moved away decades ago, and sometimes their grandkids or even great-grandkids attend." Of course, newcomers are also warmly welcomed at this friendly four-day bash—especially any able-bodied folks game to roll up their sleeves during the Friday-night bean-cleaning party at the old firehouse. Other crowd-pleasers include the three-day rodeo and messily mesmerizing mud bog races. Following the parade and free barbecue on Monday, the crowds gradually return whence they came, and little Wagon Mound reverts back again to "nearly a ghost town," says Lopez, only half joking. beanday100.com
SEPTEMBER 5–6
SOUTHERN GRACE
Labor Day weekend buzzes with activity in Las Cruces and the Mesilla Valley. Fans of vino come for the Harvest Wine Festival, and art buyers flock to the juried Franciscan Festival of Fine Arts, where you can browse some 80 artists' work amid the manicured lawns, pecan trees, and red-roof Spanish Colonial–style buildings of the Holy Cross Retreat Center in Mesilla Park. Top attractions: elegant necklaces crafted by the Las Cruces Bead Society and the ornately carved and painted retablos and santos of Margarito Mondragon, who designed this year's festival poster. (575) 524-3688; franciscanfestival.org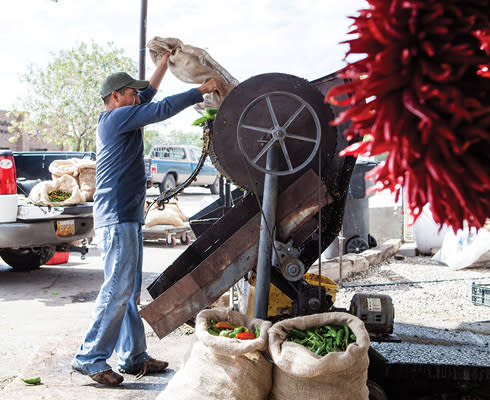 A sack of freshly picked green chiles gets upended into a roaster at the Hatch Chile Festival. Facing Page: Swooping into the thick of state fair fun.
Photo by Jen Judge.
SEPTEMBER 5–6
HIGH HOLY CHILE DAYS
The area's celebrations continue just north of Las Cruces with the Hatch Chile Festival, a piquant homage to New Mexico's favorite fruit. If you're a true connoisseur, or at the very least a brave soul, consider entering the contest to determine who can consume 10 hot green chiles the quickest. "I'm amazed how fast they can eat them—and how much water they drink," says event organizer Tina Cabrales, who counts the Friday-night kickoff dance and Saturday-morning parade among the festival highlights. Like many locals, Cabrales enjoys her chiles on the hot side, but in answer to New Mexico's official state question ("red or green?"), she takes a diplomatic stance. "It's really a toss-up—there's no true consensus." Pick up a few sacks of freshly roasted chiles to give green a fair shot. (575) 267-5050; hatchchilefest.com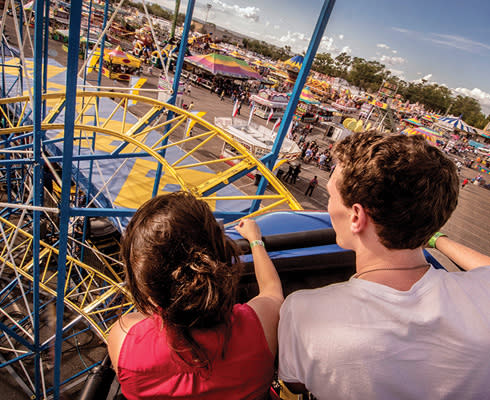 Photo by Karen Kuehn.
SEPTEMBER 10–20
A FAIR TO REMEMBER
Some major talents are tearing up the stage at the New Mexico State Fair this year, including exhilarating Chicano rockers Los Lonely Boys and Ozomatli, as well as venerable country acts Restless Heart and Clay Walker. Also worth a cheer: the third annual Unique Foods Contest, which last year gave birth to such delicious and novel mash-ups as deep-fried caramel ice cream wrapped in fry bread, red chile–chocolate limeade, and—the winner—a deep-fried green chile–and–bacon cheeseburger. If just reading that sentence made you thirsty, take heart: There will be more beer gardens at the fair than ever before, and La Cumbre Brewing has created an official New Mexico State Fair cream ale. Salud!
For the last 76 years, our state fair has dazzled attendees with a mix of traditional family fun—carnival rides, rodeo shows, agricultural exhibits—and creative innovations. This year, for example, a thrilling new roller coaster makes its US debut at the fair, and the interactive Sea Lion Encounters show affords spectators the chance to learn about, and even receive a kiss from, the gregarious pinnipeds. (505) 222-9700; exponm.com
SEPTEMBER 12–13
INDEPENDENCIA DAY
"Many people in America believe Cinco de Mayo relates to Mexican Independence, but that event is actually commemorated on September 16," says Mesilla special events coordinator Irene Parra, who points out that residents in this part of the state—which was part of Mexico until the Gadsden Purchase in 1853—celebrate their neighboring nation's 1810 War of Independence with great gusto. The free Diez y Seis de Septiembre Fiesta takes place at Mesilla's historic plaza the week-end just before Mexican Independence Day and features a spirited parade, riveting Ballet Folklórico de la Tierra del Encanto performances, and concerts by locally based Los Latinos and El Paso's Tejas Band. (575) 524-3262; mesillanm.gov
SEPTEMBER 12
PIE'D PIPERS
Head west on NM 60 Socorro on September 12, following the scent of fresh-baked pies—apple–green chile, peanut butter, cherry, chocolate-pecan, coconut-cream—and you'll undoubtedly end up at Pie Fest, in the easygoing village of Pie Town, which is home to two homey cafés that specialize in the community's namesake delicacy (read more about Pie Fest here: mynm.us/pietown14). Enthusiasts come from all over the United States to enter their prized pastries in the festival's baking contest. There's an eating contest, too. "We go through more than 500 pies," says Janine McMurtrey, president of the Pie Town Council. Personally, McMurtrey is a devotee of just about any flavor of pie—"as long as it has a crust and filling." (575) 772-2525; pietowncouncil.com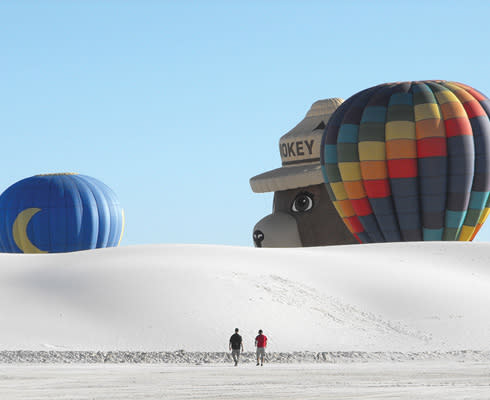 Gypsum dunes set off hot-air balloon hues at the White Sands Balloon Invitational.
Photo courtesy John Baake.
SEPTEMBER 19–20
GLOW FOR IT
If there's one day at White Sands National Monument when the view skyward is even more spectacular than that of the brilliant dunes of gypsum underfoot, it's the Saturday of the White Sands Balloon Invitational, when some 50 brightly colored hot-air balloons ascend over the park.
The flights continue into the evening, during a 7 p.m. "balloon glow" at nearby Alamogordo's Ed Brabson Balloon Park, where, the following morning, 50 balloons again take to the sky. (575) 437-6120; alamogordo.com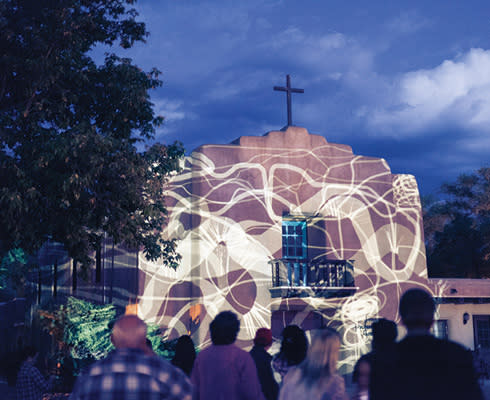 Projected visual art gave the First Presbyterian Church of Taos a dynamic update during the Paseo fest last year.
Photo courtesy The Paseo.
SEPTEMBER 25–OCTOBER 4
COLONY CENTRAL
In just its second year, the Paseo (paseotaos.org)—which aims to bring "the art of installation, performance, and projection"—has become a much-anticipated kickoff to the array of exhibits, gatherings, and workshops that make up the Taos Fall Arts Festival. Multitalented architect and artist J. Matthew Thomas developed the Paseo last year as a half-day, Kickstarter-funded experiment. "People came out and filled the streets," says Thomas, "and there was just this incredible energy. This year we'll have more diversity, performance art, and even food artistry." Don't miss the Paseo After-Party on Saturday night, at Taos Mesa Brewing, which will feature a slew of outside-the-box musicians and artists. Another key event, the Taos Environmental Film Festival has also expanded to two days (October 1–2). Other highlights during the 10 days of visionary programming: a historic photography exhibit about the town's critical—and picturesque—acequia system, a night of poetry in the Taos Inn's convivial Adobe Bar, and a guided stroll through Sierra Vista Cemetery, featuring the gravesites of many of the Taos Society of Artists. taosfallarts.com
Want more like this? Subscribe now!