Above: Take the Turquoise Trail to Desert Harbor, a retreat casita.
PHOTOGRAPHY BY: COURTESY DESERT HARBOR/
MAGNIFIED JOY PHOTOGRAPHY
CASA GALLINA, TAOS
The arts and culture season continues in Taos this month with the Taos Wool Festival and SOMOS Storytelling Festival. "I love hosting creative people who are here to be inspired," says Richard Spera, owner and innkeeper of Casa Gallina. "The vibe of town comes back to a nice hum. I have guests who bring their knitting needles and do projects outside."
Spera opened Casa Gallina 12 years ago, living in one of the five casitas at a time and decorating as if it were home—with a cozy, artisan aesthetic. Embracing bold colors, Spera painted each in royal blue and vibrant reds. Navajo rugs lie on Mexican tiles, and local artwork bedecks every wall. Gather fresh eggs every day from "the girls," as Spera calls them, and goodies from the garden to cook your own farm-to-table breakfast in the full kitchens. This time of year, you'll find arugula, kale, and spinach in neat rows, and late-autumn apples in the orchard. Book the Bantam Roost to take in Taos Mountain views from the second-floor deck hammock.
From $195 per night (two-night minimum); 613 Callejon; (575) 758-2306, casagallina.net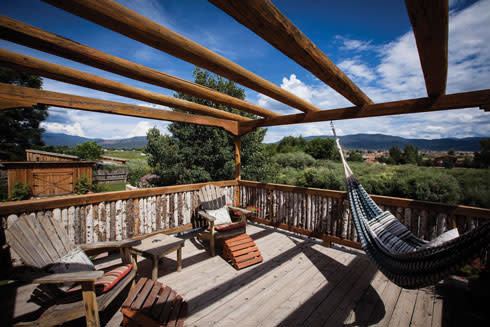 Above: Hit the deck at Casa Gallina.
PHOTOGRAPHY BY: COURTESY CASA GALLINA
WORTLEY HOTEL, LINCOLN
"No guests gunned down in over 100 years," proclaims the Wortley Hotel. Once owned by Sheriff Pat Garrett, the hotel was caught in the cross fire of the 1878 Lincoln County War that unfolded between rival merchants and their posses. Today the town, near Ruidoso, serves as a sort of living history museum, with the Lincoln State Historic Site presiding over many of the stone-faced and wooden buildings lining US 380, and the Lincoln County Cowboy Symposium holding court October 7–9.
Partners Troy Nelson and Katharine Marsh recognized that the Wortley was a diamond in the rough and moved their family from Denver to reopen the hotel in January 2016, with a fresh coat of paint and a new farm-to-table bent. Five intimate, whitewashed rooms feature antique furnishings and iron bed frames. The closet-size bathrooms—hey, it's historic—include sweet touches like Marsh's handmade soap. They even added a white picket fence.
For breakfast, Nelson whips up a decadent hollandaise-smothered veggie frittata with farm eggs from the coop out back. The goat kids have quickly outnumbered the couple's two girls, and the owners plan to fold goat cheese into the menu in October and host a weekly tapas night. They're already open to the public for lunch on Wednesday and Thursday—a boon in Lincoln, where restaurants are in short supply. It's a fitting reintroduction: Sheriff's deputies were lunching here when Billy the Kid made his epic escape from the Lincoln Country Courthouse a few doors down.
Take note: Staying here is a technological trip back in time; there's no Wi-Fi in Lincoln. You'll hardly notice its absence if you ease through the afternoon in one of the hotel's front-porch rockers. (There is cell phone service, however.)
From $110 per night; US 380; (575) 653-4300, wortleyhotel.com
BEAR MOUNTAIN LODGE, SILVER CITY
Come for the nature, stay for the art. First homesteaded in 1910, Bear Mountain Lodge includes 178 acres of rolling hills and several miles of maintained hiking trails on the edge of the Gila National Forest. A birding and wildlife haven, this land was deemed so valuable that the Nature Conservancy operated the inn for a decade. Now, a group of seven partners—including several locals—own the lodge.
Nature practically hops to the main lodge's back door: A cattail-rimmed pond shelters a population of endangered Chiricahua leopard frogs. Guided flora and fauna walks are available by appointment. The main lodge includes six guest rooms; additional accommodations include Myra's Retreat—a good choice for guests with dogs—and the Wren's Nest. The inn is kind to the environment, too, incorporating several green practices, from low-water-use fixtures to eco cleaning products. Worn bed linens are donated to an orphanage in Palomas, Mexico.
Breakfast is served in a sunny room just off the lobby where you can watch the hummingbirds dogfight as you enjoy your banana bread. The on-site Blue Dome Gallery features local artists' jewelry, ceramics, paintings, and the enchanting black-and-white images of master photographer Michael Berman, a Guggenheim Fellow and winner of a Governor's Award for Excellence in the Arts.
From $160 per night; 60 Bear Mountain Ranch Rd.; (575) 538-2538, bearmountainlodge.com
CASA BLANCA INN AND SUITES, FARMINGTON
As the weather cools, the Four Corners earns its designation as a four-season playground. The weather is perfect for hiking in the desiccated landscapes of the Bisti/De-Na-Zin Wilderness, golden color has kissed the cottonwoods along the San Juan River, and the San Juan Symphony tunes up for its fall season.
With fountains, rock waterfalls, a pond, and Japanese and rose gardens, the Casa Blanca rewards those who play hard with a verdant oasis in which to relax and recover. The current owners (who also operate Don Gaspar Inn in Santa Fe) took over the 1950s-era property in 2003. A cedar tree shades the Chaco Suite, where a kiva fireplace will warm the room on chilly evenings. A Spanish Colonial–inspired headboard pairs with Navajo weavings to complete the New Mexican décor. The Crownpoint Suite, a mirror to Chaco, features a kitchenette and a jetted tub. Breakfast brings an expansive continental breakfast that includes a hot entrée such as innkeeper Linda Kimmel's oft-requested huevos rancheros.
From $139 per night; 505 E. La Plata St.; (505) 327-6503, casablancanm.com
DESERT HARBOR, SANDIA PARK
Before the holiday season ramps up, a tranquil haven awaits in the east Sandía Mountains between Albuquerque and Santa Fe. On 34 acres of alabaster foothills and desert brush, Raymond and Wesley Linman welcome visitors to a single, 600-square-foot casita suited for a personal retreat. Raymond says many guests come to regroup after a big life event, such as a career change or bereavement. The environment is so serene and the view so spectacular that any excuse will do—no drama required!
Raymond built the casita himself—employing a small footprint, sustainable design, and solar power. A bed repurposed into a porch swing (he also built much of the furniture himself) greets guests to the airy structure. A nautical theme influences the décor, from the sunny reading nook to the rope-lined loft. A soaker tub offers desert views, and you can linger in a wood-fired hot tub or take a short hike to a wooden deck where a hammock beckons. Along the hike, you'll pass Raymond's newest project, built from repurposed bone-pile wood. In this enclosure, you can meditate, stretch into a private yoga session, or book a therapy session with Wesley, a licensed counselor. In keeping with the air of solitude, a full organic breakfast using local ingredients is delivered to your door each morning. Dinners are available on select evenings at an additional fee; you may also prepare small meals in the kitchenette.
From $156 per night; 4761 Puertocito Rd.; (505) 252-0558, desertharborretreat.com