Above: Los Poblanos Historic Inn's new South Field Suites. Courtesy of Los Poblanos Historic Inn.
LOS POBLANOS HISTORIC INN & ORGANIC FARM
Down a cottonwood-shaded lane and beyond rows of aromatic lavender fields rests a microcosm of New Mexico. Three generations of the Rembe family have cared for Los Poblanos, preserving historic buildings and expanding in slow, careful stages. Nurturing a preservationist spirit, the family has guarded the working farm's cu ltural heritage, too.
"This is either the greatest place to start a trip to New Mexico or the greatest place to end a trip to New Mexico, because you get the Anglo history, the Native American history, the Hispanic history, and the Mexican history," says Matt Rembe, Los Poblanos' executive director. Once well traveled by pre-Puebloan people seeking the resources of the nearby Río Grande, Los Poblanos took its name from later settlers who came from Puebla, Mexico, to farm the fertile land in what is now the heart of Albuquerque. In 1716, the land was folded into the massive Elena Gallegos Land Grant, which stretched from the valley to the foothills of the Sandía Mountains. Albert and Ruth Simms reassembled the parcels into a model farm in the 1930s, and it served as the headquarters of the original Creamland Dairy. The civic-minded couple—both served in Congress—commissioned architect John Gaw Meem to design La Quinta Cultural Center, a Territorial-style building where they hosted art exhibits, concerts, and lectures open to the public. They hired WPA artists to bedeck the property, which still boasts a true fresco by Peter Hurd, doors and mantels carved by Gustave Baumann, and photographs by Laura Gilpin.
In 1976, Penny and Armin Rembe bought part of the Simms estate, moved in, raised children, and worked the land as gentleman (and lady) farmers. "As a family, we've been on this property longer than anybody, and this preservation plan started when we only owned half the property," Matt says. In 1999, urban sprawl threatened to consume the farmland and La Quinta Cultural Center, so the Rembes, along with their four grown children, united the two parcels under a plan that included an inn and event center. Initially, neighbors braced against this commercial incursion into their bucolic neighborhood. "We had to show the neighborhood and community it would have a positive impact," Matt says. "That took some time. It was really hard. We were accruing a lot of expenses to preserve the historic property, but we didn't have the income to offset it."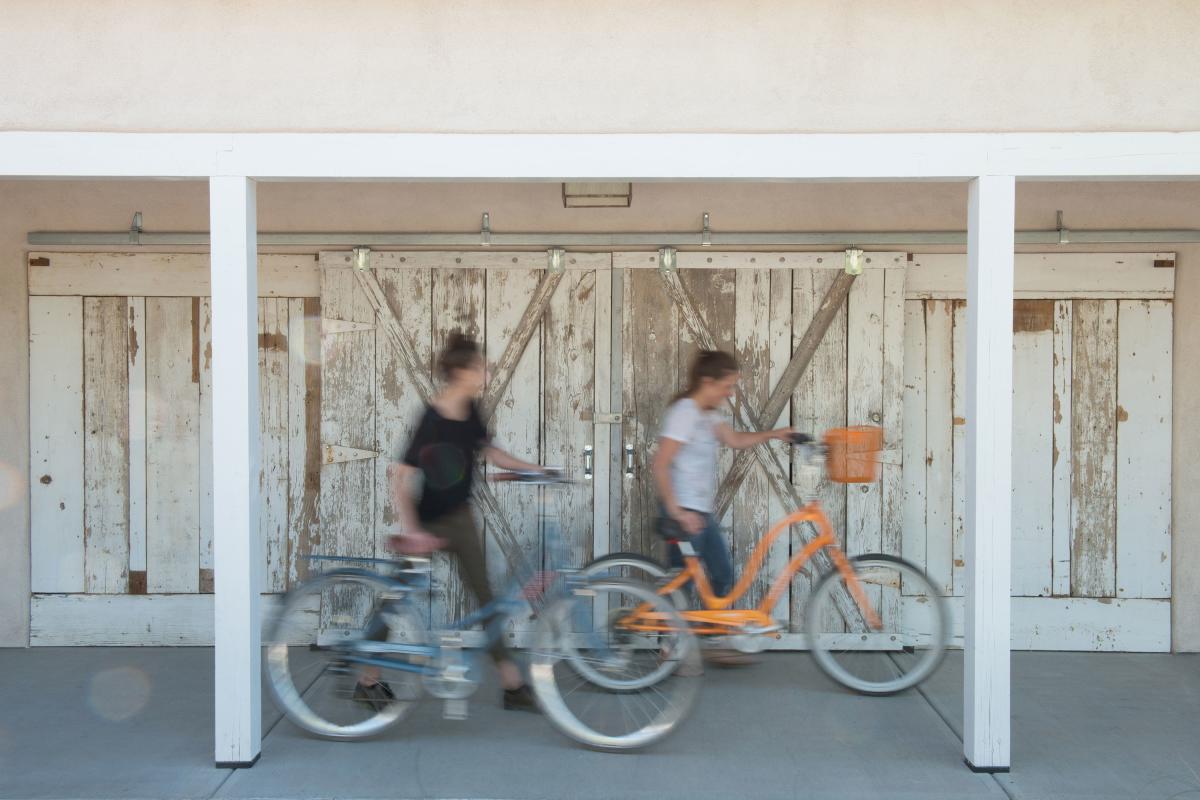 Above: Bikes, and scenic bike rides, are a staple for visitors at Los Poblanos Historic Inn. Courtesy Los Poblanos Historic Inn.
The Rembes placed two-thirds of the estate in a permanent agricultural trust, never to be developed. The other third has strict limits on how many buildings it can hold. The original Meem-designed rooms are in the Hacienda, close to the cultural center. The Farm guest rooms, with their pitched tin roofs, were designed to look like dairy buildings and blend into their surroundings. The Field rooms, completed this year, include details inspired by New Mexican architecture, like mid-wall fireplaces, something Rembe had seen in Galisteo. The additions, which bring the inn to a total of 50 rooms, stretch like fingers into the lavender fields—a handshake with the working farm that keeps its agricultural past alive and helps right-size the inn's operations.
Los Poblanos has serious green bona fides—recycling, water-saving measures, energy-efficient windows, low paper consumption, and eco-friendly cleaning supplies. It has also become a trove of New Mexico artifacts. Drawing on his background in art, Matt Rembe has salvaged floors, tinwork, ironwork, doors, and furniture from other historic inns, such as Santa Fe's La Posada and Bishop's Lodge.
In keeping with its history, Los Poblanos serves its organic produce in the field-to-fork restaurant. James Beard Award–nominated chef Jonathan Perno, an Albuquerque native, harvests from the fields and grounds, preparing fine-dining meals in a 1934 residential kitchen on a period stove. It's wholeheartedly charming—and entirely challenging. This year, Los Poblanos has renovated the dairy barn, preserving 80 percent of the original building, to create Campo, a new restaurant with a commercial kitchen and two to three times the seating space, plus a bakery that will prepare to-go pastries and sandwiches. The space looks onto the lavender fields, which aren't just for show. The essential oils are distilled into a line of body products made on-site and available at the farm shop, which also has a newly expanded space in the barn. Pop in to peruse the farm's honey and jam, along with Aceto Balsamico vinegar of Monticello, and locally made tea towels from Kei and Molly.
---
From $210 per night; 4803 Rio Grande Blvd. NW, Los Ranchos de Albuquerque; inn, (505) 344-9297; restaurant, (505) 338-1615; shop, (505) 938-2192; lospoblanos.com
---
HOTEL LUNA MYSTICA
In the vein of trailer park hotels in locales like Marfa, Texas, a dozen vintage trailers have popped up on the sagebrush mesa north of Taos. With the area's adventurous spirit and environmentally conscious bent (the Greater World Earthship community is just down the road), Hotel Luna Mystica settles right into place. Principal owner Ryan Irion and the management team, which includes Tristan Burman, salvaged the vintage trailers, which were rusting among overgrown weeds in New Mexico and Arizona. They kept as many of the original materials as possible, but refurbished them to add insulation, running water, air-conditioning, electricity, and unique décor. Ashley Arabian, owner of Wander, a Taos boutique with a boho bent, planned the interior designs. The Christopher trailer, a 32-foot Spartanette named after aerial photographer Chris Dahl Bredine, features the local ultralight pilot's images and exudes an Easy Rider vibe with a vintage American flag, raw wood paneling, and blue batik pillows. Jazzy, a 33-foot Spartan Imperial Manor, captures modern Southwest style with a gilded cow skull, leather bench seating, and Mexican tiles. Set adjacent to Taos Mesa Brewing, host of June's Music on the Mesa and live concerts throughout the year, Hotel Luna Mystica is a prime festival accommodation. (Shady tent campsites are also available.) Opened just this year, the hotel hopes to add solar panels and more spaces for lodgers and residents to gather, including fire pits and game areas.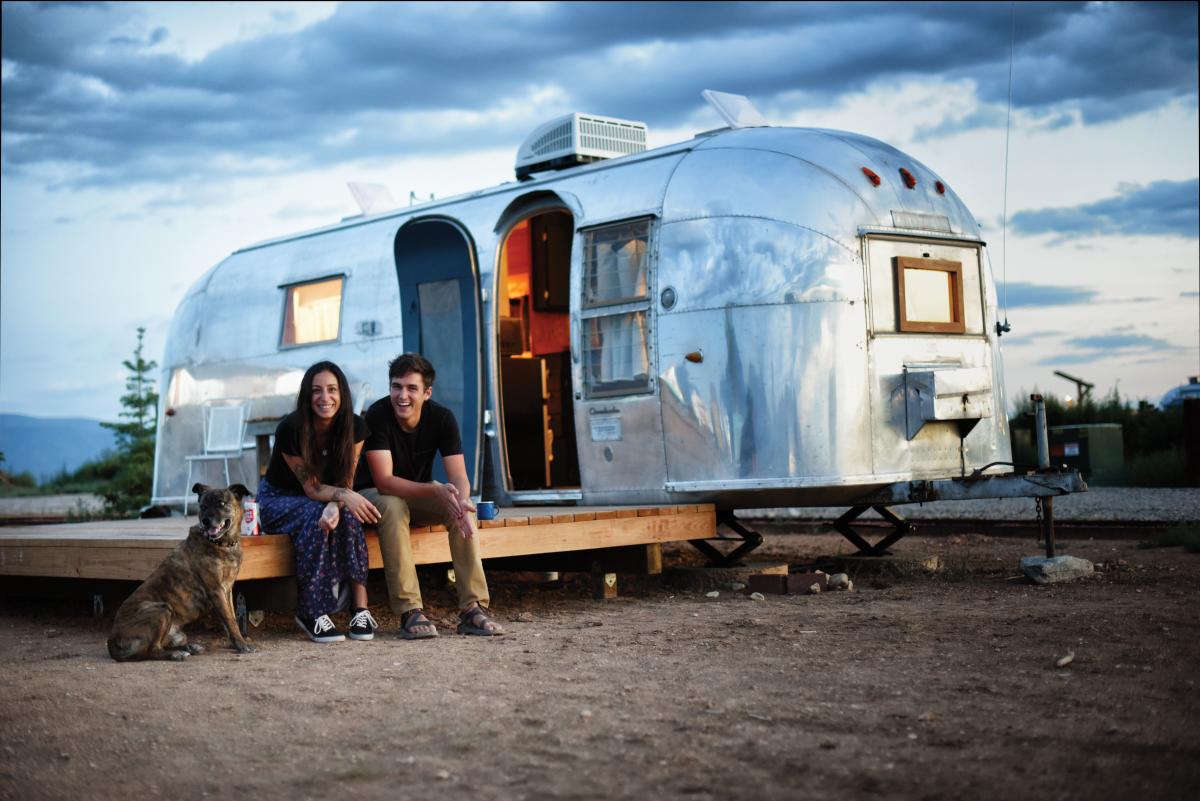 Above: Hotel Luna Mystica. Photography by Sergio Salvador.
---
Trailers from $55 per night; 25 ABC Mesa Road, Taos; (505) 977-2424; hotellunamystica.com
---
TAOS GOJI ECO LODGE AND FARM
Nestled in San Cristobal, 15 miles north of Taos, this log-cabin complex offers an off-the-grid farm stay. Since taking it over eight years ago, Elizabeth Van Dorp and her husband, Eric, have unearthed the buildings' history: A three-bedroom adobe was once an early-19th-century trading post and the San Cristobal post office. They found watercolors by writer and painter D.H. Lawrence, as well as letters between him and his wife, Frieda, in its attic. Lawrence's ranch is five miles away, also in San Cristobal, so it seems likely that he once stayed here. Rental cabins are named for him, his wife, and his other love, painter Dorothy Brett. Another Lawrence friend, Aldous Huxley, lived and wrote in one of the cabins and built a still-standing outhouse, as a sign on the exterior attests. Most of the accommodations have their own bathrooms, but a few are served by a communal bathhouse. Most cabins also have kitchenettes for self-catering. All the cabins are juiced by solar energy from on-site panels and are cleaned with earth-friendly products. This year the couple added two glamping tepees along the creek, outfitted with queen beds and Southwestern décor.
During your stay, you may happen upon a jovial farm intern weeding the goji nursery. The inn's namesake plant is grown for its leaves (to make tea) and berries (to eat). The Van Dorps have a line of teas and body products using the antioxidant-rich essential oils. You might also encounter the Van Dorps walking their two goats around the property, or wander past the chicken coop, from which they harvest eggs for shared meals.
---
From $79 per night; 1528-1530 Old State Road 3, San Cristobal; (575) 776-3971; taosgoji.com
---
TWO PONYZ RANCH
Fifth-generation Chicagoan Karen Smith gave up the "L" train for lots of space and sky on Two Ponyz Ranch. The avid horsewoman wanted a place to pasture and ride her barefoot horses, and found it on a 40-acre spread between Abo and Mountainair, 72 miles south of Albuquerque. She welcomes guests to a one-bedroom casita with gleaming vigas, a big kiva fireplace, and a full kitchen for self-catering. The casita has solar power, harvests water for landscaping and the horses, and uses organic products. It's a quiet retreat where the back door opens onto a stretch of piñon-dotted mesa that rises into the southern tail of the Manzano Mountains. The national forest boundary is a half-mile away. The Abo ruins, part of the Salinas Pueblo Missions National Monument, are a few miles down the road. With the towering Manzanos blocking city lights, the casita suits stargazers. It's even outfitted with a telescope, and a picture that an amateur astronomer took of the Horsehead Nebula hangs inside. A quick note: Smith doesn't rent her horses for rides, but she has stable space for traveling equestrians.
---
January–March, $125 per night; April–December, $145 per night; HC 66 Box 566, Mountainair (directions on website); (505) 847-0245; twoponyzranch.com
---
D AND D's ORGANIC HAVEN
Over the years, Deb Nordquist developed a sensitivity to chemical-ridden products and fragrances, so when she and her husband, Dan, opened their bed-and-breakfast in Pleasanton (58 miles north of Silver City, near Glenwood), they made it a true sanctuary. In running their straw-bale home, they use only unscented and nontoxic laundry and cleaning supplies. They ask that guests arrive fragrance-free and use only organic and fragrance-free body products during their stays. (Some are provided.) That organic ethos flows to the exterior as well. They pick ripe produce from a large garden for guests' breakfasts, which might also include farm-fresh eggs from their coop. Comfortable guest rooms have private entrances. The B&B rests on the edge of the Gila National Forest, with expansive views of the Mogollon Mountains, in prime hiking territory. Fellow guests may be fresh off the nearby Continental Divide Trail, a national scenic trail that stretches from Mexico to Canada along the country's spine. Dan, a U.S. Forest Service wildlife biologist, has the scoop on the best trails nearby and all the fauna you may see along the way. Back at D and D's, dive into a refreshing, solar-heated pool.
---
March–November only, from $70 per person, $95 double occupancy; 13 Blue Heron Lane, Pleasanton; (575) 539-2483; d-and-d-organic-haven.homestead.com