Above: Get weird at Meow Wolf, in Santa Fe. Photograph courtesy of Meow Wolf.
BENJAMIN FRANKLIN HELD A CURMUDGEONLY VIEW of houseguests, quipping that they, "like fish, begin to smell after three days." We trust that your holiday guests smell far finer, but still, everyone benefits with a bit of airing out. Hence our picks for great ways to entertain your crowd, no matter their age.
Glowing mushroom forests, rainbow realms filled with glittering creatures, tunnels that slide into other dimensions—all are part of the House of Eternal Return interactive installation at Meow Wolf Santa Fe. "I always like to tell the story of one of the first times I went," says Kate Daley, the art space's marketing manager. "It was with my daughter, who was five, and my mom, who was about 65. What I thought was really cool was my daughter witnessing me and her grandmother in this state of awe and wonder. Adults don't have that experience often."
No matter how many times you've done Meow Wolf, you're bound to experience something new. "There's so much detail," Daley says. "There's no way to see every bit."
Don't miss: New installations. Illustrator Janelle Langford created a Black-woman-centric world under the moniker Obsidiopolis. Paolo Puck crafted another room, titled Beasties. Corinne Loperfido mosaic-coated an entire room—dubbed Trash Temple—in bits of refuse like old CDs, bottle caps, and Elmo dolls. 1352 Rufina Circle, Santa Fe; 505-395-6369.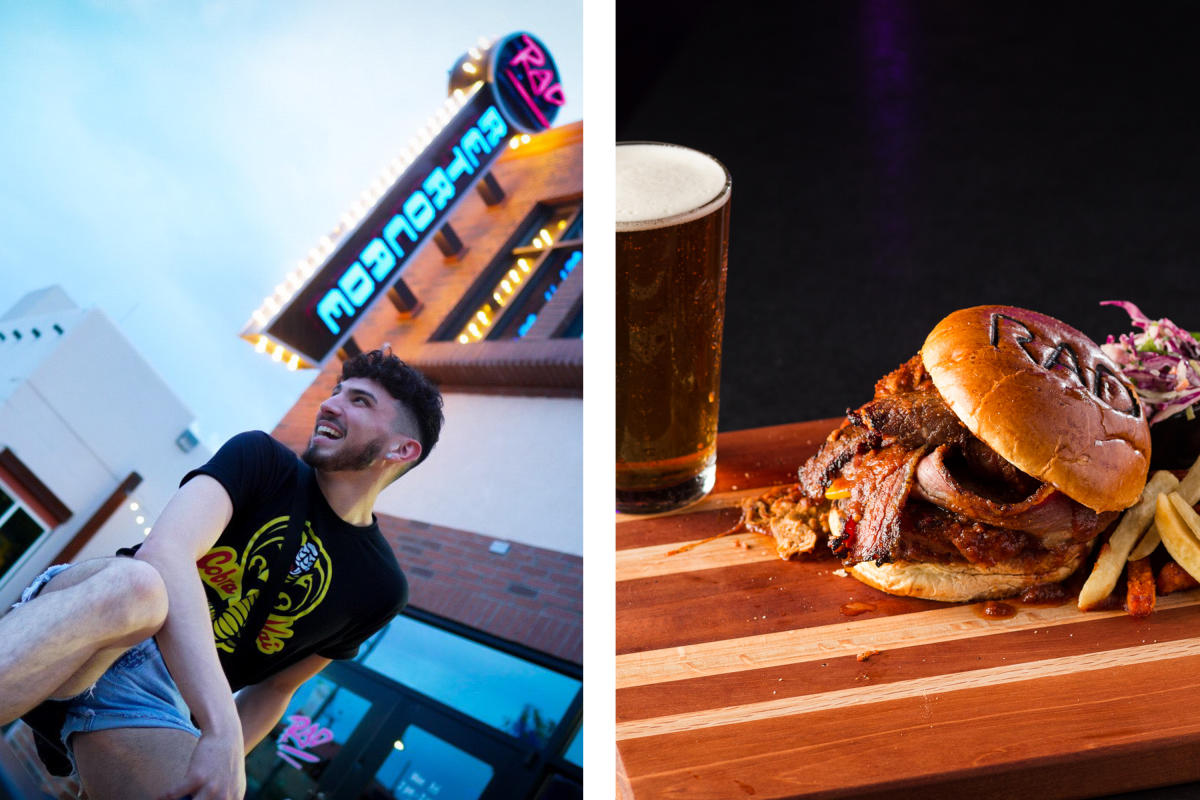 Feed your inner gamer at Rad Retrocade and level up on bar classics to fill your belly. Photographs courtesy of Rad Retrocade.
For gamers and pinball wizards: Rad Retrocade
More than 50 vintage arcade games welcome visitors to this Las Cruces hot spot. A bar-meets-arcade (that's right, they have a full bar) delivers nostalgia with games like Pac-Man and Mortal Kombat, along with a dozen modern pinball machines that carry themes like Rick and Morty, the Addams Family, and the Mandalorian.
"It's such a great place to come with the whole family," says Manager Alexis Silva. "People really light up when they see their favorite game. That's one of the best parts." The arcade decks its halls for the holidays, adding Christmas twinkles and trees to the black-light glow.
Don't miss: The treats. Holy cannoli, they have an entire menu of milkshakes, including a Cookie Monster flavor made with dark blue Oreos, plus Lightsaber churros served with red and blue agave syrup. Guests 21 and older can sample beverages with names like the Regina George (aka the worst of the Mean Girls). 201 N. Main St., Las Cruces; 575-556-2938.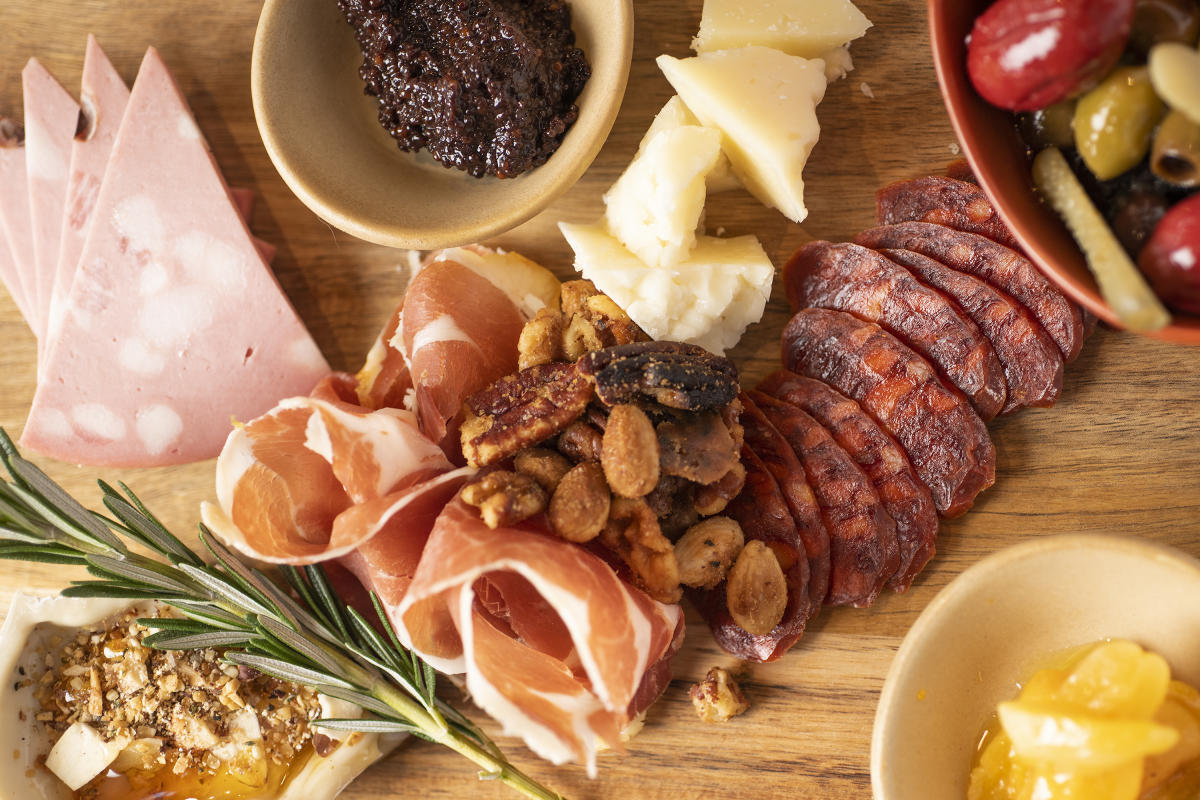 A charcuterie platter at Sawmill Market will satisfy a crowd. Photograph by Douglas Merriam.
Is there one place to eat that's sure to satisfy your picky grandpa, choosy foodie aunt, and vegan little sister? Yep, Sawmill Market, a food hall in Albuquerque, features more than 20 eateries serving handmade artisanal pasta, gourmet grilled cheese sandwiches, New Mexican classics, barbecue, tacos, and French pastries. "You can have a snack or a full three-course meal," says Manager Mark Montoya.
Housed in a former lumberyard near Old Town, the massive building features towering ceilings, awe-inspiring windows, and oodles of seating. "We are really excited to do a lot of decorating and make it feel very festive this year," Montoya says.
Don't miss: Sawmill's classes and events. More than a restaurant, Sawmill Market is also a concert venue and workshop site. Mixology, cooking, and DIY classes take place upstairs. Check the website for classes on making eggnog and farolitos during the holidays. 1909 Bellamah Ave. NW, Albuquerque; 505-563-4473.
Sandhill cranes at Bosque del Apache National Wildlife Refuge pose for some of the best photographs you'll ever take.​ Photograph by NMTD.
Bird-watchers flock to Bosque del Apache National Wildlife Refuge, near Socorro, every winter. "There is wildlife everywhere you look during this time of year," says park ranger Amanda Walker. "It might be a deer crossing the wetland, or some ducks tipping up to feed in the water. It could be some cranes feeding in a field. The experience is seeing the birds, but also hearing the calls of the cranes and geese."
The refuge caters to people of all abilities. Hiking trails allow for close views of javelinas and songbirds. Observation decks sit above the action. And a 14-mile driving tour meanders past wetland areas—while you stay toasty and dry.
Don't miss: Sandhill cranes. From October to January, thousands of sandhill cranes show off stunning wingspans, white feathers, and long legs. 1001 NM 1, San Antonio;  575-835-1828.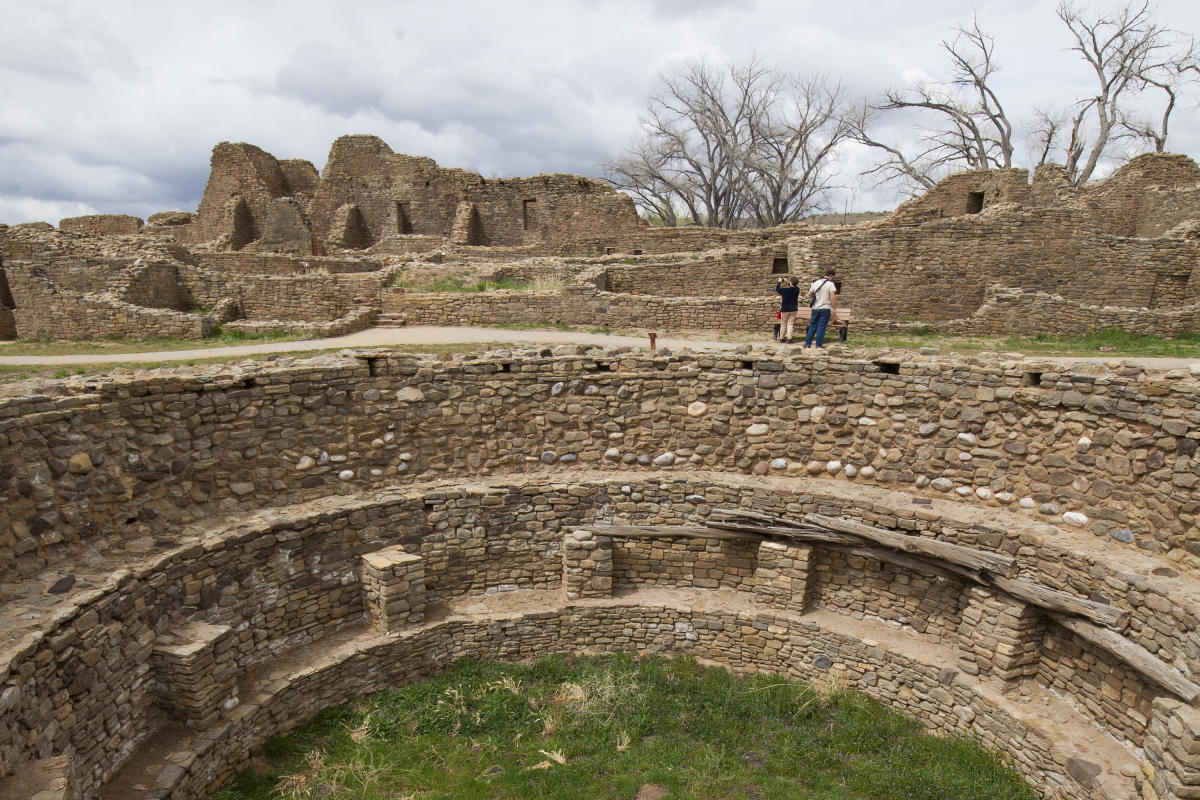 The Ancestral Puebloans who occupied today's Aztec Ruins National Monument, in northeastern New Mexico, flourished for 200 years—even after Chaco Canyon's influence had waned.​ Photograph by NMTD.
Visualize ancient ways of life while exploring the eroded rooms at Aztec Ruins National Monument, an Ancestral Puebloan site that's also a UNESCO World Heritage site, near Farmington. The Pueblo great house once held more than 400 rooms, many of which stand today, boasting details like original wood in the ceilings. T-shaped doorways and fine masonry reveal a sophisticated knowledge of architecture and building techniques. The half-mile Aztec West Trail weaves through the spaces with ease, leading into a partially underground kiva, a sacred ceremonial space.
Don't miss: The museum. See woven yucca sandals, bits of pottery, and other 900-year-old artifacts inside the visitors' center, where the movie Footprints of the Past sets the scene for what's outside. 725 Ruins Road, Aztec; 505-334-6170.