Above: The Liquid Muse, Natalie Bovis, hosts a margarita making class on May 5. Photograph by Tanialee Gonzalez on Upsplash.
AS WE TURN THE CALENDAR PAGE, let's take time to reflect on what a year April has been. Luckily, May brings warmer weather, later sunsets, and a day set aside for drinking margaritas. We found five fun things—all social-distancing safe—happening in New Mexico this weekend, including some help with those margaritas. Remember, no matter what you get into, keep the governor's guidelines in mind, stay safe, and wash your hands.   
Get creative and recreate a work of art (plus: prizes!).  
If imitation is the sincerest form of flattery (not forgery, friends), then Vital Spaces is simply gushing. The Santa Fe nonprofit, which provides affordable exhibit, studio, and performance spaces to local creatives, wanted a way to stay connected and foster creativity throughout the stay-at-home order. "We were inspired by the #mettwinning hashtag," says Program Director Hannah Yohalem, who has worked with the organization since October. "We thought it would be a great idea to pair this idea with state collections and get people inspired by some of the great art we have in the state."  
So, Vital Spaces partnered with five local museums to start the #NMTwinning project. It invites New Mexicans to recreate or reinterpret works from local collections and post them on Instagram with the hashtag to be entered in a raffle. Funded by  the Falling Colors Foundation, the project awards five $200 prizes each week starting Monday, May 4. Non-residents are welcome, but prizes are for New Mexicans only. Students in middle or high school are eligible for their own weekly prize. Winners are selected at random, so don't worry that your submission needs to be museum-worthy.   
Choose any piece from the collections of the Museum of International Folk Art, the New Mexico Museum of Art, the Georgia O'Keeffe Museum, IAIA Museum of Contemporary Native Arts, and the Ralph T. Coe Center for the Arts, and give it a shot.  Enter as many times as you want and, at the end of the month, curators from the participating institutions select three works from all submissions to win $300.  
"We know a lot of people are hurting economically right now," adds Yohalem.  "It's a way to get a little bit of money out into the community."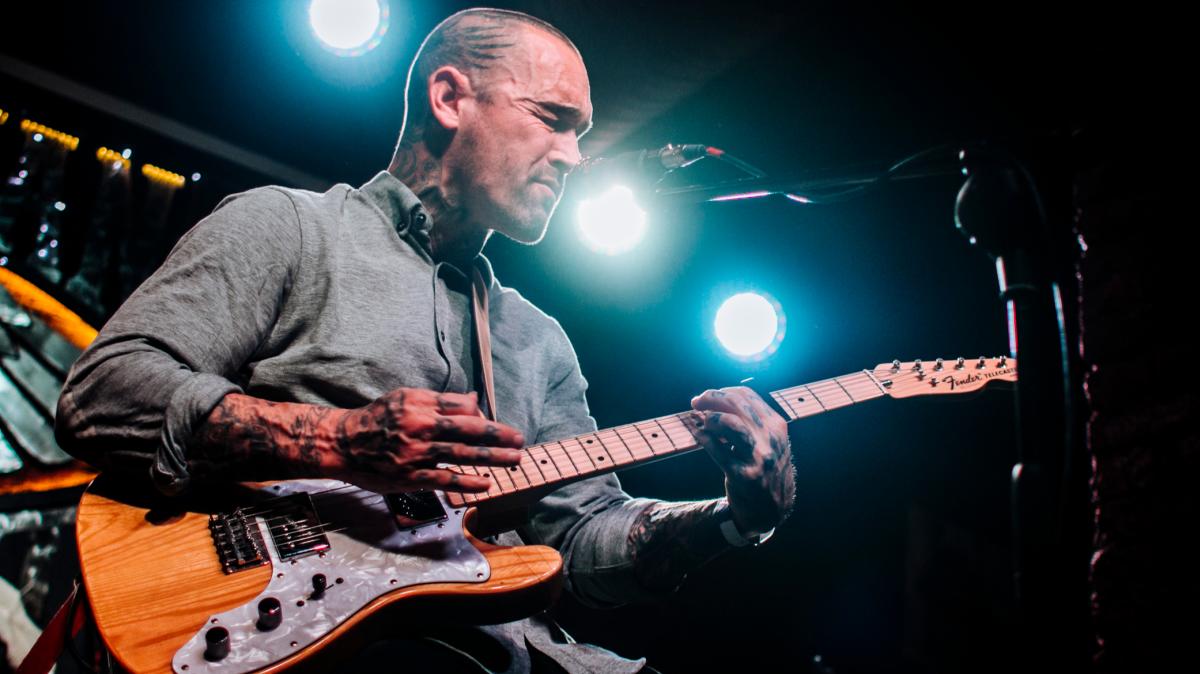 Above: Kirk Matthews, whose sound has transitioned from hip-hop to Americana with a Southwestern vibe, plays a livestream concert on Sunday. Photograph courtesy of Kirk Matthews.
Tune in for Some Americana.  
A full-time musician for nearly 20 years, Kirk Matthews has traveled the world and performed for huge crowds. Matthews, who was a member of the 1999 Taos hip-hop group Tabularasa and had a solo career in rap music as Ceekay Jones, has changed his tune. His new work blends Americana sounds with a Southwestern vibe. 
"I think music is the universal language of the world and the emotional tie to our heart center," says Matthews, who grew up skiing in Taos and eventually became a professional snowboarder. 
On Sunday at 8 p.m., he plays a livestreamed concert from Rio Grande Studios performing tunes from an upcoming EP, which releases later this summer, with pianist and vocalist Dee Brown. Tune in on Matthews' Facebook page or on Instagram @riograndestudios.  
"In the times at hand, livestreaming is an amazing resource to get music to the world. As a performer it's a double-edge sword," he says. "I love the live environment and the energy around people. It's hard to get that energetic exchange or experience without people in the room, but livestreaming is a beautiful way to connect to people all over the globe."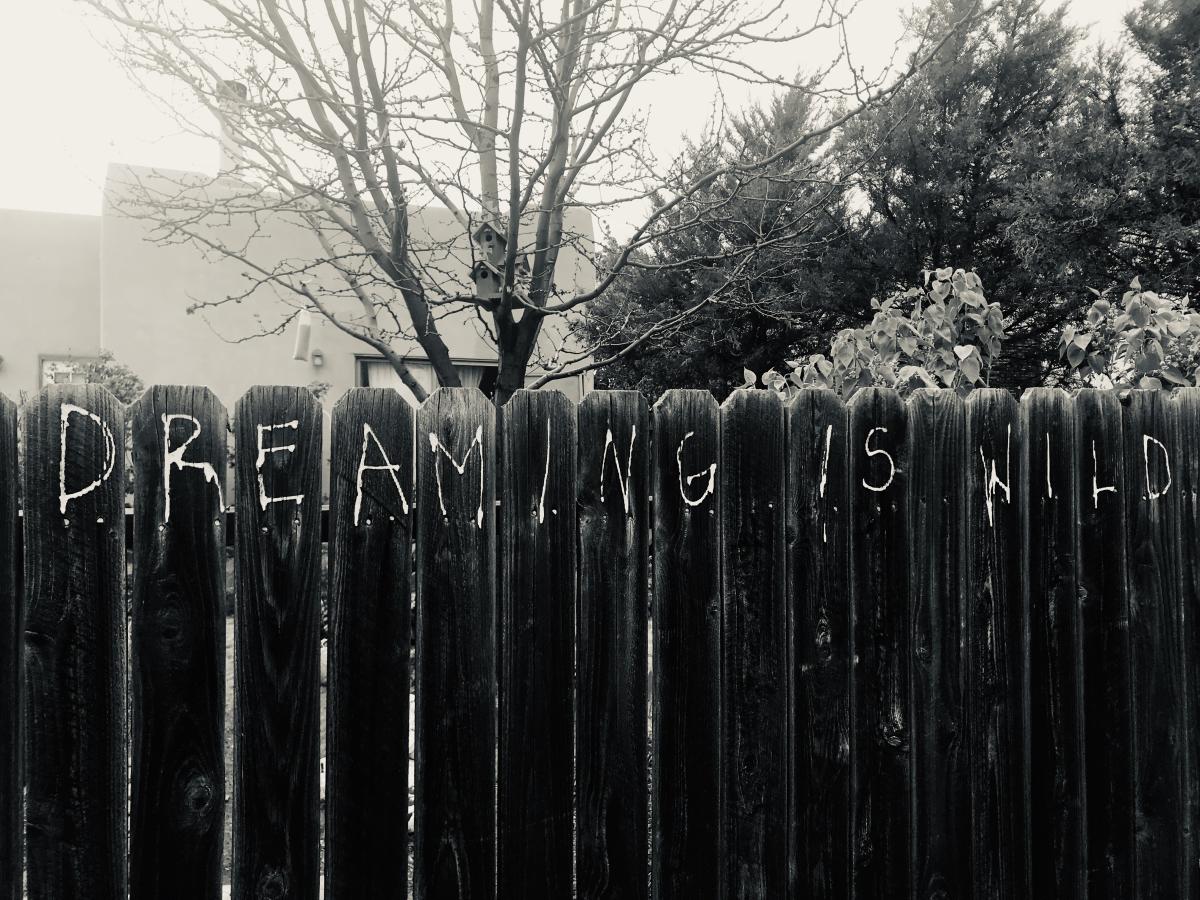 Above: Transgender artist Anastasio Wrobel is hosting a drive-by art show and selling their work on a pay-what-you-can system. Photograph courtesy of Anastasio Wrobel.
Support a local artist and go to a drive-by art show.  
Santa Fe artist Anastasio Wrobel (pronouns they/them) is debuting recent works and showcasing a few older ones at a drive-by show on Sunday from 10 a.m. to 4 p.m. Titled Dreaming is Wild, the show will hang on the fence behind Wrobel's house with the works available for purchase on a pay-what-you-can honor system.  
"I wanted to do something appropriate for the current times, thinking about openings, sharing work and showcasing independently," says Wrobel. "I needed a deadline and wanted to make a space for people to be—even if it's only briefly. Of course, it is always a joy to share work and since our gallery/showcase infrastructure is in limbo, it was time to work with what I have already—the back fence."   
Check it out in the Del Sol Alley behind 4029 Los Milagros; the cross streets are Callejon Milagros and Del Sol Alley. Expect bright colors and nonbinary homages from this talented artist.  
Get groovin' with a virtual dance class.  
Moving your body and getting your sweat on are great ways to boost your mood and stay healthy. Santa Fe's Railyard Performance Center, which has been hosting dance classes, yoga sessions, workshops, and performances since 1996, has moved some of its classes to a virtual setting.  
On Saturday at 1 p.m., Youssouf Koumbassa leads a West African dance class via Zoom. The class is $8–$20 sliding scale on a pay-what-you-can basis, but accommodations can be made if the cost is prohibitive. More info about the class and other offerings can be found on the Railyard Performance Center's facebook page, but you must email campfareta@gmail.com if you want to join.   
Prepare for Cinco de Mayo with Margaritas.  
Natalie Bovis is the queen of cocktails. As the author of several cocktail recipe books and founder of the New Mexico Cocktails and Culture Festival, it's a tequila-hangover-size understatement to say she makes a mean margarita.  
So up your Cinco de Mayo game by joining her margarita-making party May 5 at 4 p.m. The 45-minute lesson includes fun tequila facts, margarita history, and tips for being the best at-home-bartender you can be. So stock up this weekend with everything you need for class—and a successful weekend in quarantine. Bovis offers bar kits for $25, which includes a shaker glass and tin, a Hawthorne strainer, a muddler, and a jigger. She delivers in Santa Fe and mails to other locations.  
If you're heading to the grocery store or placing a pickup order, you'll need blanco tequila, orange liqueur (triple sec, Grand Marnier, Cointreau), agave nectar, limes around 10), diced green chile (can be from a can), red chile powder, sugar, salt, and ice.
Sign up on Eventbrite and use the promo code "NMmag" for 75 percent off the class's ticket price, making it just $5. We're guessing these new bartending skills will serve you through the rest of quarantine, and well beyond.