Above: Photographer Christy Parent (third from the left) sets ups five-minute photo sessions as part of The Front Steps Project to benefit the Food Depot. Photograph courtesy of Christy Parent.
WE'RE COMFORTABLE SAYING THIS: "Whew!" It's almost the weekend. Use the time to give back to those cute critters getting us through the day on social media, search for a wee bit of rest, indulge in some barbecue and bloodys, and find creative ways to give back. The more we are in this together, the easier it will be.  
Take Five for a Photo. 
In March, when the pandemic first washed over our lives, photographer Christy Parent had a conversation with her husband about how they could help their community. The next day, she came across The Front Steps Project on social media—started by Massachusetts photographer Cara Soulia—and she was immediately inspired to pick it up in Santa Fe.  
Parent shoots five-minute portrait sessions on a family's front porch, while maintaining 15 feet of distance, to raise money for local food banks. The subjects then make a good-faith donation to the Food Depot through a GoFundMe page and get a link to Parent's images of them, their loved ones, and even their pets.  
"I hope that providing quick snapshots of families and businesses will help our community to be reminded of the gift of time together," Parent says, "and the power of helping others, and the beauty in the midst of hardship." 
The global Front Steps project has raised over a million dollars so far. Parent's local effort has raised more than $1,500 for the New Mexico Food Bank. Parent posts her work using the hashtag #thefrontstepsprojectsantafe on Facebook and Instagram (@4birdsphotography), and you can fill out a form to participate here.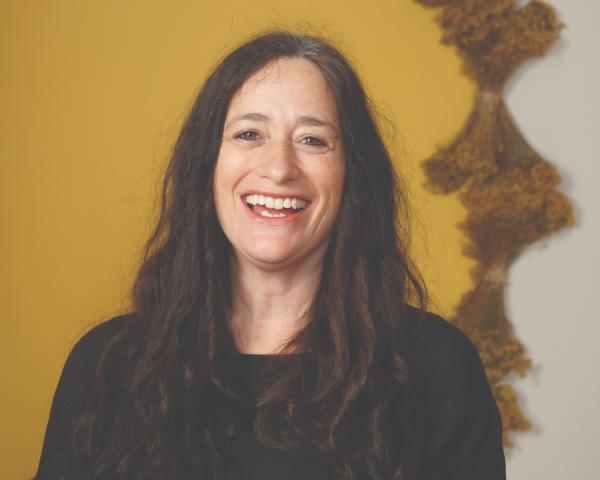 Above: Artist Mira Burack is hosting "Earth is Our First Bed" on Saturday. Photograph by Eric Swanson.
Rest, Assured.  
We all know proper sleep is important for our mental health and physical well-being. But a good night's rest can be tough to come by in periods of extreme stress (we're looking at you, 4 a.m.), no matter how many bighorn sheep you count.  
On Saturday, the Center for Contemporary Arts Santa Fe is hosting "Earth is Our First Bed," a Zoom workshop led by artist Mira Burack. The Cerrillos resident, who has explored the ideas of sleep, rest, and beds through her artwork for 20 years, will lead participants through rituals that can help to invite rest and will facilitate a group conversation about the sleep experience. "Even though it's on Zoom, it would be great if everyone can find a quiet space, have a cup of tea, and a space where they can lie down for the relaxation experience," she says.  
Space is limited and registration closes Thursday evening. (A donation of $25–$45 is suggested.) For those who can't make it, Burack has some pillow-soft advice. "It takes a while to change your rituals and habits," she says. "So having some emotional support and being patient and kind to yourself is important." She also suggests reconnecting with your body and quieting your mind before bedtime through breathing exercises, taking a bath or shower, listening to calming music, or taking a walk.  
"One relaxation exercise in particular that helps me is laying down on my bed, and starting with my feet, tightening and releasing each part of my body—in as much specificity as possible—moving up to my head, while taking a deep inhale of breath as I tighten that part of the body and a deep exhale as I relax that same part of the body," she says.  
Serve Up Brunch, Bloodys and BBQ.  
How else would you expect author and barbecue connoisseur Cheryl Alters Jamison to celebrate the release of her new book Texas Q: 100 Recipes for the Very Best Barbecue from the Lone Star State than with a BBQ get-together? (But don't give up on it solely based on the title!) Alters Jamison lives in Tesuque and is the former food editor for New Mexico Magazine. New Mexico photographer Gabriella Marks, who shot all of the images in the book, and pitmaster Arnis Robbins join in the Sunday book brunch. Hosted by Collected Works Bookstore, the event starts at noon MST.  
Texas Q offers a smokin' how-to on backyard barbecue, while celebrating professional barbecue chefs, says Alters Jamison. "We're just going to celebrate being together, and the sense of community around barbecue and smoked food." 
Alters Jamison plans to demonstrate how to make a delectable salpicón—a warm brisket salad with avocado—while the trio enjoys Bloody Marys incorporating Barbecue Wife Bloody Mary Mix. "Cooking is comforting," she says. "It's a way of saying you care about people. And what is more important right now?" 
Run for the Animals.  
Wild times call for even wilder solutions. With the motto "Six feet apart. Miles together," the annual Run for the Zoo goes virtual after the original May 3 race had to be canceled due to COVID-19 restrictions. Now in its 35th year, the event raises about $180,000 for the Albuquerque BioPark, and its absence has left an elephant-size hole in the budget and in the traditional schedule for road runners. For a $10 registration fee, you can choose to run a 10k, 5k, or a mile your way (walk, run, skateboard, roller skate, or bike the distance) anytime from May 17 to 24. Run wherever you want, indoors or out, but please obey the social distancing guidelines. All money raised supports the ABQ BioPark, so prove you're king of the jungle and upgrade your registration fee to $25 and receive a Run for the Zoo tee (which makes a great WFH outfit!).  
Me, Myself, and Eye.  
Get your markers and craft boxes out, it is time to make a self-portrait. The Taos Center for the Arts, Town of Taos Community Events, and Taos Ski Valley are collaborating to create the This is Me exhibit and contest for children ages 3–10. Participants must create a self-portrait on 8-by-11 paper. If you need materials to get creative, you can pick up a free art kit at Enos Garcia Elementary on Friday, May 15, from 10 a.m. to 2 p.m.  
You have a week to work on your masterpiece, which must be dropped off by May 22, at Enos Garcia Elementary. One winner from each age category (3–4, 5–6, 7–8 and 9–10) will be chosen to win a prize. Don't forget to write your name, age, and contact info on the back of your submission. The virtual exhibit will be posted online tcataos.org starting June 5.