Above: Rio Rancho is hosting a virtual Memorial Day ceremony at noon. Photograph by NeONBRAND on Unsplash.
IT'S A THREE-DAY weekend, folks. The unofficial kick-off to summer. While this year may feel different, let's be sure to remember the real meaning of Memorial Day and pay respect to our country's fallen heroes. In addition to a virtual ceremony in Rio Rancho, we've got a host of ideas to keep you busy over this long weekend. 
Rio Rancho Commemorates Memorial Day.  
No matter the circumstances, the town of Rio Rancho plans to honor the service and sacrifice of our military men and women. You can watch the ceremony, which includes music by Daniel Wild, the singing of the national anthem by Agustin Arredondo, and a presentation of colors and 21-gun salute by the Joint Services Color Guard, on the Rio Rancho Parks and Recreation Facebook page at noon Monday.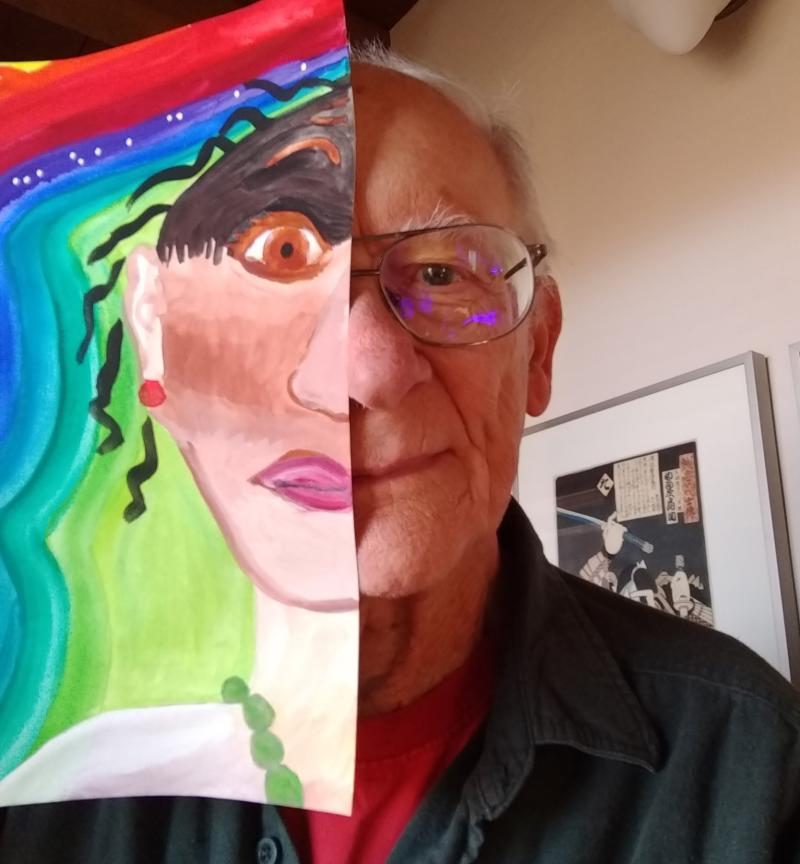 Above: Larry Goodell releases his new collection, COMMONS, with a virtual reading. Photograph courtesy of Larry Goodell.
Listen to Performance Poetry.  
To Larry Goodell, poetry is about "making things"—an event, an experience, a happening.  
"I learn more from live readings than I have from reading in books," says the Placitas poet and Duende Press publisher. "Once you do hear someone read, then, when you read it silently, you hear their voice and it adds dimension to it."  
A longtime promoter and organizer of the Placitas literary scene, Goodell staged his first "event poems" at the Thunderbird Bar in the 1960s and toured the country performing Beat-style poetry with Stephen Rodefer in the early 1970s. At 85, he's not slowing down.  
Goodell is releasing a new collection titled COMMONS with a virtual reading hosted by Bookworks on Saturday at 3 p.m. The poems in the 240-page book were all written between 2017 and 2019. Goodell, who can also be heard each Thursday on KUPR's Let's Get Creative program, has long kept a journal and suggests picking up the habit in these uncertain times.  
"You can put anything in the world in it," he says. "You can write your shopping list, you can cut out stuff from the newspaper, and write thoughts that come to you. I have always thought that poetry had tremendous value to people and often unrealized until attempted."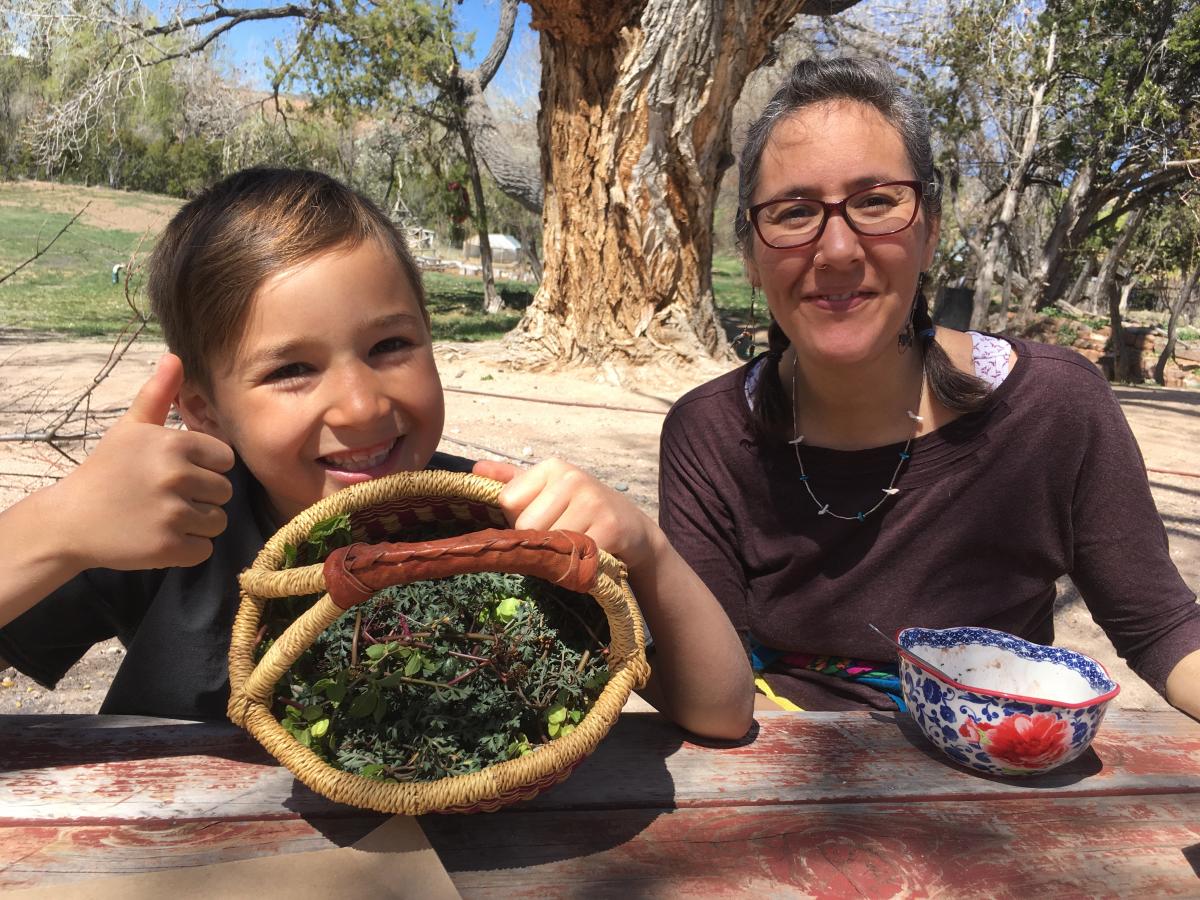 Above: Pilar Trullio, and her nephew, Felix, teach about native plants and their medicinal uses in their video series. Photograph courtesy of Pilar Trullio.
Learn about Local Plants. 
Have you ever tasted dandelion popsicles or soothed your muscle aches with pain-relieving oil from cottonwood buds? Well, Pilar Trujillo and Tewa Women United would like to show you how.  
Trujillo, the events and training coordinator for the indigenous women's health program, has created a YouTube video series, "Plant Adventures with Pilar," about native plants and their medicinal uses.  She's often joined by her 8-year-old nephew, Felix, who adds important tidbits of information, like noting that the leaves of dandelions are quite bitter and deftly picking parts of plants to add to Trujillo's basket. He always thanks the earth for what it is giving him.  
Trujillo's natural medicine education started 15 years ago as a treatment for a chronic illness. "I really wanted to learn about local plant medicine," she says, "I was most interested in the medicine in our backyards."  
She learned from community elders and women in Chamisal near Taos, who took her on herb walks to introduce her to plants' names and properties.  "We are surrounded with medicine," she says. "When you take a walk on our lands, you will just be greeted with all these different lung tonics and respiratory aids. They help to strengthen your immune system and that knowledge helps with the fear." 
Support Local Makers at And Stuff.   
Too often, Memorial Day is marked by white sales and new car deals. So this year, as we begin venturing back out, let's keep small businesses close to our hearts by extending our wallets. 
Opened in November 2019, Albuquerque's And Stuff is a retail collective that carries homewares, books, jewelry, vintage clothing, prints, and plants made and collected by local artisans. The Nob Hill shop stocks goods by 12 individuals—including works by painter Robyn Frank, jewelry by We Are Tumble, and greeting cards by Odd Daughter Co.  
"All of our vendors are local and could definitely use support from their Albuquerque neighbors," says owner Issac Fox. And Stuff reopens Friday at 11 a.m. with some social-distancing precautions, including staff wearing masks and gloves, and only eight patrons in the store at one time, as well as curbside pickup.  
And Stuff is located next to Little Bear Coffee, which means you can grab an iced latte, breakfast burrito, or pastry on your way to shop. "It will be a nice glimpse of normalcy to get a coffee and shop at And Stuff," says Fox.  
Let the Blues Move You.  
Silver City has more than a touch of the blues this weekend. While there won't be the big crowds, food trucks, and artisan makers for the 25th annual Silver City Blues Festival, there will still be plenty of great music. The Mimbres Arts Council has shifted to livestreaming its biggest event this year with Saturday performances airing at noon and 6 p.m. from festival favorites like country-cool musician Brandon Perrault, textured grooves from Silver City–based Rhythm Mystic, soulful vocals by gospel singer Missy Andersen, and one-man-band CW Ayon.