Above: Fifteen varieties of cherries are plentiful at Nichols Ranch and Orchards in La Luz, near Alamogordo. Photograph courtesy of Nichols Ranch and Orchards.
Pick a little bit of sunshine.  
Nichols Ranch and Orchards owner R.B. Nichols is quick to tout the health benefits of cherries—plenty of vitamin C, potassium, and fiber, as well as being rich in antioxidants and anti-inflammatory compounds. But we're satisfied knowing that each round, little fruit contains an entire summer's worth of flavor in every bite.  
You can pick 'em by the basket from the La Luz orchards, near Alamogordo, where the Nichols family has been producing apples, cherries, and other fruits since 1941. In fact, the family history in southern New Mexico dates to 1882, when they homesteaded in the area.  
Currently, plenty of cherries remain close to the ground for picking. But as the season winds down, the orchard provides ladders to reach higher fruit. "The orchard provides a nice cool break from the hot New Mexico sun and offers unparalleled views of the White Sands and Tularosa Basin," says Nichols.  
With more than 15 cherry varieties in the orchard, including sweet, sour, and Rainier, they're wonderful as nature made 'em, or in smoothies and yogurt, baked into cakes and cookies, and as a decadent brandied ice cream topper. The farm also sells its own homemade sour cherry jam, sweet cherry jam, non-alcoholic cherry cider, and local honey.   
The property is dog friendly, so you can bring every member of the family—just keep those pups on a leash. Pick all the cherries you want for $5 per pound. The ranch is taking precautions to protect visitors from COVID-19, like handwashing stations, sanitizing all the picking buckets, plexiglass dividers, and curbside pickup if you call ahead.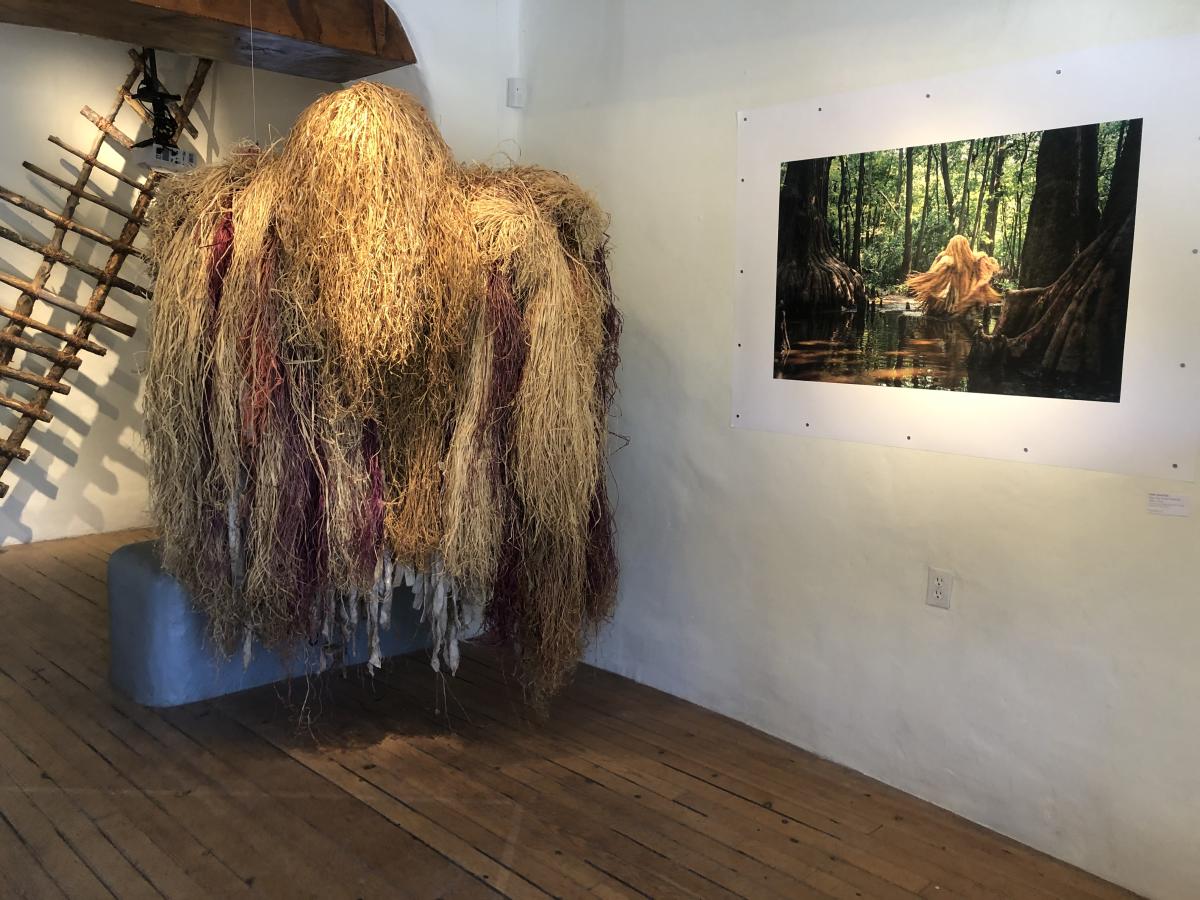 Above: Artist Fern Shaffer's Nine Year Ritual is a part of the Performing Ecologies exhibit opening June 12. Photograph courtesy of Currents 826 Gallery. 
Catch the virtual opening of Performative Ecologies.  
Rituals connect us—not just to who we are, but also to one another. In a world of uncertainty, they offer stability. The Performative Ecologies exhibit, by Santa Fe's Currents 826 Gallery, explores this idea through the works of 11 women artists and their connections to the natural world.  
In one performative piece, a woman paints her ear red, fills it with nectar, and stands unmoving for 2½ hours next to a red feeder to attract hummingbirds. Another builds a snowflake-shaped structure in the desert. Something feels otherworldly about each of these works. The unfamiliar scenes invite you to wonder what participating in these rituals is like.   
"The work featured in this exhibition is meant to provide a space for reflection and connection to nature," says C Alex Clark, artist liaison and gallery manager, "as a bridge between our social divides as well as a reflection of our social unrest in our treatment of the natural world." 
The performative works (which, unlike performance works, do not require an audience) date from 1971 to 2019 and include artists Cherie Sampson, Fern Shaffer, and more. Sampson builds ladders that reach into blue skies near a lake in Finland as her reinterpretation of a Finnish creation myth. Shaffer records her shamanistic practices during solstices and equinoxes in rural areas around Chicago, including a swamp where she appears in ceremonial garments made of raffia and canvas. 
"This collection of works follows a call for the return of the mystical in art to challenge the overly rational modes of seeing the world, to connect and empathize with the heart through nature," says Clark. 
The exhibit opens Friday with an introduction by curator Patricia Watts and artist interviews on Instagram and Facebook at 5 p.m. @currentsnewmedia.  
Get the full festival experience—virtually.  
While there's something intimate about listening to music performed live from a stage with 10, 100, or even 10,000 of your closest friends, many musicians have found their groove in virtual concerts. "Most of these people are really good at making people watching feel that they're being seen," says Albuquerque Folk Festival publicity director Rose Day. "They make their music, and people feel less cut off."   
This weekend, the Albuquerque Folk Festival turns up the dial on the virtual concert to recreate a full-tilt festival atmosphere. Live and pre-recorded Facebook and Zoom performances kick off Saturday from 11 a.m. to 4 p.m., followed by a round of evening concerts from 7 to 9 p.m. in one of seven digital "tents" that allow festival-goers to choose from multiple gigs at any given time. The Limeliters headline the event, performing in the Sandia Stage tent at 8:30 pm. 
Day is excited about the multi-stage component of the festival. There will also be storytelling, workshops on dancing, singing, and playing instruments, as well as kids sing-a-longs and dance parties in the digital tents. "Patty Stevens is doing silly songs," Day says. "She's wonderful with kids."  
Hike Ghost Ranch.  
You may have hiked the famous trails and valleys at Ghost Ranch, but now is the time to do it in solitude. As it cautiously reopens, the ranch is limiting the number of daily hikers and guests on its horseback trails.  
On Friday, Ghost Ranch welcomes visitors back to its wonderland of ochre and cream cliffs, blue skies, and billowing clouds over the 21,000 acres of desert landscape near Abiquiú. Made famous by painter Georgia O'Keeffe, who has one of her two New Mexico homes on the ranch, the terrain here is truly breathtaking.  
Trail rides are limited to four guests and a guide to maintain social distancing, including a bucket-list sunset ride that happens right as the sun pours rose-gold rays over the ranch. The number of daily visitors and hikers to the Matrimonial Mesa and Chimney Rock trails are also restricted. Bring your own food and water because the cafés remain closed, and don't forget to visit the website for deets and rezzies.  
Make dinner with the kiddos. 
It's important to keep children learning through the summer, and activities in the kitchen are both hands-on and educational. Roadrunner Pizza, in Las Cruces, created junior baker kits, which come with a nine-ounce ball of fresh dough, mozzarella, two ounces of house marinara sauce, and two toppings—everything your kids need to bake their own pizza at home.  
Roadrunner Pizza owner Dennis Hartley had the idea to create these at-home-kits in April when the stay-at-home order was first implemented. Hartley says the kits ($5.39) sold like crazy during the first few weeks of quarantine and can be ordered by phone (575-522-3600).