Above: Judy Chicago's Turn Over a New Leaf is among the works in Solstice: Create Art for Earth opening at Santa Fe's Turner Carroll Gallery. Image courtesy of Turner Carroll Gallery.
Attend the opening of Judy Chicago's Solstice exhibit.  
Of course Judy Chicago is making a statement right now. With bright swaths of color and abstract iconology, the Belén artist, author, and activist has made a career of pushing for change, seeking equality, and promoting female voices, whether she's working with fireworks and smoke bombs, combining painting and needlework to honor birth, or meditating on death and extinction.  
In April, Chicago teamed up with Jane Fonda, Fire Drill Fridays, Greenpeace, the National Museum of Women in the Arts in Washington, D.C., Swoon, Hans Ulrich Obrist, and London's Serpentine Galleries to launch #CreateArtForEarth. More than 8,000 artists submitted works to the campaign, which asks us to envision a better future. Then, Chicago and Santa Fe's Turner Carroll Gallery selected 50 pieces for Solstice: Create Art for Earth, which opens Friday at the gallery and runs through July 12.  
"It's definitely a call-to-action exhibition in solidarity with everyone who is experiencing this common shift in reality," says Gallery Director Shastyn Blomquist. 
Building on the solstice theme of new beginnings and Chicago's decades advocating for change and new artistic thinking, expect works evocative of the upheaval we have witnessed in 2020, including videos that delve into the worldwide suffering caused by COVID-19, and an interactive sculpture that asks attendees to bring recyclable plastics to add to the piece. Chicago and her husband, photographer Donald Woodman, along with Caledonia Curry (aka Swoon), who feminized the male-dominated world of street art, also are featured. 
Attendees must wear a mask and reserve an entry time between 3 p.m. and 8 p.m. Groups of 12 or fewer will view the exhibit on a one-way path through the space, exiting through a side door. "We're excited about it, but everyone is a little nervous," says Blomquist. "We want to keep everyone healthy and safe." 
Reserve your time for Solstice, or view an expanded version of the exhibit online through August 12.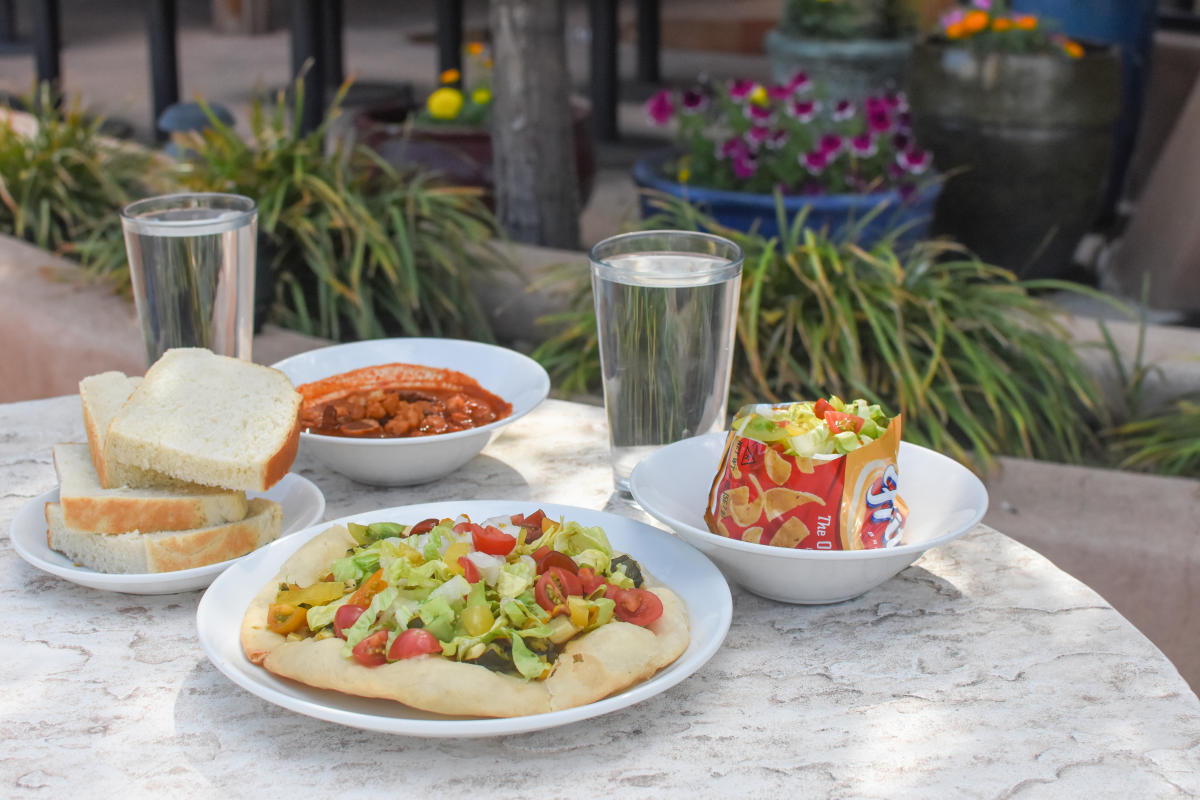 Above: Pueblo Harvest at the Indian Pueblo Cultural Center re-opens this weekend with a menu of favorites. Photograph by Joel Wigelsworth (IPCCMarketing). 
Treat dad to lunch.  
Your dad will probably think Pueblo Harvest at the Indian Pueblo Cultural Center opened just for him this Father's Day weekend. And why not, when the Albuquerque restaurant is serving up Pueblo beans with freshly baked oven bread, a Frito pie with Native American–raised beef, and a Tewa taco on a crispy pillow of house-made fry bread covered in melty cheese. (We certainly won't tell!) 
"We wanted to take it a little bit slowly," says Monique Fragua, vice president of commercial enterprises at the cultural center. "We wanted to make sure to do it right and have everything in place, ensuring we could execute safely. We've definitely missed our guests and the excitement at the center, that's been the hardest." 
Open Thursday through Sunday from 11 a.m. to 7 p.m. for curbside pickup and patio dining, Pueblo Harvest has taken precautions to protect both guests and employees from COVID-19; employees are wearing masks and patio tables are set at least six feet apart. It's also offering special family-style meals on "a limited menu that represents who we are," Fragua says. 
Try the small family-style meal that comes with enough stew for two to four people and half a loaf of oven bread, or a taco meal kit that comes with everything needed to assemble the pockets of deliciousness at home.  
Catch the Festival Flamenco Alburquerque.  
Every June, the Duke City fills with the beat of percussive footwork and the snap of castanets as flamenco dancers and musicians from around the world gather to perform in the Festival Flamenco Alburquerque. This year, the 33rd annual event happens virtually and wraps up this weekend with performances Friday and Saturday evening.  
On Friday at 7 p.m., Noche de Cante celebrates the cante, or flamenco singing, with performers from different regions, each with its own vocal tradition, belting it out on the virtual stage. Hear from Luis Moneo, Tomasa La Macanita, and Gema Caballero in this hour-long lineup.  
On Saturday, in a performance recorded exclusively for the festival, Noche de Tablao las Carboneras, Madrid, showcases some of the world's leading performers—dancing by Concha Jareño and José Maya, singing by Juañares y Juañarito, and guitar by Yerai Cortés. The events are ticketed, but the link to the performances remain active for 24 hours. ¡Olé!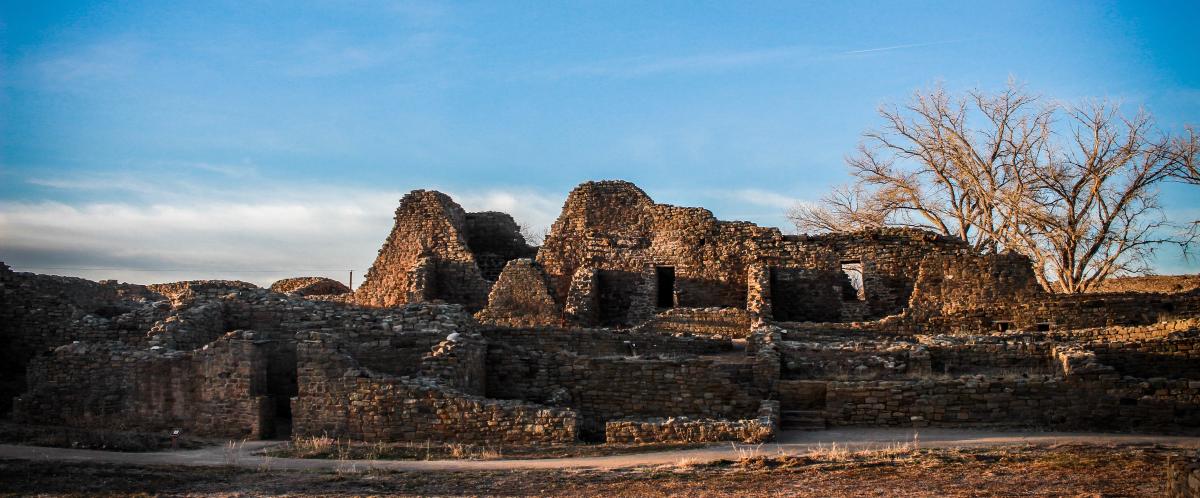 Above: The Aztec West Ruins provide a perfect archeoastronomy site to view the summer solstice. Photograph by Darin In-on.
Celebrate the solstice from these ruins.  
Greet the rising summer sun this Saturday morning at Aztec Ruins National Monument—from home. The ranger-led Facebook Live event honors the longest day of the year from the archeoastronomy site. "This highlights the deep connection that the Ancestral Pueblo people had with the heavens," says Emilee Helton, lead interpretive ranger. 
Around 900 years ago, Puebloans constructed the ruins to align with the solstice. "Visitors will watch in the Great Kiva as the sun shines inside and fills a recessed space on the opposite wall," she says. "If the eastern skies are clear, our virtual visitors will be able to observe the alignment of the north wall of Aztec West with the sunrise position on the eastern horizon." 
Beginning at 5:30 a.m., the event's peak moment happens at 5:53 a.m. But don't worry. If you want to sleep in, you can view the event on the ruins' Facebook page later in the day.    
Celebrate Juneteenth.  
Since 1865, Juneteenth has celebrated the end of slavery. This year, all of New Mexico is invited to a virtual version of the party. Traditionally held on June 19, it moves to this Saturday, from noon to 10 p.m., on Facebook Live, YouTube, and Albuquerque's GOV-TV channel. Devont'e Watson, a 25-year-old community organizer, pulled together the Statewide Virtual Juneteenth Celebration in order to combine art with activism and a healthy dose of inclusion.   
"This holiday isn't just for African Americans," he says. "It's for the country. It's the day we decided to join with the right side of humanity." 
The event includes performances by Rosalind Jones and the New Mexico Mass Choir, the Syndicate ABQ, Frederick & Company, Trey Vision, and many more. "Historically, art has always blended with activism," Watson says. "It was the soundtrack to the civil rights movement. We hope the whole family joins around and watches and learns. Juneteenth traditionally is a block party, and we want to bring that flavor to this event."