The Georgia O'Keeffe Museum reopens to the public on September 25. Photograph courtesy of InSight Foto. ©Georgia O'Keeffe Museum.
Update: On Saturday, September 26, Montoya Orchard announced it was closing for the remainder of the season due to a family medical emergency unrelated to COVID-19.
Rediscover the O'Keeffe Museum.
The Georgia O'Keeffe Museum reopened with a flourish this week, unveiling works from the archives and reintroducing others.
During the museum's hiatus, the large, 1945 Pelvis Series, Red with Yellow got a makeover with a new frame that reinvigorates this fabulous example of her Modernist perspective. "It's featured in one of the really iconic photos of O'Keeffe later in life by Tony Vaccaro," says curator Ariel Plotek. "She's standing next to her house in Ghost Ranch with this painting on her easel."
In addition, the gallery features new photographs documenting O'Keeffe's travels. "They run a gamut from O'Keeffe on a camel to O'Keeffe in Glen Canyon, which no longer exists because it was flooded," says Plotek. "They're a little reminder that there is more to our collection than the paintings and works on paper. There is material in our archive, a lot of which is photographs our visitors have never seen."
Some of them, taken by Ansel Adams in Alfred Steigletz's 291 gallery, highlight her life in New York. Steigletz, O'Keeffe's husband, was so connected to the gallery, he often referred to himself as "291" in correspondence with her. Plotek says Adams's images feel melancholy and abstract as he focuses on little details, like the corner of a window in the art space.
"From the visitors' desk to our shop staff, we're so happy to be back to the museum," says Plotek. "It's one of those things we took for granted. It was like being away from your family."
Reservations, masks, and social distancing are all required.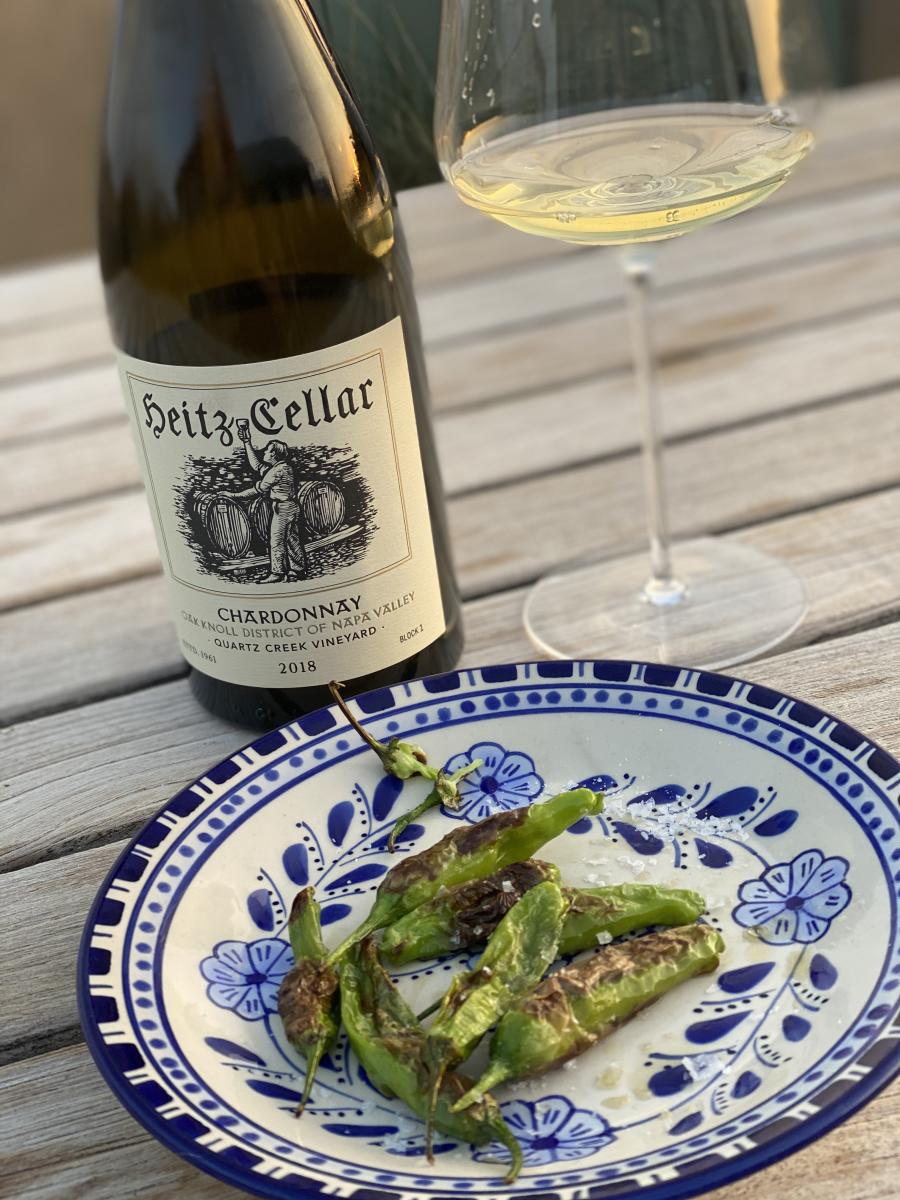 Santa Fe Wine & Chile Fiesta brings together two fall favorites every September. Photograph courtesy of the Santa Fe Wine & Chile Fiesta.
Indulge in wine and chile.
The Santa Fe Wine & Chile Fiesta has been an early fall tradition in the City Different for 30 years as local restaurants partner with renowned wineries to create special dinners and tastings. With large in-person gatherings still restricted, the festival adapts with virtual wine seminars and patio luncheons from 24 participating wineries.
The virtual wine tastings include a wine bundle, available for pickup at the Inn and Spa at the Loretto, and a Zoom webinar lead by master sommeliers and the winemakers themselves. Sip the selected wines (and fulfill every Zoom meeting fantasy) as the vintners talk about their process and taste along with you.
"Wine is one of those subjects where the more you know, the more you know you don't know," says Greg O'Byrne, executive director of Wine & Chile. "From novices to experts, these are great opportunities to learn more about wine."
A live auction, available via the festival's YouTube channel, features 30 wine lots of special bottles and wine bundles on Friday at 6:30 p.m. Silent auction bidding runs through Sunday at 5 p.m.
The in-person winery luncheons and dinners—at places such as 315 Restaurant, Vinaigrette, Terra, and Anasazi Restaurant—pair prix fixe menus with participating wineries, including California's Frog's Leap Winery and Frank Family Vineyards. (Some still have open seats, which can be booked through the restaurants directly.)
"We're a nonprofit that loves our restaurant community," says O'Byrne. "We think it's unique in the world. It attracts great wineries and wonderful consumers."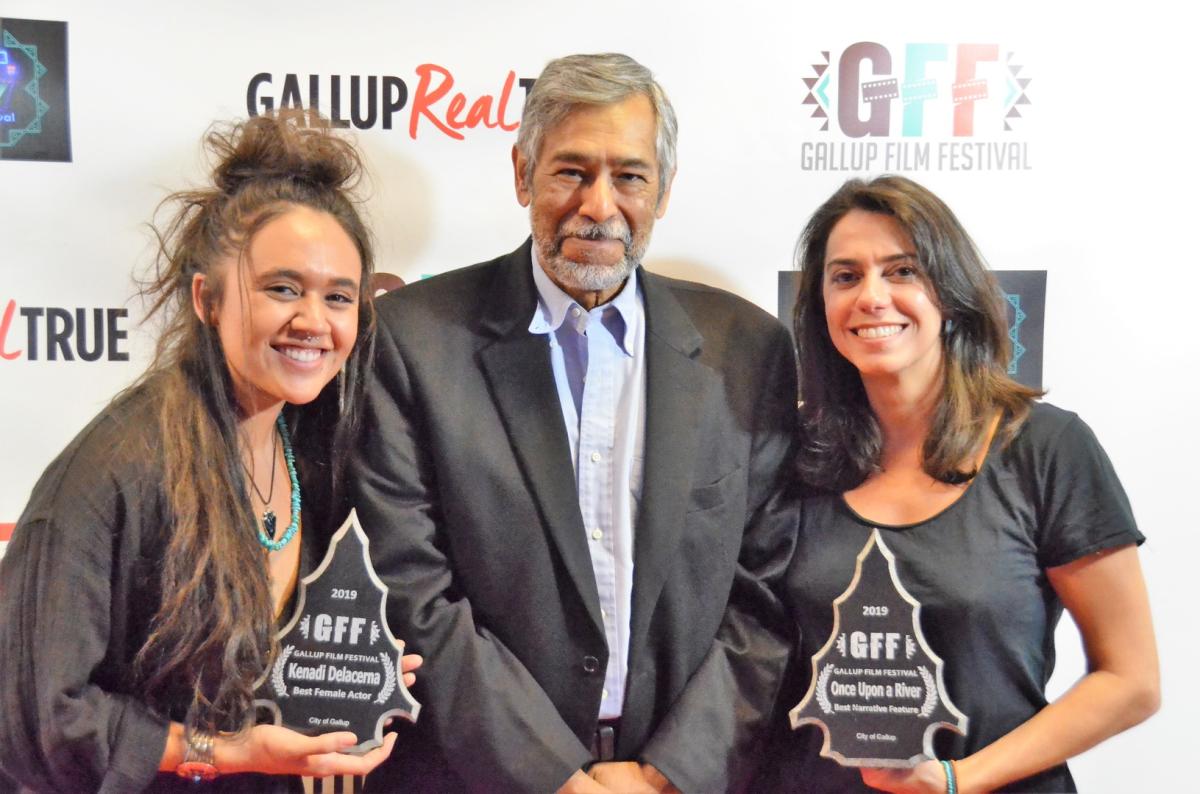 While the Gallup Film Festival isn't hosting any in-person events this year, festival-goers can stream the 24 selections online. Photograph courtesy of the Gallup Film Festival.
You're going to need a lot of popcorn for the eighth annual Gallup Film Festival, which runs through Saturday. The 24 films include shorts, full-length features, and documentaries from local filmmakers as well as international entries.
Among the New Mexico films, Becoming tells the story of Diné fashion designer Orlando Dugi, while Meow Wolf's Ethyl the Whale: Part 2 raises awareness about the impacts of plastic use and solutions for a sustainable future.
Independent sci-fi feature film Beyond Methuselah, which has earned honors at other festivals, follows the development of a life-extending drug and those who take up religious arms against its creator and anyone who has taken it.
Festival director Knifewing Segura points to the documentary The New Abolitionists as his favorite in the bunch. "Every now and again, you get films that are a real eye opener," he says of the film, which follows four nongovernmental organizations working to end sex trafficking in Southeast Asia.
All of the festival's selections are available virtually, a decision the festival team came to after considering canceling altogether. Day passes ($5) allow you to watch the films and hear from some of the actors and directors behind them.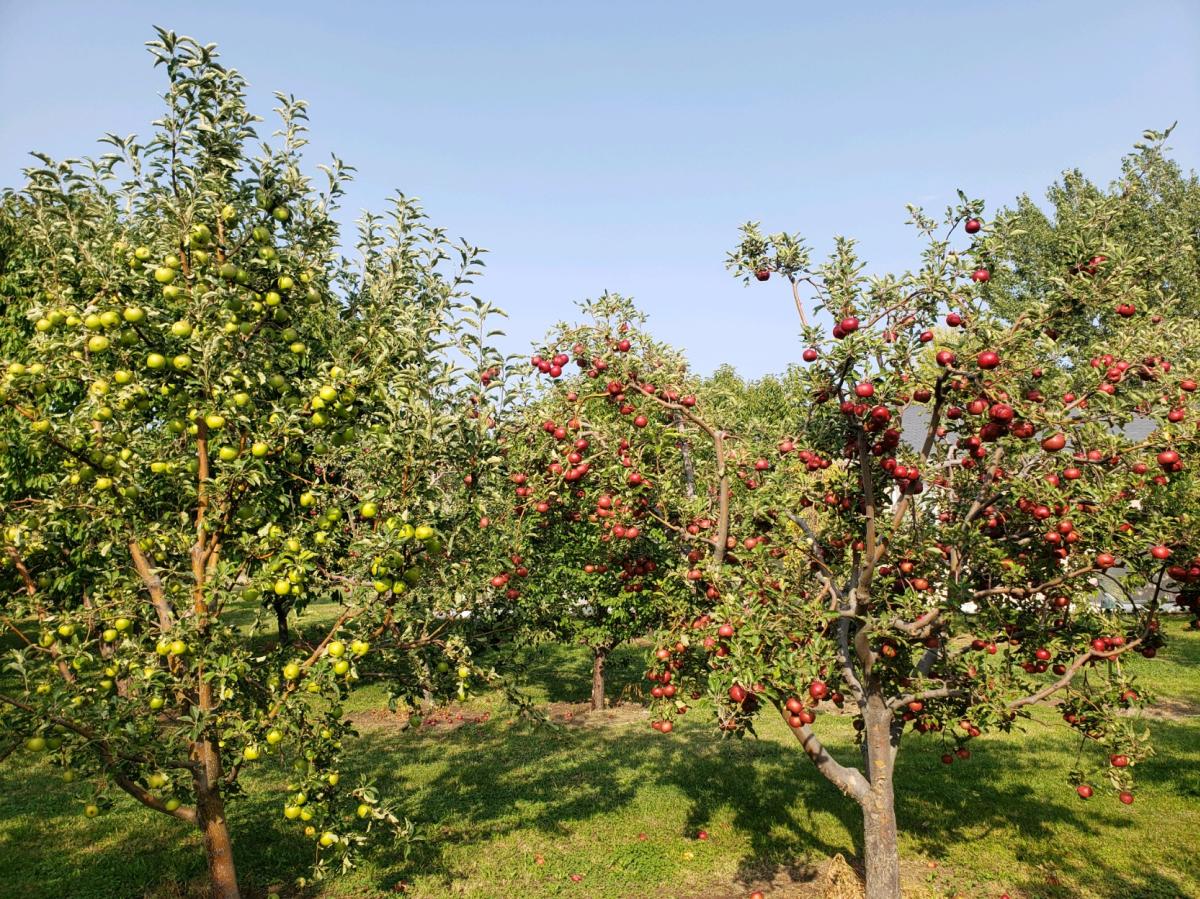 Montoya Orchard offers a variety of apples on easy-to-pick semi-dwarf trees. Photograph courtesy of Montoya Orchard.
Pick apples at Montoya Orchard.
Montoya Orchard makes for an idyllic fall picture—crisp air, blue skies, and branches heavy with red, yellow, and green apples.
Fourth-generation farmer Victoria Montoya has been working the 12-acre orchard with her father full-time for more than 10 years. And, she says, the trees are flush with Red and Golden Delicious, Honeycrisp, Fuji, Granny Smith, and other varieties.
"All of our trees are semi-dwarf, so the apples are accessible from the ground," says Montoya. The orchard is open for visitors to harvest bushels ($1 per pound) Sundays through Wednesdays from 9 a.m. to 4 p.m. Bring your own basket or purchase a Montoya Orchards canvas bag at the farm for $2, which can hold up to 20 pounds of apples.
Don't miss the orchard's farm stand where you can nab fresh garden veggies, jams, and cider. Montoya has partnered with nearby Black Mesa Winery, so you will receive a coupon for $3 off a glass of hard cider (made with Montoya's apples) when you check out.
"This has been really good for families, there's plenty of space for kids to run around," says Montoya. "We encourage people to bring a blanket and have a picnic."
If you're heading out early, bring a jacket. It can be chilly in the mornings this far north. Look for signs for Montoya's about 10 miles north of Española. You are required to wear a mask and provide info for contract tracing should the need arise.
Celebrate America's public lands.
In New Mexico, we're lucky to have vast, beautiful, and accessible public land. So it's only right that we celebrate National Public Lands Day on Saturday by pitching in to keep them that way as the Bureau of Land Management hosts a weekend-long virtual scavenger hunt and community trash pickup.
"This is a great way to show your stewardship and care for the public lands and do it in a way you don't have to be around other people," says McKinney Briske of the New Mexico BLM. "You can go out and do your favorite activity while you take care of the land."
Head to one of four sites around the state to get a cleanup packet, which includes a scavenger-hunt list, trash bags, gloves, and masks. Packets will be distributed as long as supplies last at the Rio Puerco Field Office and the Public Lands Interpretive Association Office, in Albuquerque; the BLM New Mexico state office, in Santa Fe; and the Dripping Springs Natural Area, in Las Cruces.
"The leave-no-trace principle is a good learning tool," says Briske. "Take only memories and photographs and leave only your footprints on the trails."
Even if you don't get a packet, you can head to BLM lands (or any of your choosing—admission to national parks is free on Saturday), pick up trash in the area, and post a picture of yourself doing it with the hashtag #BLMNewMexico for a chance to win T-shirts, hats, and guidebooks.
The outdoor scavenger hunt will have your family searching for things like fuzzy animals, tracks, and flowers. "In this time in particular, we need to realize that getting out and recreating and enjoying our public lands is important for our health," Briske says. "Enjoy the beautiful lands New Mexico has to offer."
** No matter what you do or where you venture on your staycation this weekend, keep an eye out for NM True Certified businesses to support. Find a complete list of them here or pick up a September/October issue of New Mexico Magazine at your nearest newsstand.