Try hiking or sledding the dunes at White Sands National Park. Photograph by NMTD. 
Have a park day.
National Park Week kicks off on Saturday with Park Rx Day when you can take advantage of free admission to some of New Mexico's most stunning spots—Bandelier, Carlsbad Caverns, Chaco Canyon, and White Sands, to name just a few. "The free fee day gives people an added incentive to visit," says Dave Graveline, fee coordinator at Bandelier National Park. "Don't miss the Pueblo Loop. It's a 1.3-mile trail where archaeological sites are located."
Keep in mind: You may need to make a reservation, so plan ahead.
See a play inside an exhibit.
Head to the theater—well, a gallery—this weekend to see a performance of Tongues, a scene from Reykjavík, by playwright Steve Yockey. A collaboration between Santa Fe Playhouse and host Form & Concept, the play happens within the gallery's current exhibit, Family Room.
"The themes of the play are perfect for Family Room, as it centers around queer domesticity," says Robyn Rickoon, artistic director at the Santa Fe Playhouse. Rickoon stepped into that in January 2020, just before the pandemic delayed the company's performances for over a year. She is particularly excited for this premiere. "Everything felt right, and it just all fell into place."
Tongues focuses on a budding romance between two men who share their deepest secrets with each other, their intimate act of bonding playing out on stage. Directed by Kent Kirkpatrick, the show is just 16 minutes, with multiple performances Friday and Saturday, this weekend and next.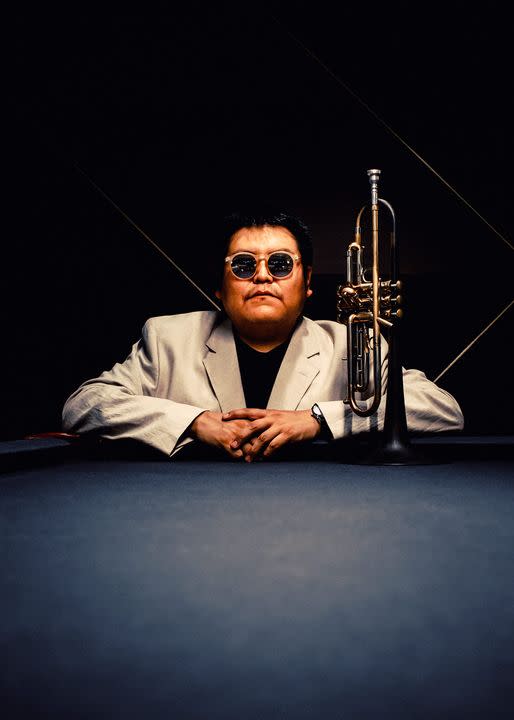 Tune into a virtual jazz performance by Delbert Anderson at the Blue Desert Virtual Tour. Photograph courtesy of Blue Desert Virtual Tour.
Learn how music heals.
Tune into the Blue Desert Virtual Tour on Saturday at 7 p.m., for a virtual concert and study into the healing capacity of jazz. Focused on promoting health among Indigenous communities in the Four Corners area, the event was created by musician and educator Delbert Anderson (Diné) with a grant from Chamber Music America.
"It's really easy to say music is healing, but we don't really know how that works," Anderson says. "Part of the mission of this series is to shine light on how to listen to the music in order to heal." The one-hour concert starts with a land acknowledgement and includes interviews from healthcare professionals and jazz musicians who attest to the cathartic capacity of sound.
"Jazz musicians often call it liberation music; that's what African ancestors called it," Anderson says. "One thing that really made sense to me was that if African American ancestors could get through hard times with liberation music, I thought it could help our Indigenous community. Our histories are similar." Three Indigenous-led jazz groups will perform, including a lauded vocalist, Julia Keefe, of Spokane, Washington, and Anderson's own group, D'DAT.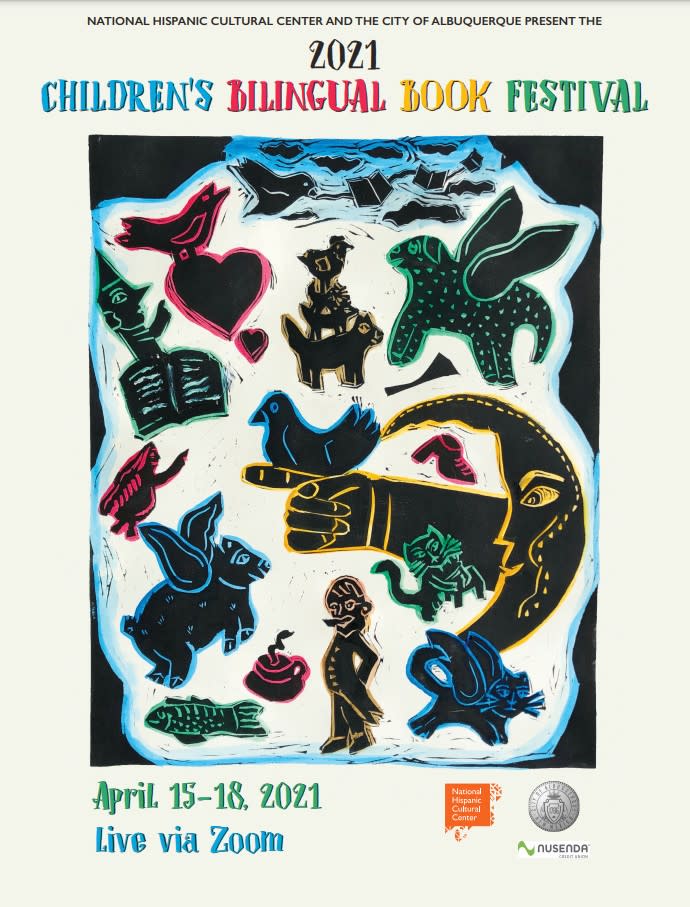 This year's virtual Children's Bilingual Book Festival includes author readings, illustrator demonstrations, and more. Photograph courtesy of National Hispanic Cultural Center.
Foster bilingual reading skills.
Introduce kiddos to the joys of English, Spanish, and Native storytelling via the Children's Bilingual Book Festival, hosted by the National Hispanic Cultural Center. Happening virtually this year, the annual event offers author readings, illustrator demonstrations, workshops for parents and teachers, and storytime in various languages. Geared towards readers from kindergarten through sixth grade, the event will post Zoom links to activities the morning they occur. The festival is free and doesn't require registrations. Hear from more than 30 presenters April 15–18, including some of the nation's best bilingual authors.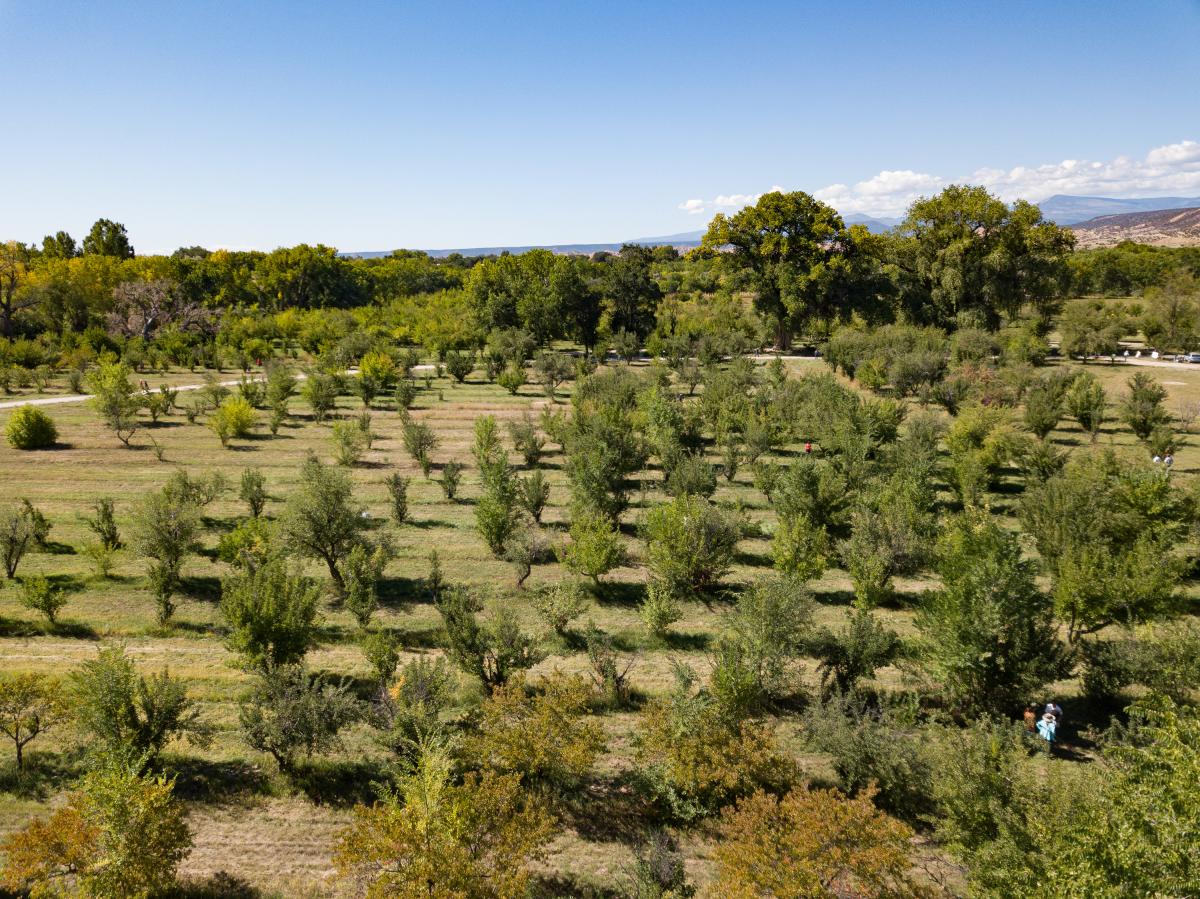 Visit an orchard of blossoming fruit trees at Los Luceros Historic Site. Photograph by NMTD. 
Touch the earth.
Celebrate Earth Day at Los Luceros Historic Site, in Alcalde, near Española, where you can foster bosque health by making and spreading seed balls during Día de la Tierra on April 18, 10 a.m. to 4 p.m. The 168-acre property sits along the Río Grande and holds importance as an Indigenous settlement, a Spanish hacienda, and the home of Mary Cabot Wheelwright, founder of the Wheelwright Museum of the American Indian. As a state historic site, it includes tours of historic buildings, ambles through an orchard of blossoming fruit trees, and hikes along the riverbank. If you can't make it in person, follow along on Los Lucero's Facebook page.