See artist Jorge Benitez's Courtyard at the exhibit Geometric Aljamía: A Cultural Transliteration at the Las Cruces Museum of Art. Photograph courtesy the Las Cruces Museum of Art.
Discover the beauty in paper.
Geometric papercut art works adorn a wall at the Museum of Art in Las Cruces. The intricate patterns, part of the exhibit Geometric Aljamía: A Cultural Transliteration, look like lace and invoke ideas born in the Islamic Golden Age.
"There was such an overlap between the knowledge in the ancient world and the knowledge in the more modern European world," says Jennifer McClung, curator at the Museum of Art. "This exhibit seemed like an interesting way to present an aspect of Islam the public may not know about, from the 8th to 13th century. The ramification of the knowledge they spread still exists in our world today."  
Large-scale works in the show, which is on view through April 17, make an in-person visit particularly worth it.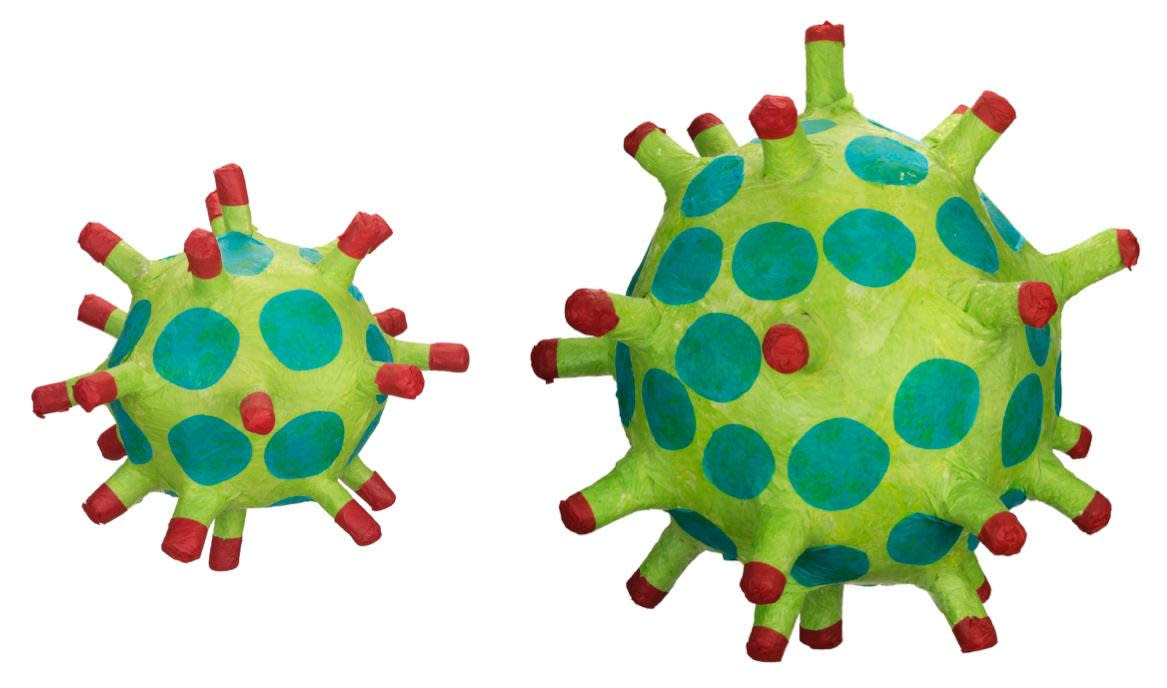 Coronavirus Pinatas by artist Francisco Rodriguez at the Albuquerque Museum. Photograph courtesy of the Albuquerque Museum.
Swing into the Albuquerque Museum.
Bright green and red papier-mâché coronavirus cells stand out amid works collected over the last two years in the exhibit Recent History Acquisitions, which opens Saturday at the Albuquerque Museum. Created by Francisco Rodriguez, who has owned Casa de Piñatas in Albuquerque for over 30 years, the piñatas were an obvious choice for Leslie Kim, the museum's curator of history. "They're just so graphically interesting," says Kim, who was also attracted to Rodriquez's story. "People weren't buying piñatas. The ingenuity that it took for him to come up with something that kept people interested and kept him afloat, it's a great story. He's been making piñatas since he was 10."   
The exhibit's narrative is two-pronged: Part one demonstrates how New Mexicans supported their communities. The other gives a bit of an insider's peek into the acquisitions process. "Museums tend to collect objects that are compelling," Kim says. "Our museum is very interested in collecting objects that tell the stories of our community. We use that philosophy to guide us in our collecting."
The exhibit, which can be viewed by appointment, includes more than 80 works in a variety of mediums. "The breadth of stories captured me," says Kim, "and there are so many more that we could tell."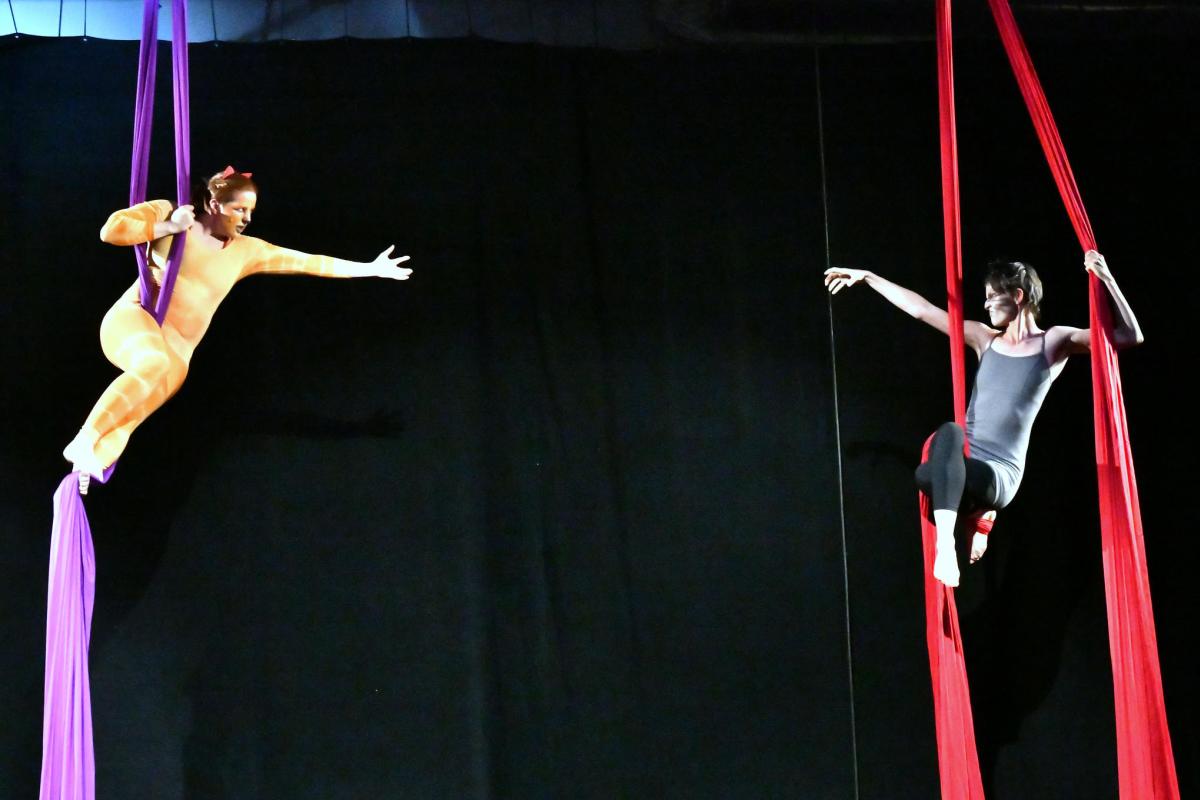 Celebrate the season with Wise Fool New Mexico's Spring Cabaret. Photograph by Linda Carfagno. 
Flip for spring.
Wise Fool New Mexico celebrates the season of renewal with its Spring Cabaret, a virtual two-act performance featuring pre-recorded acts by members of the circus community.
Act one happens Saturday and act two follows on Sunday, each presenting a little over an hour of fun. "We have everything from rolling globe to unicycling, arial fabrics, trapeze and a pole routine," says Andrea Thompson, adult program manager and lead teacher at Wise Fool.
The circus school fosters a close-knit community in Santa Fe, which Thompson says is a major factor in her loving her work. "Circus makes you be present," she says. "You can't focus on anything outside of the studio, you have to be very intentional about what you're doing. It forces you to be in your body and be aware of your body. Movement is medicine."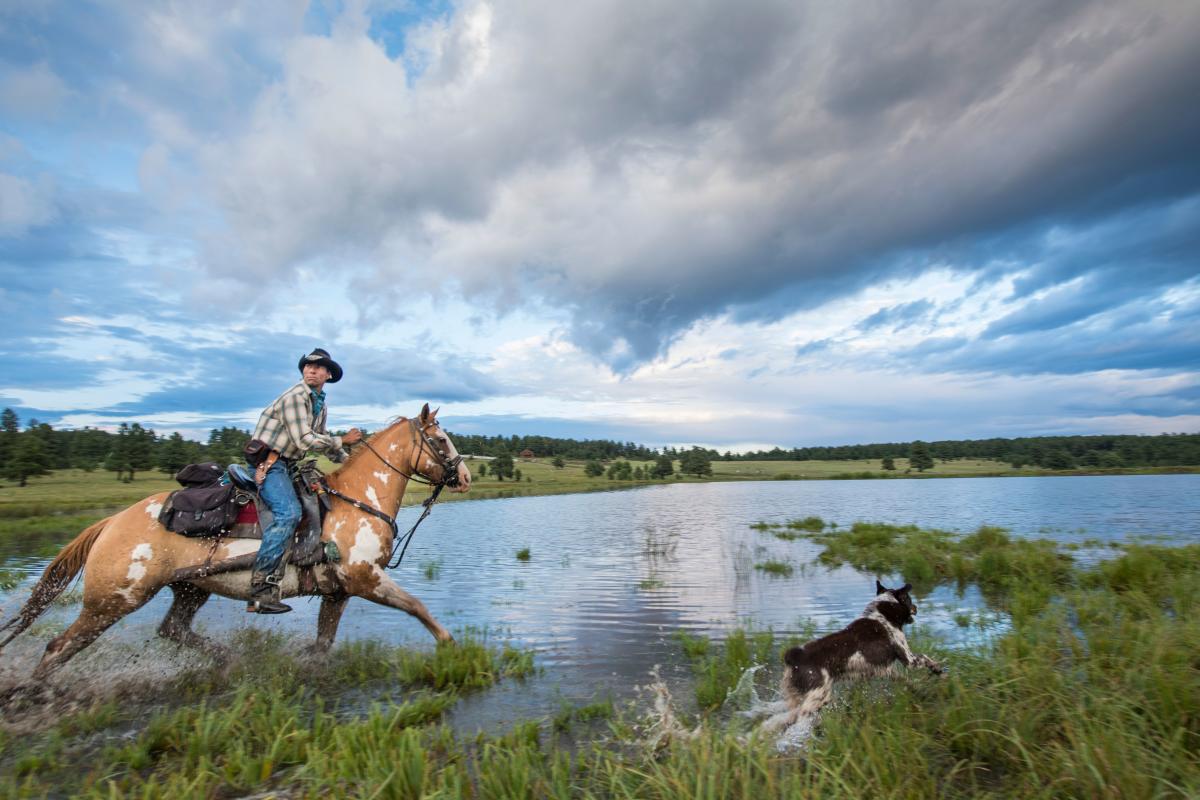 Go hiking, horseback riding, and birdwatching at Storrie Lake State Park. Photograph courtesy of Visit Las Vegas.
Write your own outdoor Storrie.
With highs in the 70s predicted this weekend, there are great views and good times to be had at Storrie Lake State Park. Cacti, wildflowers, and yucca bloom around the lake just four miles north of Las Vegas. A network of hiking trails meanders through the state park, offering a variety of strolls with the aquatic ambience we cherish as a rare oasis in the desert. Before you go, brush up on your avian knowledge with our April "Guide to Birding" to spot new species in the area known for birdwatching.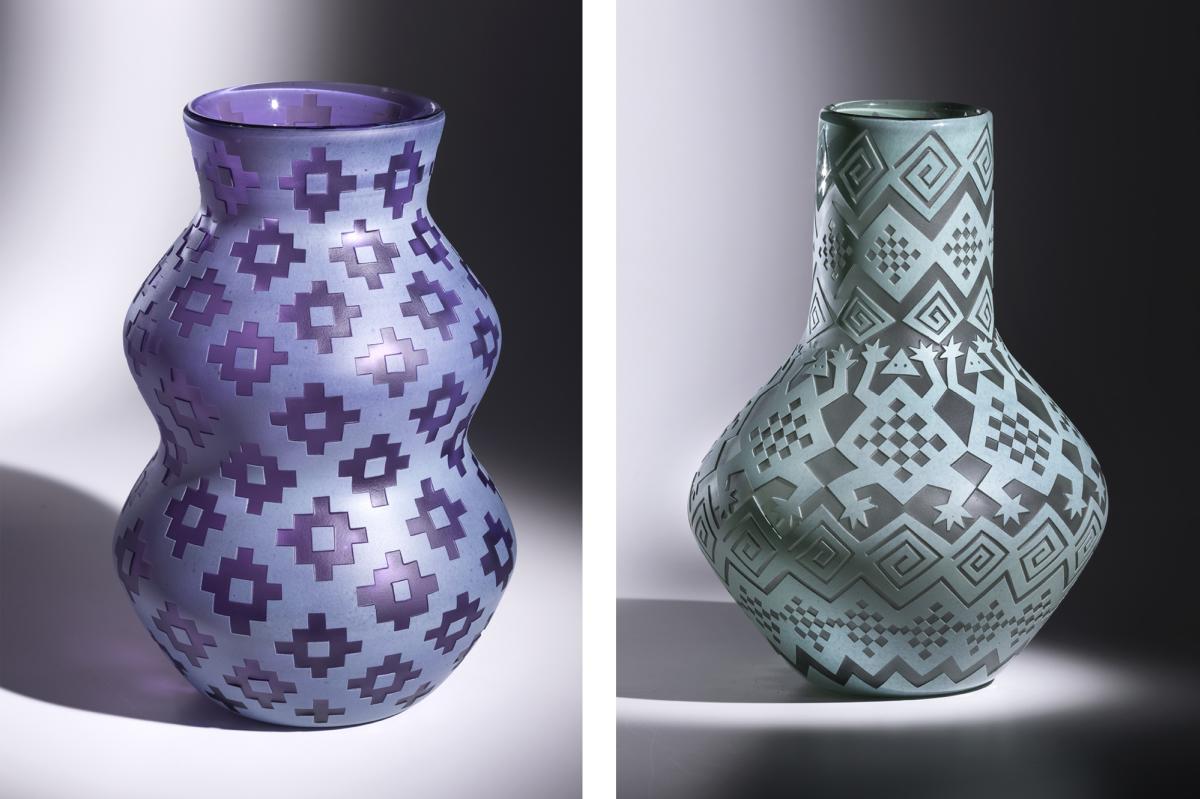 Lavender Clouds (left) and Checkered Frogs (right) by Preston Singletary and Jody Naranjo at Blue Rain Gallery, in Santa Fe. Photographs courtesy of Blue Rain Gallery. 
Get blown away with glass art.
Translucent glass pots glow with color, lavender light pours through traditional Indigenous patterns, and stout cloud shapes cut into the pot's milky surface. The vessels come off as otherworldly relics, simultaneously from long ago and long in the future.
Indigenous glass artist Preston Singletary (Tlingit) and ceramicist Jody Naranjo (Santa Clara) present their third collaborative exhibit, A Collaboration in Glass III, at Blue Rain Gallery, in Santa Fe, through April 17. "They really pop," Naranjo says. "You can see through them, so there is light and color. People can relate to them a little more, especially people who aren't big pottery collectors. It lets them see pottery in another way."
Traditional pottery shapes and designs are drawn by Naranjo, then crafted into glass by Singletary, a true blend of the two artists' mediums and imaginations. Emblematic of the relationship between tradition and innovation, a complete catalogue of the works is available online. "Preston is fabulous to work with," Naranjo says. "He's so knowledgeable and patient, and he doesn't take over. He lets other artists come through."