Above: While you may not be able to smell the chiles roasting, there's plenty of fun chile events this weekend at the Bosque Chile Festival. Photograph by Douglas Merriam.
Attend the Bosque Chile Festival.
Whether you're a die-hard green chile lover, a red-chile-or-die foodie, or someone who always orders Christmas, just hearing the words "Bosque Chile Festival" likely makes your mouth water.  
A celebration honoring the chile harvest and the culture that blooms around it, this fifth annual fest, presented by Bernalillo County and the National Hispanic Cultural Center, in Albuquerque, goes virtual this year, Saturday and Sunday, 2–7 p.m., via Facebook. The two days will be stuffed like a chile sack, filled with chef demos, including from Thomas Dollahite of Europa Coffee in Los Lunas; educational presentations on growing methods, preserving techniques, and the history of chile; poetry readings; an artisan market; and music from Spanish, New Mexican, Cumbia and fusion artists.
You can also view all the submissions and cast your vote for your favorites in the Chile Casa contest, which called for chile lovers to decorate their homes in homage to their favorite chile—red, green, or Christmas—and submit photos of the finished project.
"By presenting it virtually, we can reach people beyond New Mexico's borders and reaffirm the love of chile for people who live here," says Carrie Moritomo, Bernalillo County's manager of community outreach and engagement.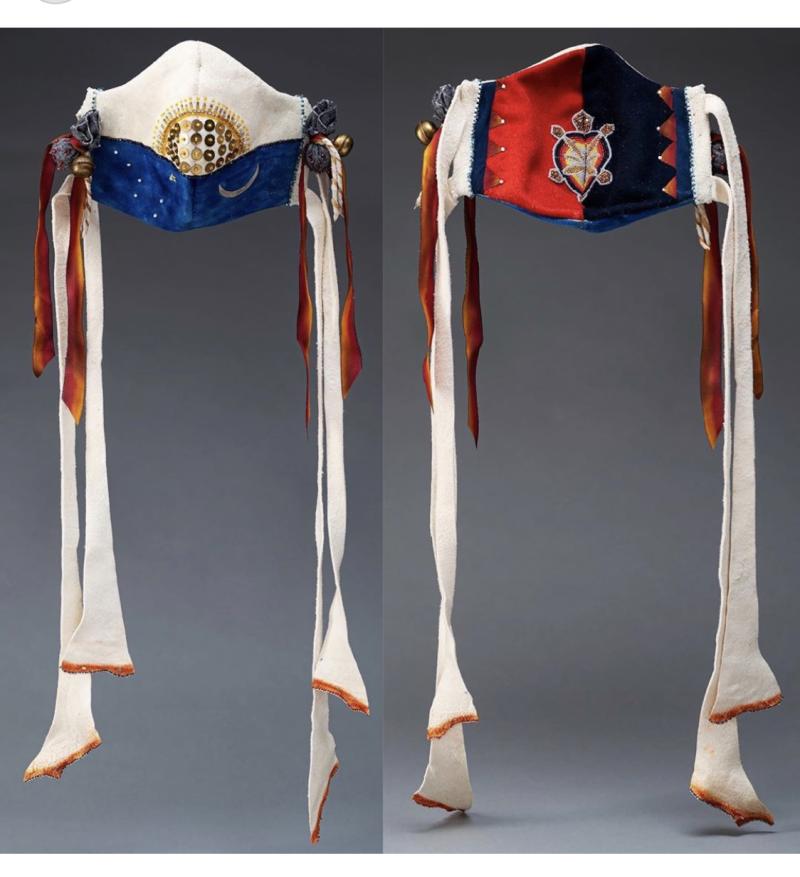 Above: Kiowa jewelry maker Keri Ataumbi's masks are part of the New Mexico Museum of Art's new Protection exhibit premiering on Instagram and Facebook. Photograph courtesy of the New Mexico Museum of Art.
Catch the premiere of the Protection art exhibit. 
When Jana Gottshalk, assistant curator at the New Mexico Museum of Art, in Santa Fe, sat down with the Southwestern Association for Indian Arts to discuss a collaborative virtual exhibit, one of the first agenda items was potential themes. What they eventually landed on—Protection—ripples through our current events and cultural zeitgeist.
"This one really stuck out to me," Gottshalk says, "because there are so many ways you can interpret it right now."
A call went out on Instagram to SWAIA's roster of Indigenous artists, and Gottshalk selected 11 for the virtual show, which opens Saturday with a slideshow on Instagram and a video on Facebook. The works speak to the theme of protection in mediums ranging from drawing to fashion, including a spectacular set of beaded masks by Santa Fe jewelry maker Keri Ataumbi (Kiowa).
Some submissions made Gottshalk consider the essence of protection in a new light. "We saw a lot of pictures about family," she says. "I realized I was taking for granted the idea that family is a big part of our protection." 
While this is the second virtual exhibit Gottshalk has curated, it's a different skill set from developing a museum show. "There was a lot of thought about how we still bring art to people," she says. "There is an attention span you have to consider when you're doing social media. These short little shows are a perfect bite of a concept."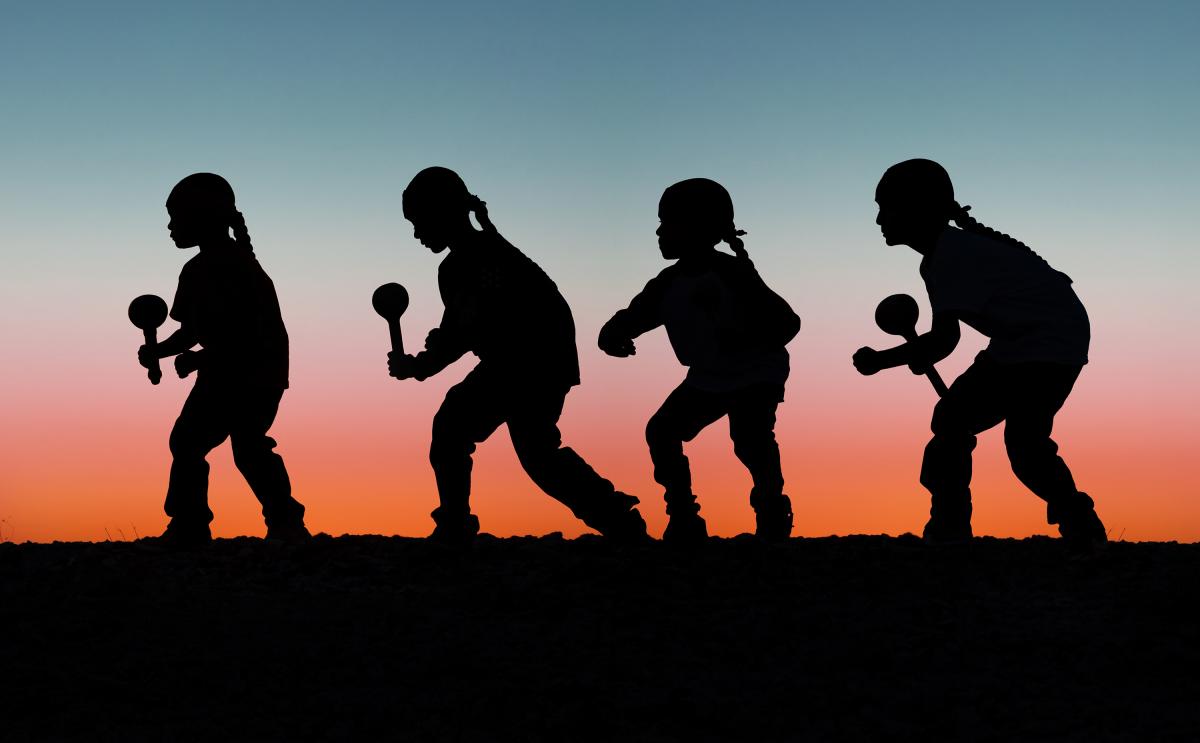 Above: Cara Romero's "Puha (The Path)" features four boys from the Chemehuevi Valley Indian Reservation singing with the gourd on a hilltop at sunset. Photograph courtesy of Cara Romero.
Mask up for Mask Market at La Fonda.
There's no replacing an in-person Indian Market for what it brings to Santa Fe, the artists, and visitors. Yet La Fonda on the Plaza hopes to rekindle a little of that magic with Mask Market. The popup event showcases nine Indigenous artists and allows attendees a chance to meet the artists in person, while abiding by social distancing guidelines.  
"We are trying to lift spirits and build camaraderie, and maybe approach some normalcy while staying super, super safe," says photographer Cara Romero, one of the participating artists.  
Managed by the La Fonda staff, a strict capacity of 12 visitors will be allowed in the market at a time. While entry is free, it's on a first-come basis so expect to wait in line for admission. 
The popup stretches throughout the historic hotel's first floor with artist booths spaced about 20 feet apart along the hallways, in La Plazuela restaurant, and in the nook near the French Pastry Shop and Creperie. Other participating artists include Cody Sanderson, George Rivera, Olin Tsingine, Marla Allison, Sam LaFountain, Toby Morin, Autumn Borts-Medlock, and Santiago Romero.
"Art is very tangible and sensory stimulating," says Romero. "You can get some of that online, if you know the artist and are familiar with their craft. But these are a few things combined: It's mental health and social wellness and it's being able to see people wearing masks and social distancing while enjoying art." 
The event kicks off with a preview Friday from 5:30 to 7:30 p.m. and a full day on Saturday from 10 a.m. to 6 p.m. Masks are required, and good attitudes are encouraged. "We all have to have our gratitude checklists this year because everything is so hard," says Romero. 
Above: Motorama at the Downs, just south of Santa Fe, will be open through November 1. Photograph courtesy of Motorama at the Downs. 
Drive in to a bonanza of movies. 
Long ago (last summer), drive-in movies were a rare experience: the sun setting on a late summer evening, a light breeze blowing through your open car windows, popcorn in your lap as you wait for the movie to start. With Fort Union Drive In, in Las Vegas, as the only remaining show in the state, it felt vintage and romantic. Now, drive-ins seem to be popping up everywhere as a socially distanced form of entertainment.
Last Sunday, the Motorama at the Downs opened on a former horse racing track just south of Santa Fe. The screen is supported by 16 cargo train compartments stacked like Lego bricks into a massive wall, which holds the 40-by-70-foot screen.  
"Motorama was birthed from the ideas of a few local film industry members, event coordinators, and artists who wanted to create an exceptional experience for the community to gather in a safe way during a pandemic," says Stephanie Forrester, event coordinator at Motorama. "We wanted to bring the nostalgic drive-in back in an upgraded and innovative way."
Open until November 1, Motorama is showing Hunger Games on Friday, 50 First Dates on Saturday, and Captain Underpants on Sunday, all of which start at 6:30 p.m.
In addition, the site will host the Santa Fe Independent Film Festival October 14–18 and have a retinue of food trucks and a concession stand. "This year has been hard on everyone," Forrester says. "Living within a pandemic has forced us all to create a new way of life. Motorama is a way for people to come together safely but enjoy communion under our prized New Mexico skies." 
In Los Alamos, the drive-in screen at Central Park Square makes winter come early as the powerful animated ice-spinning sisters Anna and Elsa return in Frozen II Friday at 8 p.m. Arrive around 7 p.m. when the gates open. The movie, hosted by Los Alamos County, starts at dusk in the north parking lot. Tickets are available on Eventbrite.
Meanwhile, the stalwart Fort Union Drive In, which originally opened in the first wave of drive-ins in 1958 and then reopened in 2014, plays classics, horror films, and comedies and takes suggestions about what to play next. Popcorn, candy, nachos, and soda call all be ordered from the concession stand by calling 505-425-9934.
Fort Union has COVID-19 safety precautions in place, including requiring all movie-goers to wear a mask when they're outside of their vehicles. Don't miss this late-summer opportunity for summer lovin' as Grease shows on Friday. The gates open at 7 p.m., and the movie starts at dusk.  
Get to the BioPark. 
On Wednesday, the ABQ BioPark Zoo reopened its doors to the public for the first time since the beginning of the pandemic. It's a sweet oasis in the desert, where red pandas roam and education awaits. 
But don't assume the zoo has been in hibernation during the shut-down. In fact, zoo staffers been busy like hyenas (they've got new cubs after all), revamping the exotic bird and raptor areas, and adding new pools in some animal enclosures. As a safety measure, the 1.5-mile Zoo Trek, a one-way path through the park, is meant to help visitors keep their distance, while seeing all of their favorite exhibits. 
The reopening comes with safety precautions and practices, including a limit to the number of visitors per day, so you need to reserve your tickets in advance. Entry times are spaced in 30-minute intervals to allow for extra social distancing at the gates, and everyone is required to wear a face mask or covering. Some exhibits, like the reptiles which are indoors, will remain closed along with high-touch areas like the carousel. 
The zoo is open Tuesday through Sunday from 9 a.m. to 5 p.m. with the last visitors slated to arrive between 3:30 p.m. and 4 p.m. Reserve your spot ahead and arrive on time.