Above: Heidi's Raspberry Farm, in Corrales, offers Saturday berry picking until the first frost in early October. Photograph courtesy of Heidi's Raspberry Farm.
Raspberry fields forever. 
Summer's bounty has arrived, with plenty of green (chile) and red (raspberries). At Heidi's Raspberry Farm, in Corrales, you can hit the fields to pick your own berries—and taste a few, too. Over the last decade, berry-picking at Heidi's has turned into a tradition, one that comes with changes this year.
After 500 people crowded the front gate on opening day this summer, Heidi and her son Dimitri shifted to a reservations-only plan. To protect visitors and staffers, everyone must wear masks and maintain six feet of distance. Upon check-in, you need to provide your name and phone number to assist in contract tracing should the need arise.
The farm provides containers you can fill with berries. Just bring a hat and water. Even the walk from the parking lot to the fields will delight, as you meander through pastures and past wild turkeys.
"It's an amazing thing for children," Dimitri says. "They love running around the farm and picking food off bushes."
Make reservations to visit raspberry heaven any Saturday morning from now until first frost, sometime in October.  
Learn about the women who make the saints. 
Santeras—female counterparts to santeros—carve and paint religious santos and bultos, a form of Spanish Colonial art unique to the Upper Río Grande Valley. A virtual lecture by Gustavo Victor Goler explores the history of these artists as part of the exhibit Las Santeras: Images of Faith and Folklore at the Harwood Museum, in Taos.  
Goler, an acclaimed santero who helped prep the exhibit with a team of women, including Museum Curator Nicole Dial-Kay and Executive Director Juniper Manley, explore how 21 women in particular changed the male-dominated medium. All have pieces in the exhibit. "They are highly regarded, they have won awards and accolades," Goler says. "We can find their work in museums across the United States. They've really had a big influence.  
The one-hour lecture shows examples of the women's works, as well as historical images from Goler's own archive. "Some are of the artists themselves or them at markets. I added to what is up in the exhibition." 
If you want more than an hour with the histories of these groundbreaking women, check out the video series Goler created with some of the artists. "It's really cool. You get to hear them tell stories about their backgrounds," he says. "You get to hear their voices." The exhibit is up through April 18, 2021, and the museum is open to visitors, with an array of COVID-safe rules.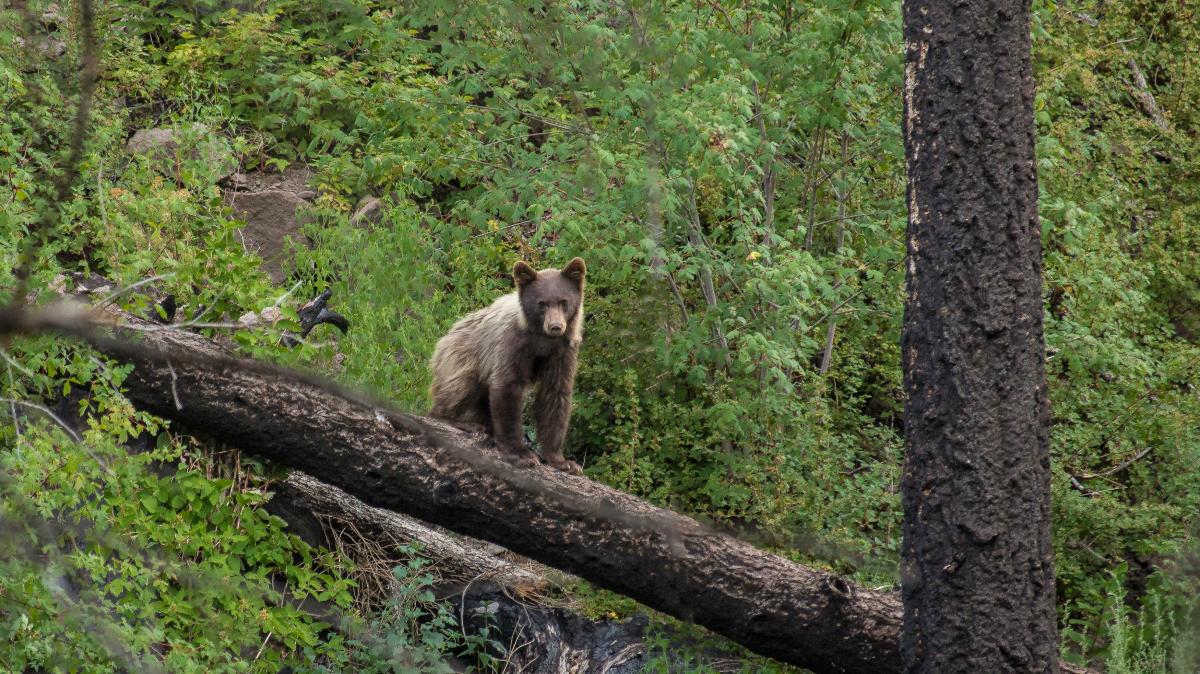 Above: Only black bears are found in New Mexico, though their fur can be blond, dark brown, or chestnut. Photograph by Craig Martin.
Hey, Boo-Boo. Wanna go for a pic-a-nic?
Did you know we have only black bears in New Mexico? And that they come in a range of tones from blond to dark brown to chestnut? That they need to consume around 10,000 calories a day leading up to hibernation? That their sense of smell is seven times better than a bloodhound's? 
Learn cool things like that and how to be bear-safe at home and on the trails at the Virtual Bear Festival, hosted by the Pajarito Environmental Education Center, in Los Alamos. Already underway, the festival events include lectures, a bear-themed yoga class, and interactive activities for kids, with new content coming throughout the weekend. 
PEEC Marketing Manager Rachel Landman says the goal is "to keep our wildlife wild." With the drought we have experienced this summer, she says, bears may visit our towns and root through trash cans more than ever. That poses a threat to people, but such so-called "problem bears" also risk relocation or even death. "It's a good time to be especially vigilant and think about how we can live among wildlife," Landman says.
To that end, veterinarian Kathleen Ramsay gives a talk on Tuesday at 7 p.m. about how to bear-proof your home. This past Thursday, wildlife biologist Daryl Ratajczak spoke about bear behavior and how to recognize their sounds and body language—critical intel for hikers and mountain bikers. (The talk is still available on PEEC's YouTube channel.) An upcoming blog post will show kids how to create bear scat from Play-doh and create an at-home scat scavenger hunt. 
Participate in the Bear Fest Contest by posting a photo of the bear-proofing you've done around the house. Tag it #bearfest2020 or email it to publicity@peecnature.org for a chance to win prizes like a bear-proof container for your hiking snacks, which is way smarter than a pic-a-nic basket. 
Bring the silver screen to your home screen. 
The Guild Cinema, in Albuquerque, has celebrated eclectic and indie films since 1966, lately without requiring anyone to leave home. One of its upcoming streamings speaks to our current times and the revolutionary currents brewing in 2020. 
WBCN and the American Revolution focuses on one of the first independent radio stations to exist outside a university. The Boston station became a pillar of counterculture in 1960s and 1970s, which the film reveals via American icons like Noam Chomsky, Jane Fonda, and Jerry Garcia. 
Kief Hanley, owner of the Guild, says viewers will see Bruce Springsteen's first radio interview and Patti Smith's first live radio concert, adding that the sum of all those voices from the past may help us find our future. "Especially the need to organize, sustain relations, and celebrate common ground," he says. "And to keep the arts as part of our essentials." 
The Guild's website has a list of things to watch right now, including the very timely John Lewis: Good Trouble. 
Make it up along with the actors.  
The 10-person cast at the Box Performance Space and Improv Theatre in downtown Albuquerque recently celebrated 10 years of working together—a milepost made more significant given how difficult this year has been. 
Theaters were among the first institutions ordered to close at the start of the pandemic. So the actors decided to take their weekly improv series online. "At first it was really tough, it didn't seem like we were going to be able to do it," says owner and producer Doug Montoya. How do you make people laugh when you can't hear them?
But the team kept trying and moved from Zoom to a digital platform that allows more control, like the ability to enter and exit the virtual stage. The weekly performance happens on Saturdays at 8 p.m. "It's fun, it's interactive, and we are just flying by the seat of our pants creating the show," Montoya says. 
Interactive components invite viewers to suggest ideas for improvs and comment as the show happens. It boosts team morale to see pop-ups of clapping-hands and laughing-face emojis. The improv nights are free, Montoya says, because "we wanted to stay in touch with our audiences."  
On September 6, the Box features an eight-hour telethon of live performances to raise money for the rest of the year. It will include stand-up comedy, live performances from local bands, and improv.