Celebrate the season with tamales this weekend. Photography courtesy of Angelisa Murray.
Make the yuletide tamales. 
In New Mexico, tamales represent the holidays. Despite their simple ingredients, they can be a bit tricky to master—and are best made by the whole family. On Friday at 3 p.m., chef, author, and Native food historian Lois Ellen Frank teaches the basics during Heritage Inspirations' Green Chile Tamale Culinary Event. 
"Since we can't get together with other people socially, it's a really fun way to get together virtually," Frank says. "We're going to talk about what you think when you touch the masa, and how those happy thoughts and that love goes into the tamale. When you make them together as a family, it unifies your bond and calls in the wisdom of the ancestors." 
If you can't make class, reach out to Frank and Whitewater via their website, Red Mesa Cuisine, where they offer private cooking classes via Zoom. Red Mesa Cuisine will even ship authentic New Mexican ingredients to out-of-state family members. "We have done a ton of these virtual classes, and they're so much fun," Frank says. "We're in the holidays, it's tamales!"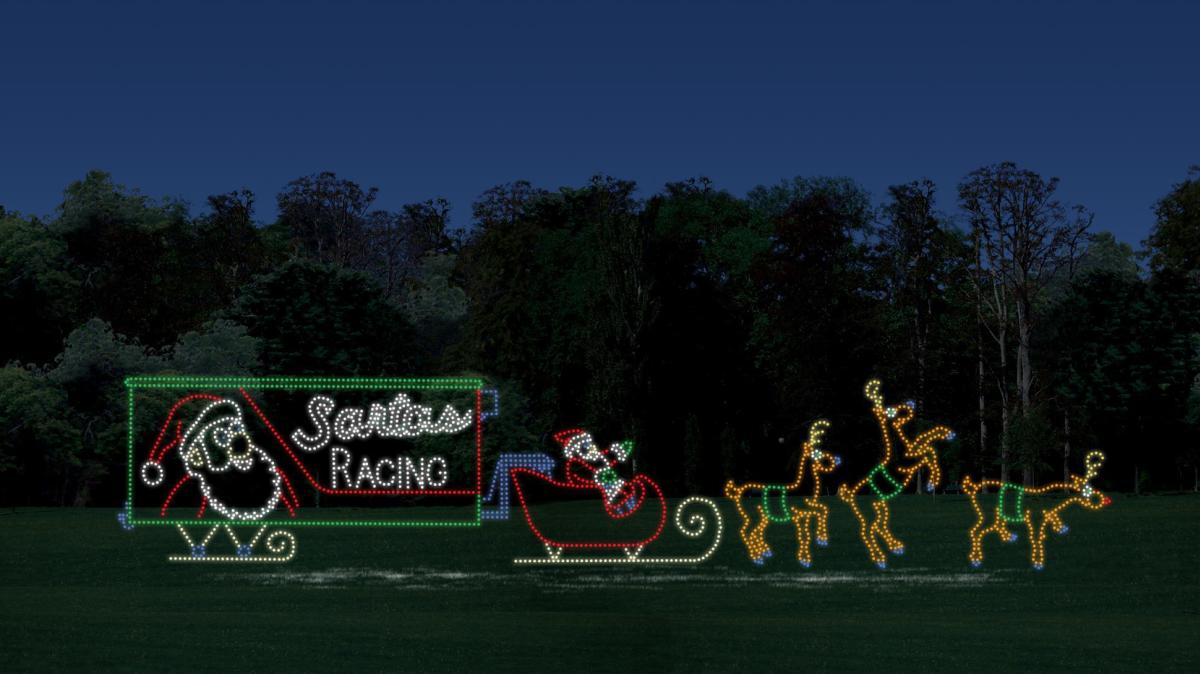 Visit a drive-thru Christmas Light Show at Lights of Enchantment in Albuquerque. Photograph courtesy of Lights of Enchantment.
Let your heart be light.  
Santa's elves have been busy southwest of Albuquerque adding sparkle to the Lights of Enchantment drive-thru Christmas Light Show. Over 350 light displays and millions of brilliant bulbs include light tunnels and holiday characters—Santa's reindeer, toy soldiers, snowmen, and snowflakes. Tickets are sold by the vehicle, and you can tune your radio to 87.7 FM for a holiday music soundtrack. Find the entrance at 100 Speedway Park Blvd.
Set your holiday cheer aglow Saturday on Main Street in Clovis with the Christmas Light Parade, 6–8 p.m. Local businesses are in on the fun, with window light displays as well as floats parked in the middle of Main Street with room for visitors to drive by. Enter on 14th Street. 
Hobbs transforms into an inflatable winter wonderland this weekend with 40 characters at the Western Heritage Museum's Christmas Inflatable Extravaganza. Pay attention to traffic while driving slowly through. Tune your radio to 100.9 FM for an accompanying soundtrack.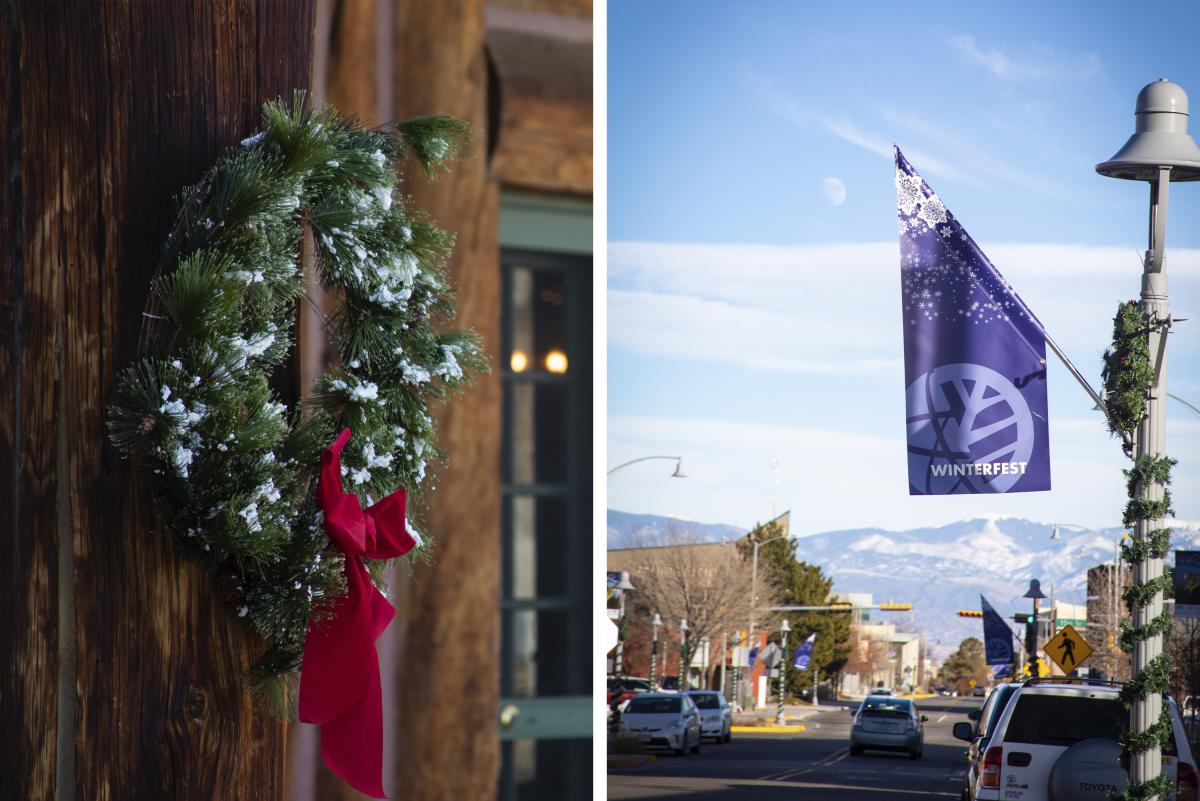 The Los Alamos WinterFest kicks off this Friday with virtual paint party, a scavenger hunt, and more. Photograph courtesy of Los Alamos Mainstreet. 
Craft your troubles out of sight. 
Cozy creative projects, a trip to the stars, and a showcase of local talent are all part of the 2020 virtual Los Alamos WinterFest this weekend. The theme is "home for the holidays," with family activities you can do from the comfort of the couch. Each day, Friday through Sunday, virtual events and activities range from a Zoom paint party to the livestreamed Los Alamos High School Olions drama club's Virtual Winter Showcase, an astronomy talk, and a community scavenger hunt with a chance to win prizes.  
"We're all craving fun activities to do safely with friends and family," says Lauren McDaniel, director of Los Alamos Mainstreet. "Families can use this year as an opportunity to form deeper connections and appreciate time with loved ones—at perhaps a slower pace than typical holiday seasons."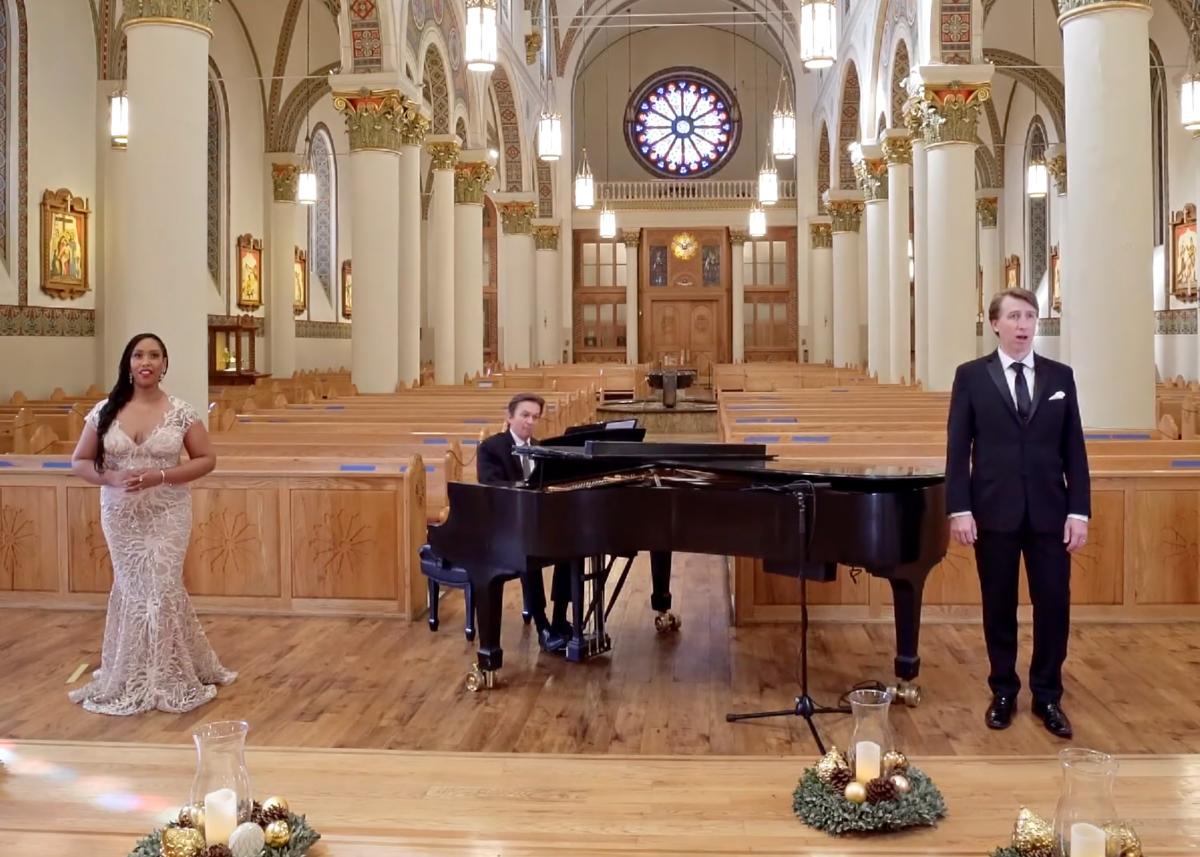 Enjoy pre-recorded holiday performances by Joshua Dennis and Briana Elyse Hunter from the Cathedral Basilica in Santa Fe. Photograph courtesy of the Santa Fe Opera.
Have yourself a merry little concert. 
Experience mini opera concerts from iconic spots in Songs of the Season, a virtual program by the Santa Fe Opera. Premiering Sunday at 3 p.m., the pre-recorded performances include two of opera's brightest stars, Joshua Dennis and Briana Elyse Hunter, plus 16 members of the Santa Fe Opera's Young Voices Program. The holiday harmonies come to you from the Cathedral Basilica, in Santa Fe; Las Placitas Presbyterian Church, in Placitas; and the Historic Old San Ysidro Church, in Corrales. 
Andrea Fellows Fineburg, director of community engagement at the opera credits featured pianist Bob Tweten with the idea to film in these special spots. "We wanted to convey a sense of greater community, and one of the things we've been trying to put into our digital content is a sense of place. My team has kept that as a guiding principle." 
In just under 38 minutes, you will hear compositions that include contemporary and classic numbers. Watch the debut or catch it later. "If you haven't put up your holiday decorations," Fellows Fineburg says, "listen in while you're decorating your home."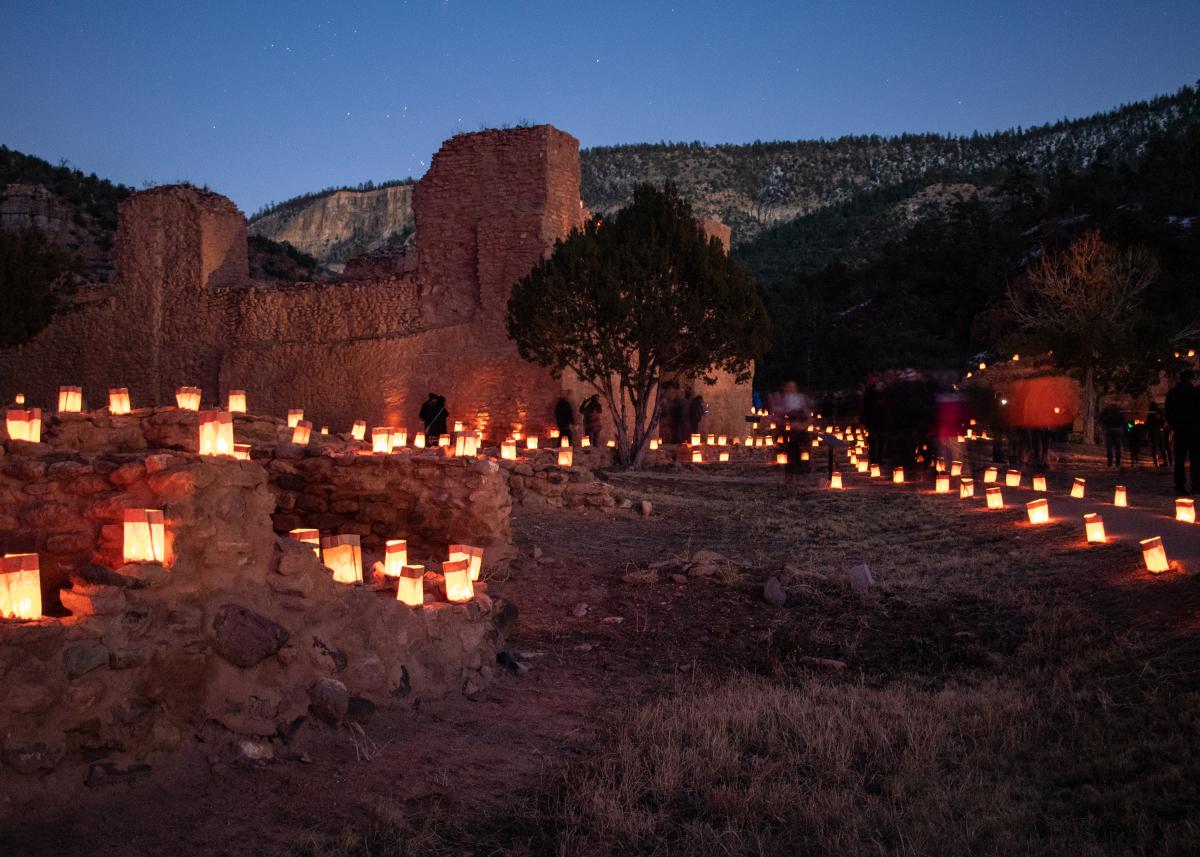 Farolitos light up the Jemez Historic Site. Photograph courtesy of NMTD.
Happy golden days of yore. 
See New Mexico Historic Sites throughout the state in the new video series New Mexico Traditions. With programming added through the finale on December 24, the videos include educational elements like storytelling and bits about history, art, food, and culture. Videos already posted dive into the Puebloan tradition of rabbit hunting, courtesy of Coronado Historic Site, and popular southern New Mexico recipes, from the Taylor-Mesilla Historic Site. 
The videos are pre-recorded in the historic spaces, giving viewers a peek at significant spots without ever leaving the couch. See the white-tipped spires of the old Mesilla church in a snow-laden plaza or the farolitos illuminating the Coronado Historic Site, plus much more to come.