Husband-and-wife duo Rupert Boyd and Laura Metcalf perform as Boyd Meets Girl. Photograph courtesy of Boyd Meets Girl.
Listen to Boyd Meets Girl
Australian classical guitarist Rupert Boyd and American cellist Laura Metcalf are more than a cheekily named duo. The husband-and-wife are both accomplished soloists, but as Boyd Meets Girl their repertoire spans classical selections from Debussy and Bach and pop anthems by The Beatles and Beyoncé.  
Boyd and Metcalf, who serve as artistic directors for the Sunday-morning concert series GatherNYC, formed the duo so they could spend as much time together as possible. While they've performed extensively in the Southwest, the pre-recorded performance ($15), available on-demand Feb. 20-28, is the duo's first for Music in Corrales.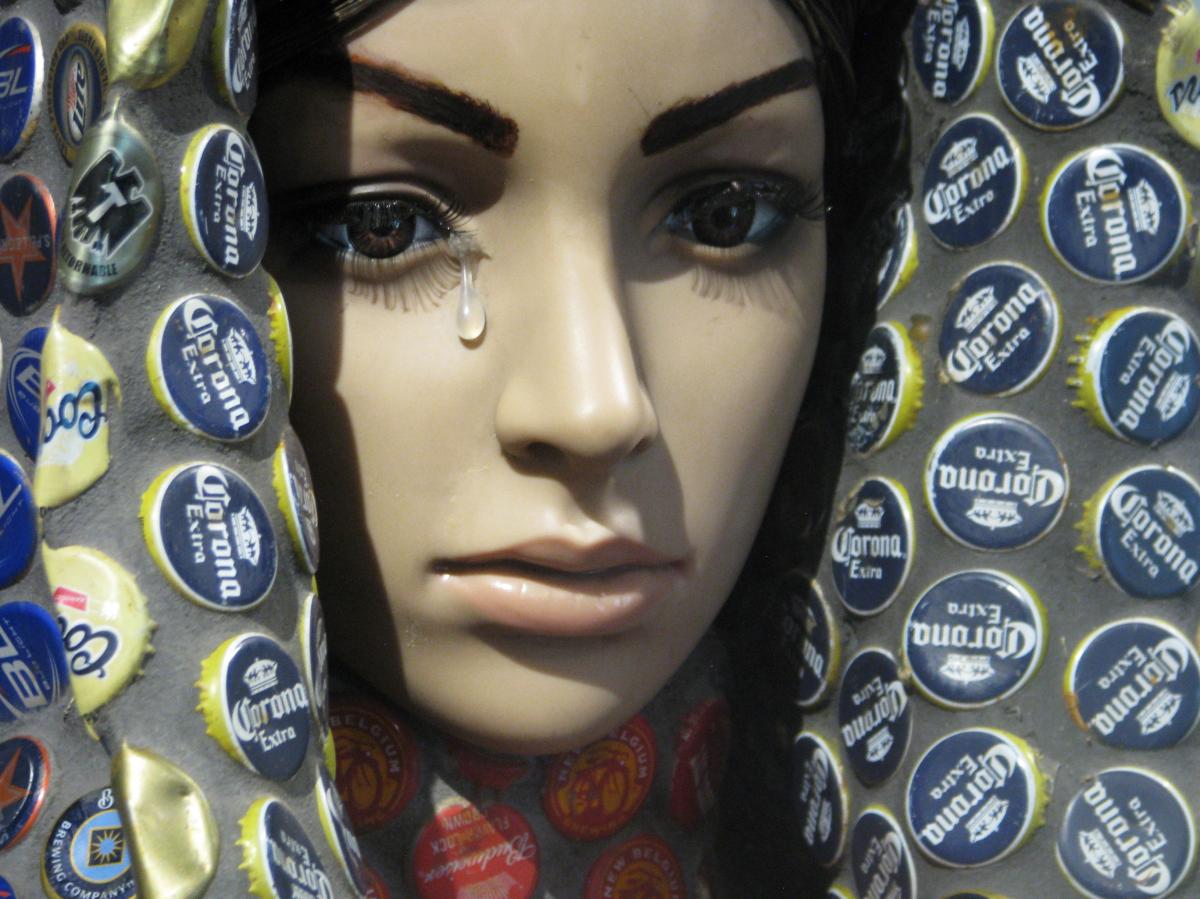 Buck Burns' multimedia Bottlecap Virgin of Guadalupe is among the works featured in Silver City Museum's Arte Chicano exhibit. Photograph courtesy of Silver City Museum.
Talk Chicano art.
Guest curator Diana Ingalls Leyba and artists Buck Burns and Chris Alvarez discuss the Silver City Museum's Arte Chicano exhibit during a live panel Friday at 1:30 p.m. Burns, who also co-owns Manzanita Ridge in Silver City, works in a variety of mediums using bold colors and imagery influenced by Mexican folk art. Alvarez, a Silver City native, teaches and runs a gallery in Colorado Springs, Colorado.
"We will give a closer look to selected pieces from the exhibit and discuss the impact of the artists' Chicano heritage on their work," says Erin Griffith, museum educator and co-moderator of the artist lecture. The discussion will also examine other prominent Chicano artists, such as Danny Griego, Fred Barraza and Catalina Delgado-Trunk, who influenced or interested artists included in the exhibit.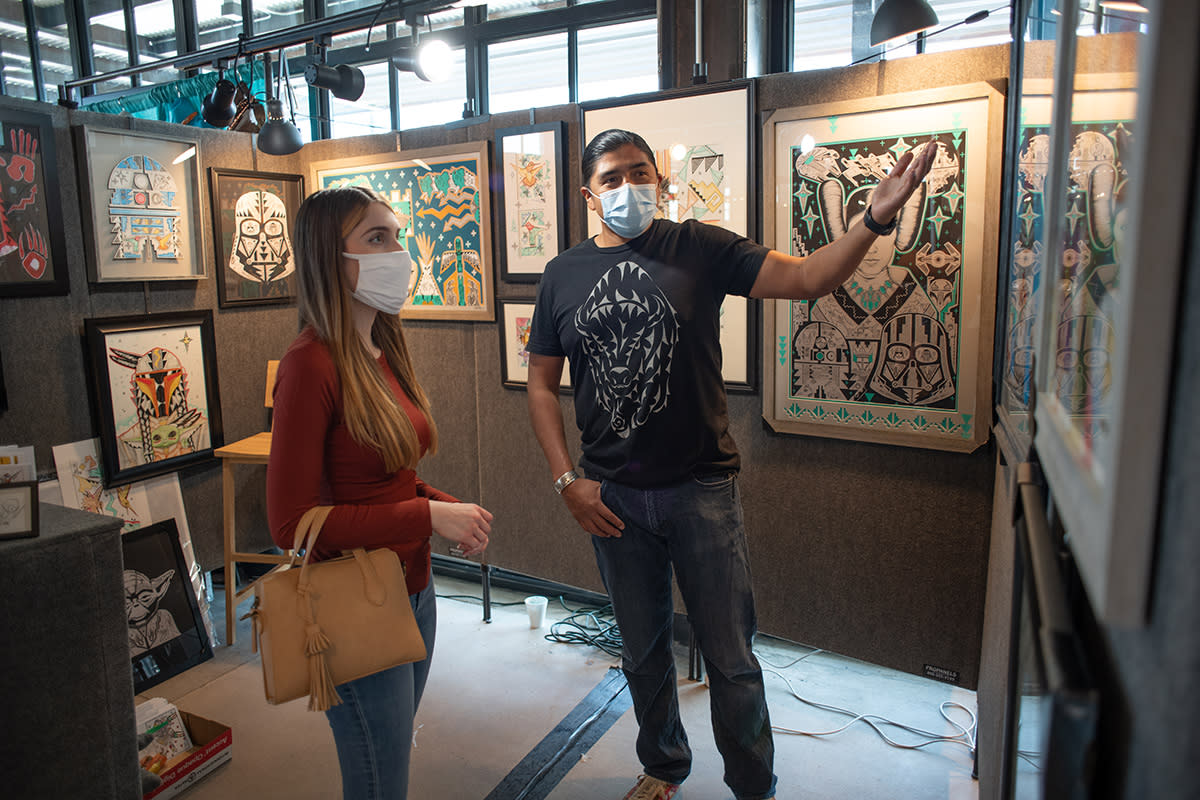 Artist Michael Toya shows off some of his work at the New Mexico Artisan Market at Sawmill Market. Photograph by Douglas Merriam.
Enjoy some retail therapy.
NM Artisans' Market reopens this weekend at Sawmill Market in Albuquerque. Open Fridays, Saturdays and Sundays through June, the market showcases New Mexican handmade goods and artwork.
"Hosting the New Mexico Artisan Market at Sawmill Market was a natural fit," says Belia Alvarez, corporate director of community relations at Heritage Hotels & Resorts. "We're honored to continue this important tradition."
A rotating roster of artisans will be selling items ranging from handmade jewelry and home goods to candles and skin care and bath products.
Catch an astronomy star.
Astronomer Rick Wallace wants to help you catch every meteor shower in 2021.
"Twenty-five million bits of rock and space debris burn up in the Earth's atmosphere every day," says Wallace, who earned his PhD in astronomy and astrophysics in 1981 and has been immersed in the field ever since. Still only six to eight of the approximately 900 meteor showers each year have enough meteors to be of interest to amateur observers, he says.
Hosted by the Pajarito Environmental Education Center in Los Alamos Friday at 7 p.m., his educational class, Rocks from the Sky, dives into meteor details like what creates them, and where to best observe them, as well as the epic marks they leave behind when they strike the earth.
Explore before you visit.
Now that many of the New Mexico Historic Sites have reopened, you can preview your trip with virtual visits to places like Jemez in Jemez Springs, and Los Luceros in Alcalde. A huge 148-acre property on the east bank of the Rio Grande, Los Luceros was inhabited for generations. The waterfront property includes a 5,700-square-foot territorial style hacienda, casa grande, as well as an 18th century capilla, or chapel.
The immersive video tours put you in charge to wander the snowy pastures, see ancient cottonwoods, and peruse apple orchards while learning about the historic property from on your couch.