Above: Los Alamos makes Halloween a three-day event with activities for all ages. Photograph by Tira Howard.
Dress the part for Halloween.
Albuquerque
Plaza Don Luis in Albuquerque's Old Town celebrates Halloween on Sunday from 4 to 6 p.m. Plaza vendors will have sweets for the trick-or-treating kiddos, and adults can imbibe libations from Noisy Water Winery.
Carlsbad
The 26th annual Carlsbad Fall Festival is like Halloween in disguise. Hosted by Carlsbad MainStreet, the bash includes trick-or-treating, a costume contest with some truly amazing prizes, and spooky tunes by DJ Kool Arrow on Saturday from 4 to 6 p.m. First-place prizes include a playhouse, bicycle, Nintendo Switch Light, and Apple AirPods Pro. The Pearl of the Pecos Arts & Culture District also sponsors prizes for dog costumes and historic costumes. "It is really a fun event," says Carlsbad MainStreet Executive Director Ashly Key. "It's about the community coming together and enjoying the holiday."
Las Cruces
Get into the creepy spirit with free Halloween-themed activities at Las Cruces Museums on Saturday from 10 a.m. to 1 p.m. At the Museum of Nature and Science, make your own glow-in-the-dark slime and get up close and personal with the creepy crawly critters. The Museum of Art helps you create a "Boo" balloon. The Branigan Arts Center celebrates Samhain (the Celtic new year) by making traditional wreaths.
Los Alamos
The ghostly holiday lasts for days in Los Alamos during Halloweekend. It includes a trick-or-treat on Central Avenue on Friday from 4 to 6 p.m.; don't miss the dog costume parade at 5:30 p.m. Then head on over to the Los Alamos Library for s'mores and other treats until 8 p.m. High schoolers get their own carnival at the Los Alamos Teen Center at 7 p.m.
Burn all those extra candy calories on Saturday during the Trick-or-Trot, a 1-mile walk or 5K fun run. Later that evening, the Pumpkin Glow on the Fuller Lodge lawn presents jack-o-lanterns made by Los Alamos residents and music by Eddy & the Nomads from 6 to 9 p.m.
On Sunday, the Pueblo Canyon Inn hosts the Halloween Haunted Trail Walk, which highlights the spookiest spots. This isn't all that happens during Halloweekend. See the full list of scary happenings here.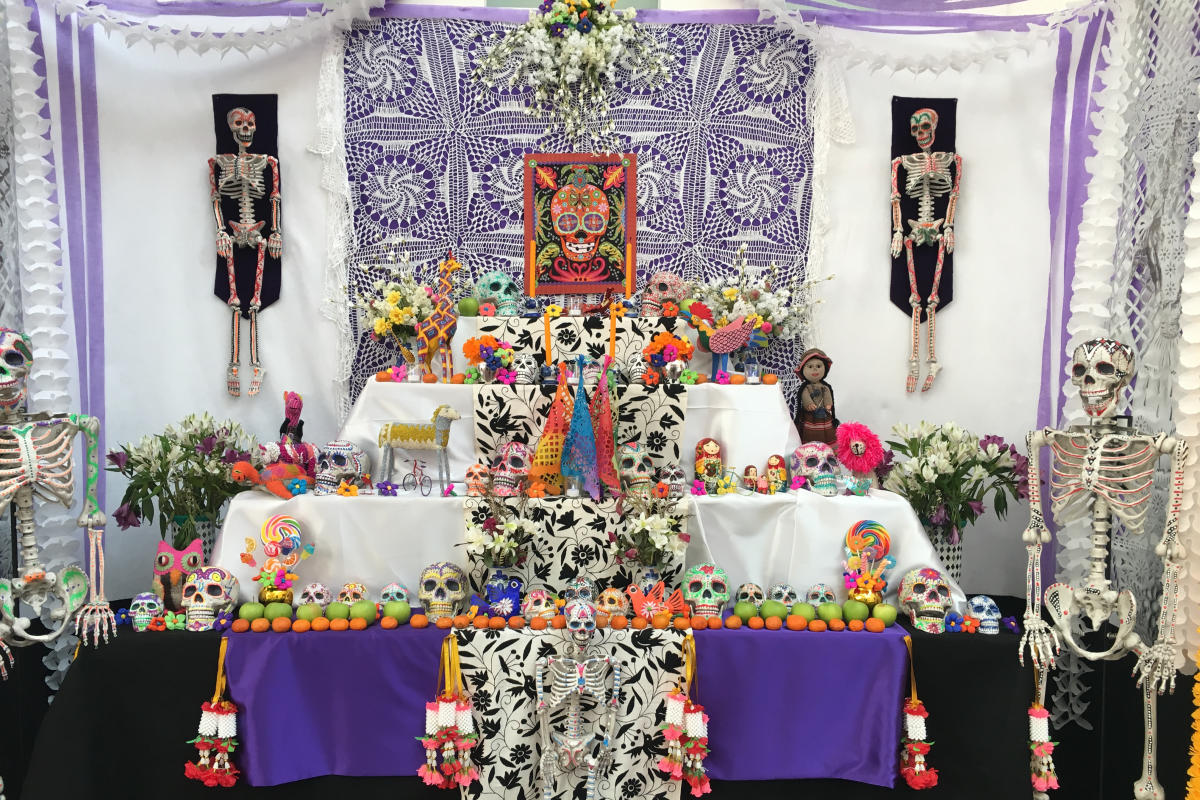 The ofrenda at the Museum of International Folk Art is the centerpiece of the Day of the Dead Community Celebration. Photograph courtesy of the Museum of International Folk Art.
Make an offering.
Remember your loved ones who have passed during the Día de los Muertos celebration at the Museum of International Folk Art, in Santa Fe, on Sunday from 1 to 4 p.m.
El Camino Real Academy students helped to create the event's centerpiece—a giant ofrenda (altar) adorned with their own creations and traditional objects such as marigolds, salt, water, incense, and food. Working with Kemely Gomez, the museum's bilingual educator, El Camino Real sixth-graders received a tiny wooden box to make their own mini altar. "All of those really special and personalized little boxes will be on there," says Leslie Fagre, the museum's director of education. "Also, a large tinwork art project was made by students in other grades."
Attendees to the Day of the Dead Community Celebration can bring photos of their late loved ones to add to the community ofrenda, decorate sugar skulls created by artist Maria José de Ayala, or watch dance performances (at 1:30 and 3:30 p.m.) from Los Niños de Santa Fe.

Gus Foster's Sunset, Moonrise, Highline Ridge, Taos County, New Mexico, is among the works featured in a new exhibit at the Harwood Museum. Photograph courtesy of Gus Foster.
Get a wide view of Taos.
When Gus Foster moved to New Mexico in the 1970s, he used an antique Cirkut camera to create black-and-white panoramic images of Taos and the surrounding area. Those photographs are the focus of a new exhibit at the Harwood Museum.
Including 36 works from his career, Gus Foster: Panoramic Photographs of Northern New Mexico ranges from those early images to newer digital camera work no longer in the panorama format.
Foster pushed the boundaries of his technology, even designing a special darkroom to develop the photos, some of which are 16 feet long. "They don't make this film anymore," says Harwood curator Nicole Dial-Kay. "It's really amazing to see these images that cannot be recreated."
Foster drew inspiration from Albert Einstein and his theory of relativity for the panoramic photographs, according to Dial-Kay. "Foster has always been interested in our understanding of time and space," she says. "The images capture 360 degrees, and that helps to see viewing as a time-based experience."
The exhibit, which runs through April 17, also features photos of the 1970s social scene in Taos. "Those are some of my favorite images in the show," Dial-Kay says. "They have so much mythology. It's a familiar place seen in a different way."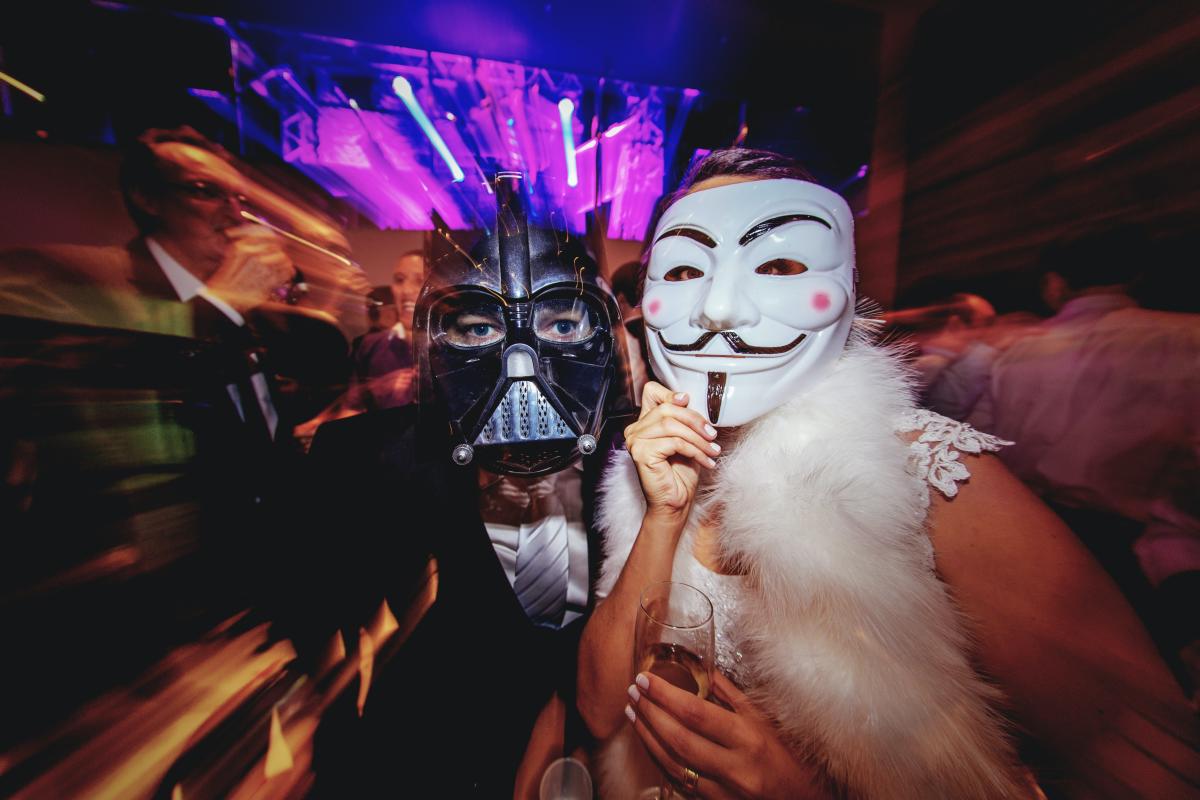 Mask up for some Halloween fun. Photograph by Jonathan Borba/Unsplash.
Do the '80s Monster Mash.
There's nothing to fear about the walking dead at Sister Bar's 7th annual Thrilla '80s Halloween Zombie Apocalypse on Saturday from 7 p.m. to closing. Music videos from the big-hair decade will play on the Albuquerque bar's big screens, while DJ Brad Cole spins the hits. Expect tunes by David Bowie, the Violent Femmes, Prince, Madonna, the Cure, Michael Jackson, Depeche Mode, Cyndi Lauper, and more. Costumes are a must, and the venue fills quickly ($10 cover before 10 p.m., $15 after 10 p.m.), so don't delay if you want to spend the night partying loud enough to wake the dead.
Tumble for techno music.
Tunes are the treats at Tumbleroot Brewery and Distillery in Santa Fe during the Tech or Treat party ($12) on Saturday night. Beats and grooves by local favorites Spoolius, Bloodroot, DJ Melanie Moore, and Numbtron light up the dance floor. The bash begins at 8 p.m., and costumes are encouraged.