Enjoy all of Halloween's treats without any tricks this year. Photograph by Drew Hays, Unsplash. 
THIS YEAR HAS BEEN A real fright fest, so why should Halloween be any different? The trick this weekend? Deliver the treats (and the screams!) while staying safe. From drive-through celebrations to creepy movie watch parties, New Mexico organizations and communities are finding creative, socially distanced, and virtual ways to celebrate all the things that go bump in the night. 
Cruise for candy.
Trunk-or-treats are drive-through celebrations where the kids can wear their costumes, decorate their cars, and get their candy safely without ever leaving the vehicle. They're happening throughout the state this weekend; here are just a few. 
Halloween Drive-Boo, Edgewood
Hosted by the Edgewood Police Department, this ghoulie parade invites attendees to come in costume and decorate their car for the chance to win prizes. Get pre-packaged goody bags delivered to your window by volunteers in full personal protective equipment. 171-A State Road 344, Edgewood; October 30, 6–8 p.m.
Kymera Drive Thru Trunk or Treat, Roswell
Hosted by Kymera Independent Physicians, a local physician's group that knows the importance of following COVID-safe guidelines. There will be treats for kids and ghoulish trunk decorations. 400 Military Heights Place, Roswell; October 30, 5–7 p.m. 
Trunk-or-treat, Las Cruces
This Halloween event, hosted by the Salvation Army in collaboration with Las Cruces Cruising Council, includes a car show in the Rudy's Bar-B-Que parking lot. See some sweet decorated rides and eat sweet treats. 1020 N. Telshor Blvd., Las Cruces; October 30, 6–8 p.m.
Trunk or Treat, Albuquerque
In its second year, the Albuquerque drive-through event has booths throughout Balloon Fiesta Park for costumed kiddos (and their adult chauffeurs) to get no-contact candy and check out all the other decorations and costumes. The entire route takes around 30 minutes and costs $2 per vehicle. Masks are required. 9401 Balloon Museum Drive NE, Albuquerque; October 31, 3–7 p.m.    
Halloween Drive-thru, Española
Rio Arriba County Substance Treatment Outreach and Prevention Program (RAC-STOP) scares up super-cute candy packages wrapped in pumpkin-adorned bags for this drive-through bash. 1101 Industrial Park Road, Suite A; Española; October 31, 5-8 p.m. 
Halloween Drive-thru Event, Belen
Get your sugar fill at a few different stations—each with its own treats—at this stop-by celebration. Hosted by the Belen Arts District, the event includes spooky role players along the route. 300 N. 6th St., Belen. October 31. 6:30–9 p.m. 
Halloween Drive Through Trick or Treat, Clovis
Pack all your little monsters into the car and head to Main Street for a route of Halloween handoffs throughout Clovis. 8th and Main streets, Clovis; October 31. 3–4 p.m.
Catch some creepy flicks.
Haunted histories, paranormal poltergeists, and murder mansions are the stuff of Halloween films. Watch one, or a marathon of many, bundled up safe and warm on the couch, or venture to a drive-in for some throwback scares.
Nightmare Vision: Indigenous Halloween Film Fest
Presented by Vision Maker Media, this virtual film festival showcases Indigenous filmmakers creating horror, sci-fi, and thriller flicks. The 12 films, which begin on Friday and conclude on Halloween, include themes that resonate with Native audiences, such as missing and murdered Indigenous women, historical trauma, boarding schools, and cultural genocide.
Halloween Bash
Hosted by Meow Wolf, the multimedia extravaganza combines the cult classic Rocky Horror Picture Show on the Motorama drive-in's massive main screen and a stage performance by the Saints Ball drag troupe. "They will do a live shadowcast to the movie," says Stephanie Ortega, event manager at Motorama at the Downs Santa Fe. "It's super cool." 
While Saints Ball performs on a stage brought in especially for the show, a second screen will display the Saints Ball show to the left of the main screen for better viewing. Tickets ($30­–$50) to the Halloween Bash are limited. Gates open at 5 p.m., with the show beginning at 7 p.m. under the blue full moon. 
Create a virtual fright night at home.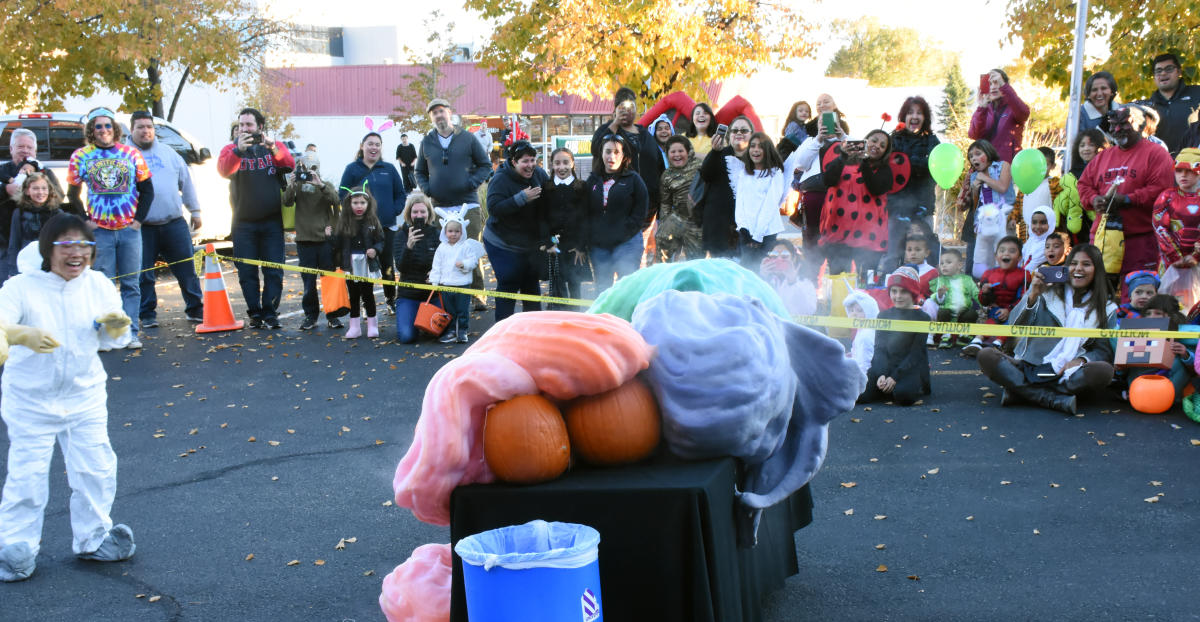 Although the Bradbury Science Museum's High-Tech Halloween will be a virtual event, expect some amazingly colorful scientific fun. Photograph courtesy of the Bradbury Science Museum.
Bradbury Science Museum High-Tech Halloween 
An annual explosion of science and fun, the Bradbury Science Museum's High-Tech Halloween comes to you virtually this year as four Los Alamos National Labs chemists create a real Halloween blast. "Expect a chemical reaction with lots of ooey, gooey, foamy, colorful stuff," says Stacy Baker, Bradbury community outreach specialist. Sign up to get the link for the event, which livestreams Friday at 5:30 p.m.
Virtual Halloween Costume Contest 
The Alamogordo Public Library hosts a costume contest that pits princesses against monsters, and pirates against brujas, in adult, children, pet, and family categories. So get dressed in your creepy duds, snap a photo, and upload it before midnight November 1. People's choice voting runs on the library's Facebook page November 2–5, with the winners announced November 6.  
Monster Mash Dance Party 
The New Mexico Department of Health's TogetherNM campaign wants you to do your best boo-gy and upload the pic or 10-second video. Suggested tunes include "Adam's Groove," by MC Hammer, and, of course, the "Monster Mash" (1980s version) by Sha Na Na. Wear your costume and get down to dance together, distantly. You can also vote in the costume contest (and get some ideas for next year!). Winners will be announced October 31. togethernm.org/halloween/monster-mash-dance-party/
Pick up a Halloween-themed treat.
This one is for the adults who are missing the usual Halloween hullabaloo of costume parties and themed nights at bars. Tractor Brewing Company and Flying Star Cafe have created special beverage-and-sweet-treat pairings that are just what the jack-o'-lantern ordered.
Each combo includes four sweet treats made by the masterful pastry chefs at Flying Star and four 16-ounce ciders or beers from Tractor Brewing. Try an apple-cinnamon-spice muffin with the Delicious Red Hard Apple Cider, pumpkin-spice cookies with Milk Mustachio Stout, or two more combos we will keep secret. 
Available online with Friday-only pickup at Tractor's Nob Hill location, these 50 pairings will disappear quicker than a frightened ghost. 
Prepare your ofrenda for a Día de los Muertos concert. 
Día de los Muertos is a sacred time to hold space for your loved ones who have passed on and honor them with an ofrenda covered in flowers, photographs, and their favorite foods. 
Hosted by the Museum of International Folk Art, Música Buena recognizes the holiday's cultural importance with a virtual concert by Las Floras del Valle. The Albuquerque dueto of Carol Vigil and Leila Flores-Dueñas sing traditional songs reminiscent of the many hermanas duos that became famous in the 1960s. They'll be joined by musician and cultural anthropologist David F. García. Tune in November 1 at 7 p.m. via the Museum of International Folk Art's Facebook page.