Above: The Burning of Zozobra starts to heat up with an online art show. Illustration by Joshua Gonzales.
Prep for the Burning of Zozobra with art.
When the Santa Fe Kiwanis Club was considering whether it could pull off the burning of Old Man Gloom this year, the easiest question to answer was should they do it at all. "If you ever had a year that was just kind of crazy, it's 2020," says Raymond G. Sandoval, Zozobra event committee chair. "So that was a no-brainer." 
Zozobra is among the most anticipated events of the year in Santa Fe. Happening annually since 1921, the festive night culminates at Fort Marcy Park where the Kiwanis Club burns a 50-foot-puppet filled with worries written on scraps of paper by the community. 
As he groans and moans, the tens of thousands of people in the crowd shout, "Burn him! Burn him!" A cleansing ritual, Zozobra takes whatever ails or troubles you with him when he collapses in a heap of flame and ash. 
While it usually takes three weeks to build the giant marionette, it took four months this year because of social-distancing protocols. The no-crowd event will be televised September 4 at 8 p.m. on KOAT-TV and livestreamed on koat.com. You can still purchase glooms for yourself or others ($1 each) as well Zozo masks and other merchandise.
In addition, the Zozobra Art Show, which has accompanied Zozobra's construction since 2003, can be viewed online through September 6. With more than 150 pieces, the exhibit represent works that include photography, video, and sculpture. "There's a woman who took a Troll doll and redid it as Zozobra" says Sandoval. "There's a gentleman who took an old Big Boy statue and made it into a Zozobra. There are earrings, paintings, and drawings. There is a lot of different stuff."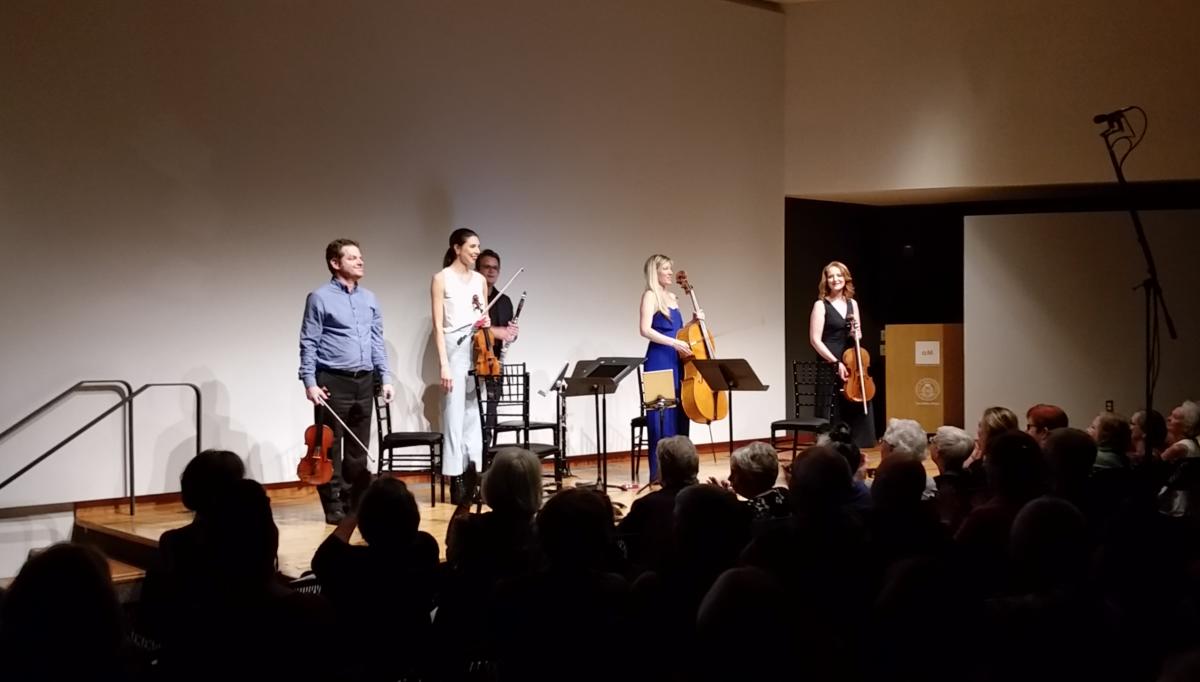 Above: Chatter performs in one of its collaboration concerts with the Albuquerque Museum. Photograph courtesy of Chatter.
Listen to Chatter collaborate with the Albuquerque Museum. 
In non-pandemic times, Chatter performs every Sunday morning at Las Puertas, in Albuquerque, with a casual mix of traditional and contemporary chamber music, poetry, and a two-minute celebration of silence. The Albuquerque ensemble's Sunday afternoon cabarets at intimate locations throughout the city and collaborative concerts inspired by exhibits at the Albuquerque Museum have created a legion of loyal fans. 
While in-person concerts remain canceled for the foreseeable future, Chatter performs virtually Thursday at 6 p.m. in the third of a four-part series responding to museum's Trinity: Reflections on the Bomb exhibit, which includes more than 50 artists' responses to the detonation of the first nuclear weapon at the Trinity Site near Alamogordo on July 16, 1945.
"This is our response to the art," says Chatter Artistic Director David Felberg. "This concert is interesting because it's all percussion instruments—and it is a massive percussion setup." 
The performance features three contemporary pieces, with James Tenney's Pika-Don as the centerpiece. "It is two movements woven around recorded narratives from witnesses to the Trinity explosion and survivors of the Hiroshima attack," says Felberg. While the piece is meant to be heard with drummers positioned throughout a space to create a surround-sound effect, Felberg hopes to virtually replicate the experience as much as possible. 
The other two works, Thunder by Jerod Tate and Qilyaun by John Luther Adams, present similar themes. "Both reflect on the environment," says Felberg. "They are very evocative of nature and the immense power of nature, which nuclear weapons are."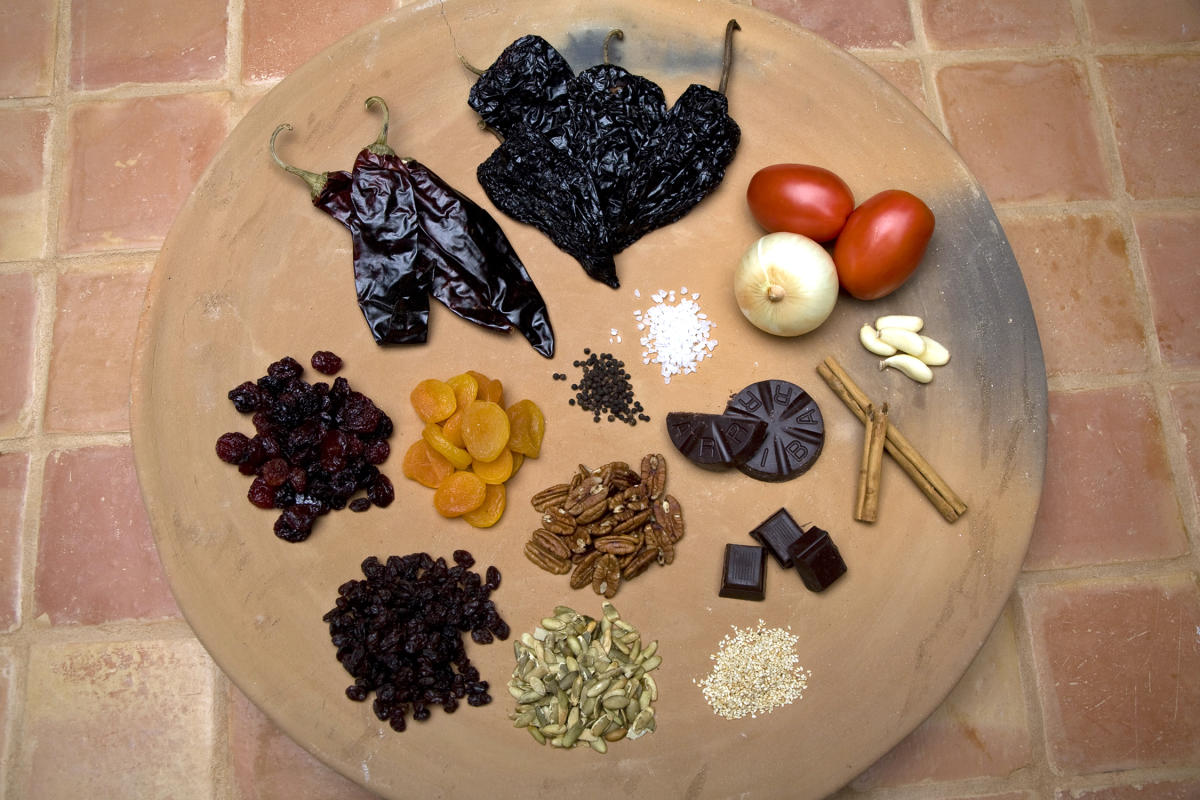 Above: Chef Lois Ellen Frank (Kiowa), discusses the traditions and process of cooking mole while she tells the story of cacao and its journey through the Mesoamerican world. Photograph courtesy of Heritage Inspirations.
Learn about Chaco Canyon and chocolate.
Many of us hold cacao as a sacred treasure. Now, we have science to back that up. Through carbon dating, scientists have learned cacao beans have been used in Chaco Canyon for thousands of years.
If you're interested in knowing more about the historic sacred space or just love chocolate, Cacao, Mole & Chaco Canyon, hosted by Heritage Inspirations, may be just the treat you need. 
"A lot of our passion for Chaco is tied to the cacao," says Angelisa Murray, founder of Heritage Inspirations, which normally hosts day tours and overnight glamping trips through Chaco Canyon. "We are focusing on a unique way people can learn about cacao and Chaco Canyon."
Chef Lois Ellen Frank (Kiowa), a Native food historian with a doctorate in culinary anthropology from the University of New Mexico, will demonstrate the traditions and process of cooking mole while she tells the story of cacao and its journey through the Mesoamerican world. In addition, the one-hour Zoom lecture ($45) will be followed by a 15-minute Q&A and access to a recorded version so you can cook along at your own pace.
"It's fun to infuse the Indigenous ingredients with an understanding of where these foods come from," says Murray. "It is an educational culinary experience that lets people feel like they virtually experience Chaco. When they can visit again, they will have a deeper understanding of that cacao influence."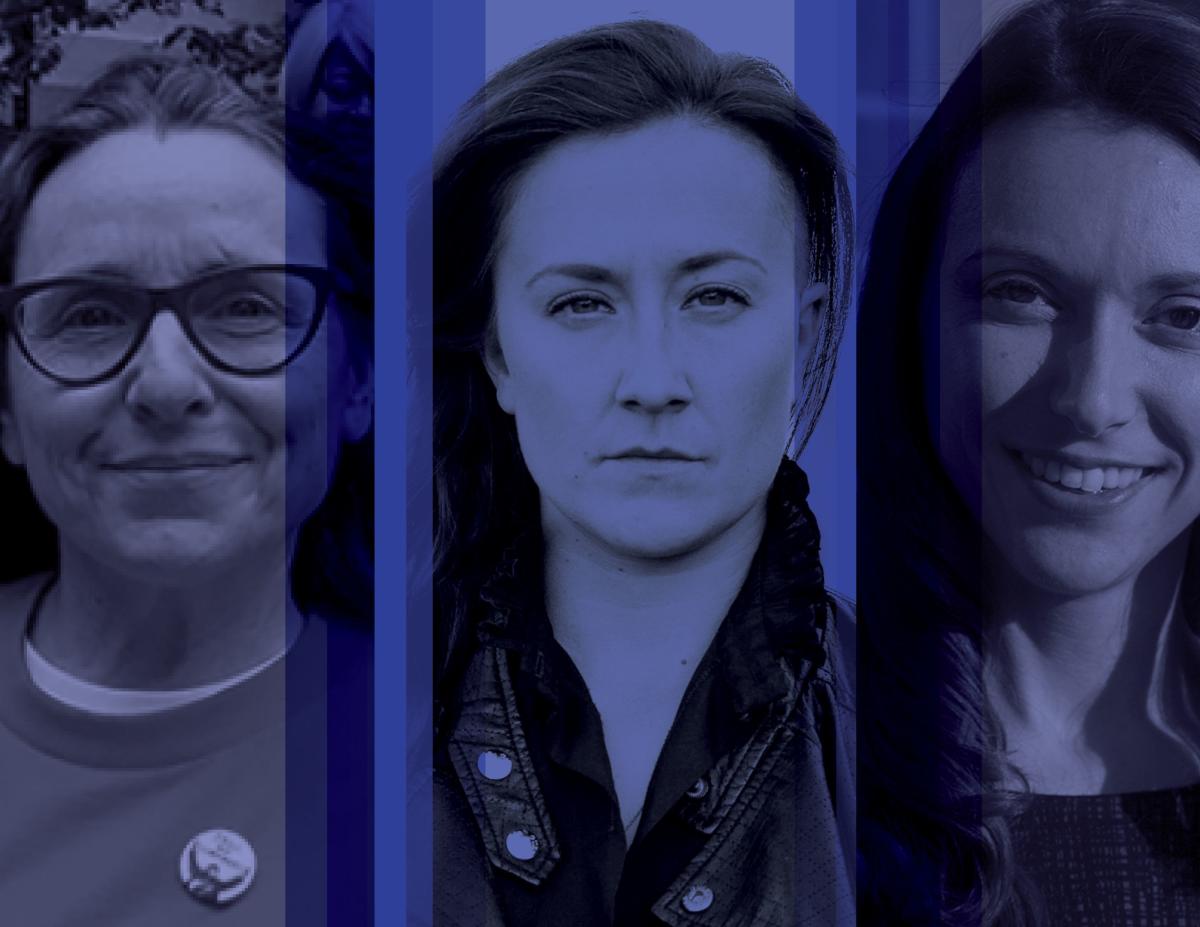 Above: The Santa Fe Art Institute launched the Tilt podcast with an episode that featured alums, from left, Lori Waselchuk, Ann Lewis, and Sara Konrath. Photograph courtesy of Santa Fe Art Institute.
Queue up this new podcast by the Santa Fe Art Institute. 
The team at the Santa Fe Art Institute—an organization celebrating 35 years of supporting artists through residencies, workshops, and public events—had long pondered starting a podcast. Then the pandemic hit. "We asked ourselves, 'If not now, when?'" says Executive Director Jamie Blosser.
The result is Tilt, a podcast that's part of the organization's anti-racism initiative. The program also includes a series of 140-second anti-racism presentations by alumni, an Instagram takeover, and a Zoom lecture titled Unprecedented (Again) by Black alumni. 
"The word 'tilt' signifies both a precarity as well as an altered perspective on how we view the world," says Blosser. "We feel that it exemplifies this moment, and the courage we all need to develop new paradigms and narratives that inspire individual transformation and inform collective action." 
The first episode, titled "Calling In: How White People Can Join the Fight for Racial Justice," features Toni Gentilli, residency director, and three alumni speaking on creative practices within anti-racist work. The second episode features a three-part conversation between Indigenous artist and activist Cannupa Hanska Luger (Mandan, Hidatsa, Arikara, and Lakota), Diné composer and artist Raven Chacon, and Blosser. "The conversation draws upon Raven and Cannupa's experience as Indigenous artists working in opera, the highly collaborative process of creation, their view of monuments and the future of art, and their role as mentors and role models," says Blosser. 
The team expects to release new episodes after Labor Day and into the fall. "Our goal in these podcasts is to portray the beautiful complexity of our humanity together and the brilliant minds of socially engaged artists as they rigorously dismantle overly simplified binary systems," she says. "We don't live in a world of right or wrong, black or white, male or female, and it is not how we build a healthy society together. I feel incredible joy in listening to the ways in which artists and creative practitioners pull at these threads and help us to imagine new possibilities."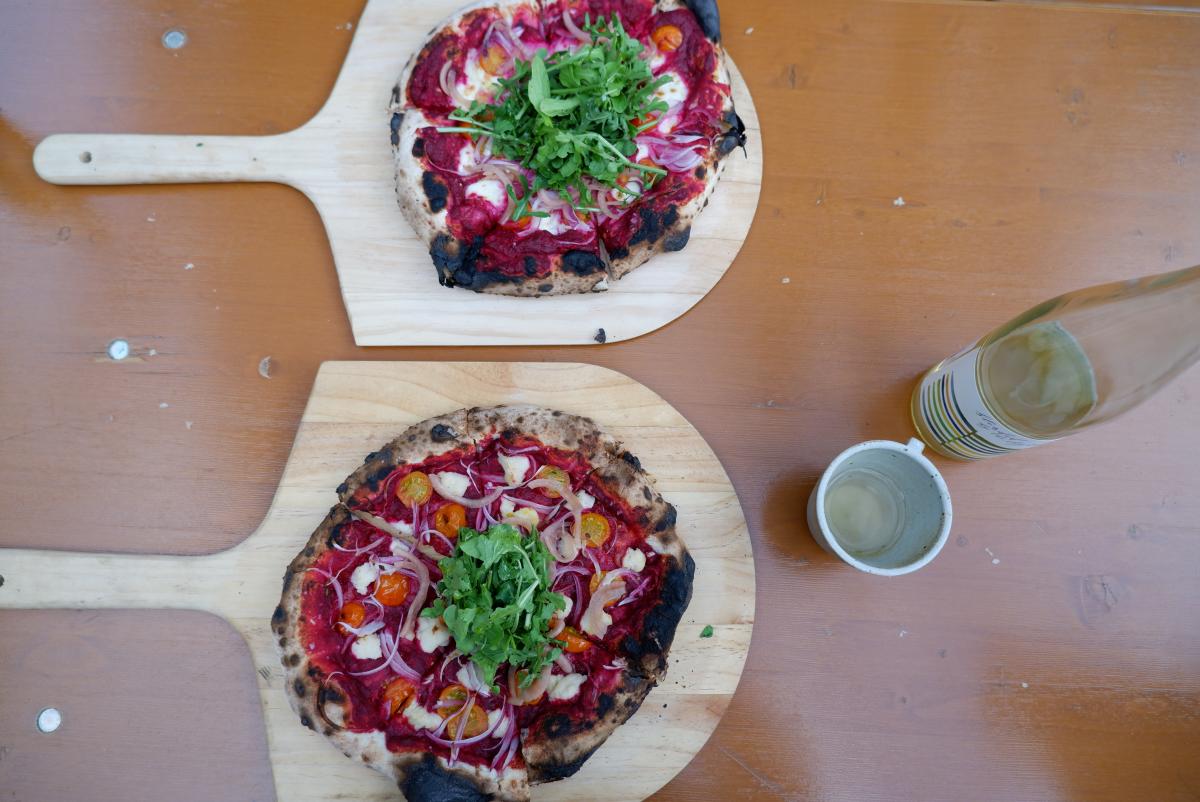 Above: Tender Fire Kitchen in Santa Fe crafts its sourdough pizzas with fresh local ingredients such as tomatoes, garden herbs, red onions, and arugula. Photograph courtesy of Tender Fire Kitchen.
Pre-order Tender Fire Kitchen sourdough pizza. 
Benjamin Crosky, owner and pizza chef at Tender Fire Kitchen in Santa Fe, has been into sourdough since last fall, months before the rest of us suddenly took to making starters and baking loaves at the start of quarantine. "I had a couple of experiences sharing bread with people that just felt so simple, so sweet," Crosky says. "It fed my growing desire to have a craft." 
Fueled by a desire for sourdough pizza, his affinity for crafting bread, and a few good interactions, Crosky opened his mobile pizza truck in April.
Tender Fire Kitchen's pizzas are topped with fresh tomatoes, garden herbs, red onions, arugula, and hot honey that Crosky sources from local farms and the Santa Fe Farmers' Market. "Supporting the local farming community is essential to both having access to the best tasting and healthiest ingredients possible, but also supporting a critical player in the conservation and regeneration of soil," he says. 
The sourdough used for crusts rises for 48 to 72 hours before spending between 60 and 70 seconds in the 800-degree pizza oven. Crosky suggests you try the Margherita, one of their regular pies, or go with a seasonal choice like the Freshie made with Freshie's Farm cantaloupe, serrano ham, mozzarella, fontina, and market herbs. 
With vegan and gluten-free options, no one is left out of pizza night. Crosky even has big plans to offer at-home movie nights and farm feasts post COVID-19. Pre-order online before heading to pick up this weekend or take your chances and by stopping in person Thursday–Sunday at El Rey Court, where Tender Fire sometimes has dough left for walk-up orders.