Poet John Biscello reads from his new book Moonlight on Mercy Street as part of SOMOS Taos' online reading series. Photograph courtesy of John Biscello.
Meditations on the Moon.
Anchored by his desk, pen, notebooks and laptop, poet John Biscello dove into his at-home writing routine in 2020. The endeavor culminated in his newest book, Moonlight on Mercy Street, and on Sunday at 4 p.m., he reads selections to kick off the 2021 online readings from SOMOS Taos.
The book's title had nocturnal inspiration. "There was a great sense of moonlight, or moonshine, of the mysterious allure and power of the moon that I felt was a central part of the collection," Biscello says. "I thought the title was going to be The Moon Also Rises—a remixing of the title of Hemingway's novel The Sun Also Rises—but then Moonglow on Mercy Street snuck in the backdoor and felt right. I loved that Mercy Street was a play written by Anne Sexton, and "Mercy, Mercy Me," the wonderful Marvin Gaye tune, felt like it was a part of it too, and that got me thinking how more than ever, Marvin Gaye's musical petitions were needed in the world we're living in."
Poems inspired by Jack Kerouac and Anaïs Nin join mythological musings and performance-based pieces. "The unifying threads between all the poems are those of grace, hope, and connectivity," he says.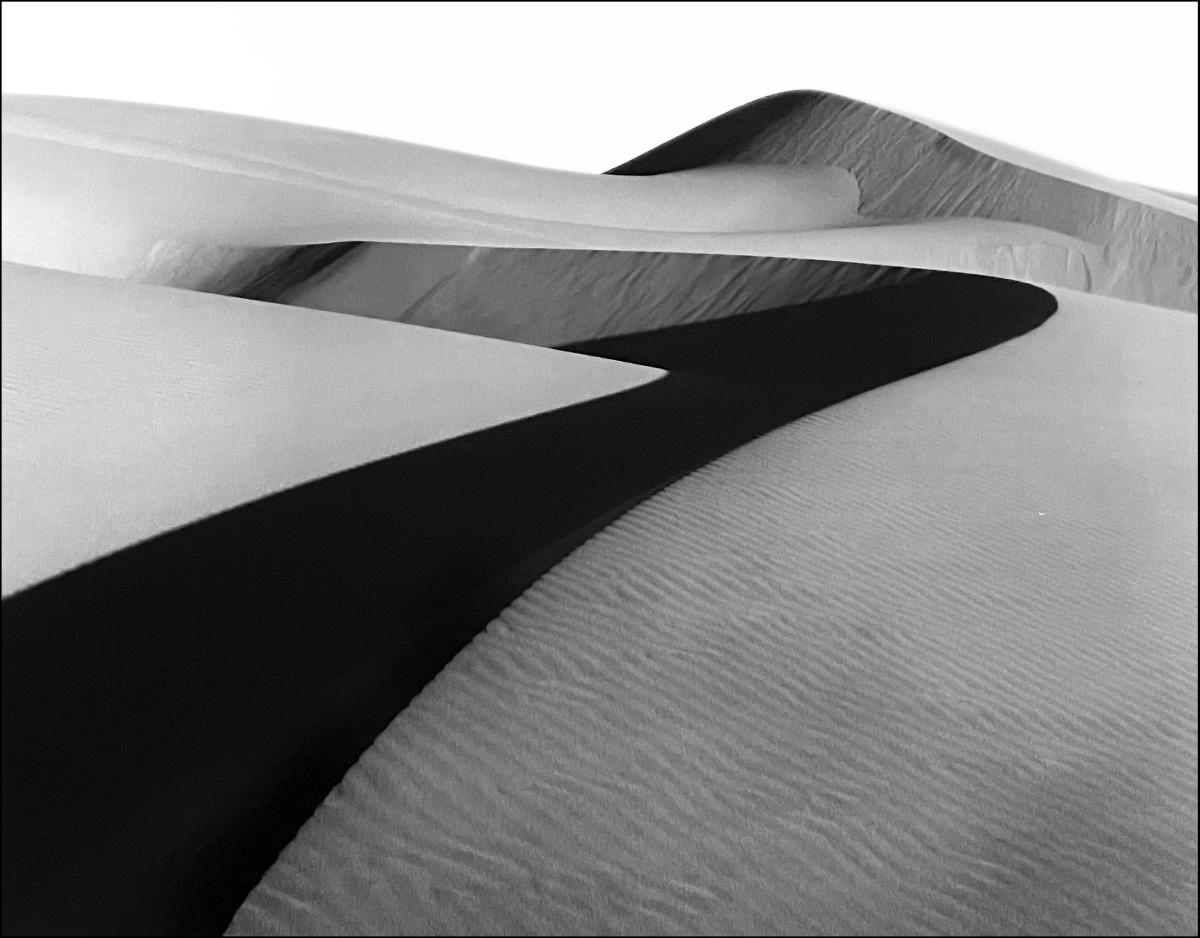 Twenty-five of Kurt Markus's images, shot over six years in Nambia, make up a new exhibit at Obscura Gallery in Santa Fe. Photograph courtesy of Obscura Gallery.
Get Lost in the Dunes.
Experience the vast sand dunes in Namibia, Africa, through the eyes of photographer Kurt Markus in a virtual exhibit at Obscura Gallery in Santa Fe, Kurt Markus: Dunes, Namibia. The show includes 25 black-and-white silver gelatin prints made been 2002 and 2008, plus one large archival ink work.
"Kurt is a photographer's photographer, meaning he has the patience to wait for just the right light to approach its subject and fall ever so perfectly for his frame," says Jennifer Schlesinger, owner and director at Obscura. "This waiting can take hours and Kurt finds an almost spiritual meditation in the passing of time. The result are stunning depictions of shape, form, sometimes abstract, sometimes more literal interpretations of the landscape."
The show opens Friday and will live on Obscura's website indefinitely. "The intention with this show was to kickstart the New Year 2021 by focusing on beauty and the eloquence of nature which can sometimes be healing in and of itself."
Visualize Your Year.
Set your intentions for 2021 with Angel Herrera, owner of Amethyst Horizon Crafts New Mexico, who teaches a Vision Board making class Sunday at 2 p.m. "A vision board is a way to visualize your goals for the entire year," she says. "Some of what I include are things I may want to overcome, like being too much in my head or overthinking. Also, goals and plans, and inspiring colors and words."   
Herrera made her first vision board with friends who invited her to a collage-making party in 2019. She made a huge collage that she spent weeks working on. "It was a therapeutic thing, I was able to examine my thoughts and where they were coming from. You take a deep look at what you want to keep and what you want to get rid of."
A list of what you need to participate: A small posterboard or cardstock, glue stick, magazines, scissors, (optional) Modge Podge to seal it all when you're done.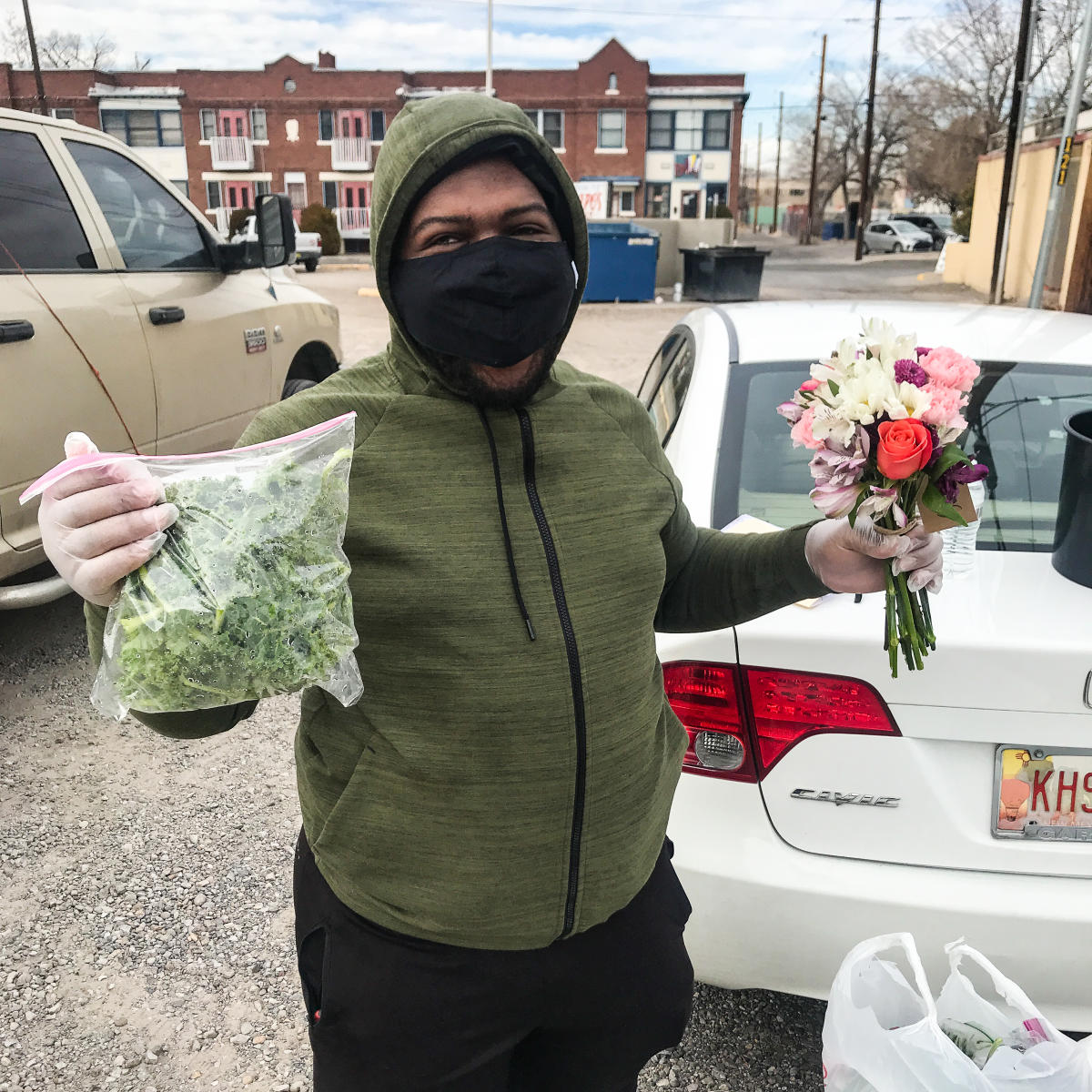 About 20 vendors are participating in the winter edition of Albuquerque Downtown Growers' Market's Farm to Car program. Photograph courtesy of Albuquerque Downtown Growers' Market.
Eat Fresh. Shop Local.
Shop the Albuquerque Downtown Growers' Market from home this week, and every week through the beginning of April, where you can order online and pick up curbside every Saturday as part of Farm to Car, Winter Edition. "There are about 20 of our vendors on the site," says market manager Danielle Schlobohm. "You can shop each of the vendor's online stores during the week. It's a great way to access local food and support local business."
Beef, produce, freshly baked goods, jerky, prepared foods, artisan goods, and body-care products are among the choices. Expect more in the next few weeks as more food ripens. The deadline to order is Thursday at 11:59 p.m., so order ahead for next week if you've missed the deadline.
Make a Crafty Friend.
Joshua Whitman, experiential learning coordinator at the Octavia Fellin Public Library, in Gallup, hosts the first Virtual Crafts Hangout this Saturday at 1 p.m. Unlike other craft events that teach a specific lesson, this is more about hanging out, sharing projects, and meeting like-minded crafters. "It's a time to exchange stories, recipes, and craft ideas," Whitman says. "If you're already working on something, like a scarf, you can share it and get feedback." Whitman has another hang planned for February 13.