José Guadalupe Posada's El Gran Fandago is among the works on display at the Albuquerque Museum's exhibit. Photograph courtesy of the Albuquerque Museum.
Experience the Art of the Mexican Revolution. 
As part of the Albuquerque Museum's ongoing exhibit José Guadalupe Posada: Legendary Printmaker of Mexico, Josie Lopez, curator of art, discusses the life and legacy of the Mexican artist, printmaker and social commentator in a virtual lecture Sunday at 2 p.m.
Posada's artwork became a vehicle of expression during the Mexican Revolution in 1910 when he illustrated newspapers, books, political cartoons, games, and posters, creating a visual language that represented the vitality of Mexico City. His illustrations made the calavera (a skeleton character) a symbol of Mexican culture and influenced artists like Frida Kahlo and Diego Rivera. 
"He captured the imagination of Mexico City, and the vitality and the culture of Mexico," says Lopez. The exhibit runs through May 23.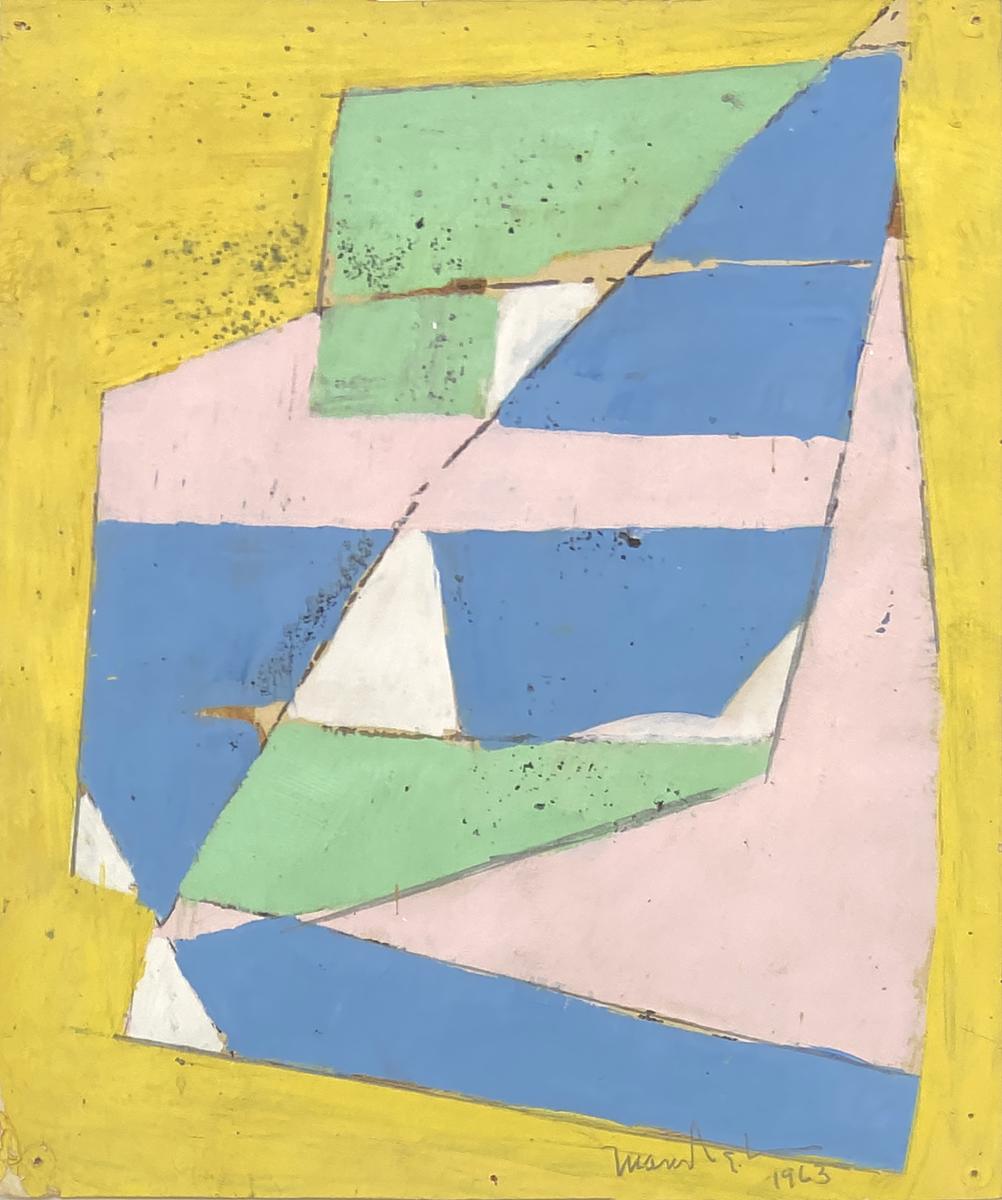 Beatrice Mandelman's "Untitled" is among a collection of her collages on display at 203 Fine Art in Taos. Photograph courtesy of 203 Fine Art.
Add a Pop of Color. 
Brighten the weekend with a prism of colorful modern art by Beatrice Mandelman at 203 Fine Art in Taos. Born in 1912, Mandelman was a bona-fide artist from the age of 12 when she started her formal studies at the Newark School of Fine and Industrial Art. Active in the bustling New York art scene during her years at Rutgers University, she bumped elbows with icons like Jackson Pollock and Mark Rothko. In 1944, she moved to Taos with her husband, painter Louis Ribak, becoming known as one of the Taos Modernists and creating prints, paintings, and collages. 
The nature and culture of Taos enchanted her. "The light, the Indigenous people, and the unbelievable subject matter influenced her, even in abstract form," says 203 Fine Art co-founder Eric Andrews. The exhibit, which can be viewed online, features work from throughout Mandelman's career, including Andrews's favorite, Space Series No. 8.  
Laugh It Out. 
Resolved to laugh more this year? Sign up for the eight-week Improv for Everyone course at Improv Santa Fe. The entire thing happens online and welcomes students of all abilities on Sundays at 2 p.m. (Registration closes Saturday, January 9.) 
"This is a class designed for folks who want to have fun, laugh, and perhaps address their own need for personal sustenance and growth, a break from dealing with the constant barrage of what's happening in the world at large," says Executive Director Kita Mehaffy. "The games we'll play are simple, requiring only that you be present for the group and open to your own creative inclinations, letting that creativity take center stage with absolutely no pressure to be funny. You get to be perfectly you!"
Thank God It's Friday
Harpsichordist Michael Brazile performs Gallot, Chambonnières, and Couperin as part of the weekly TGIF concerts hosted by the First Presbyterian Church in Santa Fe. The longstanding tradition of small Friday concerts continues as 10-minute prerecorded performances on the series' YouTube page, where you will find a plethora of previous TGIF concerts, too.
Take Deep Breaths. 
Set some time aside Sunday morning to move your body with Christa Tyson, who teaches a one-hour Vinyasa flow class. Hosted by the PEEC in Los Alamos, you can catch the class at 10 a.m. on Zoom. Tyson, a teacher for nearly 20 years, leads a class accessible to all levels. With a background in therapeutic yoga, her practice is sure to rejuvenate.