Above: An Otomi textile by Mexican artist Julio Laja Chichicaxtle, measuring 68-by-72 inches, is among the works available at the International Folk Art Market's One World Gala and Auction. Photograph courtesy of the International Folk Art Market.
Attend the 2020 International Folk Art Market virtual gala and auction. 
The International Folk Art Market is the stuff of summer dreams. Artists and collectors from around the world bring bustling energy and excitement. The market is awash in color and a cacophony of languages. It's party adorned with marigold chains, plus food and music.  
While the market is not happening this year as the world pauses to combat the spread of COVID-19, a virtual experience is taking place to support the organization that makes all of this possible. The works in the auction were donated from private collections or purchased from first-time artists at full price using funds from the IFAM Artist Opportunity Funds. The proceeds will support the International Folk Art Market. 
The One World Gala and Auction opens Friday at 7 p.m. with video commentary from artists all around the globe and special guests. Actress Ali MacGraw hosts the evening, with a musical performance by honorary chair and Grammy Award winning musician Lila Downs. Bidding, which opened Wednesday, closes at 9:30 p.m. tonight.
Items can be previewed online in a catalogue, which lists detailed info, including dimensions, mediums, and stories about the artists. Choose from colorful Oaxacan weavings, patterned Rwandan baskets, golden Pakistani brass plates, bright Cuban paintings, and more. Don't forget to register beforehand and remember never to take the real thing for granted again. 
See Lakota John in concert. 
When a young person is interested in blues or roots music, they often get the label of an "old soul." But it actually may be apt for Lakota John (Oglala Lakota/Lumbee).  
The Americana/folk/roots musician first picked up a harmonica at six and a guitar not long after. He dug through his father's music collection before wanting to know who had influenced Lynyrd Skynyrd, the Allman Brothers, and other artists he found there. 
It's led the 23-year-old Pembroke, North Carolina, native on a musical journey that included hitting the road with his family's band before he was a teenager and the release of his first album in 2009. On Friday at 6 p.m., the left-handed guitarist continues the IndigenousWays Concert Series with a one-hour set from his North Carolina home. 
"It's definitely different for me, most of what I do is on the road," he says. "I really feed off an audience and I would prefer that, but given the circumstances, there aren't many options. This is great, and I really appreciate the opportunity." 
A women-led organization based in northern New Mexico, IndigenousWays supports Indigenous, LGBTQ+, and diverse communities through events, educational programs, concerts, and outreach.  
Like the best of us, John is a Bob Dylan fan and promises to play Don't Think Twice on Friday. "Something I admire about Bob Dylan is his lyrics," he says. "He isn't the best singer or best player, he isn't fast, but he doesn't have to be. His lyrics speak for everything."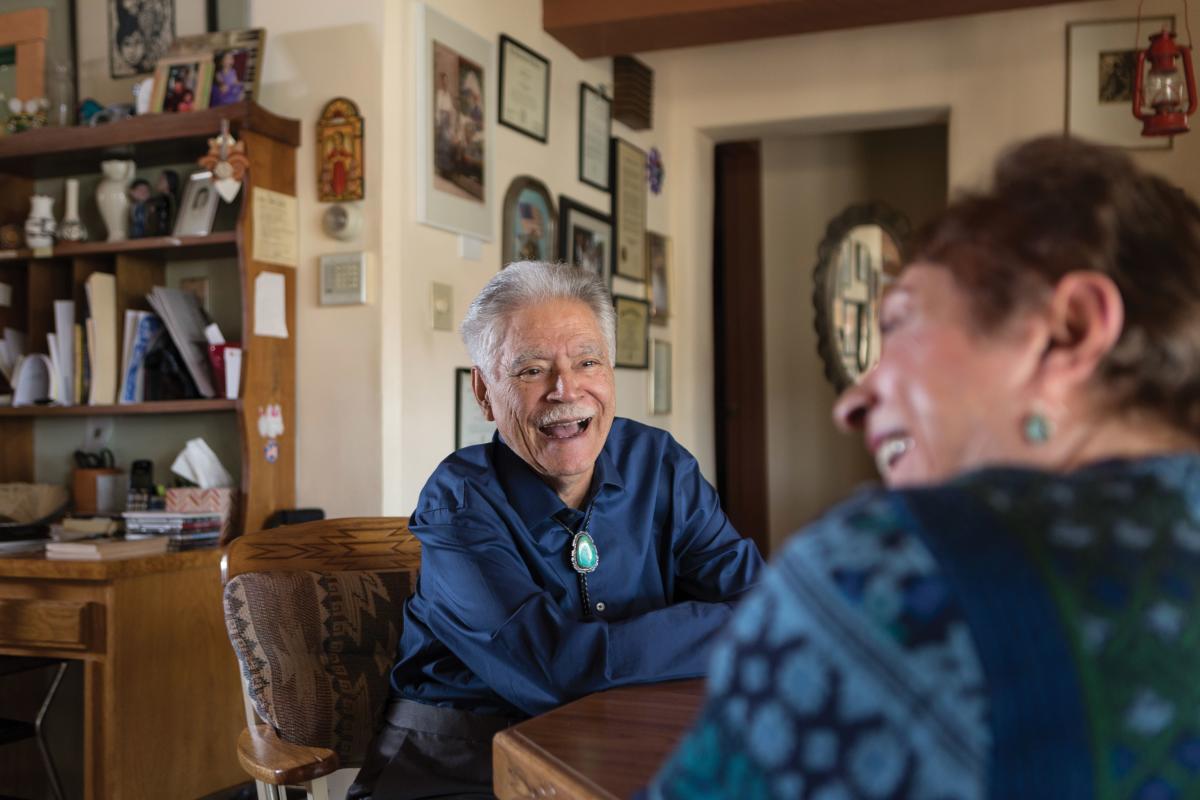 Above: The Silver City Museum will honor Rudolfo Anaya, who recently passed away, by reading his book How Chile Came to New Mexico for its Sunday story time. Photograph by Steven St. John.
Snuggle up for Rudolfo Anaya story time. 
Grab your favorite blanket and the best corner of the couch. Every other Sunday during the COVID-19 pandemic, the Silver City Museum hosts virtual bilingual story time. The one-hour live reading is recorded from a studio inside the museum and features a different New Mexico-related book read in both Spanish and English by members of the community. 
This week's reading showcases How Chile Came to New Mexico, by Rudolfo Anaya, the acclaimed New Mexican writer who passed away in late June. Read in Spanish by local Mariachi singer Angelica Padilla and in English by fiddling duo Jeanie McLerie and Ken Keppeler (aka Bayou Seco), the storytime begins at 7 p.m. 
"It's a great opportunity for children to learn both Spanish and English words and see a story from both sides," says museum educator Erin Griffith. "Everything is focused on the culture of this area, and it's very comforting in that aspect. Kids from the Southwest get to hear and see familiar faces from the community." 
Don't worry if you can't catch the live-streamed reading. Story time is recorded and posted later on the museum's YouTube channel. You can register ahead of time and receive a reminder about the event about an hour before it starts. 
See Music in the Park from home.  
Since 1994, Music in the Park has brought live performances by regional musicians to enliven summer evenings in Las Cruces. Around 70 percent of the performances are by Las Cruces–based performers, giving the musical community a chance to shine.     
This year, it goes virtual. Performances are recorded on the Music in the Park stage with lights and professional sound. The camera is front and center, so you get the best view in the house without leaving your couch.  
Footprints, a Las Cruces jazz quartet that includes Pancho Romero, professor of music at New Mexico State University, kicks off Jazz Week on Friday at 7 p.m.       
Tune in to the music and let go of everything else.    
Get artsy with the kids.  
Sunday morning is a sweet time to take it slow and spend quality time hanging with the people we love. This week, you can make it extra special with an art project led by the Museum of International Folk Art, in Santa Fe.  
Sign up for the "My Favorite Animal" class and pick up your grab-and-go art kit from the museum ahead of time, then follow along with a  Zoom program that will demonstrate every step in the process.  
Kits are limited, so sign up as soon as you can. The class starts at 10 a.m. Sunday; find more info and the link to register here.