Above: The night skies at Cosmic Campground International Dark Sky Sanctuary is the first International Dark Sky Sanctuary located in the National Forest System. Photograph by Dale Murray.
Find the time to take a deep breath. 
For Darley Newman, stargazing in the Gila National Forest is rivaled only by the dark skies in one other place: Botswana, Africa. "That shows you how neat it is to be able to find a place where you don't have the obstruction of city lights, or even suburban lights," says Newman,  the creator, producer and host of PBS's Emmy-winning TV shows Travels with Darley and Equitrekking.
Newman filmed an episode of her digital series National Forests Virtual Field Trips during the stargazing trip with astronomer friends Al and Annie Grauer. "I wish I could have stayed there for days and days," she says. "It gives you a different perspective on yourself and life and how big the universe is."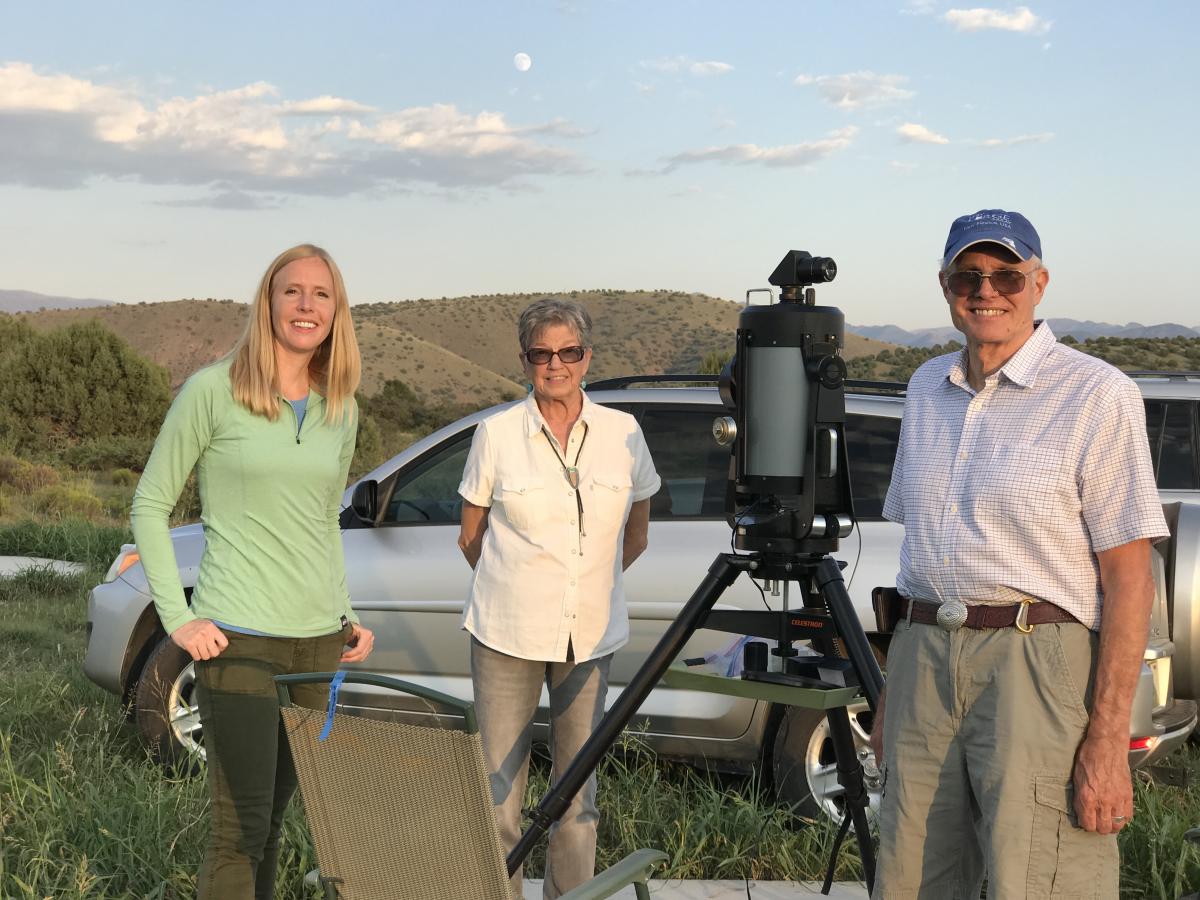 Above: Darley Newman, of PBS's Travels with Darley, visited Gila National Forest with Annie and Al Grauer for an episode of her digital National Forests Virtual Field Trips series. Photograph courtesy of Darley Newman.
That also means taking a hard look at the beauty and resources all around you and taking care of them as you enjoy the outdoors by planning ahead and leaving nothing behind. So Newman has created a #RecreateResponsibly series covering all the bases. "My advice is to really look at where you are going," she says. "Try not to go to places that are too crowded, minimize your stops along the way. Pick a place where you can social distance and respect other people and the environment."
Getting out there is worth the time and effort, she says. "It's so good to clear your mind," Newman says. "You think more clearly and better after you have spent time in nature. Find the time to take a deep breath, and be out in nature, you feel so much more connected to yourself and to earth when you do that."
If you need a little inspiration first, or want to be extra cautious, you can visit the forest through one of Newman's virtual trips.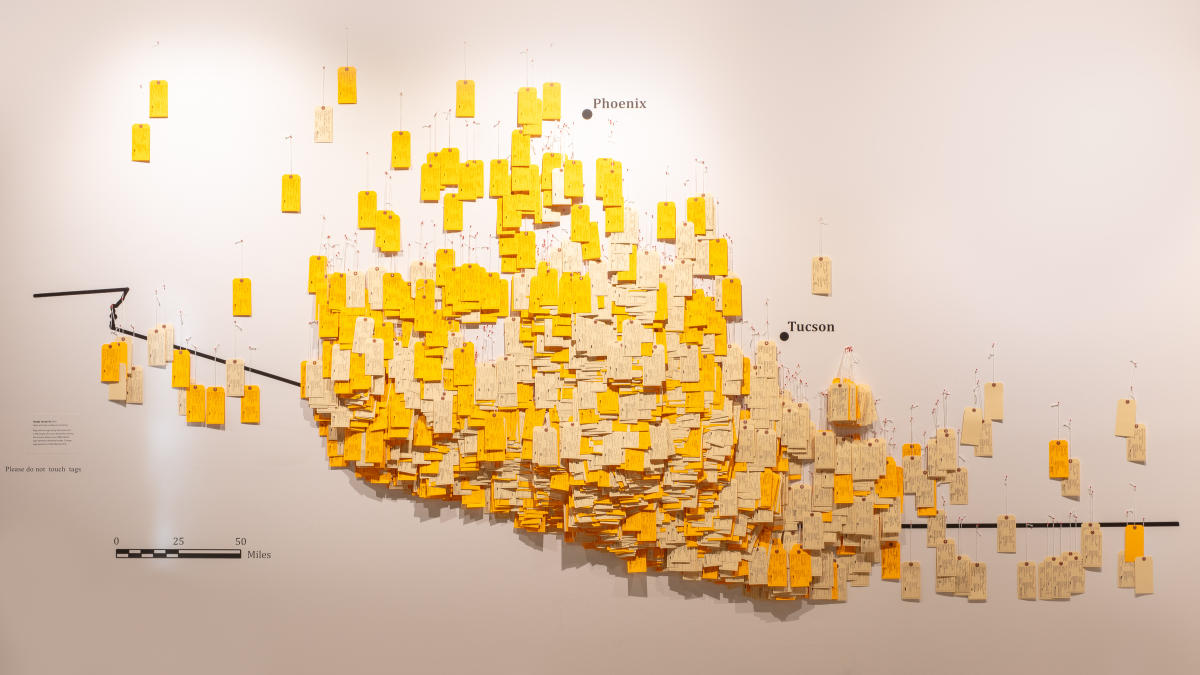 Above: Hostile Terrain 94, which opens Friday, includes approximately 3,200 handwritten toe tags representing people who died crossing the Sonoran Desert between the mid-1990s and 2019. Photograph by Michael Wells.
See the debut of Hostile Terrain 94. 
Manila and tangerine tags hang in waves on a wall-size map of southern Arizona. Close to the thick black line that jags through the Sonoran Desert marking the border between the United States and Mexico, the paper tags layer 20 deep, creating a weight that you can feel in your gut. Elsewhere, like over the dot that represents Tucson, a single tag dangles from a red pin—alone.
Each of the approximately 3,200 toe tags in the Hostile Terrain 94 exhibit represents a person who died in the desert trying to cross the border from the mid-1990s to 2019. The brainchild of anthropologist and archaeologist Jason de León and his nonprofit Undocumented Migration Project, the artwork is part of Beyond Borders, a collaboration between the School for Advanced Research, SITE Santa Fe, and the Center for Contemporary Arts. Opening virtually Friday at 5 p.m., the project looks deeply into the migrant refugee crisis through art and social science.
"How do you humanize this number?" asks Meredith Schweitzer, School for Advanced Research director of public programs and communications. "How do you put faces and meaning to lives that are lost where there is very little data on those lives?" 
Handwritten by members of the Santa Fe community, including students from New Mexico School for the Arts, each manilla tag lists an individual's name, age, sex, where they were found, the condition of their body, and the cause of death. Tangerine tags represent people who have yet to be identified.
"From a distance you see this vast sea of orange and yellow tags, and it's like, 'Wow, that's what 3,200 looks like,'" says Schweitzer. "Then you get up close, and the individuals start to reveal themselves in this really powerful way."
The opening kicks off with a time-lapse video of the exhibit's installation and includes a presentation by León, who delves into his project, including sharing images of baseball caps, backpacks and other personal items left in the borderlands.  In addition, kits with tags and information have been sent to 150 communities around the world to recreate this participatory exhibit in their own cities.  
Party like it's in person.  
"The arts are a crucial part of our human experience," says Chad Hilligus, executive artistic director at Performance Santa Fe. "Right now, the world is hungry for that and hurting without access to live performance." 
Performance Santa Fe, which has presented live music, theater, and dance since 1937, hopes to ease some of that distress with An Evening of Stars, a virtual fundraiser and gala on Saturday at 6 p.m. "People can expect live, from-home exclusive performances from more than a dozen of the biggest names in Performance Santa Fe history," says Hilligus.  
The lineup includes bel canto singer Lisette Oropesa, Grammy-winning violinist Gil Shaham, jazz trombonist Delfeayo Marsalis, Grammy-winning singer Isabel Leonard and more. The performances are free, but as the arts organization's largest fundraising event, donations are encouraged.  
In addition, all the performances will be available for two weeks after the premiere for anyone who might have missed the gala. "Supporting the sustainability of organizations like Performance Santa Fe is crucial so we can be prepared and excited to come back as soon as the time is right," says Hilligus. 
Participate in the #RemoteRangerProject at White Sands.  
The rangers at White Sands National Park have a creative solution for keeping visitors engaged with their park. The #RemoteRangerProject, a series of activities you can do at home with everyday items, teaches participants about White Sands.  
"The process was really organic," says Robin Milne, lead park ranger. "We couldn't lead programs at the park, so the next best option was to share our knowledge and help people experience and learn about White Sands at home."   
One activity invites you to make your own sand dune with salt; another demonstrates the ways winds affect the dunes. White Sands' rangers invite you to snap a photo of your projects and post them with the #RemoteRangerProject, so they can see what you're up to.  
The park also kicks off National Moth Week and a virtual version of its popular MothaPalooza event on Saturday with a podcast featuring White Sands' moth expert Eric Metzler and a week of activities about the winged creatures on its Facebook page.  
A history lesson with a virtual trip to southern New Mexico.  
New Mexico Historic Sites has a new video series hosted by instructional coordinator Alexandra McKinney, who takes viewers to historic places in southern New Mexico to tell interesting stories on the sites where they happened.   
Her first video explores the historic Mesilla Plaza, where a violent battle took place in 1871. The 10-minute video is interspersed with quotes from historical texts and shots of the scenic plaza under New Mexico's signature blue skies. "The riot is considered one of the bloodiest days in Territorial New Mexico history," she explains. Nine people died and at least 35 were injured in the fighting, which led to the breakup of the community as some 500 residents, including the parish priest, returned to Mexico. (And that's just the beginning of the story.) 
McKinney is informative and easy to listen to, making the whole thing a little escape. New videos are posted on Mondays as a part of the New Mexico Historic Sites Virtual Summer Camp.