Rhiannon Skye Tafoya's Time With You and You is among the works in her first solo exhibit at Hecho a Mano in Santa Fe. Courtesy of Hecho a Mano.
Weave some magic.
"Kanosdaya was a name given to my son," says artist Rhiannon Skye Tafoya (Eastern Band Cherokee/Santa Clara Pueblo). "It means 'strong arm' in the Cherokee language. He has really lived up to it—he throws everything with his left arm."
Tafoya unveils her first solo exhibit, titled Kanosdaya in honor of her 18-month-old son, Friday at Hecho a Mano on Santa Fe's Canyon Road (through August 23). Featuring nine examples of her woven paper and textiles—a contemporary take on traditional basketry—the pieces include screen-prints and handmade papers.
"When I first started, I was weaving with paper," she says. "But after my son was born, I was creating digital designs while I was breastfeeding or holding him during his naps. A lot of my work is based on my connection to landscape as well as my lived experiences. But I want to show my son that he is present in it, too."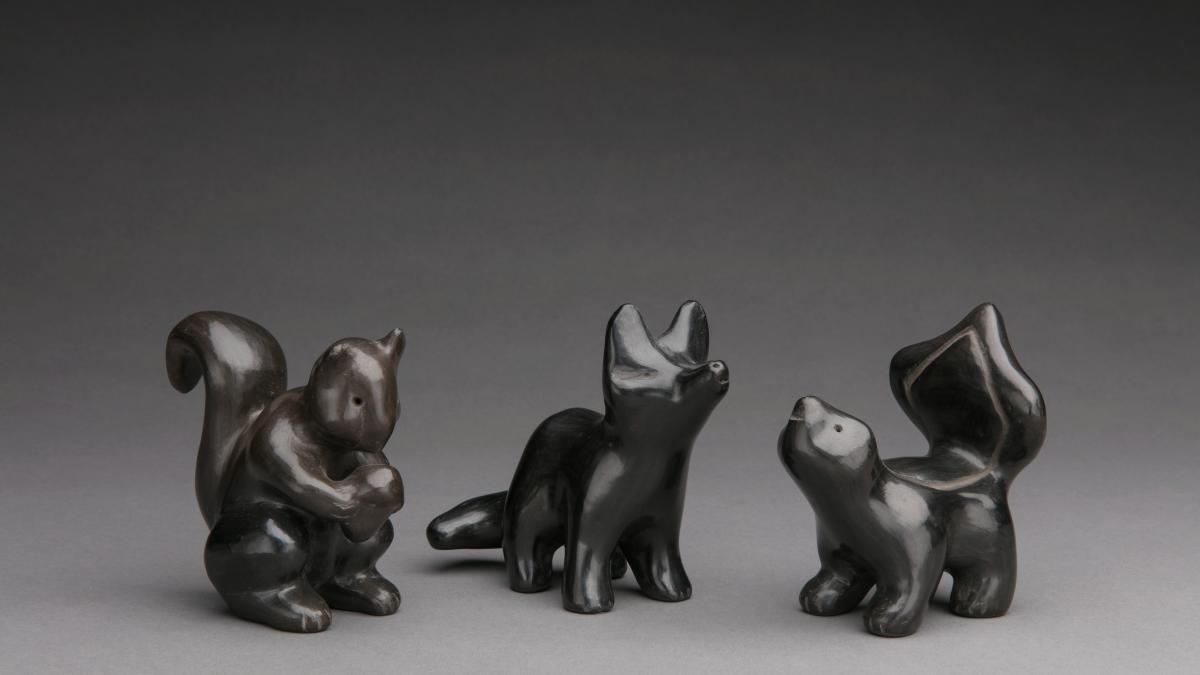 Angela Tafoya Baca's works in clay are among those on display in Conversations: Artworks in Dialogue at the Roswell Museum and Art Center. Photograph courtesy of the Wheelwright Museum of the American Indian.
Share a secret.
During his years in Santa Fe, Daniel E. Prall quietly collected Native American art. He displayed some of it in his home, but much more of it was hidden in closets and under beds. Even his closest friends had no idea of the collection's extent until his 2017 death, when the treasures were split between two Santa Fe institutions for which he had been both a volunteer and a supporter—the Wheelwright Museum and the Museum of International Folk Art.
In July, the Roswell Museum and Art Center opened Conversations: Artworks in Dialogue, featuring some of the most amazing finds, on loan from the Wheelwright through November 23.  The exhibit includes pottery, paintings, drawings, and sculpture created between 1960 and 2017 by such luminaries as Allan Houser (Chiricahua Apache), Dan and Arlo Namingha (Hopi/Tewa), Margarete Bagshaw (Santa Clara Pueblo), and Diego Romero (Cochiti Pueblo). A highlight of the exhibit is the glimpse into the friendships Prall developed, revealed through handwritten notes on the backs of his catalogue cards about conversations and meals with the artists.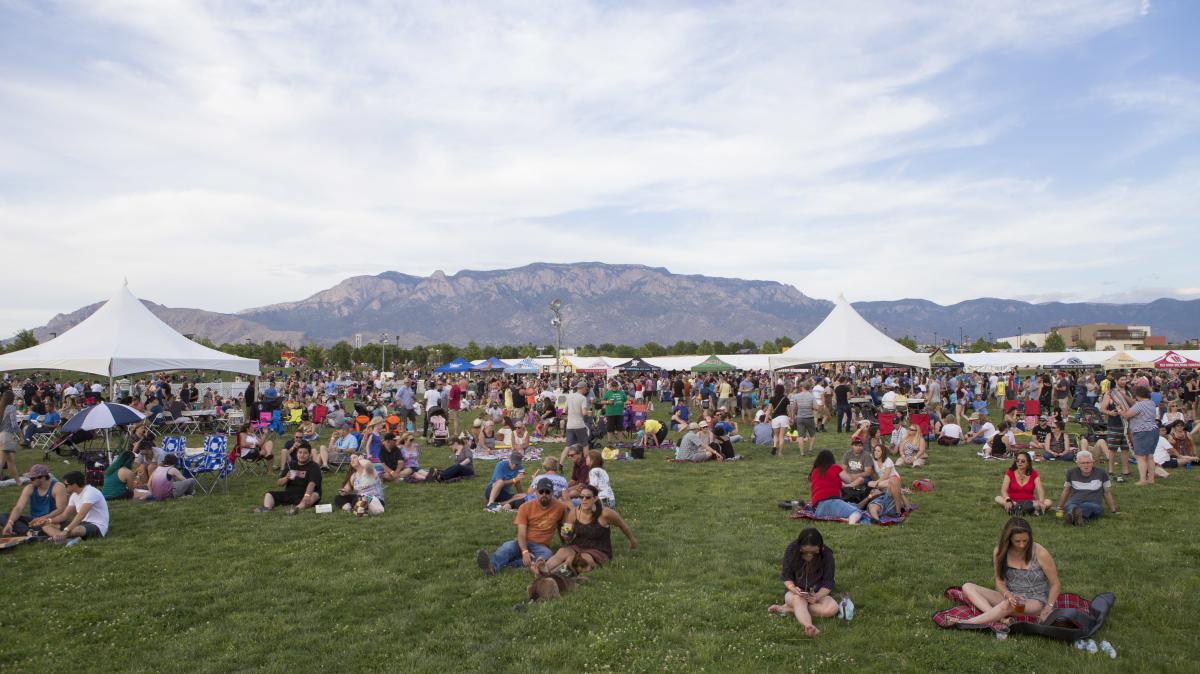 With two stages and plenty of great music, the ABQ Summerfest is the place to be. Photograph courtesy of Eric Williams.
Park it here.
After last year's hiatus, ABQ Summerfest is ready to rock. The series of free, park-based events bursts into action Saturday at North Domingo Park. Son Como Son, the Memphis P. Tails, and other bands perform on two stages, starting at 5 p.m. Hang out in the microbrew beer garden, hit the flotilla of food trucks, tuck the kids into a bouncy house, or claim some space for a blanket and cooler.  
"This park is a perfect place for a family picnic," says Bree Ortiz, community events division manager. "Enjoy the evening on the grass while you groove to local bands."
Even the pups are welcome, as long as they're kept on leash. Leave the glass bottles and alcohol at home. Find more details—and pencil in upcoming events—by clicking here.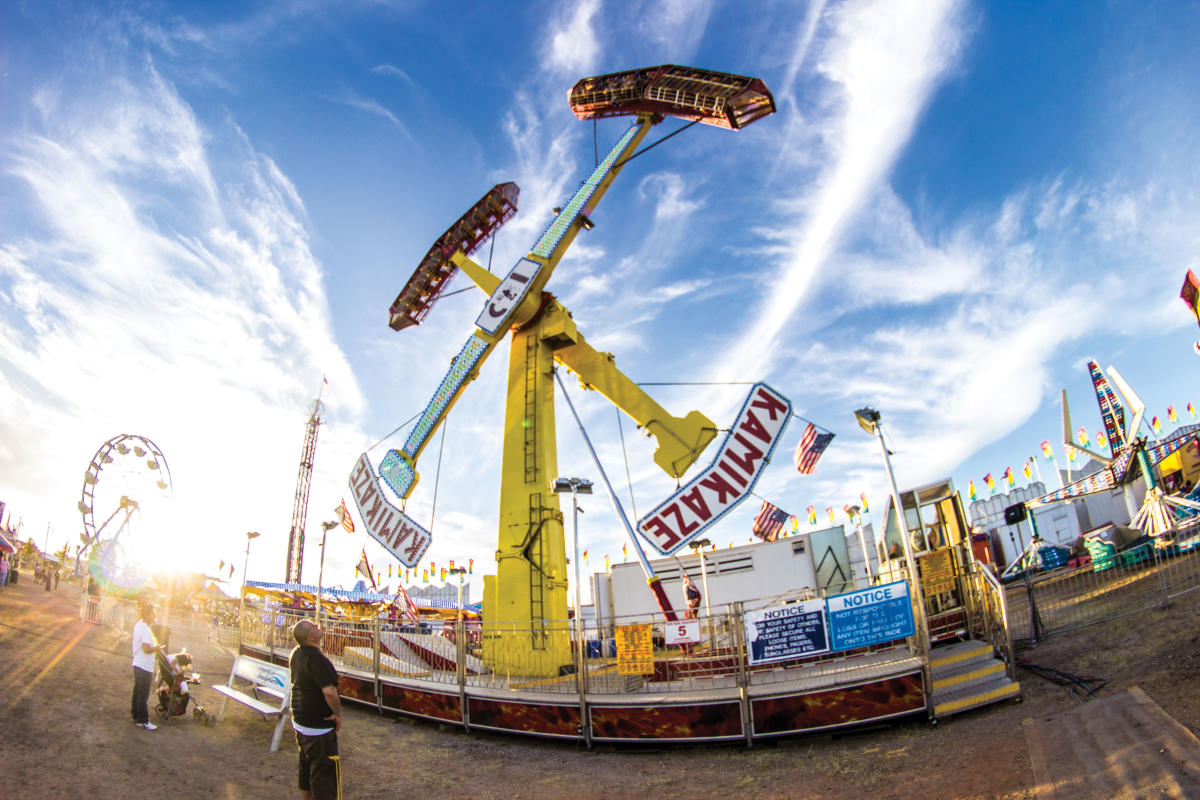 Get your thrills at the Lea County Fair and Rodeo. Photograph courtesy of the Lea County Fair and Rodeo.
Meet me at the fair.
County fairs have long drawn our ardor. Dive into the down-home fun this weekend at the 85th annual Lea County Fair and Rodeo at the Lea County Fairgrounds, in Lovington. Open through August 7, the fair this weekend includes team roping, mutton bustin', a Hispanic heritage celebration, bronco riding, and more. The carnival stays open late into the night, and, yes, there will be more fried fair food than you can dream of or devour.
In Abiquiú, the Río Arriba County Fair runs all weekend, with a Community Day on Saturday. Chef Fernando Ruiz will judge a cook-off, and Los Guys from Española will bring their sweetest rides to the Lowrider Show 'n' Shine. There's hoop dancing at 11 a.m., and a junior livestock sale in the evening.
Shall I compare thee to a summer's play?
Santa Fe Summer Shakespeare sets performances throughout the city during the summer into early fall. This weekend, the 1592, anonymously penned Arden of Faversham takes the stage as part of the Long Dead But Well Read program. Actors will gather Saturday morning, rehearse all day, then put on an evening show at the International Shakespeare Center, with scripts in hand. Curtain up: 7:30 p.m.