Above: Fireworks will look a little different this holiday. Photograph by Weston MacKinnon/Unsplash.
Watch fireworks from home.
Fireworks may have lost some their flare (bangs, whistles,and crackles, too) with celebrations canceled in Santa Fe, Taos, Carlsbad, Elephant Butte Lake State Park, and elsewhere this Fourth of July weekend. But there will still be places—including Albuquerque, Los Lunas, Rio Rancho, Alamogordo, and Farmington—to get your fill of oohs and ahs while watching from home or the comfort of your parked car.
For the 42nd year in a row, the New Mexico Museum of Space History, in Alamogordo has an explosive program of fiery illuminations planned for Saturday, July 4. Unlike previous summers, this year there will be no tailgating or viewing in the museum's parking lot. Instead, the city hopes residents will enjoy the show from home. The show starts around 9:15 p.m. with a soundtrack broadcast on 105.3 Your Country radio.
Rio Rancho has a drive-in fireworks experience planned with the first 1,000 cars admitted to the City Center parking lot. The city will keep two car spaces between each vehicle to maintain social distancing, and no concessions will be available—so bring your own food and drink.
Farmington's 34th annual Freedom Days will feature fireworks Friday at 9:25 p.m. from Sullivan Hill, west of the intersection of College Boulevard and 30th Street, with a simulcast on KWYK 94.9-FM. The San Juan College campus will not be open to the public as in the past. The Freedom Days Electric Light Parade will be held Saturday as a drive-by event with participants lining up along the annual Christmas luminarias route at the college.
Los Lunas is moving its display to LL Hill just off I-25 at dusk on Saturday. The new launch site is intended to provide the best view for the biggest portion of residents possible. If you cannot see the show from home, drive by and get a blast of color through the car windows.
Albuquerque has fireworks planned in four quadrants of the Duke City, so the community can view them from home no matter where they live. Just after 9 p.m. Saturday, colorful shows will launch from Tom Tenorio Park, North Domingo Baca Park, Ladera Golf Course, and Manzano Mesa Park. Mayor Tim Keller urges Burqueños to stay home and enjoy the fireworks from the front porch. 
If you're not near any of these displays, here's Mountainair's Firecracker Jubilee from last weekend to light your holiday roman candles.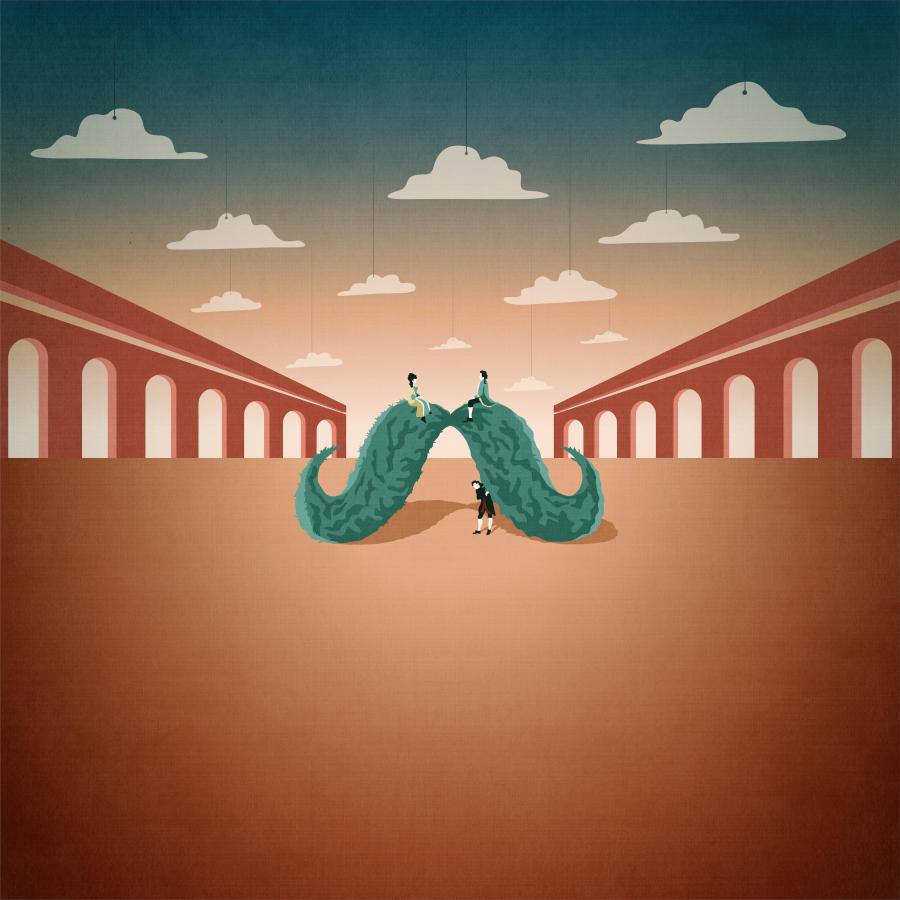 Above: The Santa Fe Opera opens its Songs from the Santa Fe Opera with The Barber of Seville. Illustration courtesy of the Santa Fe Opera.
Attend Santa Fe Opera's opening night.
Opening night—with its anxious butterflies, see-and-be-seen audience, and glitzy anticipation—is a happening. Santa Fe Opera hopes to hit that high note virtually with Songs from the Santa Fe Opera, a series of prerecorded performances on the opening night of five operas slated for the 2020 Summer Festival Season.
Acclaimed mezzo-soprano Susan Graham launches the series Friday at 7 p.m. from the stunning Santa Fe Opera stage with a celebration of Rossini's The Barber of Seville. Future evenings (The Magic Flute on July 11, Tristan Und Isolde on July 18, Rusalka on July 25, and M. Butterfly on August 1) will include performances by artists from the Santa Fe Opera stage as well as their homes around the world, conversations with directors, and never-before-seen archival footage.
"What's exciting about Songs from the Santa Fe Opera is that it affords everyone around the globe a front-row seat," says General Director Robert K. Meya. "We can come together while remaining safely apart and enjoy the beauty and inspiration opera provides." 
Known for its lavish pre-show tailgates in the parking lot, the opera is encouraging viewers to dress up in their finest opera fare and post a photo with #SFOfashion or create their own backyard tailgating experience and post with the #ShowUsYourTailgate. "It is my hope that the events offer a spiritual healing of sorts for the loss of our season, as well as the cancellation of so many other arts and cultural events here in Santa Fe and around the world," says Meya.  
Learn some history, bit by bit.  
Robert Martínez blends the grace of an accomplished musician with the layers of knowledge required to hold the title of State Historian. During quarantine, he has dedicated himself to sifting through New Mexico's past and interpreting it in a YouTube series, New Mexico History in 10 Minutes. This week, in "The Road to Revolution," his 24th episode, Martínez explored what some call America's original revolution, the 1680 Pueblo Revolt.  
Given that New Mexico was then a Spanish colony, America doesn't quite fit, but revolution certainly does.  
Martínez deftly untangles decades' worth of grievances among Native peoples coping with dramatic change, along with the planning that went into driving colonists back to New Spain (today's Mexico). Not all tribespeople joined in the revolt, and not all colonists mistreated Indigenous people—just two of the points Martínez makes to add color and shading to what is too often told in more simplistic terms.  
"It's hard to sit through a 45-minute lecture, but I thought people would enjoy 10 minutes," he says. 
Earlier episodes include a timely analysis of Juan de Oñate, whose infamy has lately spurred calls to remove statues of him. "We need to shake off the idea that winners write history," Martínez says. "Everyone has a history. We're in the middle of a pandemic, and this is history we're living now." 
Commit to sampling a few episodes per sitting and you might emerge from this weekend ready to write some history of your own. —Kate Nelson
Settle in for a campfire story. 
Maybe you're missing that traditional holiday campout, but the New Mexico Historic Sites has pitched its tent to ensure we won't go without the stories that help make it memorable. So set up your backyard site or throw the sleeping bags on the living room floor and gather round.  
With her tent aglow in yellow as a backdrop and a crackling fire providing the ambiance, Carly Johnson reads a weekly story by flashlight from the Los Luceros Historic Site. Her tales have ranged from the myths of La Llorona and the Basilisk to a love story between Marjorie and Jack Lambert. But her spooky telling of 1892 ghosts in Santa Cruz, taken from Mysteries & Miracles of New Mexico: A Guide Book to the Genuinely Bizarre, in the Land of Enchantment, sparks with summertime nostalgia—and just enough scary to creep out the kids.  
"This enchanted land has had enough supernatural phenomenon to fill a dozen books," she begins. "It has had more haunted houses than New England, more witches than Salem, and more ghosts than the Georgian swamps. Often the devil himself seems to have felt very much at home here." 
What unfolds is a tale of three women alone in a haunted rectory and the sounds of footsteps and clacking in the night. We won't spoil the rest, but you'll probably need a few s'mores on hand to soothe any overwhelming fears about things that go bump in the night. —Steve Gleydura
Taos is alive with the sound of music.    
Violins, cellos, and pianos hum beautiful classic melodies Sunday as part of the Taos Chamber Music Festival's 2020 virtual season. The prerecorded performances by the Borromeo String Quartet took place in 2015 from the Taos Community Auditorium. The group performs movements from Dmitri Shostakovich's String Quartet No. 12 in D Flat Major, Op. 133, and Benjamin Britten's String Quartet No. 2 in C Major, Op. 36.  
Also see faculty pianist Thomas Sauer and violinist Ara Gregorian perform Antonín Dvořák's Sonatina in G Major, Op. 100, recorded in October 2017 at the Four Seasons Chamber Music Festival in Raleigh, North Carolina.   
The program begins at 7 p.m. and is hosted by Elizabeth Baker, Taos Chamber Music School director. The virtual season, available at taosschoolofmusic.com, on YouTube and Facebook, extends the Taos group's offerings to the world. "What began as an idea to bring chamber music virtually to our Taos community evolved into the realization that, through our social media platforms, we could reach a much wider audience," says Baker in a news release, "bringing the magic of the Taos School to so many more music-loving people."