Science takes to the streets in Los Alamos this weekend. Courtesy of the Los Alamos ScienceFest.
Test your science knowledge.
An entire laboratory of nerdy fun bubbles over in Los Alamos this weekend during the 14th annual ScienceFest. Hosted by Los Alamos MainStreet, the event celebrates the town's scientific heritage and encourages learning about science, technology, engineering, and mathematics.
"Los Alamos was founded on the basis of science, and today we are still intrinsically driven by science," says Lauren McDaniel, director at Los Alamos Mainstreet. "We are truly a place where discoveries are made, and our proximity to three national parks—Manhattan Project National Historical Park, Bandelier National Monument, and Valles Caldera National Preserve—also provide natural STEM inspiration." 
ScienceFest activities, which run through Sunday, include urban trail walks (Friday and Saturday, 9 a.m.), an electric vehicle car show (Saturday, 10 a.m.–3 p.m.), a star party (Saturday at sunset), a new Los Alamos History Museum exhibit about the home of Manhattan Project director Robert Oppenheimer (through 2021), and a showing of the film Astronaut Farmer (which was filmed in New Mexico) at Bathtub Brewing Co. (Saturday, 8 p.m.).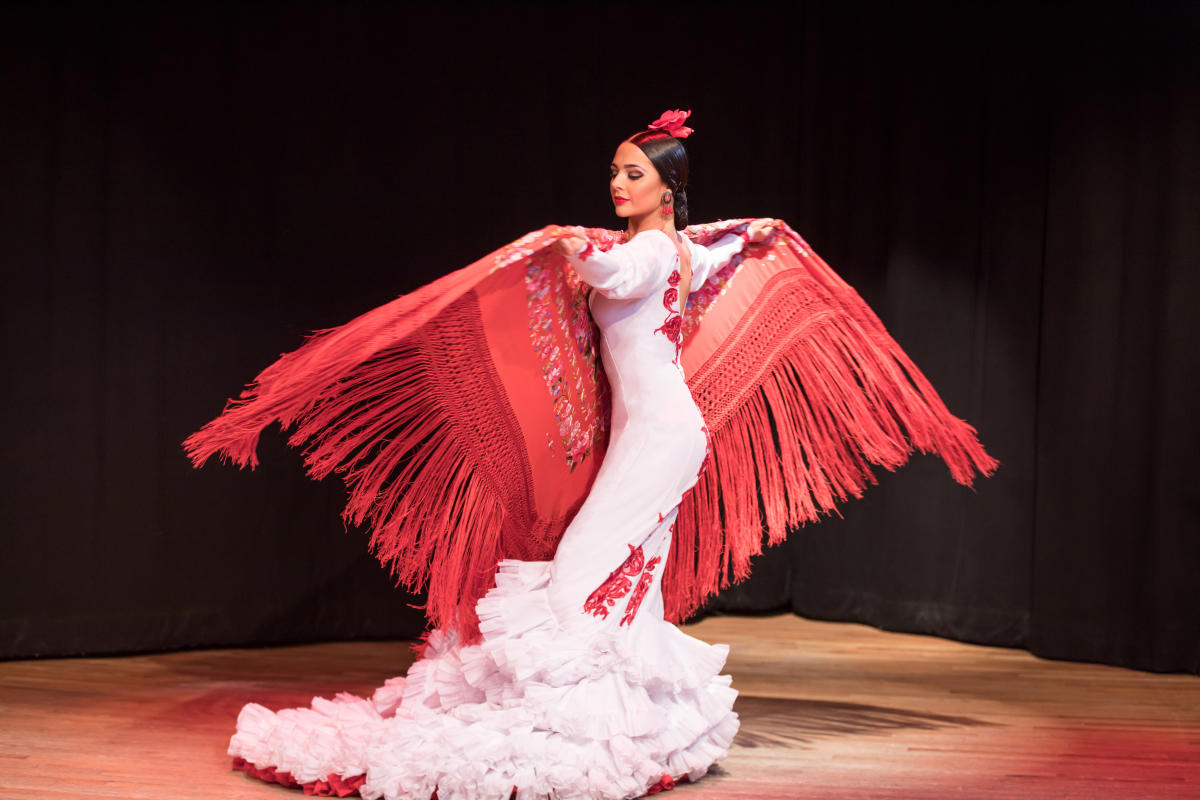 La Emi returns to the Lodge at Santa Fe stage for the summer. Photograph courtesy of the Lodge at Santa Fe.
Go with the flamenco flow.
Flamenco dancer Emmy Grimm returns to the Lodge at Santa Fe's Benítez Cabaret stage this week for a full summer series. Known as La Emi, the New Mexico native started dancing with world-renowned teacher and dancer María Benítez when she was just four years old. Since then, she has studied in Spain, toured throughout the world, and started her own company, EmiArte Flamenco, and a youth academy. Throughout the series, La Emi will be joined by special guests Vicente Griego, Gabriel Osuna, Olivia Rojas, Carlos Menchaca, and Daniel Peregrino for nightly performances Wednesday through Saturday with matinees on Sunday through September 5.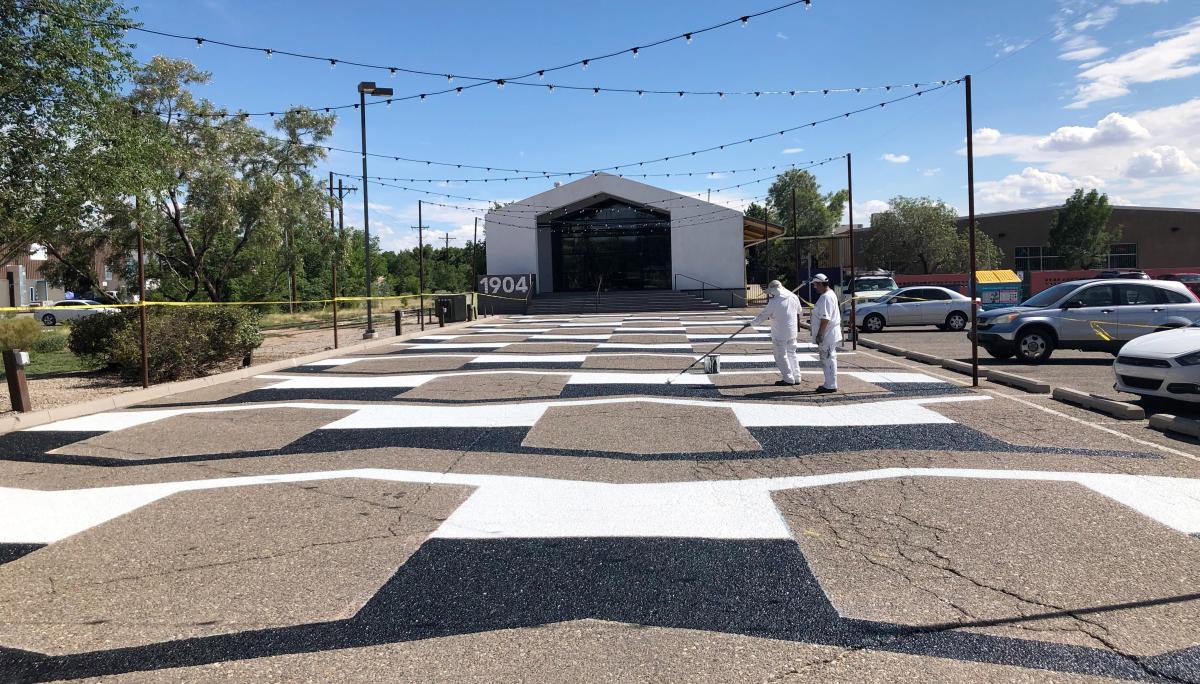 The New Mexico Artisan Market prepares to welcome visitors looking to shop local. Photograph courtesy of New Mexico Artisan Market.
Spend a day shopping local.
Local makers and artisans get a big—and we mean huge—boost this weekend as the New Mexico Artisan Market debuts at the 12,000-square-foot Bazaar, in Albuquerque. Just across the street from Sawmill Market and Hotel Chaco, the warehouse space offers a permanent home for the popular pop-up market. Shoppers can expect goods by more than 70 locals, including painter Geraldine Tso (Diné), jeweler Randy Montoya, and ceramicist Catherine Alleva. To mark the opening, a mural designed by artist and longtime Albuquerque resident Sarah Friedland will be unveiled in the parking lot.
Buckle up for bull riding.
Hold onto your hats during the 28th annual Gallup Wildthing Championship Bull Riding at Red Rock Park Friday and Saturday. Daring riders compete for cash prizes while putting on a spectacle the whole family can enjoy. The fun starts at 8 p.m. each evening. Bring a blanket or cushion; no folding lawn chairs are allowed in the park this year.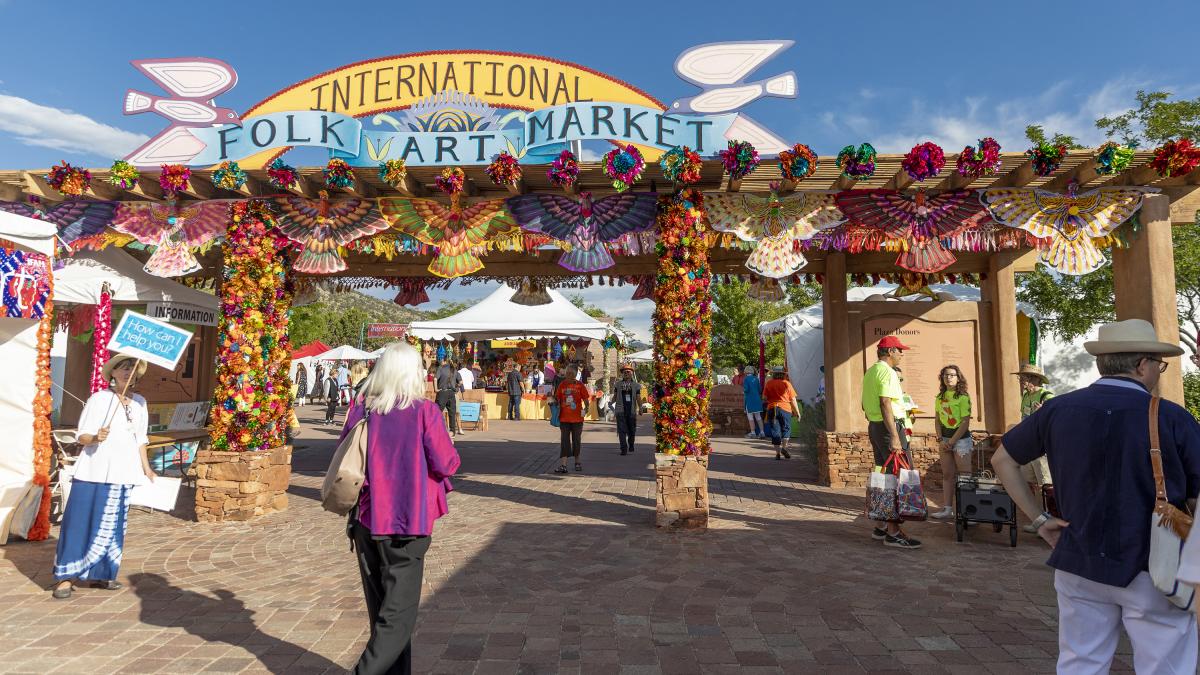 The International Folk Art Market returns over two weekends with artists from around the world. Photograph by Gabriella Marks.
Take an international trip.
A portal to experience faraway places opens this weekend on Museum Hill at the International Folk Art Market. International artists from Cuba, Indonesia, Mexico, Colombia, and more bring traditional and innovative crafts to Santa Fe, making for a market unlike any other. Entry this year is timed, allowing 200 visitors per two-hour block. While this weekend has sold out, slots for next weekend (with a new crop of artists) remain. Read more about the market.
Read more: Here's how to ace this summer's art and culture fests.