The Questa History Trail includes a stop at the restored San Antonio de Padua church plaza. Photograph by J. Leven.
Trek through history.
Questa rolls out the dusty carpet for National Trails Day with the unveiling of the Questa History Trail on Saturday. The .6-mile trail originates from the center of town—and the village's only stoplight—and loops to the restored San Antonio de Padua church plaza. Along the way, informational signs provide insights into eight historical and cultural points of interest in the northern New Mexico hamlet near Taos.
"When we started researching this idea, it amazed us how much Questa illustrated the history of northern New Mexico," says writer Alberta Bouyer, a member of the Questa Creative Council, which began work on the trail in 2016. "The trail references thousands of years of geology and hundreds of years of Native interface and Spanish settlement as well as rural religious practice."
Historian Flavio Cisneros marks the grand opening at 11 a.m. Saturday with guided tours along the trail. The festivities also include food and live music. The trail's accompanying website provides even more about Questa's mining past and agricultural roots, as well as links to an expanding oral history project. "It's such an interesting chance for people who live here, and maybe don't know the full story, to connect the dots of their own history," Bouyer says. "It's also a wonderful chance for newcomers to learn about where they've landed."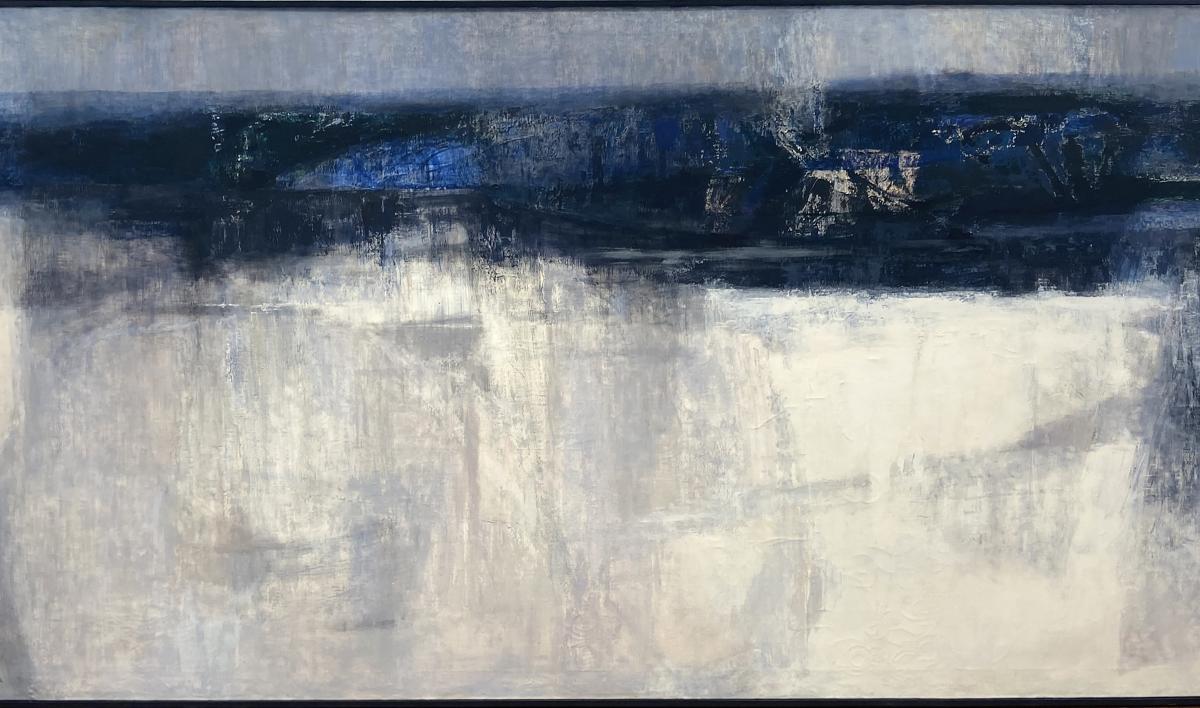 Michio Takayama's Untitled is one of 24 works included in the 203 Fine Art retrospective of his work. Photograph courtesy of 203 Fine Art.
Take in Taos—in the abstract.
Born in Japan in 1903, abstract painter Michio Takayama found his home in Taos in 1967, where the vastness of his ideas was reflected in the expansive landscape. Takayama created a large bulk of his portfolio in the town, where he remained until his death in 1994.
A retrospective exhibit, which features 24 of his colorful paintings and spans three decades of work, opens Friday at 203 Fine Art. The late painter was known to have a months-long process of painting a layer, letting it dry, sanding it down, and then painting another. He didn't mix paints on a palette but achieved unique tones through this technique.
"Many are large-scale," says Sylvie Mayer, assistant manager at 203 Fine Art. "They transform the space and create atmosphere."
Nohe & Sus Santos plays its new album, Tempestad, at Casa Flamenca on Friday. Photograph courtesy of Nohe & Sus Santos.
Strike up the band.
It's been more than a year since Albuquerque-based Nohe & Sus Santos has been live onstage. "I can't wait," says lead singer Nohelia Sosa about the performance at Casa Flamenca Friday at 7:30 p.m. "I have so many stories to tell. Coming back to the stage feels like coming home."
Even without live shows, Nohe & Sus Santos has been busy. During the pandemic, the band released its first album, Tempestad, with eight original songs and two covers that blend Cumbia, alt-rock and pop. So, too, has Casa Flamenca. The Albuquerque venue renovated its outdoor space, creating an outdoor stage with sun-shaded seating for the audience. It partnered with Amp Concerts for "Welcome Back to the World of Live Entertainment," a music series that runs through July.
Walk the (art) walk.
Albuquerque's movers and makers take to the streets Friday at 5 p.m. with the return of the ABQ Art Walk showcasing more than 20 participating businesses, booths by local artisans, live music, and goodies from local food trucks.
Beginning in the parking lot at 7th Street and Gold Avenue, the Artblock features maker booths stretched out throughout the area and incorporated local businesses like Safe House Distilling Co. (616 Gold Ave.) and Boese Brew Co. (601 Gold Ave.). Download the Art Walk map, and you won't miss one bit of the fun.
See the stars all month long.
June is a great time to experience New Mexico's night skies. On Friday at 7 p.m., physicist and astronomer Galen Gisler ensures you won't miss any of the celestial fireworks. Presented by the Pajarito Environmental Education Center, in Los Alamos, the Clovis native's virtual lecture, "The Night Sky in June," discusses the summer solstice (June 21), the supermoon (June 24), how to spot prominent constellations such as Scorpio and Leo, and more.