Ruidoso offers plenty of spots to hike and bike this weekend. Photograph courtesy of Ruidoso.
Seize the weather.
Blue skies and highs in the 60s call for outdoor adventures. Opportunities abound throughout the state. In Ruidoso, Rodney Griego, parks and recreation director, has some thoughts on which trails to hit.
If you're coming with kids, he recommends the Eagle Creek hiking trail at Alto Lake. The easy one-mile out and back follows the creek and crosses it with bridges, the second of which is near a series of waterfalls that, come summer, make an idyllic swimming hole. "You have the potential early in the morning and in the evening to see a variety of wildlife, like elk and mule deer," Griego says.
Mountain bikers should head to the Cedar Creek Recreation Area, where 20 miles of hiking and biking trails were recently rebuilt. "There's a nice downhill section there," Griego says. He also highlights Grindstone Lake, which offers 18 miles of trails at a variety of skill levels. "There are short loops and longer hikes where you can get up on top of the mesa and see views of Sierra Blanca and Grindstone Lake."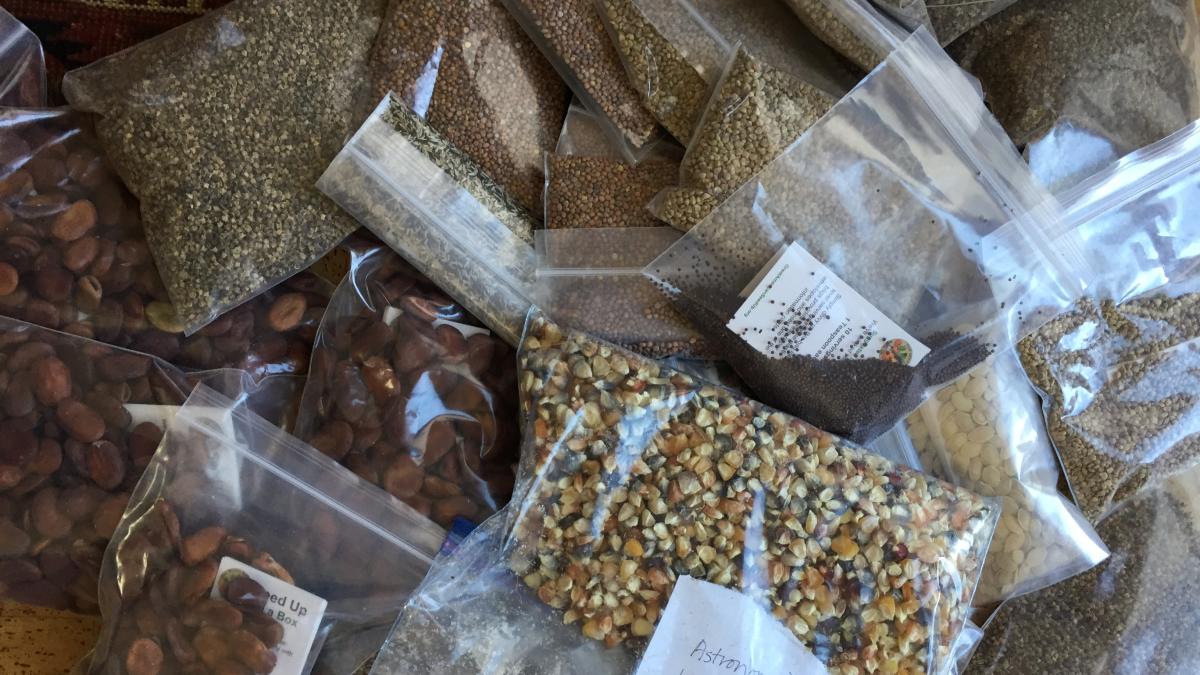 The Santa Fe Seed Stewards and Home Grown New Mexico open their mini seed libraries this weekend. Photograph courtesy of Santa Fe Seed Stewards.
Jump-start your garden.
Find seeds for cold-season veggies at the Mini Seed Libraries hosted by Santa Fe Seed Stewards in partnership with Home Grown New Mexico. They happen every Saturday and Sunday, starting this weekend, and run through May 31 while supplies last. To pay, you need only to return twice as many seeds as you take, harvested from what's sure to be your bounty.
"We are asking patrons to limit themselves to five seed packages per person," says Christine Salem, co-project leader of the program. "We hope those who can afford to will support our local nurseries so that we can share seeds with everyone who needs them. And we hope people will give seed saving a try—tomatoes and beans and peas and lettuce are all super easy ones to start with."
Local nurseries, including Plants of the Southwest, La Tienda at Eldorado, and Agua Fria Nursery, donate seeds to the program. Asian greens, peas, and lettuce are available now; tomatoes, peppers, and eggplant come later. Find the mini libraries at actual libraries in Santa Fe, as well as at the Edgewood Senior Center.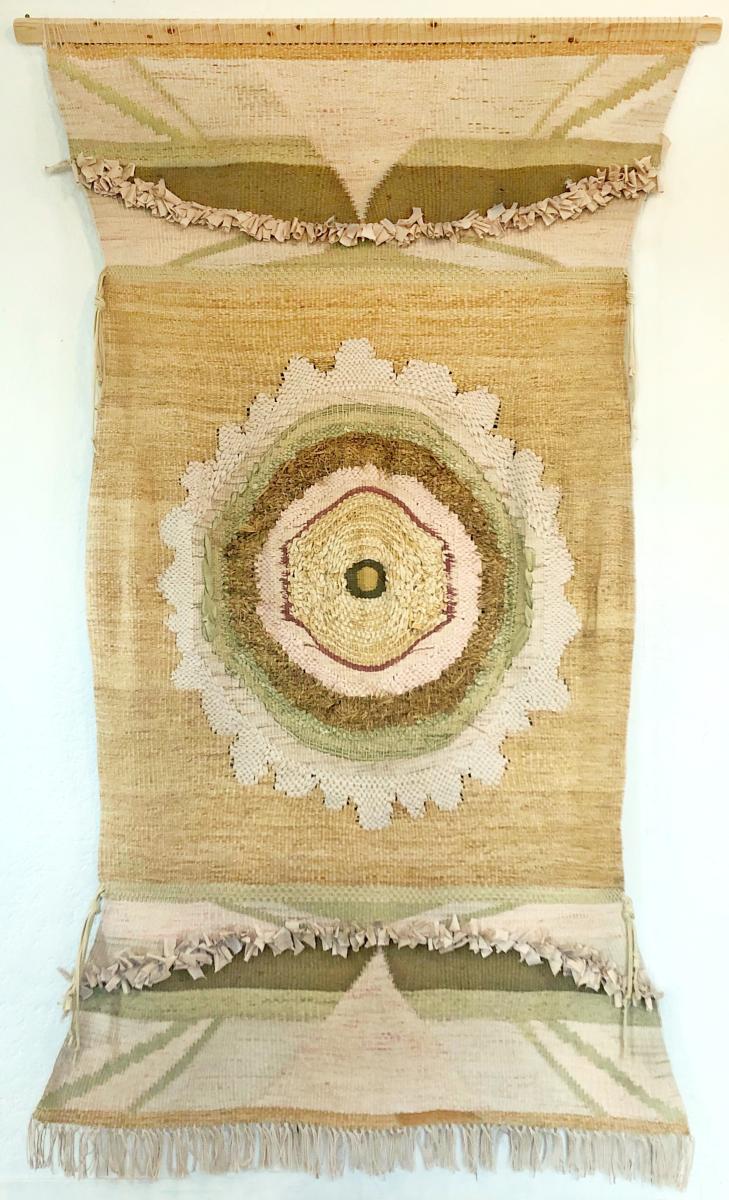 Toni Gentilli's Living Conditions is among the works featured in her solo show at Vital Spaces Midtown Anex. Photograph courtesy of Toni Gentilli.
Enjoy eco-art.
Head to Vital Spaces Midtown Annex, in Santa Fe, from 12:30–5 p.m. Saturday for the opening of Ecology of Healing, a solo exhibit by artist Toni Gentilli, whose work explores the nourishing nature of plants. All of the works in the mixed-media installation are made with plant materials—leaves, bark, pollen, and branches, much of it from cottonwood trees, which Gentilli has studied for almost five years.
"I work with them as both material and metaphor," she says. She creates special dyes from cottonwood flowers, uses the inner bark in woven pieces and soft sculptures, and prints images on the leaves. "It is called chlorophyll printing, and it's a process of fading in the sun. They only last a little while. It imbues a life force into the works."
Gentilli suffers from autoimmune disorders, and these works come from that perspective. Her own body cannot synthesize sugars, something plants do in their process of photosynthesis. "There are amazing powers they have and gifts they share, like creating an oxygenated atmosphere."  
Only three visitors can be in the space; masks and social distancing are required. The show is up through April 4.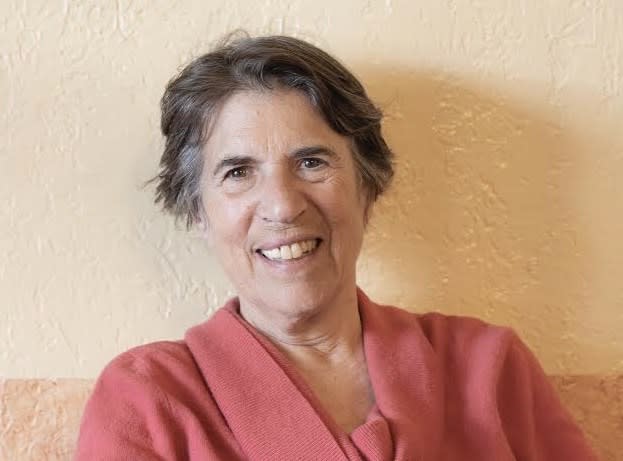 Poet Natalie Goldberg reads haiku from her new book, Three Simple Lines. Photography by Mitsue Nagese.
Get beyond 5-7-5.
Discover the deeper nature of haiku with poet Natalie Goldberg at 5:30 p.m. this Sunday when she presents her newest work, Three Simple Lines: A Writer's Pilgrimage into the Heart and Homeland of Haiku, hosted by SOMOS Taos. "It gives people an idea of what haiku really is, not the high school rendition of what we all learned," says Goldberg.
A prolific poet with 15 published works, Goldberg has spent time in Japan studying the lives and practices of haiku masters like Shiki and Basho. She's joined by Mitsue Nagese, her travel companion and translator from Japan, and Sean Murphy, a Taos-based Zen practitioner, during the 45-minute reading and discussion. "Haiku is a great thing for right now, for what's happening," Goldberg says. "It takes you into another world and at the same time brings you into this present moment."

Let It Grow has been cranking out Grateful Dead covers since 2013. Photograph courtesy of Let it Grow.
Put on your tie-dye.
Unleash your inner Jerry Garcia with a livestream concert by Let It Grow, a local Grateful Dead cover band, from the Launchpad, in Albuquerque, Friday at 8 p.m.  
Performing together since 2013, the group has logged hundreds of concerts—some of them virtual. "It's been a great way to stay connected to the music community and help support the artists and venue," lead vocalist and guitarist Lonn Calanaca says. "Doing virtual concerts is a lot like going into the recording studio. It forces us as artists to really pay attention and refine our chops. A lot of bands are going to come out of this much more solid and refined because of it."