Rob Vanderslice's painting, From the Darkness Into the Light, on a 1996 Cadillac Fleetwood Brougham, photographed by Corey Ringo. Photograph courtesy of the Rob Vanderslice and Corey Ringo. 
Gear up for lowrider culture.
The Harwood Museum in Taos explores the connections between the uniquely New Mexican traditions of lowriders and santos in a new exhibit, Santo Lowride: Norteño Car Culture and the Santo Tradition, opening this weekend. "The show is rooted in lowriders as a spiritual expression for Northern New Mexicans," says Nicole Dial Kay, curator of the exhibit.
Cara Romero, Nani Chacon, Nicholas Herrera, Luis Tapia, and Rose B. Simpson are among the artists who share images of lowriders in the wild, photos of leather interiors and dashboard saints, as well as carved santos of angels riding in lowriders, a Harley Davidson motorcycle, painted trunks, and decorated hoods. A lowrider cruise-in is even planned for September 25on Taos Plaza.
"There are all these layers of symbolism in lowriders," Dial Kay says. "Rolling low and slow has these connections to pre-Columbian and Indigenous beliefs of not fearing death and riding slow because you're riding with God."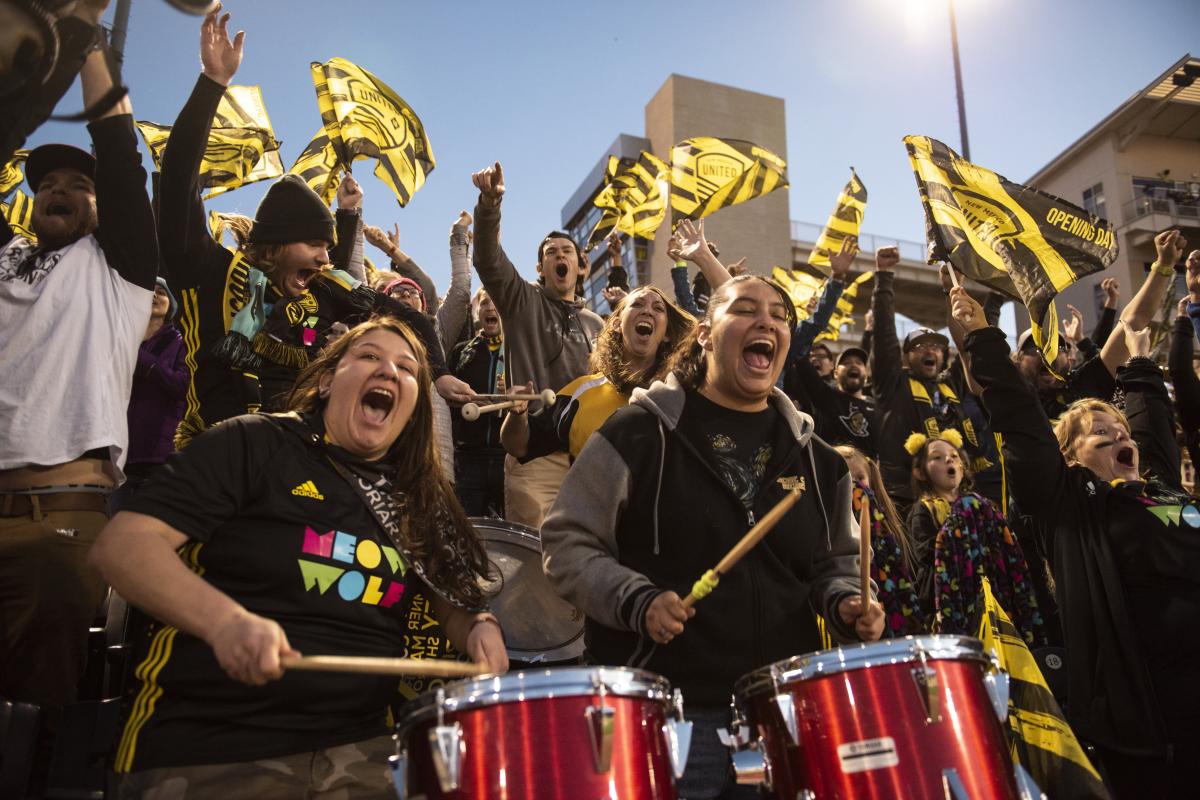 Fans were enthusiastic to be back in Isotopes Park to see New Mexico United in person. They'll get another chance on Saturday. Photograph courtesy of New Mexico United/Josh Lane.
Score tickets to the see New Mexico United.
New Mexico United knows how to do a homecoming game. In its first home match in 575 days, the state's USL soccer team scored a 3-1 victory over Austin Bold FC on May 15. United returns to Isotopes Park on Saturday at 7:30 p.m. for a holiday weekend showdown with Loudoun United FC.
"There's no words to describe it," says midfielder Sergio Rivas, an Albuquerque native, who scored United's first goal of the home opener. "It's been a long time coming, being able to perform for my city and my people."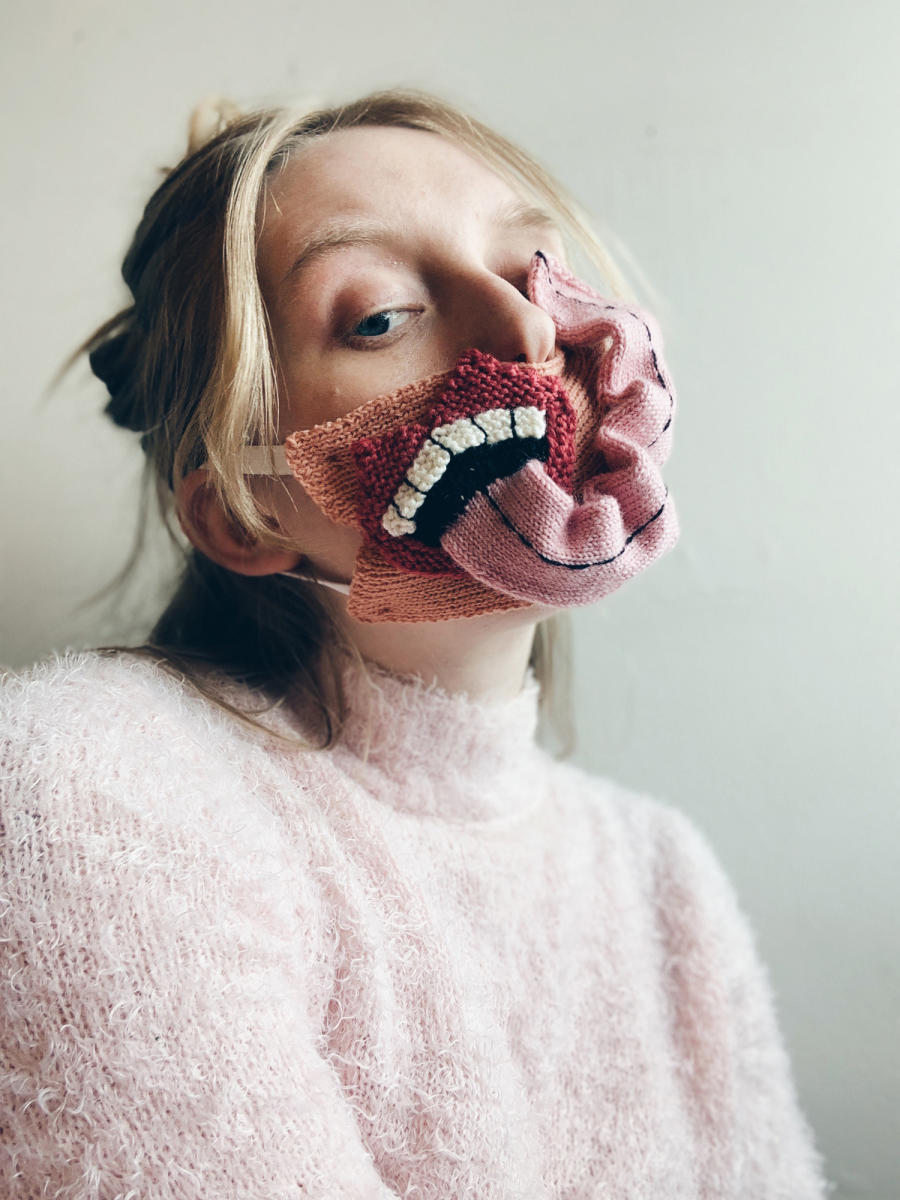 Ýr Jóhannsdóttir (Ýrúrarí) wears a mask cover she knit during COVID-19 stay-at-home orders in Reykjavik, Iceland. Photograph courtesy of Ýr Jóhannsdóttir, 2020.
Unmask pandemic-era art.
Over the past year, masks became an important cultural touchstone, serving as protection for ourselves and the community, becoming a part of our everyday fashion and sparking controversy about personal liberties. So it seems only natural that they become the centerpiece of a new exhibit, #mask: Creative Responses to the Global Pandemic, opening Sunday at the Museum of International Folk Art.
Thirty artists from the United States, Indonesia, Iceland, Canada's First Nations, Pakistan, and Turkey created pieces ranging from a knit textile mask with a bright pink tongue to works inspired by pandemic masks from other eras. "This exhibition is a fabulous showcase of the endurance of the human spirit," says Nicolasa Chávez, curator of Latino, Hispano, and Spanish Colonial collections at MOIFA in a press release.
Jam out at the Silver City Blues Festival.
One festival. Seven New Mexico bands. Lots of great blues music. On Saturday at noon, the Silver City Blues Festival kicks off with a lineup that includes pre-recorded performances by Brandon Perrault, Famous Raymous & The Hard Times, and Albuquerque-based Felix y Los Gatos. "Blues music touches on timeless themes and emotions," says Kevin Lenkner, executive director of Mimbres Region Arts Council, which is hosting the event. "We wanted to support local musicians as much as possible," Lenkner says.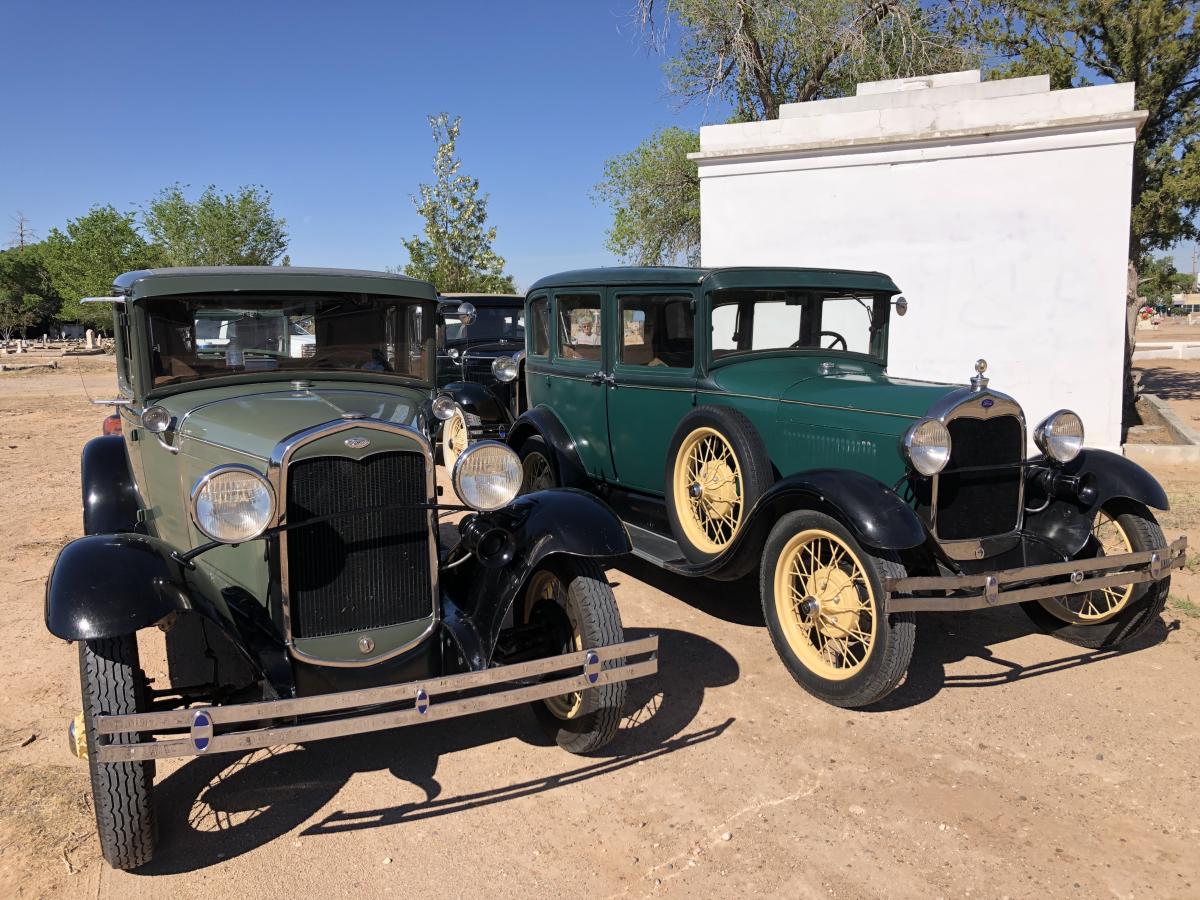 Antique car enthusiasts and history buffs will enjoy the Memorial Day tours at the Historic Fairview Cemetery in Albuquerque. Photograph courtesy of the Historic Fairview Cemetery.
Drive into history at Fairview Cemetery.
The Historic Fairview Cemetery in Albuquerque brings together classic cars and New Mexico history for a special Memorial Day event to support the 17.5-acre landmark. Check out the Model T and Model A Fords on display, then take a guided tour ($20) of the cemetery's 12,000 gravesites, more than half of which are unmarked.
Among the notables buried there are the Simms family, who owned Los Poblanos Historic Inn, and Francisco Perea, the first Republican Hispanic-American member of Congress. "He was also a businessman who ran a bathhouse in Jemez Springs, and he was the postmaster there for a while," says Gail Rubin, the president of the Historic Fairview Cemetery Association.
Tours start on the hour from 9 a.m. until noon. "People who are antique car enthusiasts will especially enjoy it," Rubin says.