Light up New Year's Eve with your own special touch at home. Photograph courtesy of Unsplash.
Make it special at home.
Those big New Year's Eve parties are out this year. But don't set yourself up for disappointment, says Jessie Baca, a former event planner and founder of Sol Maven, a Santa Fe–based retreat company focused on women. "Creating new traditions, that's what this year is all about," she says.
You can still celebrate with friends virtually via Zoom, and Baca recommends spicing it up with an interesting backdrop or by wearing a fun wig. "Anything to make it look a little different." 
For singles, Baca suggests an evening of self-care. "Take the most magical, candlelit bubble bath, journal about your intentions, and create some goals." 
Partying with your partner? "The great part about not hosting 20 people is you can have some really decadent food," she says. "Have a really special bottle of wine, make truffle deviled eggs and a gorgeous shrimp cocktail. Caviar, go big!" 
Whichever way you go, pull out the nice table linens and those glasses you always worry about breaking. Make special ice cubes with little flowers in them—edible varieties such as roses, marigolds, pansies, and geraniums work best. Light candles and dress up. "Put effort into it," she says. "If you don't make it special it's not going to be special."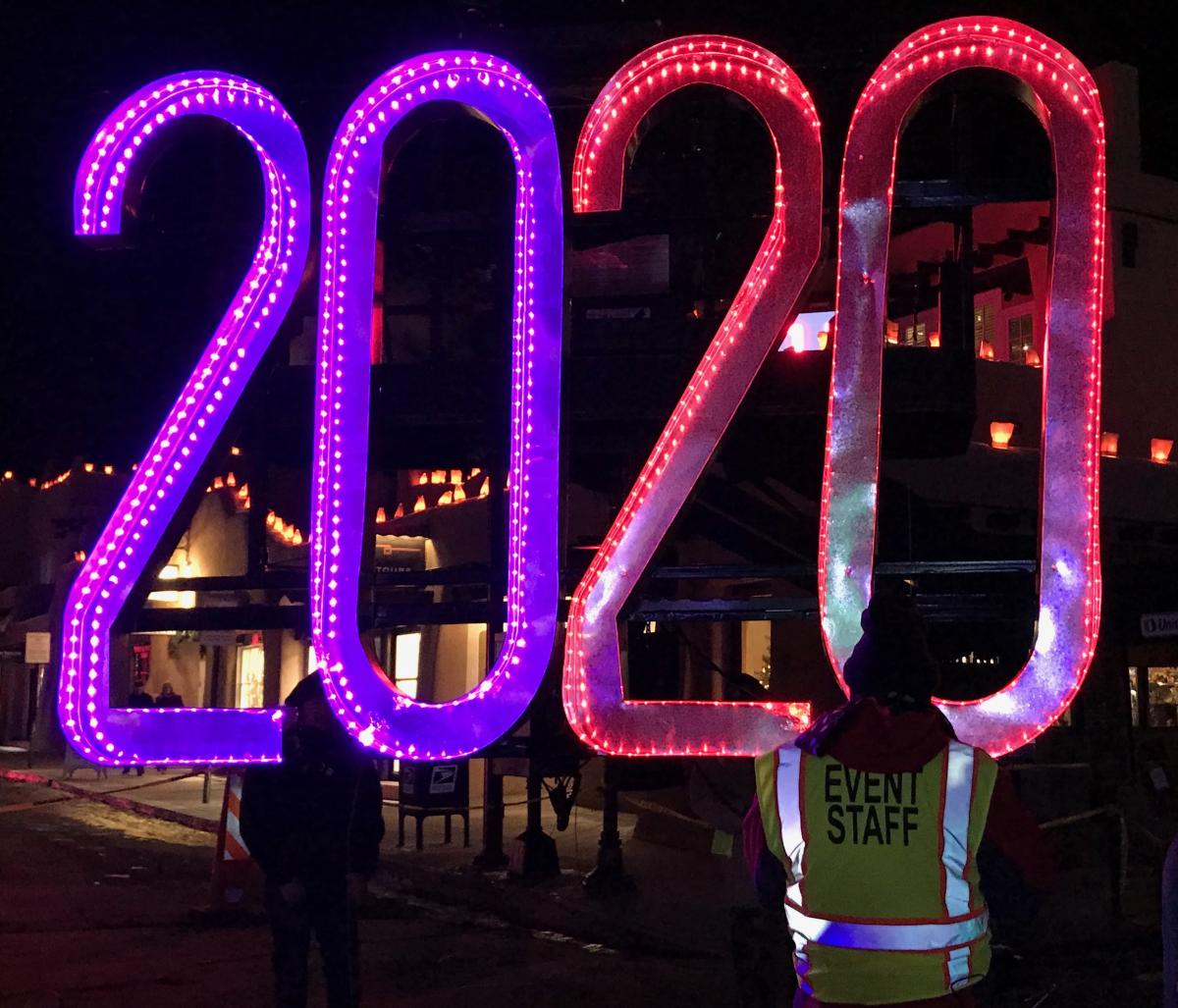 Say goodbye to 2020 with a rising Zia and fireworks from La Fonda. Photograph courtesy of La Fonda.
A rising Zia in Santa Fe, a dropping chile in Las Cruces. 
"We are all ready to get rid of 2020," says Ray Sandoval, Zozobra event committee chair and organizer of a Santa Fe bash broadcast live from the roof of La Fonda on the Plaza. "The perfect way to say goodbye is to have everyone around the state tune in and watch us lift our state symbol, the Zia, into the black sky as a reminder that, hopefully, a new dawn is going to save us from the darkness of this year." 
Tune in to KOB 4 December 31 beginning at 11:30 p.m. as mayors from throughout New Mexico offer their wishes for our communities in 2021. Guitarist Amado Abeyta performs, and a fireworks show takes place at midnight. 
In Las Cruces, the annual New Year's Eve Chile Drop goes virtual, too, as the Downtown Las Cruces Partnership broadcasts its countdown starting at 11:55 p.m. on kvia.com. The 19-foot-long chrome chile will glow either red or green. To find out which, tune in.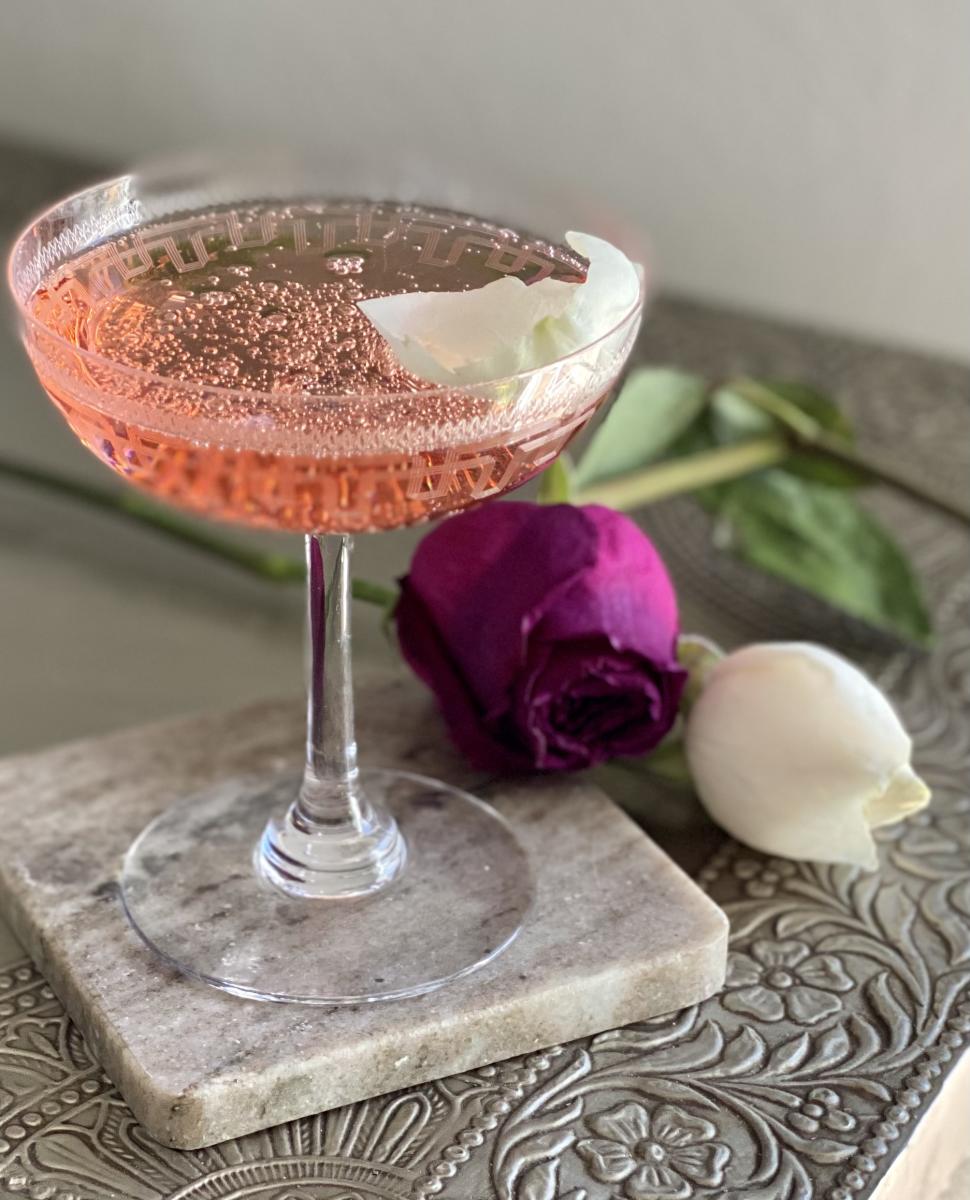 The Everything's Coming Up Roses cocktail from Natalie Bovis is a great way to celebrate. Photograph courtesy of Natalie Bovis.
Be your own bartender. 
Natalie Bovis, the Liquid Muse and founder of the New Mexico Cocktails and Culture Culinary Festival, wants to make sure your at-home cocktail game rises to the occasion with a drink that's perfect for better days ahead. "It's a good time to break out the rose-colored glasses and look to the future," she says of this special concoction:
Everything's Coming Up Roses 
1 ounce Hendrick's gin (with notes of cucumber and rose)
1 ounce OM Vanilla & Rose liqueur
½  ounce fresh lemon juice
3 ounces sparkling rosé wine 
Rose petal 
Shake vodka, liqueur, and lemon juice. Strain into a champagne flute or coupe. Top with sparkling wine. Stir lightly. Garnish with the rose petal.
Shake it in your living room. 
In years past, Meow Wolf welcomed the New Year with a sea of dancing guests in the House of Eternal Return. This year, the show comes to your living room with Virtual Carousel, a concert livestreamed from its psychedelic stage. Shake it to vibey tracks by Spoolius, Commodore 256, and Jasmin Williams & Michael Burt Jr., after a special opening performance by Rod Harrison and Liviana from Saints Ball, the alternative drag troupe.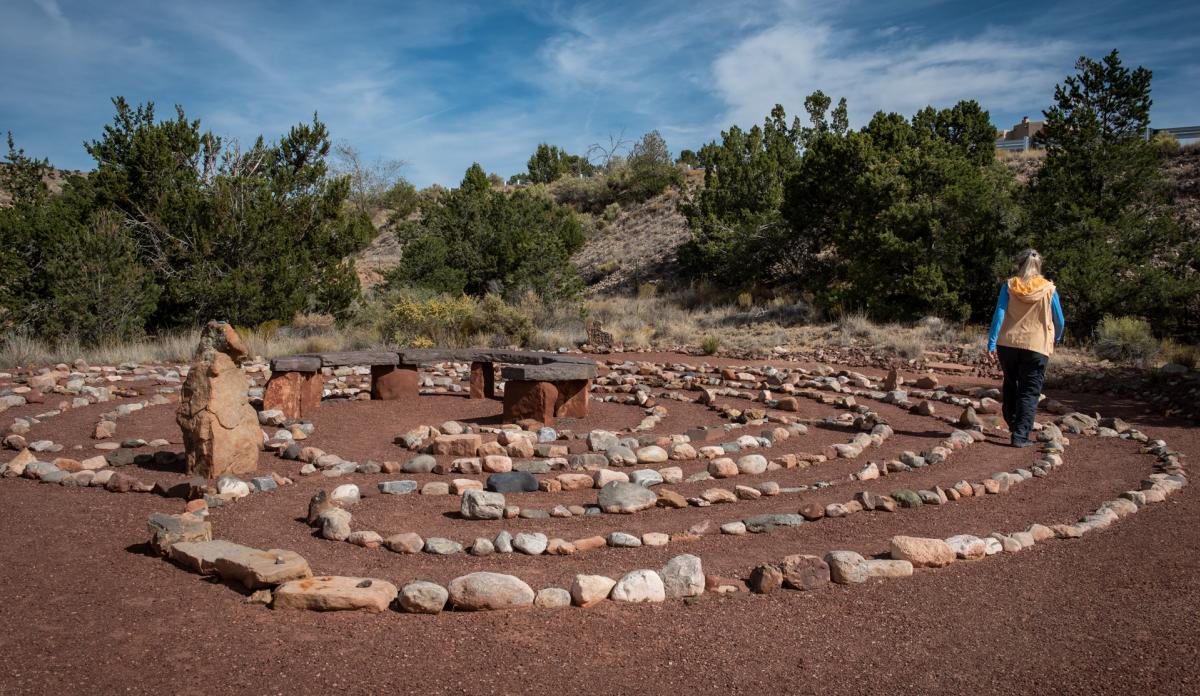 The labyrinth at Placitas Community Library is among the places to find your center throughout New Mexico. Photograph by Stefan Wachs.
Walk your way to peace.
Strolling the labyrinth at Frenchy's Field in Santa Fe on a cold, cloudy winter morning can be a pathway to clarity. Ancient labyrinths or labyrinth carvings exist on every continent (except Antarctica), proving people have been practicing presence while walking a winding path for more than 4,000 years. Discover one of northern New Mexico's many labyrinths in this list by the Labyrinth Resource Group, based in Santa Fe. Hit one at sunset and enjoy it under pink skies. Maybe you'll find a new ritual for a new year.