The Fred Harvey History Weekend explores the many aspects of his legacy, including the Castañeda Hotel in Las Vegas. Photograph courtesy Historic American Buildings Survey (Library of Congress).
Get on board with Fred Harvey history.
Fred Harvey's New Mexico has a little something for everyone—architecture, trains, food, glamour, art, and history. "It's a great prism to think about a lot of things," says Stephen Fried, author of the Appetite for America: Fred Harvey and the Business of Civilizing the Wild West—One Meal at a Time. "It appeals to a lot of different people."
With a Thursday kickoff, the Fred Harvey History Weekend brings it all together for four days of virtual lectures, a foodie dinner, and an auction. The seven talks delve into the lives of the Harvey family, author John Fricke's inside story of the 1946 Judy Garland movie, The Harvey Girls, and how a defunct Harvey hotel in Clovis, the Gran Quivira, might be the next property to be restored.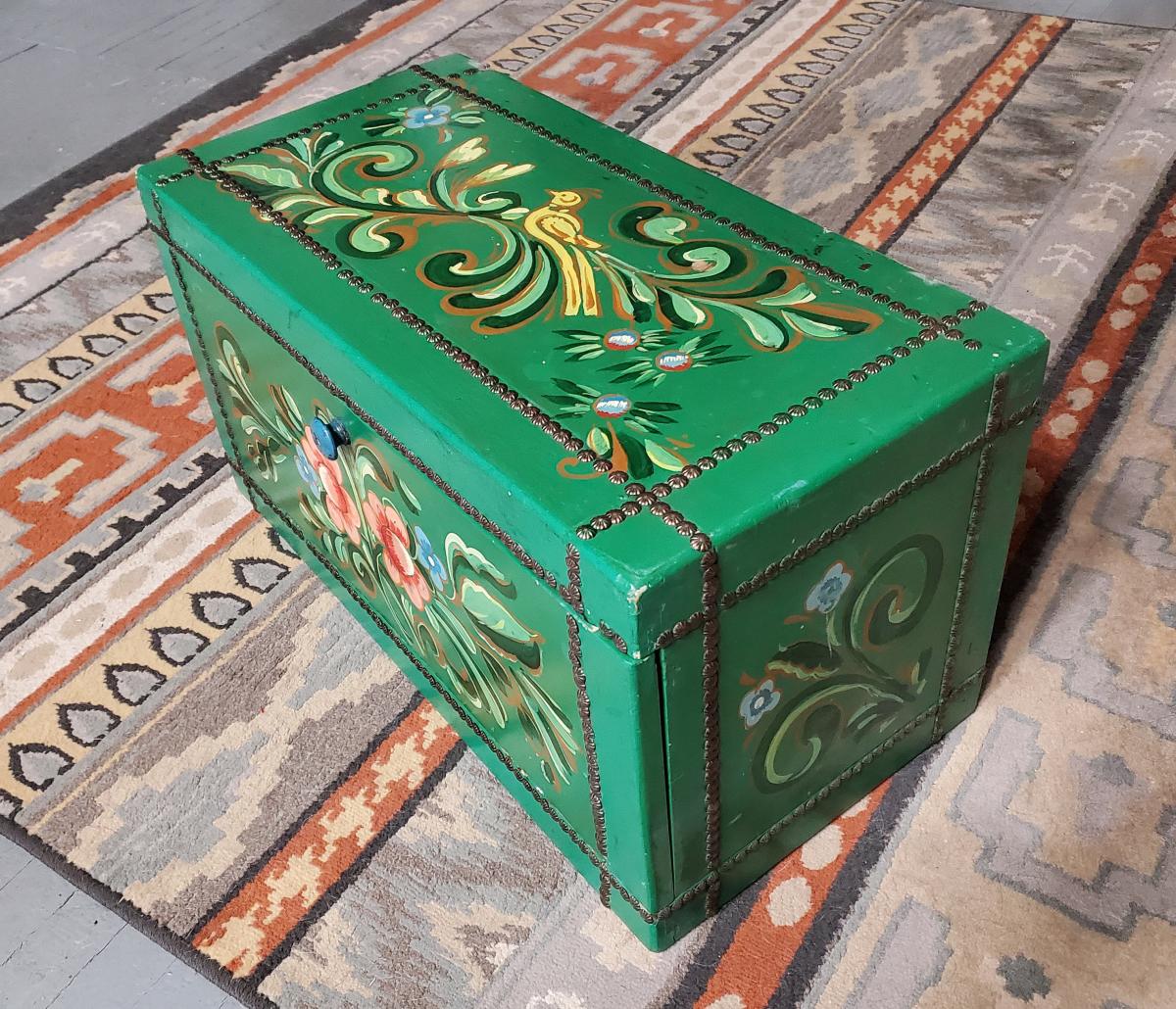 A La Fonda blanket box is among the items up for auction during the Fred Harvey History Weekend. Photograph by Dan Lutzick.
The Foodie Dinner and auction, emceed by celebrity chef and New Mexico Magazine contributor Johnny Vee, highlight Saturday's events with simulcast cooking demonstrations from chefs Sean Sinclair of the Castañeda Hotel in Las Vegas and Lane Warner of La Fonda in Santa Fe. In addition to some fabulous recipes and cooking tips, the evening includes the opportunity to bid on such items as a private dinner for four at La Fonda; a visit to the studio of potter Barbara Gonzales, granddaughter of famed San Ildefonso potter Maria Martinez; and some classic Harvey collectibles.
Proceeds from the festival support the New Mexico History Museum.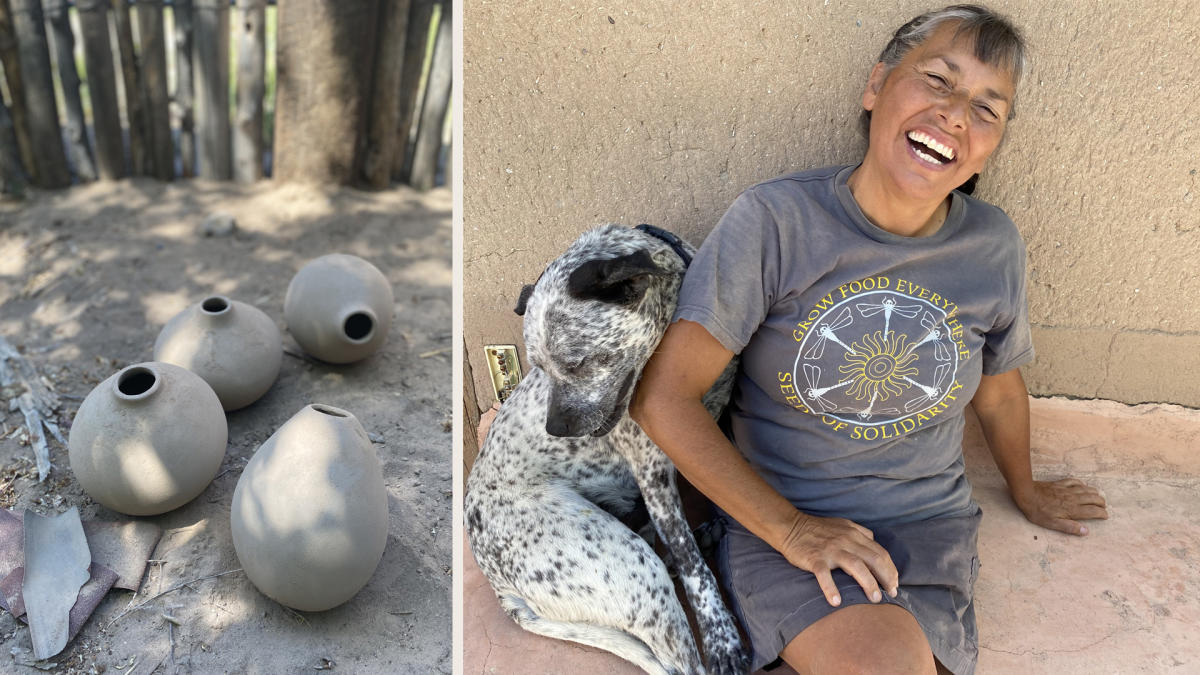 Tewa sculptor and Indigenous food activist Roxanne Swentzell is a featured speakers in the Seasons of Growth Harvest Feast Seminar. Photographs courtesy of the family.
Learn about traditional Puebloan food.
Learn about Indigenous cuisine during the virtual Seasons of Growth Harvest Feast Seminar from the Indian Pueblo Cultural Center in Albuquerque.
On Sunday at 11 a.m., Roxanne Swentzell (Santa Clara), a Tewa sculptor, Indigenous food activist, and author of the Pueblo Food Experience, discusses traditional Indigenous foods like squash, beans, corn, elk, bison, and rabbit, as well as food sovereignty and reciprocity. In addition, chef Ray Naranjo (Santa Clara), head chef at the cultural center's Indian Pueblo Kitchen, leads participants through a traditional recipe using Indigenous ingredients with tips on where they can be purchased locally.
"Usually, we cook a garden-to-table meal for our participants," says event organizer Shannon Romero. "They come and harvest some of the crops, like corn and squash and other things we grow in our garden. Then we prepare a traditional Pueblo feast. It's a really fun, hands-on educational program."
Romero hopes to maintain the interactive component by encouraging participants to ask Swentzell and Naranjo questions throughout the webinar. (The registration deadline is Saturday.)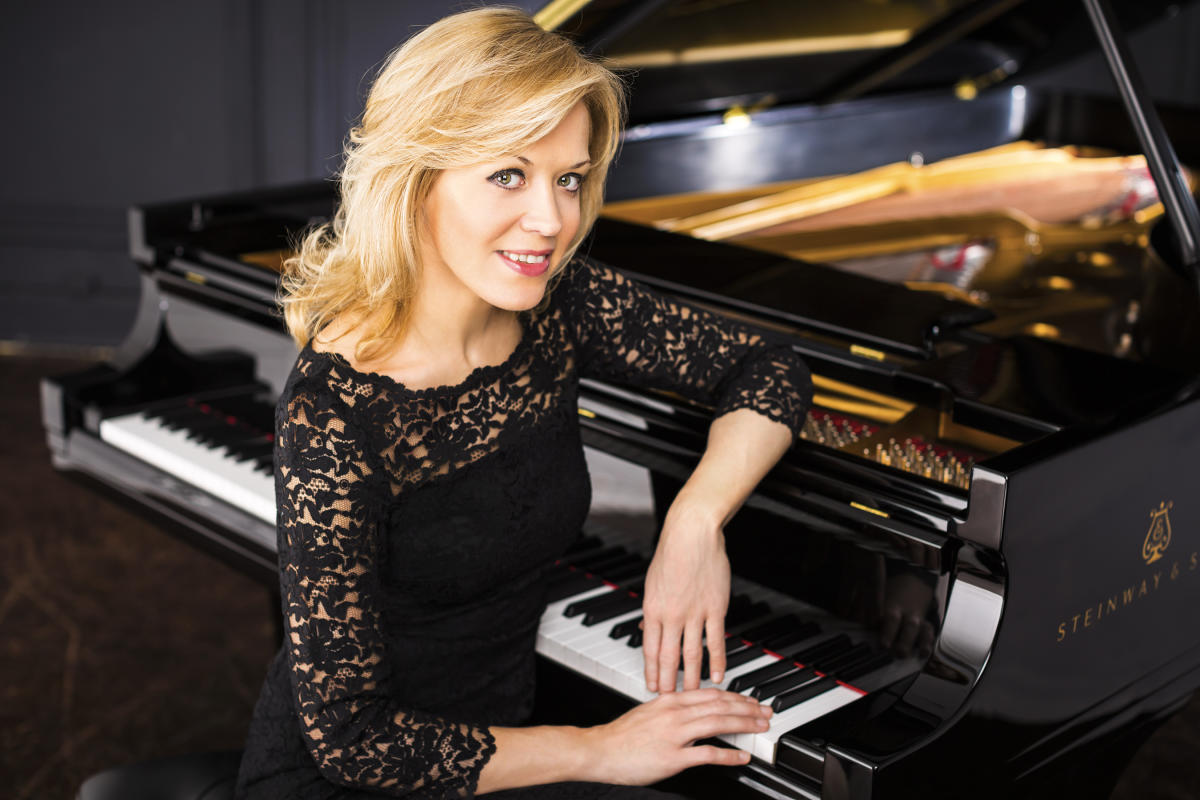 Pianist Olga Kern kicks off the New Mexico Philharmonic digital series with a performance Saturday. Photograph courtesy of the New Mexico Philharmonic.
Listen to a New Mexico Philharmonic concert.
While little can replace the experience of live music, the New Mexico Philharmonic is hoping to strike a chord with a series of prerecorded performances that bring back beloved musicians from the ensemble's 10-year history. 
"We've had a great array of soloists who have helped us build our reputation," says executive director Marian Tanau. "We thought it would be wonderful to feature them in this digital performance series."
On Saturday at 6 p.m., pianist Olga Kern delivers a 30-minute set that includes Rachmaninov, Schumann, and Gershwin, with a Q&A session to follow. "Viewers will see a pianist they love and may have seen in person many times," says Tanau. "Olga has a habit of going into the audiences and saying 'hi.' Seeing this performance, they will see Olga and think of the beautiful moments they have spent with her in the concert hall."
While the series is free to New Mexico Philharmonic donors or subscribers, individual tickets can be purchased for $12.
Feel a sense of connection through stories.
Xochitl Hernandez Moctezuma uses stories as a means of connection. "Telling stories is a tool that teachers use on a daily basis," says the bilingual teacher and storyteller, "it allows us to connect with children and transmit the message we want to convey."
On Saturday at 7 p.m., she reads Sherman Alexie's Thunder Boy Jr. as part of the virtual Bilingual Storytime series, presented by the Silver City Museum's educational department. Hernandez Moctezuma will read the book in Spanish, then in English, giving children and adults a chance to listen to the tone and inflection, and how those differ in between the two languages.
"However big or small the audience may be, I will always do it with pleasure," says Hernandez Moctezuma. "We are social beings, and by reading stories we connect with others, and that is very rewarding."
Catch the Wise Fool circus.
Wise Fool has always marched to the beat of its own playful drum, creating innovative artistic events and teaching the arts of circus, puppetry, and theater to adults and children.
On Saturday at 7 p.m., the Santa Fe troupe sets up its red-and-white-striped tent for CircAspire: Press Play. The virtual show, written by Oriana Lee and Dee Anaya, includes clowns, stilt walking, unicycling, poetry, and juggling with a cast of 15 pre-professional and child circus members.
Grab a seat for CircAspire (tickets range from$5 to $30). Try not to smile. We dare you.