Collected Works Bookstore in Santa Fe hosts six poets laureate for Identiy, a virtual reading on Friday at 6 p.m. Photograph by Carrie McCarthy.
Go to the poets. 
The end of our first week back in lockdown has arrived and doing something for yourself is good medicine. My yoga teacher always tells me to seek comfort in poets, as they can best interpret the moment. We're in luck this weekend: Identity, a virtual poetry reading hosted by Collected Works Bookstore, happens Friday at 6 p.m. 
Hear from six poets laureate, including inaugural New Mexico Poet Laureate Levi Romero, Santa Fe Poet Laureate Elizabeth Jacobsen, and 2020 Youth Poet Laureate of Santa Fe Artemisio Romero y Carver, who says he knew he was a poet the first time he read one of his works aloud during an open house at New Mexico School for the Arts. 
"I find poetry really helpful as a way to articulate my experiences," says Romero y Carver, who turned 18 in September. "There's an incredible power in the idea that I can read publicly and say, 'This is my narrative, I own it. Let me describe it to you and articulate an experience that is singularly mine.'" 
Romero y Carver tackles rough subjects, like domestic abuse in his home, and says he could never say these things outside of his poems. Throughout his adolescence, he listened to rap and hip-hop from artists like Aesop Rock and Immortal Technique. "As a person of color from poverty, certain artists helped me get a sense of perspective on what was going on and helped me understand why these things were happening in my community and how to recognize injustice as injustice." 
He says he decides which of his works to read the moment he takes the stage, so he's unsure how many or what he will read. Tune in and see!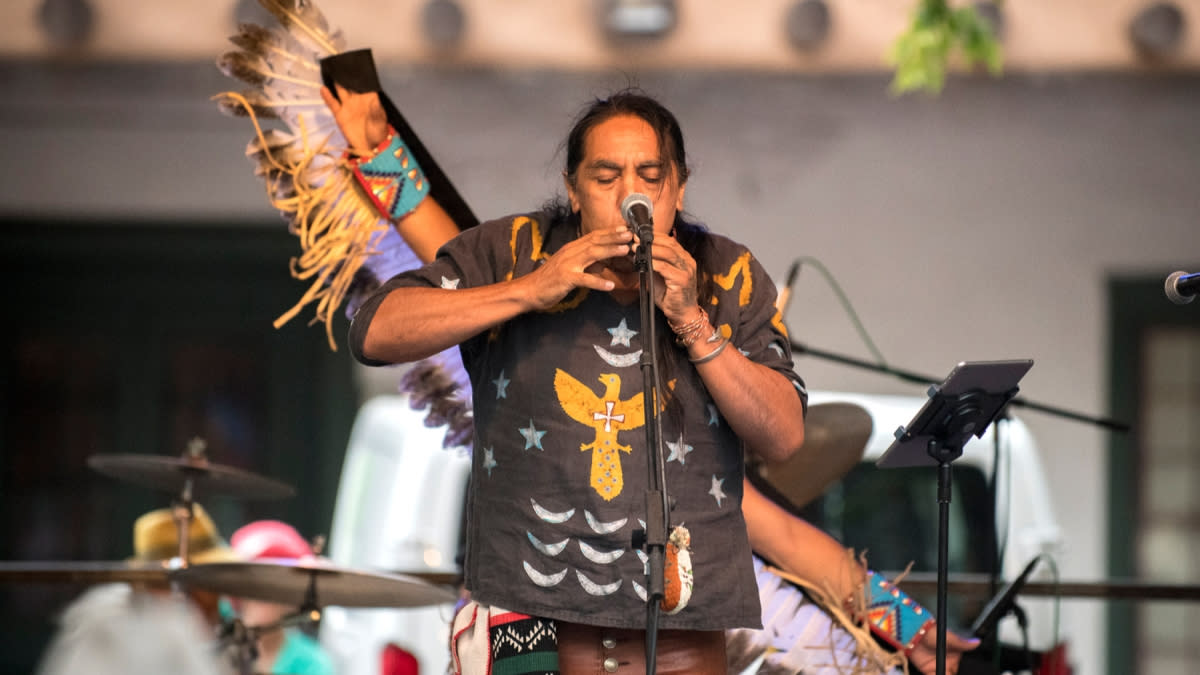 Robert Mirabal performs via livestream at the Macey Center in Socorro. Photograph courtesy of the New Mexico Tech Performing Arts Series.
See Robert Mirabal perform. 
Tune in to a livestreamed performance by award-winning Taos Pueblo flutist Robert Mirabal at the Macey Center in Socorro as part of the New Mexico Tech Performing Arts Series, Saturday at 7:30 p.m. 
Mirabal will be joined by his three daughters, Aspen, Kona, and Masa, who will sing throughout the evening. The performance includes two traditional dancers, Evan and Marcos Trujillo, and a pianist/percussionist, Joel Fadness. Mirabal plans to share some of his storytelling skills, too. 
"Robert hasn't been performing live since the pandemic hit, so this is really special," says Ronna Kalish, director of the series. "The performance is dedicated to the Pueblo grandmothers who have endured so much as the Native American community has been hit so hard by COVID." It's free, but you're welcome to donate to the series, which has been happening for decades.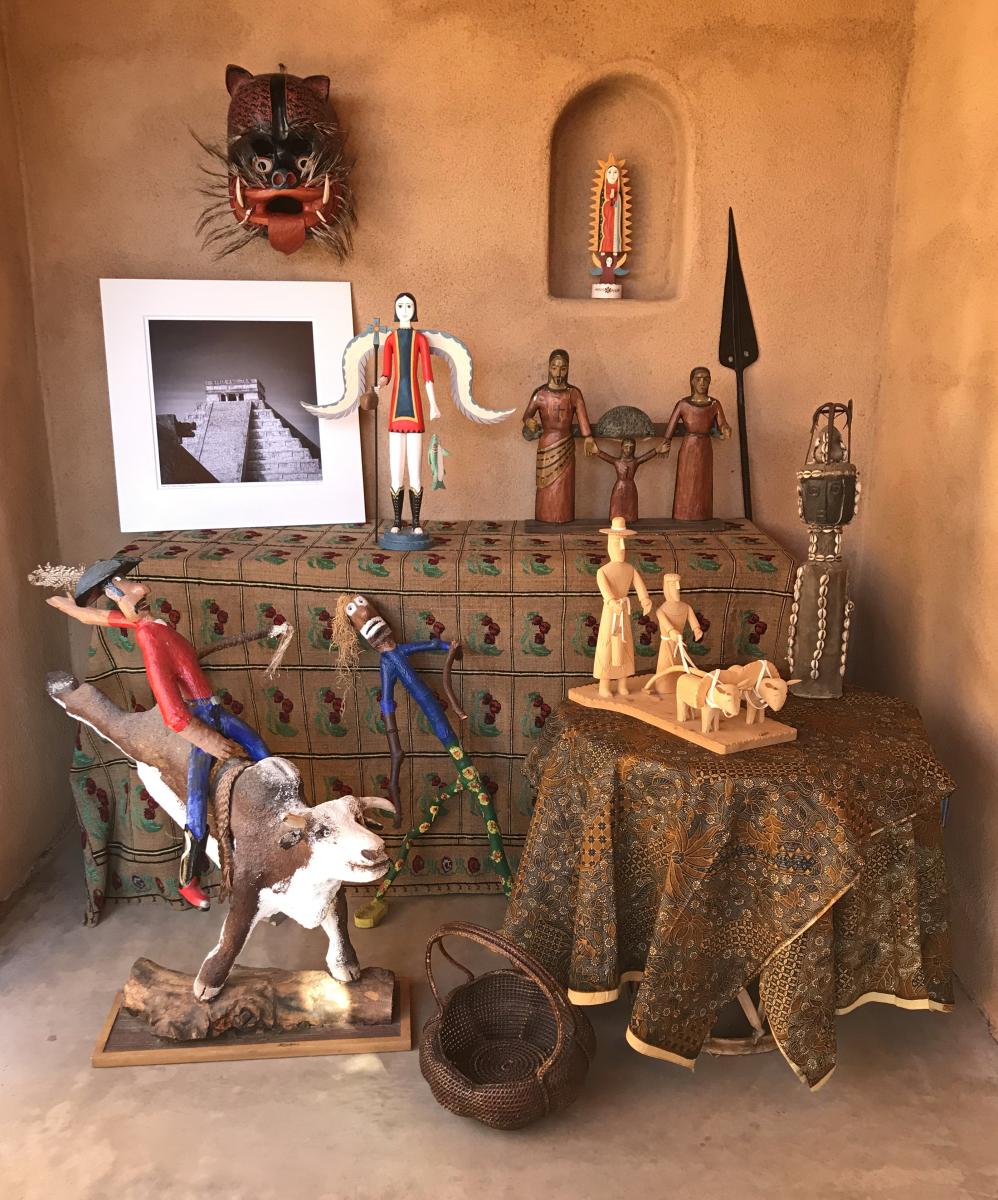 The World of Treasures auction includes rare folk art treasures. Photo courtesy of the Museum of International Folk Art.
Jump into holiday shopping. 
Virtually browse the World of Treasures online auction, which includes rare treasures made by folk artists throughout the world. Nab a one-of-a-kind gift while supporting education and outreach programs at the Museum of International Folk Art, in Santa Fe. 
"There are so many interesting pieces from all over the world," says JoAnn Ward, the auction organizer. "These are unique things you won't find in a department store." Choose from finely made jewelry, textiles, folk ceramics, paintings, and more, some contemporary and some vintage, from makers in Mexico, Canada, India, Europe, and Asia. 
A dozen experiences are also up for grabs. Bid to win a tapas dinner hosted by actress Ali MacGraw; a barbecue dinner for eight with James Beard Award winner Cheryl Alters Jamison in her Tesuque garden; and even a kid's party where eight children, ages 7–9, will go on an after-hours flashlight adventure in the museum's Girard wing, followed by pizza. 
The bidding closes Sunday at 5 p.m. Check out the goodies and be someone's favorite Santa this year. 
Experience contemporary Chicano art. 
Themes and tokens of New Mexican culture are on full display in the newly opened virtual exhibit Arte Chicano, at the Silver City Museum. Works include a tortilla burned with the image of the Virgin Mary and paintings of old trucks on the side of remote highways. 
Guest curated by Diana Leyba-Ingalls, the exhibit features two contemporary artists, Chris Alvarez and Buck Burns. "We aim to honor and celebrate Chicano artists in this area," says Erin Griffith, museum educator. "The goal is to bring attention and awareness to Chicano artists and how their heritage plays into their art and inspiration." 
Beloved New Mexican phenomena appear in both Alvarez's and Burn's works. The former replicated New Mexico's textured landscapes, while the latter works with unique materials creating emblems of Chicano culture, like his burned tortilla, a statue of the Virgen de Guadalupe decorated with bottle caps, and a nine-foot kachina. 
Catch the exhibit and a series of interviews with the artists, beginning Friday evening. The interviews are subtitled in Spanish, and the experience includes background tunes played by Brandon Perrault. 
Learn about music of the heart. 
Scholars believe mariachi and flamenco music took hold in New Mexico in the mid-20th century and have since become as much a part of the state's culture as sopaipillas and sunsets. On Sunday, watch ¡Musíca de Corózon! Mariachis and Flamencos: New Mexico's Beloved Stepchildren, a panel discussion and virtual performance celebrating the genres and what they reveal about New Mexico identity. Co-hosted by the University of New Mexico's John Donald Robb Musical Trust and the National Hispanic Cultural Center, the event starts at 3 p.m. It's been an annual shebang for seven years and is happening virtually for the first time. 
Speakers include UNM Professor Emeritus Enrique Lamadrid; Marisol Encinias, executive director of the National Institute of Flamenco; and State Historian Rob Martínez. La Mariachi performs, along with flamenco artists, introducing both the sound and the history of music in New Mexico.