Muralist Noé Barnett's Give Life is part of the Charcoal: Strokes of Vitality exhibit at Richard Levy Gallery, in Albuquerque. Courtesy of Richard Levy Gallery.
See the healing power of Black artists.
"This show encompasses a fraction of what we're each capable of," says curator and multidisciplinary artist Kianah Jay. Charcoal: Strokes of Vitality, her new exhibit at Richard Levy Gallery, in Albuquerque, features works by four Black artists. 
"It was important to me to understand the background and context of each piece in regard to Blackness and identity," she says. "Each artist has played an important role in their respective community, and I believe that translates to art that heals."
Jay's works and those of Noé Barnett, Nikesha Breeze, Karsten Creightney, and Paula Wilson include paintings, drawings, sculpture, and six video performance pieces. "I'd like to challenge viewers to develop a relationship with each piece of art, as they're each noteworthy and represent one voice of many," Jay says. "They deserve to be fully digested. This show is powerful."
Due to increasing COVID numbers in New Mexico, you cannot visit the gallery in person, but are invited to tune into a virtual version here.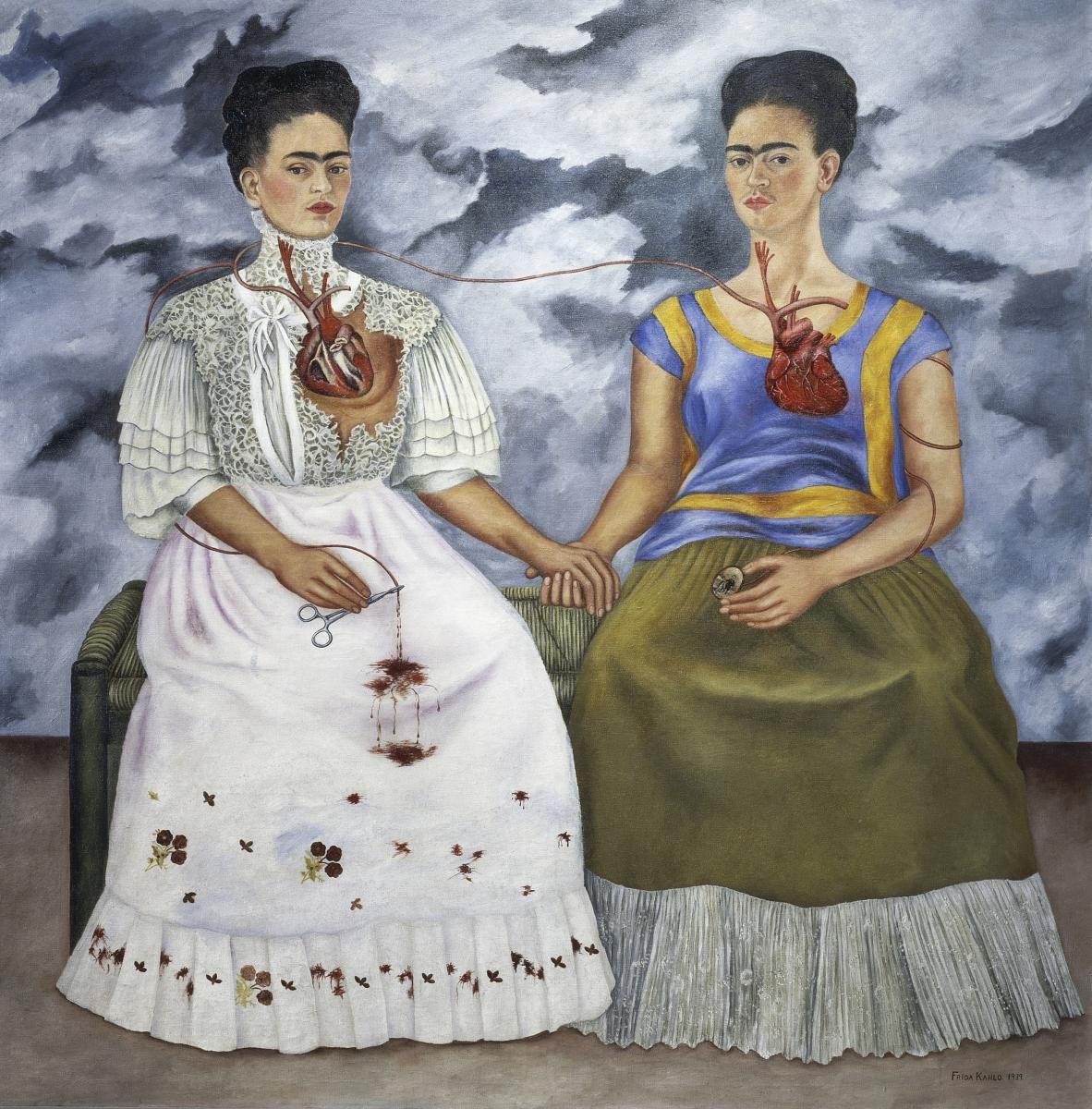 The Two Fridas, 1939, Frida Kahlo, Museo de Arte Moderno, Photo © Bridgeman Images.
Visit Frida Kahlo's home … from home. 
Artist Frida Kahlo lived authentically, eccentrically, and iconically in Coyocan, Mexico City. Her art became among the most celebrated in the world, and the documentary Frida Kahlo explores that as well as her home, La Casa Azul. It's showing this weekend, courtesy of the Taos Center for the Arts. 
The film's director, Ali Ray, has said that his work on the film changed his view of Kahlo and her art, pushing past her ubiquitous image on pillows and T-shirts to better understand her within the context of her home and era—from a childhood bus crash to her intense love affair with modernist painter Diego Rivera to her collection of pets, which included monkeys and deer. 
Check the showtimes and grab your ticket ($12) at tcataos.org. 
Clarence Medina is among the artists participating in the Dixon Studio Tour. Courtesy of Clarence Median.
Tune in and turn on to Dixon art.
"Art, much like salt, is always a matter of taste: Life is flavorless without it," says Brian Barreto, assistant director of the Dixon Studio Tour. "Art is one of the only open spaces we have in our society, and we need to support that and keep it alive." 
Since 1982, Dixon artists have done their part by inviting people into their studios near Taos once a year, which makes theirs the longest-running studio tour in New Mexico. In 2020, the artists will come to you in a combination of pre-recorded and livestream formats, allowing for a lively pace. Some of the artists will do demonstrations throughout the day, and all have places to purchase their works online. Others have created podcasts, blogs, and newsletters to keep connected to their collectors.
"All of the artists have made attempts to bring their art practice online," Barreto says. "Most will have live Q-and-A sessions where the public can interact with them." 
The action happens Saturday and Sunday, 10 a.m. to 3 p.m. Follow along on Facebook for updates and see the event as it happens at dixonarts.org/virtual-tour. 
Huzzah! Hither thee to the faire. 
This weekend's 49th annual Doña Ana Arts Council Renaissance ArtsFaire has been dubbed the "No Faire Arts Faire." An entirely virtual event, it involves an online auction, costume contests, and a one-hour, pre-recorded video playing on loop Saturday 1–4 p.m. 
See costumes modeled by Queen Cherrie and friends, who don Renaissance-era gowns and talk about bygone fashion, a presentation by catapult architect Bob Diven, jousting videos, and footage of other medieval pastimes. A jury of judges will announce winners of the costume contests Saturday as well. 
An online auction includes an art car (a cherry plug-in Toyota Prius) painted by artist Luis Navarro. Bid on Baby You Can Drive My Car and other artful items until 5 p.m. Saturday. 
Greg Smith, executive director of the Doña Ana Arts Council, says the auction has been action-packed. "It's the most interactive thing we have going on right now—100 or so people are actively bidding." 
Smith hopes the virtual event will lift people's spirits. "We've gone through and are still going through a rough election," he says. "People are stressed, and COVID has been hard for all of us for 10 months. Every once in a while, we get to a bursting point and we need to get out or do something." 
We prithee you doth take in the action here. 
Cruise a hot-air balloon glow.
Hot-air balloon pilots turn a parking lot into a southwestern version of the northern lights Saturday and Sunday, 7:30–9 p.m., near Regal Cinemas at Albuquerque's Cottonwood Mall. During this balloon glow, pilots fill their ships' envelopes with enough air to puff up but not fly, then hit the burners. The flames illuminate the balloons, which look like giant paper lanterns billowing on the ground. 
Consider it a consolation prize for the canceled Albuquerque International Balloon Fiesta, which always drew packed crowds to its balloon glows. "We are passionate about serving as a safe and social-distanced gathering space for our community," says Debra Sherman, general manager at Cottonwood Mall.
Tickets for the Balloon Glow can be purchased ahead of time. They are $10 per vehicle now, or $20 when you arrive. This is a drive-thru event, so you will remain in your car. The first 100 to arrive will receive goodie bags.