Above: Elephant Butte Lake hosts three days of fun for Elephant Days. Photograph by David Turning. 
Feel festive.
A clear autumn sky will twinkle off the waters at Elephant Butte Lake this weekend, adding to the festive atmosphere during Elephant Days, Friday through Sunday. Events include a chili cookoff, arts and crafts, a parade, 5K run, and music by Suthern Blend, Auto Electric, and the Blue Tones. A baking contest on Sunday sponsored by King Arthur Flour will crown the best cakes made by adults and cupcakes made by kids. "We're asking entrants to bake extra so visitors can have a taste," says Elephant Butte City Manager Vicki Ballinger.
The fall forecast calls for sunny days and cool evenings, meaning you might even want to add a dip in the lake among your own activities. "It's going to be gorgeous Saturday and Sunday," Ballinger says.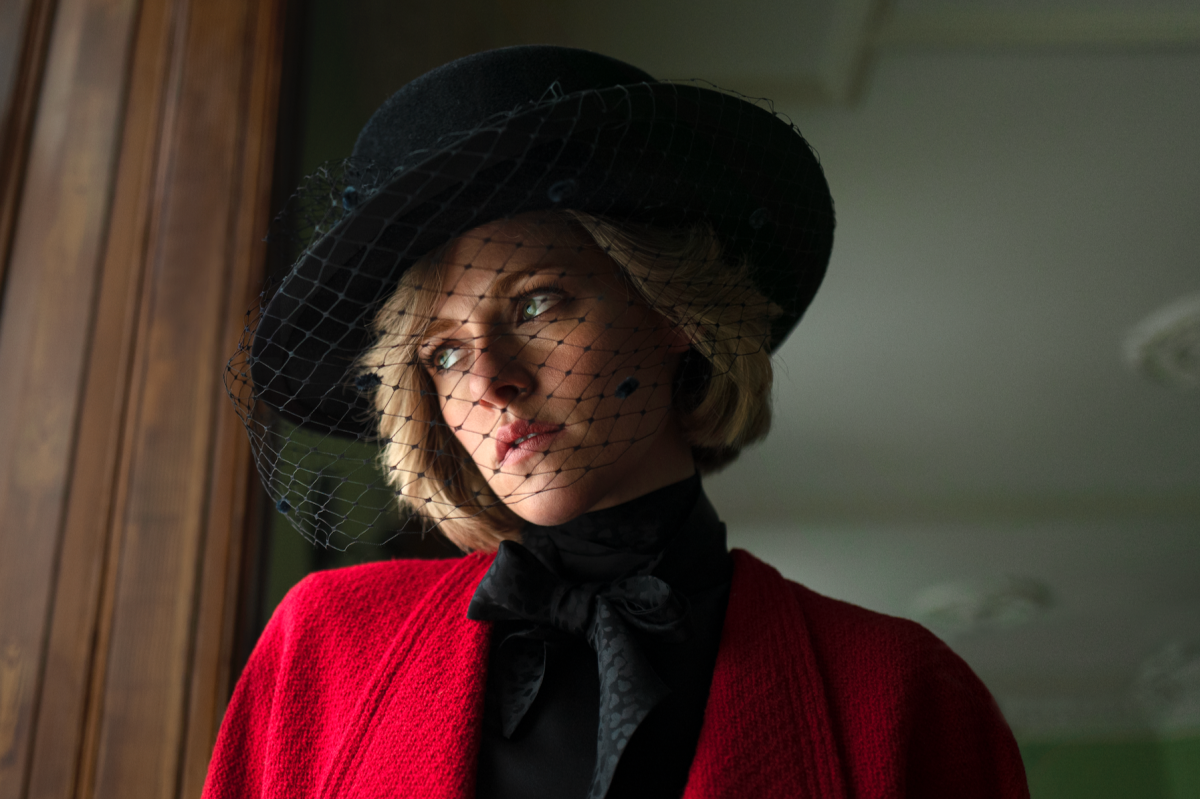 Kristen Stewart stars as Princess Diana in the much anticipated film Spencer at the Santa Fe Independent Film Festival. Photograph courtesy of the Santa Fe Independent Film Festival.
See an independent movie.
The Santa Fe Independent Film Festival (SFIFF) comes roaring back, both in-person and virtually, this weekend. With 47 feature films, more than 100 shorts, and an appearance by master provocateur director Oliver Stone, the movie-lover's dream event is alive at five separate venues this year, including free screenings at Santa Fe Railyard Park.
After Friday night's screening of Iranian director Asghar Farhadi's A Hero, SFIFF Artistic Director Jacques Paisner says the weekend's centerpiece is the presentation of the Lifetime Achievement Award to Oliver Stone on Saturday at 7 p.m. Oscar-winning actor Wes Studi will do the honors at the Lensic Performing Arts Center, followed by a discussion and a 30th-anniversary screening of The Doors.
The fest is capped by a Sunday evening preview of the much-buzzed-about Spencer, starring Kristen Stewart as Princess Diana. But Paisner says Saturday and Sunday are also filled with lesser-known gems, including Brother, I Cry, a narrative film about addiction from First Nations director Jessie Anthony, who will be present at the festival. Night Raiders, executive-produced by Taika Waititi, is a female-driven Indigenous science fiction thriller, Without Getting Killed or Caught delves into the life of late singer Guy Clark, and The Humans brings together actors Steven Yeun, Richard Jenkins, and Beanie Feldstein.
Remote festival goers can get in on the fun via virtual screenings. See a schedule and purchase festival or individual screening passes online before you go.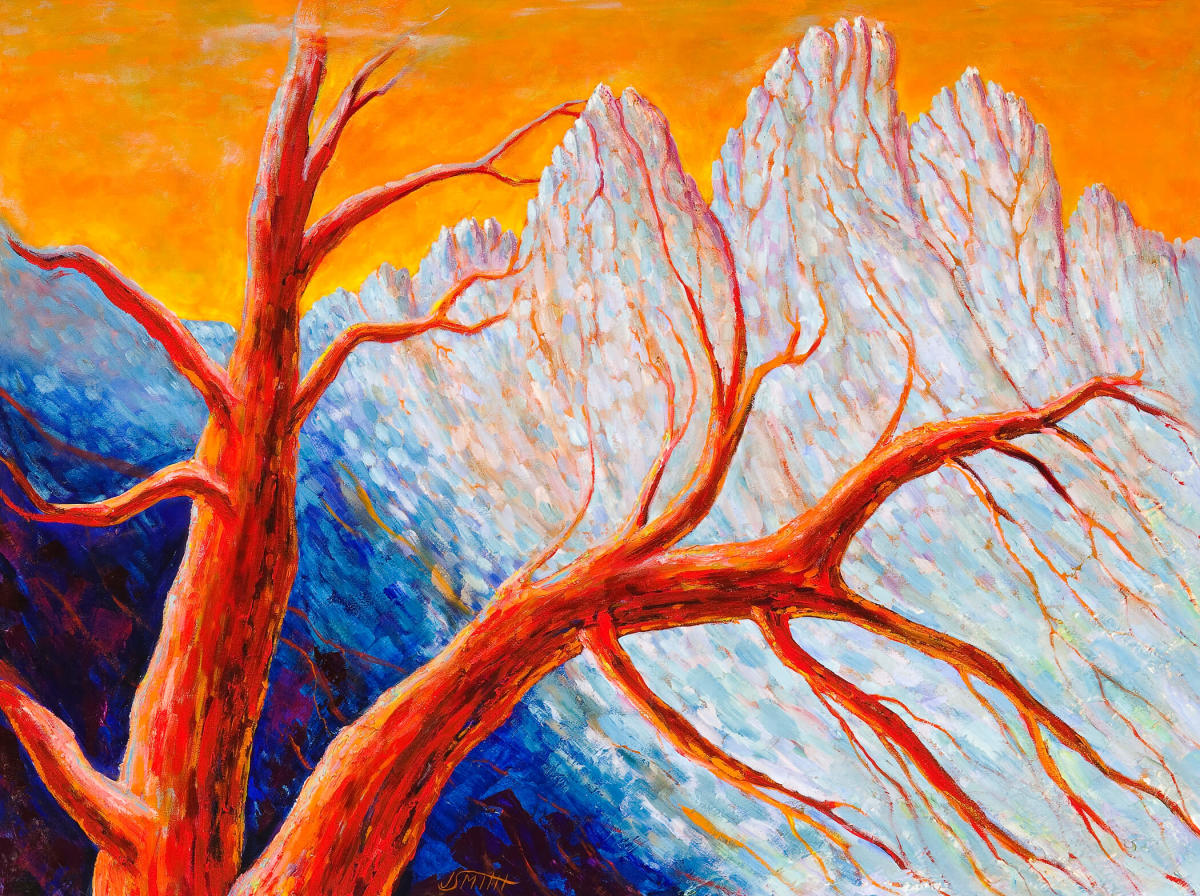 Jo-An Smith's Reaching is among the works on display in a new exhibit at Doña Ana Arts & Cultural Center. Photograph courtesy of Doña Ana Arts & Cultural Center.
Catch a new view.
Jo-An Smith has a way of seeing classic New Mexico scenes—Chaco Canyon, the Gila Cliff Dwellings, Dripping Springs—and injecting them with her artistic vision. The Doña Ana Arts & Cultural Center celebrates her work in the exhibit Jo-An Smith: 89 Years and More. Executive Director Greg Smith says the title honors the longevity of Smith, who happens to also be his mother. But first, a disclaimer, he says. "She had to jump through the same hoops as every other artist," he says of her place in the popular Las Cruces gallery.
Smith began her career as a jeweler, then moved into oil painting, watercolors, and most recently, alcohol inks. Her work is included in the New Mexico Capitol Collection (look outside the Senate gallery) and commissions from New Mexico Arts. "I think she has her own take on iconic images," Greg Smith says. "Her perspective on the catwalk in the Gila National Forest has a very pensive perspective. And she has a really interesting cross-section of chile peppers."
The exhibit is up through October 28. The gallery is open Monday through Friday, 9 a.m. to 5 p.m.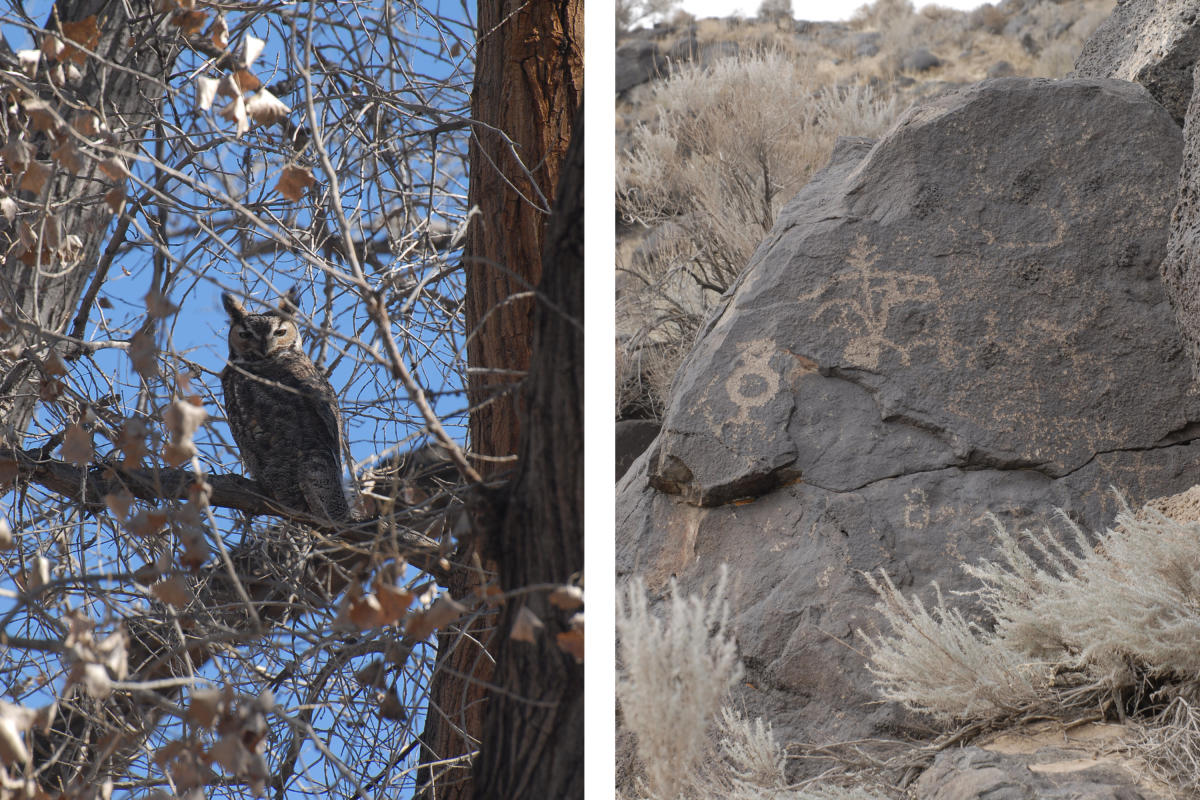 Hit the trails on guided hikes originating from Albuquerque's Open Space Visitor Center and the Piedras Marcadas Canyon parking lot. Photographs courtesy of the Open Space Visitor Center (left) and Petroglyph National Monument (right).
Take a walk.
On the 1.5-mile loop trail at Piedras Marcadas Canyon, you can see up to 400 petroglyphs. But it takes the expert eyes of rangers at Petroglyph National Monument to help you understand the work of the Ancestral Puebloans who etched their visions into the rocks. Soak up that knowledge this weekend by taking a guided walking tour of the canyon. Meet at the Piedras Marcadas Canyon parking area on Saturday at 10 a.m., or Sunday at 10:30 a.m., for a two-hour informational walk. 
Meanwhile, at the Open Space Visitor Center in Albuquerque, "The cranes have come in," says Open Space Manager Christine Vasquez. "We have a lot of geese in the bosque, porcupines, and a whole variety of birds." Get up close with them on Sunday's guided Bosque Walk along the Río Grande, with a discussion of the area's history, land use, and water conservation efforts. The tour starts at 8 a.m.
If you're more of a plant person, head to Open Space on Saturday at 2 p.m. for a walk and talk on traditional medicinal plants of New Mexico with Dara Seville, founder of Albuquerque Herbalism. Bring water, walking shoes, and a set of binoculars, and check details on the weekend's events and talks; some require advance registration.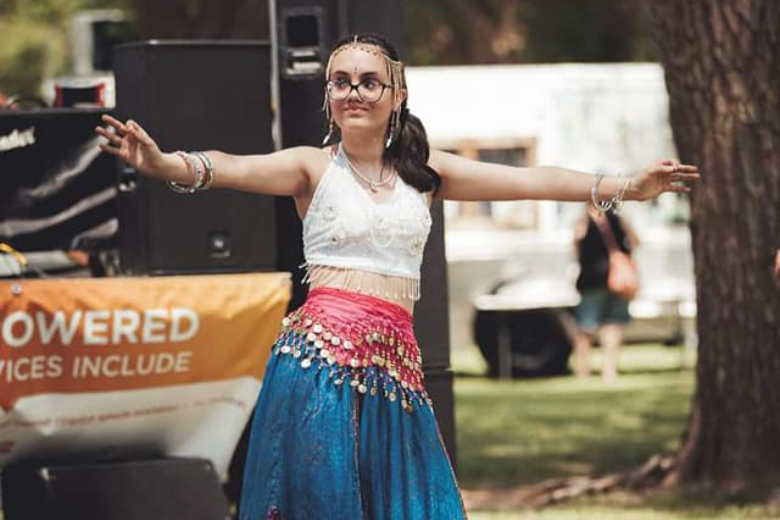 Katelynn Hatch and Fusion World Dance will perform at the 48th Annual Peanut Valley Craft & Music Festival in Portales. Photograph courtesy of Stephanie Hatch.
 Go peanuts.
Feel like a nut, or maybe a bagful? Get in on harvest season at the 48th Annual Peanut Valley Craft & Music Festival, held Saturday and Sunday in Portales. With a lineup of arts and craft vendors, food trucks, music and dance performances, and a health fair on Saturday, the fall fest celebrates the best of, as Portales calls itself on its welcome billboard, the "Home of 17,000 Friendly People (and Three or Four Old Grouches)."
Featured acts include Fusion World Dance, local ballet folklórico, the Pony Creek Trio, and Randy Chavez y Sol. Round up the kids for the Peanut Olympics on Saturday at 1 p.m., where ages 4–10 compete in peanut-bag cornhole, relay races, and more, accompanied by the Portales High School Ram Band. "It's silly little games that we try to put a peanut twist on," says Roosevelt County Chamber of Commerce Executive Director Karl Terry.
The fest is co-sponsored by Hampton Farms, the leading U.S. roaster of in-shell peanuts, which has a retail store and facility in Portales. The fun starts at 9 a.m. on Saturday at the Roosevelt County Fairgrounds; check the schedule for a full lineup.