A painting by Earl Bliss is among the works available at the Museum of Indian Arts and Culture's Collectors' Sale. Photograph courtesy of the Museum of Indian Arts and Culture.
Support the Museum of Indian Arts and Culture.
It's not often that you get a peek inside the stashes of private art collectors—and even more rare when you can purchase some of those treasures. This weekend, you can do both as the Museum of Indian Arts and Culture showcases Native American jewelry, sculpture, photography, textiles, sand paintings, and pottery for its Collectors' Sale.
"It's a challenging time for people," says Colleen Shaw, the event's coordinator. "We are attached to the pueblos and tribes here, so we are really supporting a whole community."
In addition to the nearly 100 Native items for sale, this benefit includes an auction with six cultural experiences with Native superstars such as U.S. poet laureate Joy Harjo, Diné poet laureate Luci Tapahonso, and fashion designer Patricia Michaels.
The sale and auction open Friday at 10 a.m. and close Sunday at 5 p.m. All proceeds support the museum's educational programming and future exhibits.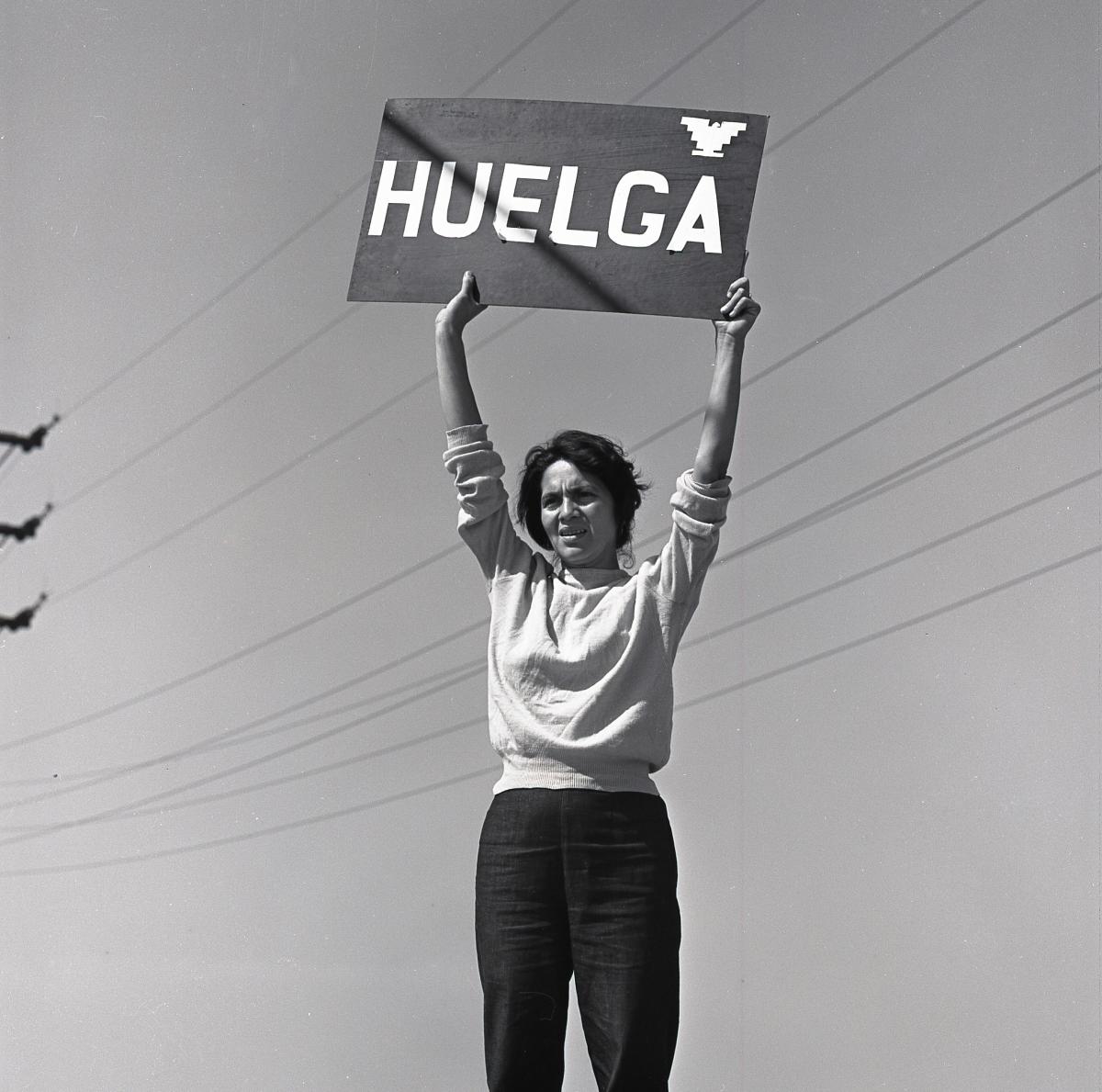 New Mexico native Dolores Huerta raises her "Huelga" sign during a grape strike in Delano, California, on September 24, 1965. Photograph by Harvey Wilson Richards. Harvey Richards Media Archive.
Listen to a discussion of the Dolores Huerta exhibit.
Tanía Caragol, curator of Latino art and history at the Smithsonian's National Portrait Gallery, was digging through the collection when she stumbled upon images of Dolores Huerta. Caragol knew she needed to display them and give Huerta, a New Mexico native, labor activist, and feminist icon, the platform she deserves.
Born in Dawson in 1930 to an agricultural family, Huerta became a leader of workers' rights movements. Along with César E. Chávez, she founded the National Farm Workers Association and was instrumental in creating the Agricultural Labor Relations Act of 1975. Even at age 90, Huerta still fights for the rights of women, children, and agricultural workers.
Caragol's exhibit, Dolores Huerta: Revolution in the Fields, visits the Branigan Cultural Center, in Las Cruces, through January 9 and includes a collection of historic and personal photographs, a short, bilingual documentary, and interviews with Huerta.
Although the center is closed through November 14 due to COVID-19, Caragol presents a Zoom webinar Friday at 1 p.m. about the exhibit and her passion for bringing Latino representation into the National Portrait Gallery.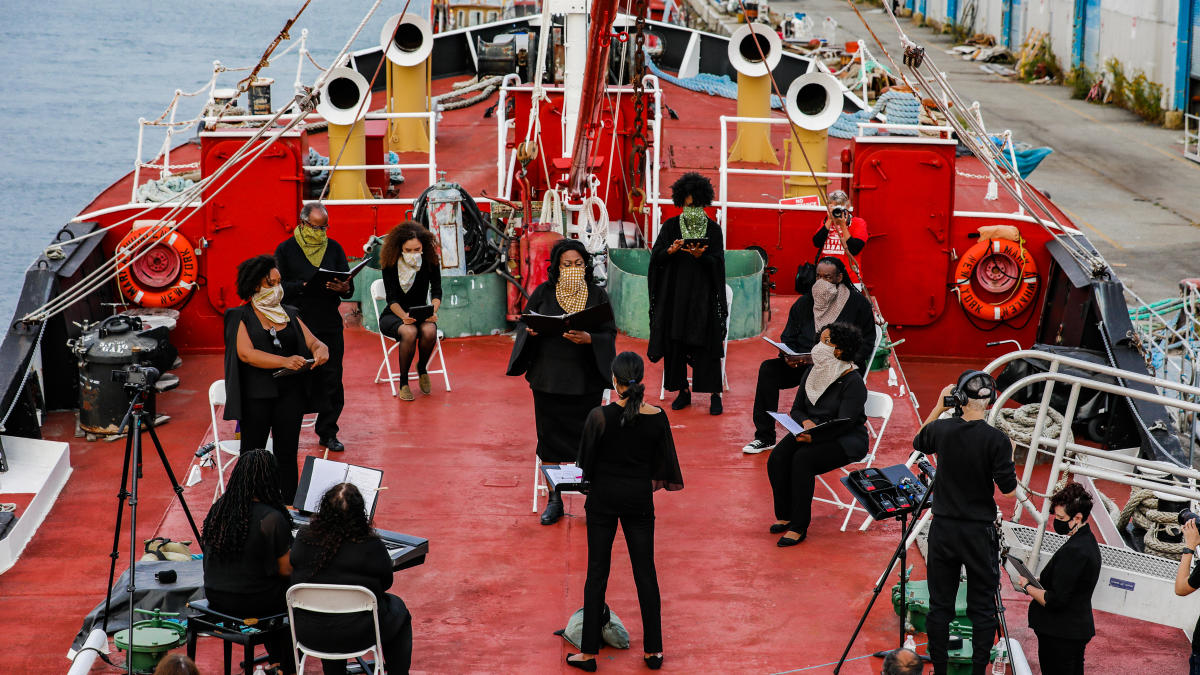 The Santa Fe Opera records Is This America aboard the Mary A. Whalen in Brooklyn. Photograph by Curtis Brown Photography.
Catch Santa Fe Opera's Is This America?
With the election less than two weeks away, the Santa Fe Opera lifts the curtain on a still-in-development opera as a reminder of what's at stake every time we head to the polls. Is This America? features three scenes from the one-act opera This Little Light of Mine, which focuses on the life of voting rights activist Fannie Lou Hamer, whose work culminated in passage of the Voting Rights Act of 1965.
"With everything we are hearing right now in this election cycle, it felt important to hear the words of Fannie Lou Hamer," says Andrea Fellows Fineberg, Santa Fe Opera's director of community engagement. "Think of all the people who have come before us, so that we have this right to vote"
Recorded aboard the Mary A. Whalen, a historic oil tanker moored in Brooklyn's Red Hook neighborhood, the performance features a cast of seven Black vocalists, a Black pianist, and a Black musical director. The opera opens at a Black Lives Matter protest as a question arises about why an individual should vote and continues with a look at Hamer's fight for voting rights during the Freedom Summer of 1964.
The one-act opera is still in the workshop stage with rehearsals adapted to COVID-19 restrictions. Performers met to read via Zoom and for just two hours in person before taking to the stage. Being presented as part of the Center for Contemporary Arts' Living Room series, the program airs Friday at 6 p.m. and will live in the archives afterward.
"It's a wonderful piece that is very moving and really powerful," says Fineberg.
Hear four poet laureates read their work.
One night, four poet laureates. Hosted by the Society of the Muse of the Southwest, Catherine Strisik, poet laureate of Taos, Elizabeth Jacobson, poet laureate of Santa Fe, Mary Oishi, poet laureate of Albuquerque, and Levi Romero, poet laureate of New Mexico, take to the virtual stage Sunday at 4 p.m. to read their original works.
"All of them are incredibly accomplished and well published in the poetry field," says Jan Smith, executive director at the Taos-based SOMOS. "They will read some old favorites as well as some current writing."
Smith is assisting Strisik with Poetry In Nature, a project to be completed by 2022, that endeavors to place poems on natural flat surfaces and adobe walls throughout Taos, including the Mabel Dodge Luhan House, John Dunn Shops, and the Taos Art Museum.
During the Zoom event, each poet will read for 15 minutes with a Q&A to follow. The meeting is limited to 100 attendees, so be on time if you want to grab a seat.
Get spooky with scary stories from Peter Sinclaire.
Peter Sinclaire has been telling stories about Santa Fe's ghosts since 1993. His tour, The Original Santa Fe Ghost Tour, takes paranormal enthusiasts to see some of the City Different's most haunted spots.
On Friday at 5 p.m., he teams up with fellow creepy storyteller Kandra Payne—author of Haunted Creede, a book about the southern Colorado mining town's most chilling tales—to tell a slew of spooky tales and scare up some Santa Fe history. "Viewers will learn about the paranormal and spirit side of Santa Fe," Sinclaire says.
During the one-hour presentation, hosted by the Santa Fe Public Library, the duo will tell 1o to 12 frightening fables, including one about Julia Staab, the lady of La Posada, and another about La Llorona, the spirit that Santa Fe mothers warn their kids about. You must sign up to receive the Zoom link.